In this Sony E-Mount Lens Guide I will go over all currently available lenses made by Sony for their E-Mount Mirrorless Camera Systems. Lots of other manufactures make lenses for the E-Mount cameras as well, so be sure to check out those guides also… All E-Mount Lens Guides >>
All the Sony E-Mount Lenses in this guide are Autofocus capable lenses as well just to let you know.
Scroll down to check out the different Sony Full Frame E-mount (FE) and APS-C E-Mount (E) lenses currently available.
Jump To Links:
There are a lot of lenses on this particular Sony E-Mount Lens Guide Page, so be sure to click the "Jump to" links below to get right where you need to be faster!!
---
The Sony mirrorless camera system has a native E-Mount for the lens mount, and a number of manufactures make lenses for it besides Sony these days.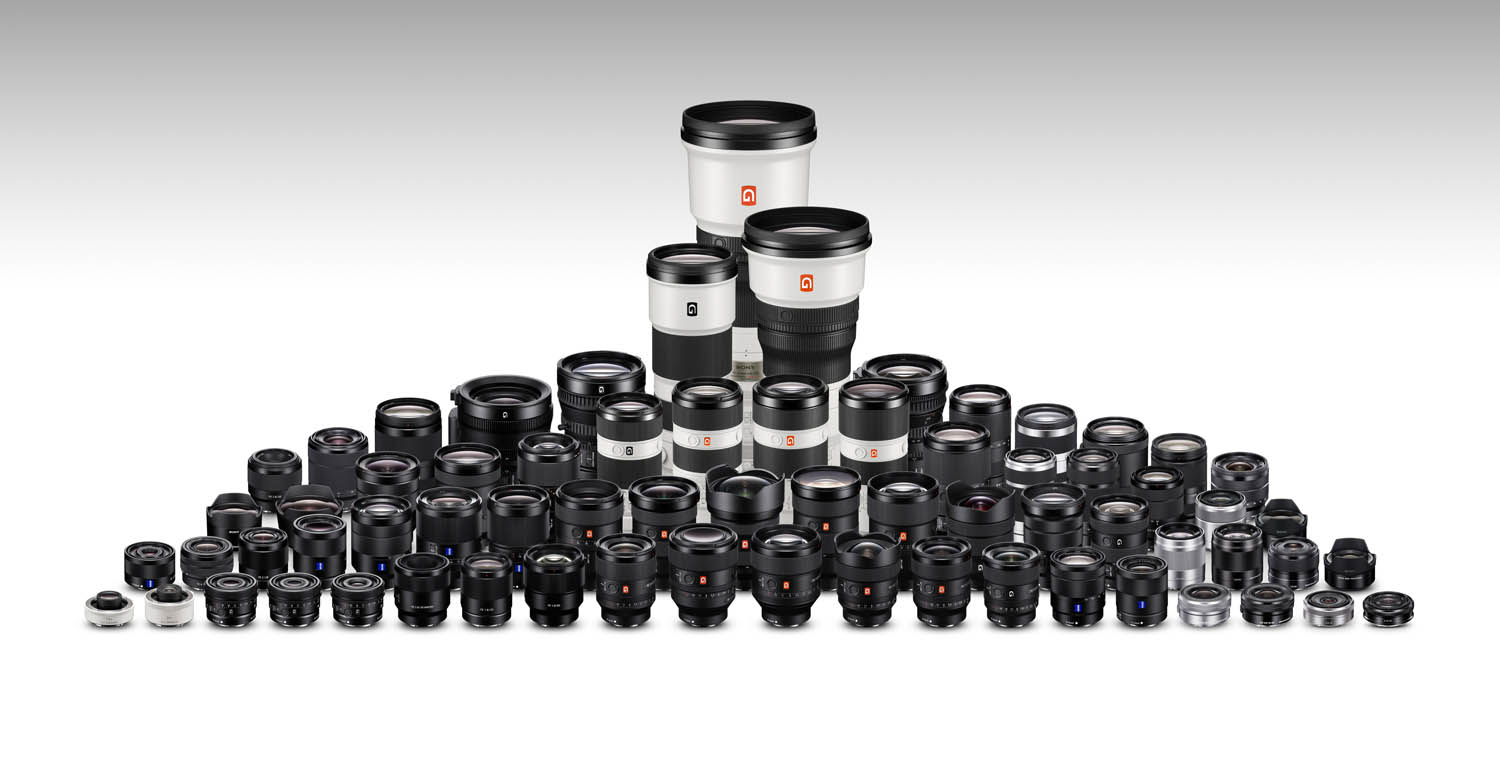 For the most common Non Sony E-Mount Lens Options, be sure to click the links below for the corresponding e-mount lens guide pages:
Full Frame vs APS-C Lenses

Full Frame (FE) = Sony A1, A7C, A9 II, A9, A7R IV, A7r III, A7S III, A7sII, A7III, Etc…
APS-C (E) – Sony A6600, A6500, A6400, A6300, A6100, Etc…
The Sony full frame sensor cameras and APS-C sensor sized cameras BOTH USE the same E-Mount, but the lenses are designed differently for the sensor coverage required. FE stands for full frame coverage, but will work on the crop factor APS-C sensor cameras just fine. The APS-C lenses will work on the full frame cameras, but only in crop factor mode, unless you change the setting on the camera forcing it to work in full frame mode. Some lenses like the E 10-18mm f/4 OSS Lens for example, will work in full frame mode, but only to about 12mm on the wide end. Any wider and you will see the heavy vignette start to creep in.
If you are a Sony DSLR A-Mount Camera user (A99 II, A77 II, A68, etc..), then the lens guide you need is here: Sony A-Mount Lens Guide >>
If you want to expand your Sony Mirrorless E-Mount lens options, then you can use the only Sony LA-EA5 Electronic Lens Adapter, and mount up any of the Sony A-Mount Lenses! Sony A-Mount Lens Guide This way >>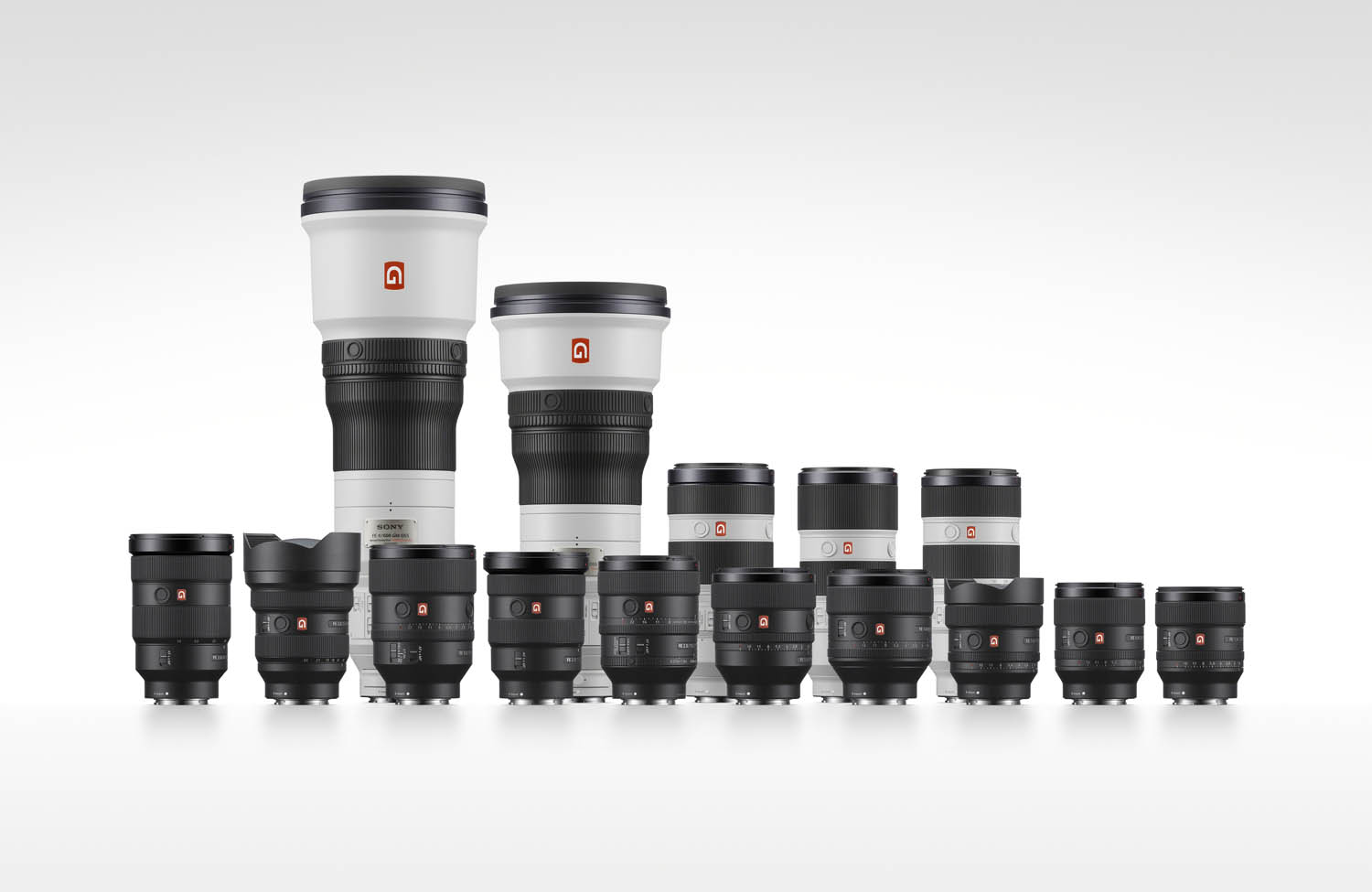 Sony
Full Frame

E-Mount Lenses (FE)

These lenses are designed specifically for full frame coverage cameras like the Sony A1 , Sony A7 IV, A7R IV, and A7S III, for example. However, they will also work on the crop factor cameras like the Sony ZV-E10, A6600, A6400, A6100 etc…

The Sony full frame E-mount lenses listed below will be listed in order of focal length and aperture speed. For example: from 24mm wide angle to 400mm telephoto, and from f/1.4 to f/2.8 if the focal lengths are the same.
Full Frame Prime Lenses (FE)
Sony FE 14mm f/1.8 GM Lens
Key Features:
E-Mount Lens/Full-Frame Format
Aperture Range: f/1.8 to f/16
APS-C Effective Focal Length = 30mm
14 Elements in 11 Groups
Two XA Elements
One Super ED Element
Nano AR and Fluorine Coatings
XD Linear Focus Motor system
AF/MF Switch; Internal Focus
Focus Hold Button
Physical Aperture Ring; De-Click Switch
Dust and Moisture-Resistant Construction
Rounded 9-Blade Diaphragm
Minimum Focus Distance = 9.8″ / 25 cm
Filter = Gel Rear
Weight = 1 lb / 460 g
Retail Price = $1598 US
Check Prices @ https://geni.us/uQRu8F8
---
Sony FE 20mm f/1.8 G Lens
Key Features:
E-Mount Lens/Full-Frame Format
Aperture Range: f/1.8 to f/22
APS-C Effective Focal Length = 30mm
Two Aspherical Elements
Three Extra-Low Dispersion Elements
Nano AR and Fluorine Coatings
Dual XD Linear Focus Motor system
AF/MF Switch; Internal Focus
Focus Hold Button
Physical Aperture Ring; De-Click Switch
Dust and Moisture-Resistant Construction
Rounded 9-Blade Diaphragm
Minimum Focus Distance = 7.09″ / 18 cm
Filter Thread = 67mm
Weight = 13.16 oz / 373 g
Retail Price = $898 US
Check Prices: https://geni.us/T47S5
---
Sony FE 24mm f/1.4 GM Lens
Key Features:
E-Mount Lens/Full-Frame Format
Aperture Range: f/1.4 to f/16
APS-C Effective Focal Length = 36mm
Two XA Elements, Three ED Elements
Nano AR and Fluorine Coatings
Direct Drive Super Sonic Wave AF Motor
AF/MF Switch; Internal Focus
Focus Hold Button
Physical Aperture Ring; De-Click Switch
Dust and Moisture-Resistant Construction
Rounded 11-Blade Diaphragm
Minimum Focus Distance = 9.45″ / 24 cm
Filter Thread = 67mm
Weight = 15.7 oz / 445 g
Retail Price = $1398 US
Check Current Prices: https://geni.us/uYTtb
---
Sony FE 24mm f/2.8 G Lens
Key Features:
E-Mount Lens/Full-Frame Format
Aperture Range: f/2.8 to f/22
APS-C Effective Focal Length = 36mm
8 Elements in 7 Groups
Aspherical and ED elements
Extra-low dispersion element
Two XD Linear Motors
AF/MF Switch; Internal Focus
Focus Hold Button
Physical Aperture Ring; De-Click Switch
Dust and Moisture-Resistant Construction
Rounded 7-Blade Diaphragm
Minimum Focus Distance = 9.4″ / 24 cm
Filter Thread = 49mm
Weight = 5.7 oz / 162 g
Price = $598 US
Check Current Price: https://geni.us/U3ak
---
Sony FE 28mm f/2 Lens
Key Features:
E-Mount Lens/Full-Frame Format
Aperture Range: f/2 to f/22
APS-C Effective Focal Length = 42mm
One AA Element & Two Aspherical Elements
Two Extra-Low Dispersion Elements
Linear Autofocus Motor; Internal Focus
Dust and Moisture-Resistant Construction
Nine-Blade Circular Diaphragm
Optional Ultra-Wide & Fisheye Converters
Minimum Focus Distance = 11.42″ / 29 cm
FIlter Thread = 49mm
Weight = 7 oz / 200 g
Retail Price = $448 US
Check current price: https://geni.us/Z7pjy
---
Sony 21mm Ultra-Wide Conversion Lens for FE 28mm f/2 Lens
Key Features:
Converts 28mm f/2 Lens into 21mm f/2.8 Ultra-Wide Lens
Transmits EXIF Data to Camera
Built-In Petal-Type Lens Hood
Minimum Focus DIstance: on FE 28mm f/2 Lens, Auto focus = 9.4″ (24 cm),
Manual focus = 7.9″ (20 cm)
Weight = 11.2 oz (318g)
Retail Price = $248 US
Check current price: https://geni.us/alrwQJr
Sony 16mm Fisheye Conversion Lens for FE 28mm f/2 Lens
Key Features:
Converts 28mm Lens to 16mm f/3.5 Fisheye Lens
180° Angle of View
Transmits EXIF Data to Camera
Built-In Petal-Type Lens Hood
Minimum Focus Distance on FE 28mm Lens: 8.8″ (22 cm)
Weight = 14.8 oz (418 g)
Retail Price = $298 US
Check current prices: https://geni.us/c55IOz
---
Sony FE 35mm f/1.4 GM Lens
Key Features:
E-Mount Lens/Full-Frame Format
APS-C effective = 52.5mm
Two XA Elements, One ED Element
14 Elements in 10 Groups
Nano AR II and Fluorine Coatings
Customizable Focus Hold Button
Linear Response MF
Twin XD Linear Auto Focus Motors
Dust and Moisture-Resistant Construction
Eleven-Blade Circular Diaphragm
Filter Thread = 67mm
Locking rubber edged lens hood
Minimum Focus Distance = 9.8″ / 25 cm
Weight = 1.2 lb / 524 g
Retail Price = $1398 US
Check current price: https://geni.us/hzOJJw
---
Sony Distagon T* FE 35mm f/1.4 ZA Lens
Key Features:
E-Mount Lens/Full-Frame Format
Aperture Range: f/1.4 to 16
APS-C Effective Focal Length = 52.5mm
One AA & Three Aspherical Elements
Zeiss T* Anti-Reflective Coating
Direct Drive Super Sonic Wave AF Motor
AF/MF Switch; Internal Focus
Physical Aperture Ring; De-Click Switch
Dust- & Moisture-Resistant Construction
Nine-Blade Circular Diaphragm
Minimum Focus Distance = 11.81″ / 30 cm
Filter Thread = 72mm
Weight = 1.4 lb / 630 g
Retail Price = $1,598 US
Check Current Price: https://geni.us/eHG3y
---
Sony FE 35mm f/1.8 Lens
Key Features:
E-Mount Lens/Full-Frame Format
APS-C effective = 52.5mm
One Aspherical Element
Linear Autofocus Motor; Internal Focus
Customizable Focus Hold Button
Dust and Moisture-Resistant Construction
Nine-Blade Circular Diaphragm
Filter Thread = 55mm
Minimum FOcus Distance = 8.7″ / 22.1 cm
Weight = 9.9 oz / 281 g
Retail price = $748 US
Check current price: https://geni.us/xFVSF
---
Sony Sonnar T* FE 35mm f/2.8 ZA Lens
Key Features:
E-Mount Lens/Full-Frame Format
Aperture Range: f/2.8 to f/22
APS-C Effective Focal Length = 52.5mm
Three Double-Sided Aspherical Elements
Zeiss T* Anti-Reflective Coating
Linear Autofocus Motor; Internal Focus
Dust and Moisture-Resistant Construction
Seven-Blade Circular Diaphragm
Minimum Focus Distance = 13.78″ / 35 cm
Filter Thread = 49mm
Filter Thread = 40.5 mm (via Hood)
Weight = 4.2 oz / 120 g
Retail Price = $798 US
Check Current Price: https://geni.us/3NK7r
---
Sony FE 40mm f/2.5 G Lens
Key Features:
E-Mount Lens/Full-Frame Format
Aperture Range: f/2.5 to f/22
APS-C Effective Focal Length = 60mm
9 Elements in 9 Groups
Aspherical Elements
Two XD Linear Motors
AF/MF Switch; Internal Focus
Focus Hold Button
Physical Aperture Ring; De-Click Switch
Dust and Moisture-Resistant Construction
Rounded 7-Blade Diaphragm
Minimum Focus Distance = 11″ / 28 cm
Filter Thread = 49mm
Weight = 6.1 oz / 173 g
Price = $598 US
Check Current Price: https://geni.us/bdf0f6h
---
Sony Planar T* FE 50mm f/1.4 ZA Lens
Key Features:
E-Mount Lens/Full-Frame Format
Aperture Range: f/1.4 to f/16
APS-C Effective Focal Length = 7
One AA Element & One Aspherical Element
One Extra-Low Dispersion Element
Zeiss T* Anti-Reflective Coating
Ring Drive Super Sonic Wave AF Motor
AF/MF Switch; Internal Focus
Physical Aperture Ring; De-Click Switch
Dust- & Moisture-Resistant Construction
Eleven-Blade Circular Diaphragm
Minimum Focus Distance = 1.48′ / 45 cm
Filter Thread = 72mm
Weight = 1.71 lb / 776 g
Retail Price = $1498 US
Check Current Prices: https://geni.us/EGYY
---
Sony FE 50mm f/1.8 Lens
Key Features:
E-Mount Lens/Full-Frame Format
Aperture Range: f/1.8 to f/22
APS-C Effective Focal Length = 75mm
One Aspherical Element
Double-Gauss Optical Design
DC Autofocus Motor
Seven-Blade Circular Diaphragm
Minimum Focus Distance = 1.48′ / 45 cm
Filter Thread = 49mm
Weight = 6.6 oz / 186 g
Retail Price = $248 US
Check Current Prices: https://geni.us/F8SadAM
---
Sony FE 50mm f/2.5 G Lens
Key Features:
E-Mount Lens/Full-Frame Format
Aperture Range: f/2.5 to f/22
APS-C Effective Focal Length = 75mm
9 Elements in 9 Groups
Aspherical and ED Elements
Two XD Linear Motors
AF/MF Switch; Internal Focus
Focus Hold Button
Physical Aperture Ring; De-Click Switch
Dust and Moisture-Resistant Construction
Rounded 7-Blade Diaphragm
Minimum Focus Distance = 13.8″ / 35 cm
Filter Thread = 49mm
Weight = 6.1 oz / 174 g
Price = $598 US
Check Current Price: https://geni.us/8SwzAbi
---
Sony FE 50mm f/2.8 Macro Lens
Key Features:
E-Mount Lens/Full-Frame Format
Aperture Range: f/2.8 to f/16
APS-C Effective Focal Length = 75mm
1:1 Magnification Ratio
One ED Element & One Aspherical Element
Focus Hold Button & Focus Range Limiter
Dust- & Moisture-Resistant Construction
Seven-Blade Circular Diaphragm
Minimum Focus Distance = 6.3″ / 16 cm
Filter Thread = 55mm
Weight = 8.3 oz / 236 g
Retail Price = $498 US
Check Current Prices: https://geni.us/hDAV
---
Sony Sonnar T* FE 55mm f/1.8 ZA Lens
Key Features:
E-Mount Lens/Full-Frame Format
Aperture Range: f/1.8 to f/22
APS-C Effective Focal Length = 82.5mm
Three Aspherical Elements
Zeiss T* Anti-Reflective Coating
Linear Autofocus Motor; Internal Focus
Dust and Moisture-Resistant Construction
Nine-Blade Circular Diaphragm
Minimum Focus Distance = 1.64′ / 50 cm
Filter Thread = 49mm
Weight = 9.9 oz / 281 g
Retail Price = $998 US
Check Current Prices: https://geni.us/oxuyvA
---
Sony FE 85mm f/1.4 GM Lens
Key Features:
E-Mount Lens/Full-Frame Format
Aperture Range: f/1.4 to f/16
APS-C Effective Focal Length = 127.5mm
One XA Element and Three ED Elements
Nano AR Coating
Linear Super Sonic Wave AF Motor
AF/MF Switch; Internal Focus
Focus Hold Button
Physical Aperture Ring; De-Click Switch
Dust and Moisture-Resistant Construction
Eleven-Blade Circular Diaphragm
Minimum Focus Distance = 2.62′ / 80 cm
Filter Thread = 77mm
Weight = 1.8 lb / 820 g
Retail Price = $1798 US
Check Current Prices: https://geni.us/2lawL
---
Sony FE 85mm f/1.8 Lens
Key Features:
E-Mount Lens/Full-Frame Format
Aperture Range: f/1.8 to f/22
APS-C Effective Focal Length = 127.5mm
One Extra-Low Dispersion Element
Double Linear AF Motor
Focus Hold Button; AF/MF Switch
Nine-Blade Circular Diaphragm
Weather-Resistant Design
Minimum Focus Distance = 2.62′ / 80 cm
Filter Thread = 67mm
Weight = 13.1 oz / 371 g
Retail Price = $598 US
Check Current Price: https://geni.us/GDr5Y
---
Sony FE 90mm f/2.8 Macro G OSS Lens
Key Features:
E-Mount Lens/Full-Frame Format
Aperture Range: f/2.8 to f/22
APS-C Effective Focal Length = 135mm
1:1 Magnification Ratio; Internal Focus
Aspherical, ED and Super ED Elements
Nano AR Coating
Direct Drive Super Sonic Wave AF Motor
Optical SteadyShot Image Stabilization
Sliding Focus Ring for AF/MF Selection
Focus Hold Button; Focus Range Limiter
Minimum Focus Distance: 11.02″ / 28 cm
FIlter Thread = 62mm
Weight = 1.3 lb / 602 g
Retail Price = $1098 US
Check Current Price: https://geni.us/47JRv0w
---
Sony FE 100mm f/2.8 STF GM OSS Lens
Key Features:
E-Mount Lens/Full-Frame Format
Aperture Range: f/2.8 to 20 | T5.6 to 22
APS-C Effective Focal Length = 150mm
Apodization Element for Smooth Bokeh
One Aspherical Element & One ED Element
Nano AR Coating
Direct Drive Super Sonic Wave AF Motor
Optical SteadyShot Image Stabilization
Physical Aperture Ring; De-Click Switch
Macro Switching Ring; Focus Hold Button
Eleven-Blade Circular Diaphragm
Minimum Focus Distance = 1.87′ / 57 cm
Filter Thread = 72mm
Weight = 1.5 lb / 700 g
Retail Price = $1498 US
Check Current prices: https://geni.us/dEBsA
---
Sony FE 135mm f/1.8 GM Lens
Key Features:
E-Mount Lens/Full-Frame Format
Aperture Range: f/1.8 to f/22
APS-C Effective Focal Length = 202.5mm
XA Element, Super ED and ED Elements
Nano AR and Fluorine Coatings
XD Linear Motor AF System
AF/MF Switch; Internal Focus
Two Focus Hold Buttons
Physical Aperture Ring; De-Click Switch
Dust and Moisture-Resistant Construction
Rounded 11-Blade Diaphragm
Minimum Focus Distance = 2.3′ / 70 cm
Filter Thread = 82mm
Weight = 2.09 lb / 950 g
Retail Price = $1898 US
Check Current Prices: https://geni.us/d1XbDW
---
Sony FE 400mm F/2.8 GM OSS Lens
Key Features:
E-Mount Lens/Full-Frame Format
Aperture Range: f/2.8 to f/22
APS-C Effective Focal Length = 600mm
Three Fluorite Elements, One ED Element
Nano AR and Fluorine Coatings
XD Linear Motor AF System
Optical SteadyShot Image Stabilization
Power Focus, Preset Focus, Focus Limiter
Weather-Sealed Magnesium-Alloy Design
Fixed, Rotating Tripod Collar
Rounded 11-Blade Diaphragm
Minimum Focus Distance = 8.86′ / 2.7 m
Filter Size = 40.5mm (Drop In Style)
Weight = 6.4 lb / 2895 g
Retail Price = $11,998 US
Check Current Prices: https://geni.us/SAarrv
---
Sony FE 600mm F/4 GM OSS Lens
Key Features:
E-Mount Lens/Full-Frame Format
Aperture Range: f/4 to f/22
APS-C Effective Focal Length = 900mm
ED, Fluorite, and Aspherical Elements
Nano AR and Fluorine Coatings
Extreme Dynamic Linear AF Motors
Optical SteadyShot Image Stabilization
Internal Focus; Focus Range Limiter
Dust and Moisture-Resistant Construction
Fixed, Rotating Tripod Collar
Eleven-Blade Circular Diaphragm
Minimum Focus Distance = 14.8′ / 4.51 m
Lens Filter = 40.5mm (rear slot load)
Weight = 6.7 lb / 3.04 kg
Retail Price = $12,998 US
Check Current Prices: https://geni.us/vyOBDG
---
---
Full Frame Zoom Lenses (FE)
Sony FE 12-24mm f/2.8 GM Lens
Key Features:
E-Mount Lens/Full-Frame Format
Aperture Range: f/2.8 to f/22
APS-C Effective Focal Length = 18-36mm
17 Elements in 14 Groups
Three XA Elements, Two Super ED Elements
Three Extra-Low Dispersion Elements, One Standard Aspherical Element
Nano AR II and Fluorine Coatings
XD Linear Focus Motor System
Focus Hold Button; AF/MF Switch
Dust and Moisture Sealed Design
9-Bladed Rounded Diaphragm
Minimum Focus Distance = 11.02″ / 28 cm
Filter Thread = Gel Filter (Rear)
Weight = 1.86 lb /847 g
Retail Price = $2998 US
Check Current Prices: https://geni.us/wGlM
---
Sony FE 12-24mm f/4 G Lens
Key Features:
E-Mount Lens/Full-Frame Format
Aperture Range: f/4 to f/22
APS-C Effective Focal Length = 18-36mm
Four Aspherical Elements
One Super ED and Three ED Elements
Nano AR Coating
Direct Drive Super Sonic Wave AF Motor
Focus Hold Button; AF/MF Switch
Dust and Moisture-Resistant Construction
Seven-Bladed Rounded Diaphragm
Minimum Focus Distance = 11.02″ / 28 cm
Filter Thread = None
Weight = 1.2 lb / 565 g
Retail Price = $1698 US
Check Current Prices: https://geni.us/aur29iw
---
Sony FE 16-35mm f/2.8 GM Lens
Key Features:
E-Mount Lens/Full-Frame Format
Aperture Range: f/2.8 to f/22
APS-C Effective Focal Length = 24-52.5mm
Two Extra-Low Dispersion Elements
Three Aspherical and Two XA Elements
Nano AR Coating and Fluorine Coating
Direct Drive Super Sonic Wave AF Motors
Focus Hold Button; AF/MF Switch
Dust and Moisture-Resistant Construction
Eleven-Blade Circular Diaphragm
Minimum Focus Distance = 11.02″ / 28 cm
Filter Thread = 82mm
Weight = 1.5 lb / 680 g
Retail Price = $2198 US
Check Current Prices: https://geni.us/1mz45
---
Sony FE PZ 16-35mm f/4 G Lens – Power Zoom
Key Features:
E-Mount Lens/Full-Frame Format
Aperture Range: f/4 to f/22
APS-C Effective Focal Length = 24-52.5mm
Power Zoom Mechanism; Internal Zoom
13 Elements in 12 Groups
Super ED, ED, and Aspherical Elements
Fluorine Coating, Weather-Sealed Design
Dual XD Linear AF Motors
Smooth Motion Optics (SMO)
Physical Aperture Ring; De-Click Switch
Focus Hold Button; AF/MF Switch
7-Blade Circular Diaphragm
Minimum Focus Distance = 9.4″ / 24 cm
Filter Thread = 72mm
Weight = 12.5 oz / 353 g
Retail Price = $1198 US
Check Current Prices: https://geni.us/RajtZXW
---
Sony Vario-Tessar T* FE 16-35mm f/4 ZA OSS Lens
Key Features:
E-Mount Lens/Full-Frame Format
Aperture Range: f/4 to f/22
APS-C Effective Focal Length = 24-52.5mm
One AA Element; Four Aspherical Elements
Three Extra-Low Dispersion Elements
Zeiss T* Anti-Reflective Coating
Linear Autofocus Motor; Internal Focus
Optical SteadyShot Image Stabilization
Dust and Moisture-Resistant Construction
Seven-Blade Circular Diaphragm
Minimum Focus Distance = 11.02″ / 28 cm
Filter Thread = 72mm
Weight = 18.3 oz / 518 g
Retail Price = $1348 US:
Check Current Prices: https://geni.us/8OcBES
---
Sony FE 24-70mm f/2.8 GM II Lens
Key Features:
E-Mount Lens/Full-Frame Format
Aperture Range: f/2.8 to f/22
APS-C Effective Focal Length = 36-105mm
22% Lighter, 18% Smaller than Previous Model
20 elements, 15 groups
5 aspherical elements, 2 extreme aspherical elements
2 extra-low dispersion elements, 2 super extra-low dispersion elements
Zoom Smoothness Switch
Aperture De-Click and Lock Switches
AF/MF Switch
Nano AR II Coating
Four XD Linear AF Motors, Floating Focus
Focus Hold Button; Internal Focus
Dust and Moisture-Resistant Construction
Nine-Blade Circular Diaphragm
Minimum Focus Distance = 8.3″ / 21 cm
Filter Thread = 82mm
Weight = 1.5 lb / 695 g
Retail Price = $2298 US
Check Current Prices: https://geni.us/4dRFYR
---
Sony FE 24-70mm f/2.8 GM Lens
Key Features:
E-Mount Lens/Full-Frame Format
Aperture Range: f/2.8 to f/22
APS-C Effective Focal Length = 36-105mm
One XA Element & Two Aspherical Elements
One ED Element & One Super ED Element
Nano AR Coating
Direct Drive Super Sonic Wave AF Motor
Focus Hold Button; Internal Focus
AF/MF Switch; Zoom Lock Switch
Dust and Moisture-Resistant Construction
Nine-Blade Circular Diaphragm
Minimum Focus Distance = 1.25′ / 38 cm
Filter Thread = 82mm
Weight = 1.9 lb / 886 g
Retail Price = $2198 US
Check Current Prices: https://geni.us/BrEM
---
Sony Vario-Tessar T* FE 24-70mm f/4 ZA OSS Lens
Key Features:
E-Mount Lens/Full-Frame Format
Aperture Range: f/4 to f/22
APS-C Effective Focal Length = 36-105mm
One ED and Five Aspherical Elements
Zeiss T* Anti-Reflective Coating
Linear Autofocus Motor; Internal Focus
Optical SteadyShot Image Stabilization
Dust and Moisture-Resistant Construction
Seven-Blade Circular Diaphragm
Minimum Focus Distance = 1.31′ / 40 cm
Filter Thread = 67mm
Weight = 15 oz / 426 g
Retail Price = $898 US
Check Current Prices: https://geni.us/D1nv
---
Sony FE 24-105mm f/4 G OSS Lens
Key Features:
E-Mount Lens/Full-Frame Format
Aperture Range: f/4 to f/22
APS-C Effective Focal Length = 36-157.5mm
4 Aspherical Elements, 3 ED Elements
Nano AR and Fluorine Coatings
Direct Drive Super Sonic Wave AF Motor
Optical SteadyShot Image Stabilization
Internal Focus Design
Focus Hold Button; AF/MF Switch
Dust and Moisture-Resistant Construction
Rounded Nine-Blade Diaphragm
Minimum Focus Distance = 1.25′ / 38 cm
Filter Thread = 77mm
Weight = 1.5 lb / 663 g
Price = $1398 US
Check Current Prices: https://geni.us/0SEslgi
---
Sony FE 24-240mm f/3.5-6.3 OSS Lens
Key Features:
E-Mount Lens/Full-Frame Format
Aperture Range: f/3.5-6.3 to f/22-40
APS-C Effective Focal Length = 36-360mm
One ED Element; Five Aspherical Elements
Linear Autofocus Motor; Internal Focus
Optical SteadyShot Image Stabilization
Dust and Moisture-Resistant Construction
Seven-Blade Circular Diaphragm
Minimum Focus Distance = 19.69″ / 50 cm
Filter Thread = 72mm
Weight = 1.7 lb / 780 g
Price = $998 US
Check Current Prices: https://geni.us/4I3HQD
---
Sony FE 28-60mm f/4-5.6 Lens
Key Features:
E-Mount Lens/Full-Frame Format
Aperture Range: f/4-5.6 to f/22-32
APS-C Effective Focal Length = 42-90mm
Retractable design
8 Elements in 7 Groups
Linear Autofocus Motor; Internal Focus
Dust and Moisture-Resistant Construction
Seven-Blade Circular Diaphragm
Minimum Focus Distance = 11.81″ / 30 cm
Filter Thread = 40.5 mm
Weight = 5.9 oz / 167 g
Price = $498 US
Check Current Prices: https://geni.us/oBSz
---
Sony FE 28-70mm f/3.5-5.6 OSS Lens
Key Features:
E-Mount Lens/Full-Frame Format
Aperture Range: f/3.5-5.6 to f/22-36
APS-C Effective Focal Length = 42-105mm
One ED & Three Aspherical Elements
Linear Autofocus Motor; Internal Focus
Optical SteadyShot Image Stabilization
Dust and Moisture-Resistant Construction
Seven-Blade Circular Diaphragm
Minimum Focus Distance = 11.81″ / 30 cm
Filter Thread = 55mm
Weight = 10.41 oz / 295 g
Retail Price = $398 US
Check Current Prices: https://geni.us/SH4Fy3
---
Sony FE PZ 28-135mm f/4 G OSS Lens – Power Zoom
Key Features:
E-Mount Lens/Full-Frame Format
Aperture Range: f/4 to f/22
APS-C Effective Focal Length = 42-202.5mm
Five Aspherical & Three ED Elements
Smooth Motion Optics Support 4K Video
No Focus Shift or Lens Breathing
Power Zoom with Super Sonic Wave Motor
Linear Autofocus Motor; Internal Focus
Optical SteadyShot Image Stabilization
Control Rings for Iris, Focus, and Zoom
Removable, Rotating Tripod Collar
Minimum Focus Distance = 1.31′ / 0.40 m
Filter Thread = 95mm
Weight = 2.7 lb / 1215.0 g
Retail Price = $2498 US
Check Current Prices: https://geni.us/5tS0
---
Sony FE 70-200mm f/2.8 GM OSS II Lens
Key Features:
E-Mount Lens/Full-Frame Format
Aperture Range: f/2.8 to f/22
APS-C Effective Focal Length = 105-300mm
One XA & One Aspherical Elements
Two ED Elements & Two Super ED Elements
Nano AR Coating
Four XD (Extreme Dynamic) Linear Motors
Optical SteadyShot Image Stabilization
Iris Lock, Aperture Click On/ Off
Focus Hold Buttons; Focus Range Limiter
Dust and Moisture-Resistant Construction
Compatible with Sony's optional 1.4x and 2x teleconverters
11-Blade Circular Diaphragm
Minimum Focus Distance = 15.7″ / 40 cm
Filter Thread = 77mm
Weight = 2.3 lb / 1045 g
Retail Price = $2798 US
Check Current Prices: https://geni.us/a2cDMyy
---
Sony FE 70-200mm f/2.8 GM OSS Lens
Key Features:
E-Mount Lens/Full-Frame Format
Aperture Range: f/2.8 to f/22
APS-C Effective Focal Length = 105-300mm
One XA Element & Two Aspherical Elements
Four ED Elements & Two Super ED Elements
Nano AR Coating
Dual Linear & Super Sonic Wave AF Motors
Optical SteadyShot Image Stabilization
Focus Hold Buttons; Focus Range Limiter
Dust and Moisture-Resistant Construction
Eleven-Blade Circular Diaphragm
Minimum Focus Distance = 3.15′ / 96 cm
Filter Thread = 77mm
Weight = 3.3 lb / 1480 g
Retail Price = $2598 US
Check Current Prices: https://geni.us/DOW20
Testing, Sample Photos, and Review Articles:
---
Sony FE 70-200mm f/4 G OSS Lens
Key Features:
E-Mount Lens/Full-Frame Format
Aperture Range: f/4 to f/22
APS-C Effective Focal Length = 105-300mm
Two ED Elements & One Super ED Element
Two AA Elements & One Aspherical Element
Nano AR Coating
Dual Linear AF Motors; Internal Focus
Optical SteadyShot Image Stabilization
Focus Hold Buttons; Focus Range Limiter
Dust and Moisture-Resistant Construction
Removable, Rotating Tripod Collar
Minimum Focus Distance = 39.37″ / 1 m
Filter Thread = 72mm
Weight = 1.9 lb / 840 g
Retail Price = $1498 US
Check Current Prices: https://geni.us/VhO5F
---
Sony FE 70-300mm f/4.5-5.6 G OSS Lens
Key Features:
E-Mount Lens/Full-Frame Format
Aperture Range: f/4.5 to f/29
APS-C Effective Focal Length = 105-450mm
Two ED and Four Aspherical Elements
Nano AR Coating
Linear Autofocus Motor; Internal Focus
Optical SteadyShot Image Stabilization
Focus Hold Button; Focus Range Limiter
Dust- & Moisture-Resistant Construction
Nine-Blade Circular Diaphragm
Minimum Focus Distance = 2.95′ / 90 cm
Filter Thread = 72mm
Weight = 1.9 lb / 854 g
Retail Price = $1198
Check Current Prices: https://geni.us/76vszL
---
Sony FE 100-400mm f/4.5-5.6 GM OSS Lens
Key Features
E-Mount Lens/Full-Frame Format
Aperture Range: f/4.5-5.6 to f/32-40
APS-C Effective Focal Length = 150-600mm
One Super ED Element and Two ED Elements
Nano AR Coating and Fluorine Coating
Direct Drive Super Sonic Wave AF Motor
Optical SteadyShot Image Stabilization
Zoom Torque Adjustment Ring
Internal Focus; Focus Range Limiter
Dust and Moisture-Resistant Construction
Nine-Blade Circular Diaphragm
Minimum Focus Distance = 3.22′ / 0.98 m
Filter Thread = 77mm
Weight = 49.2 oz / 1395 g
Retail Price = $2498 US
Check Current Prices: https://geni.us/MrNIZb7
---
Sony FE 200-600mm f/5.6-6.3 G OSS Lens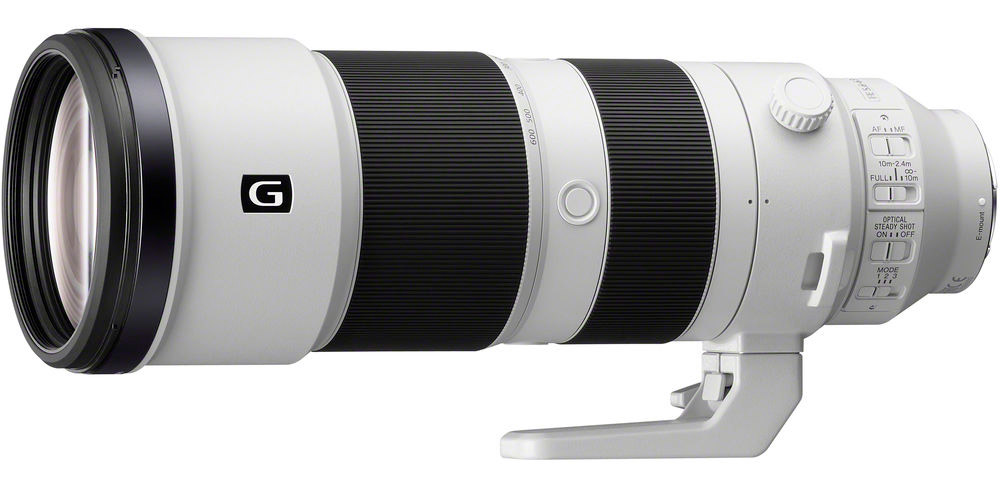 Key Features:
E-Mount Lens/Full-Frame Format
Aperture Range: f/5.6-6.3 to f/32-36
APS-C Effective Focal Length = 300-900mm
5 ED Elements & 1 Aspherical Element
Nano AR Coating and Fluorine Coating
Direct Drive Super Sonic Wave AF Motor
Optical SteadyShot Image Stabilization
Internal Focus; Focus Range Limiter
Dust and Moisture-Resistant Construction
Eleven-Blade Circular Diaphragm
Minimum Focus Distance = 7.88′ / 2.4 m
Filter Thread = 95 mm (Front)
Weight = 4.67 lb / 2.12 kg
Retail Price = $1998 US
Check Current Prices: https://geni.us/A3lTl
---
Sony FE 1.4X Teleconverter
Key Features:
E-Mount Teleconverter/Full-Frame Format
1.4x Magnification Factor
Light Loss = 1-Stop
Communication Between Lens & Camera
Maintains Metering, Autofocus, and OSS
Dust and Moisture-Resistant Construction
Compatible with:

FE 70-200mm f/2.8 GM OSS Lens
FE 70-200mm f/2.8 GM OSS II Lens
FE 100-400mm f/4.5-5.6 GM OSS Lens
FE 400mm f/2.8 GM OSS Lens
FE 600mm f/4 GM OSS Lens
FE 200-600mm G OSS Lens

Weight = 5.9 oz / 167.0 g
Retail Price = $548 US
Check Current Prices: https://geni.us/ufTQ
Sony FE 2X Teleconverter
Key Features:
E-Mount Teleconverter/Full-Frame Format
2x Magnification Factor
Light Loss = 2-Stop
Communication Between Lens & Camera
Maintains Metering, Autofocus, and OSS
Dust and Moisture-Resistant Construction
Compatible with:

FE 70-200mm f/2.8 GM OSS Lens
FE 70-200mm f/2.8 GM OSS II Lens
FE 100-400mm f/4.5-5.6 GM OSS Lens
FE 400mm f/2.8 GM OSS Lens
FE 600mm f/4 GM OSS Lens
FE 200-600mm G OSS Lens

Weight = 7.3 oz / 207.0 g
Retail Price = $548 US
Check Current Prices: https://geni.us/Kv8z
Testing, Sample Photos and Reviews:
---
---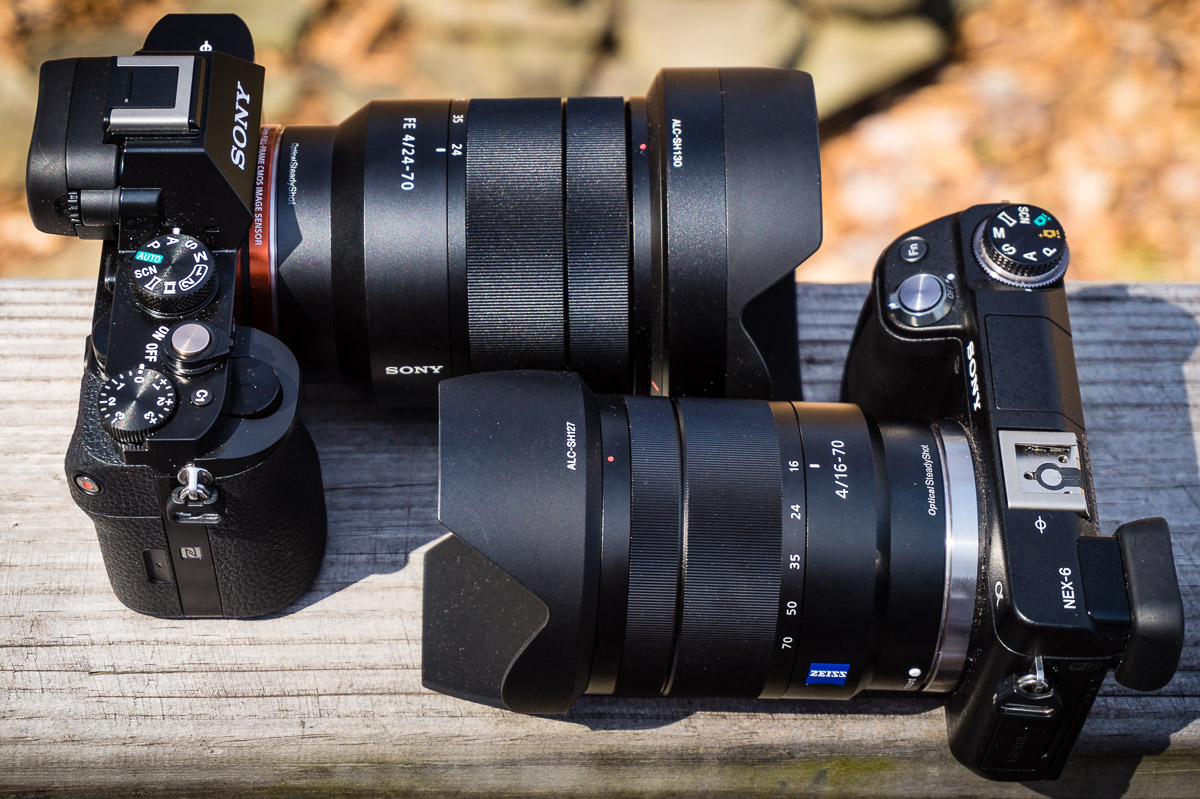 Sony
APS-C

E-Mount Lenses (E)

The APS-C E-Mount Lenses listed below are designed specifically for the crop factor cameras like the Sony ZV-E10, A6600, A6500, A6400, A6300, A6100, A6000, etc…
APS-C Prime Lenses (E)
Sony E 11mm f/1.8 Lens
Key Features:
E-Mount Lens/APS-C Format
16.5mm (35mm Equivalent)
Aperture Range: f/1.8 to f/16
Dual Linear AF Motors; Internal Focus
Rounded 7-Blade Diaphragm
Smooth Motion Optics (SMO)
Customizable focus hold button
Dust and Moisture-Resistant Design
Minimum Focus Distance = 4.7″
Filter Thread = 55mm
Weight = 6.4 oz
Retail Price = $548 US
Check Current Prices: https://geni.us/jwuIF4
---
Sony E 15mm f/1.4 G Lens
Key Features:
E-Mount Lens/APS-C Format
22.5mm (35mm Equivalent)
Aperture Range: f/1.4 to f/16
Super ED, ED, and Aspherical Elements
Dual Linear AF Motors; Internal Focus
Smooth Motion Optics (SMO)
Rounded 7-Blade Diaphragm
Physical Aperture Ring; De-Click Switch
Customizable focus hold button
Min. Focusing Distance: 6.7″
Filter Thread = 55mm
Weight = 7.7 oz
Retail Price = $748 US
Check Current Prices: https://geni.us/UKiuI
---
Sony E 16mm f/2.8 Pancake Lens
Key Features:
E-Mount Lens/APS-C Format
24mm (35mm Equivalent)
Aperture Range: f/2.8 to f/22
One Aspherical Element
Compact Pancake Design
Internal Focus
Seven-Blade Circular Diaphragm
Optional Ultra-Wide & Fisheye Converters
Minimum Focus Distance = 9.45″ / 24 cm
Filter Thread = 49mm
Weight = 2.6 oz (74g)
Retail Price = $248 US
Check Current Prices: https://geni.us/BxIJRp
---
Sony E 20mm f/2.8 Pancake Lens
Key Features:
E-Mount Lens/APS-C Format
30mm (35mm Equivalent)
Aperture Range: f/2.8 to f/16
Optional Ultra-Wide & Fisheye Converters
Three Aspherical Elements
Pancake Design
Rear Focus
Minimum Focus Distance: 7.9″
Seven-Blade Circular Diaphragm
Minimum Focus Distance = 7.87″ / 20 cm
Filter Thread = 49mm
Weight = 2.4 oz / 69 g
Retail Price = $348
Check Current Prices: https://geni.us/oAsY
---
Sony Ultra Wide Converter for E 16mm & 20mm Lens
Key Features:
For E 16mm and 20mm Pancake Lenses
Further Widens Lens Perspective
12mm on E 16mm (35mm Equivalent) to 18mm
16mm on E 20mm (35mm Equivalent) to 24mm
Filter Thread = None
Weight = 4.4 oz (125 g)
Retail Price $158
Check Current Prices: https://geni.us/url44l
Sony Fisheye Converter For E 16mm & 20mm Lens
Key Features:
For E 16mm and 20mm Pancake Lenses
Provides Fisheye Perspective
10mm on E 16mm (35mm Equivalent) to 15mm
13mm on E 20mm Lens (35mm Equivalent) to 20mm
Filter Thread = None
Weight = 5.3 oz (150 g)
Price $178
Check Current Prices: https://geni.us/skz5dxv
---
Sony E 24mm f/1.8 Sonnar T* ZA Lens
Key Features:
E-Mount Lens/APS-C Format
36mm (35mm Equivalent)
Aperture Range: f/1.8 to f/22
One ED Element & Two Aspherical Elements
Zeiss T* Anti-Reflective Coating
Linear Autofocus Motor; Internal Focus
Seven-Blade Circular Diaphragm
Minimum Focus Distance = 6.3″ / 16 cm
FIlter Thread = 49mm
Weight = 7.9 oz / 225 g
Price = $1098
Check Current Prices: https://geni.us/Qibb
---
Sony E 30mm f/3.5 Macro Lens
Key Features:
E-Mount Lens/APS-C Format
45mm (35mm Equivalent)
Aperture Range: f/3.5 to f/22
One ED and Three Aspherical Elements
1:1 Magnification Ratio
Internal Focus
Seven-Blade Circular Diaphragm
Minimum Focus Distance: = 3.74″ / 9.5 cm
Filter Thread = 49mm
Weight = 4.9 oz / 138 g
Price = $278
Check Current Prices: https://geni.us/OheEd
---
Sony E 35mm f/1.8 OSS Lens
Key Features:
E-Mount Lens/APS-C Format
52.5mm (35mm Equivalent)
Aperture Range: f/1.8 to f/22
One ED Element & Two Aspherical Elements
Optical SteadyShot Image Stabilization
Internal Focus
Seven-Blade Circular Diaphragm
Minimum Focus Distance = 11.81″ / 30 cm
Filter Thread = 49mm
Weight = 5.4 oz / 154 g
Price = $448
Check Current Prices: https://geni.us/XUZDb
---
Sony E 50mm f/1.8 OSS Lens
Key Features:
E-Mount Lens/APS-C Format
75mm (35mm Equivalent)
Aperture Range: f/1.8 to f/22
Optical SteadyShot Image Stabilization
Internal Focus
Seven-Blade Circular Diaphragm
Minimum Focus Distance = 1.28′ / 39 cm
Filter Thread = 49mm
Weight = 7.1 oz / 202 g
Price = $298
Check Current Prices: https://geni.us/aJAxZFY
---
---
APS-C Zoom Lenses (E)
Sony E PZ 10-20mm f/4 Lens – Power Zoom
Key Features:
E-Mount Lens/APS-C Format
15-30mm (35mm Equivalent)
Aperture Range: f/4 to f/22
ED and Aspherical Elements
Power Zoom Mechanism; Internal Zoom
Dual Linear AF Motors; Internal Focus
Smooth Motion Optics (SMO)
Dust and Moisture-Resistant Design
Rounded 7-Blade Diaphragm
Minimum Focus Distance = 5.1″
Filter Thread = 62mm
Weight = 6.3 oz
Price = $748
Check Current Prices: https://geni.us/xxMDtu
---
Sony E 10-18mm f/4 OSS Lens
Key Features:
E-Mount Lens/APS-C Format
15-27mm (35mm Equivalent)
Aperture Range: f/4 to f/22
One Super ED & Three Aspherical Elements
Optical SteadyShot Image Stabilization
Internal Focus
Seven-Blade Circular Diaphragm
Minimum Focus Distance = 9.84″ / 25 cm
Filter Thread = 62mm
Weight = 7.9 oz / 225 g
Price = $848
Check Current Prices: https://geni.us/LImCY8T
---
Sony E Powerzoom 16-50mm f/3.5-5.6 OSS Lens
Key Features:
E-Mount Lens/APS-C Format
24-75mm (35mm Equivalent)
Aperture Range: f/3.5-5.6 to f/22-36
One ED Element; Four Aspherical Elements
Optical SteadyShot Image Stabilization
Power Zoom Mechanism
Retractable Design; Internal Focus
Seven-Blade Circular Diaphragm
Minimum Focus Distance = 9.84″ / 25 cm
Filter Thread = 40.5mm
Weight = 4.1 oz / 116 g
Price = $348
Check Current Prices: https://geni.us/7rlP5
---
Sony E 16-55mm f/2.8 G lens
Key Features:
E-Mount Lens/APS-C Format
24-82.5mm (35mm Equivalent)
Aperture Range: f/2.8 to f/22
XD Linear Motor
Nano AR Coating
Four Aspherical Elements
17 Elements in 12 Groups
Max Aperture = f/2.8
dust- and moisture-sealed design
fluorine coating
Minimum Focus Distance = 1.08′ / 33 cm
Diaphragm Blades = 9, Rounded
Filter Thread = 67mm
Weight = 1.09 lb / 494 g
Price = $1389 US
Check Current Prices: https://geni.us/Si3AxE
---
Sony E 16-70mm f/4 Vario-Tessar T* ZA OSS Lens
Key Features:
E-Mount Lens/APS-C Format
24-105mm (35mm Equivalent)
Aperture Range: f/4 to f/22
One ED Element; Four Aspherical Elements
Zeiss T* Anti-Reflective Coating
Linear Autofocus Motor; Internal Focus
Optical SteadyShot Image Stabilization
Seven-Blade Circular Diaphragm
Minimum Focus Distance = 13.78″ / 35 cm
Filter Thread = 55mm
Weight = 10.9 oz / 308 g
Price = $998
Check Current Prices: https://geni.us/p8Thj
---
Sony E Powerzoom 18-105mm f/4 G OSS Lens
Key Features:
E-Mount Lens/APS-C Format
27-157.5mm (35mm Equivalent)
Aperture Range: f/4 to f/22
Two ED & Three Aspherical Elements
Optical SteadyShot Image Stabilization
Power Zoom Lever; Handycam Technology
Internal Focus
Seven-Blade Circular Diaphragm
Minimum Focus Distance = 1.48′ / 45 cm
Filter Thread = 72mm
Weight = 15.1 oz / 427 g
Price = $598
Check Current Prices: https://geni.us/x0pL
---
Sony E 18-135mm f/3.5-5.6 OSS Lens
Key Features:
E-Mount Lens/APS-C Format
Aperture Range: f/3.5 to f/36
27-202.5mm (35mm Equivalent)
Maximum Aperture Range: f/3.5-5.6
Two ED Elements & One Aspherical Element
Optical SteadyShot Image Stabilization
Linear AF Motor
Seven-Blade Circular Diaphragm
Minimum Focus Distance = 1.48′ / 45 cm
Filter Thread = 55mm
Weight = 11.5 oz / 326 g
Check Current Prices:
---
Sony E Powerzoom 18-200mm f/3.5-6.3 OSS Lens
Key Features:
E-Mount Lens/APS-C Format
27-300mm (35mm Equivalent)
Aperture Range: f/3.5-6.3 to f/22-40
ED and Aspherical Elements
Optical SteadyShot Image Stabilization
Power Zoom Mechanism; Variable Speed
Internal Focus
Seven-Blade Circular Diaphragm
Minimum Focus Distance = 11.81″ / 30 cm
Filter Thread = 67mm
Weight = 1.4 lb / 649 g
Check Current Prices:
Reviews >>
---
Sony E 18-200mm f/3.5-6.3 OSS Lens
Key Features:
E-Mount Lens/APS-C Format
27-300mm (35mm Equivalent)
Aperture Range: f/3.5-6.3 to f/22-40
One ED Element; Four Aspherical Elements
Optical SteadyShot Image Stabilization
Zoom Lock Switch
Internal Focus
Seven-Blade Circular Diaphragm
Minimum Focus Distance = 11.81″ / 30 cm
Filter Thread = 67mm
Weight = 1.43 lb / 649 g
Retail Price = $898
Check Current Prices: https://geni.us/F46A
---
Sony E 18-200mm f/3.5-6.3 OSS LE Lens
Key Features:
E-Mount Lens/APS-C Format
27-300mm (35mm Equivalent)
Aperture Range: f/3.5-6.3 to f/22-40
Two ED and Four Aspherical Elements
Optical SteadyShot Image Stabilization
Linear Autofocus Motor; Internal Focus
Zoom Lock Switch
Seven-Blade Circular Diaphragm
Minimum Focus Distance = 1.64′ / 50 cm
Filter Size = 62mm
Weight = 16.2 oz / 460 g
Price = $848
Check Current Prices: https://geni.us/Zh1LE
---
Sony E PowerZoom 18-110mm f/4 G OSS Lens
Key Features:
APS-C/Super35 E-Mount Lens
Aperture Range: f/4 to f/22
One Aspherical & Two ED Elements
Smooth Motion Optics
No Focus Shift or Lens Breathing
Switchable Manual and Servo Zoom
Internal Focus
Optical SteadyShot Image Stabilization
Control Rings for Focus, Zoom, and Iris
Removable Tripod Foot
Minimum Focus Distance = 15.75″ / 40 cm
Filter Thread = 95mm
Weight = 2.4 lb / 1.1 kg
Price = $3498
Check Current Prices: https://geni.us/t79jj
---
Sony E 55-210mm f/4.5-6.3 OSS Lens
Key Features:
E-Mount Lens/APS-C Format
82.5-315mm (35mm Equivalent)
Aperture Range: f/4.5-6.3 to f/22-32
Two ED Elements; Two Aspherical Elements
Optical SteadyShot Image Stabilization
Internal Focus
Seven-Blade Circular Diaphragm
Minimum Focus Distance = 3.28′ / 1 m
Filter Thread = 49mm
Weight = 12.2 oz / 345 g
Price = $348
Check Current Prices: https://geni.us/dfeE
---
Sony E 70-350mm f/4.5-6.3 G OSS Lens
Key Features:
E-Mount Lens/APS-C Format
105-525mm (35mm Equivalent)
Aperture Range: f/4.5 to f/32
Max Aperture = f/4.5 to 6.3
One Aspherical Element
19 Elements in 13 Groups
Optical Stabilization
Zoom Lock
Minimum Focus Distance = 3.61′ / 1.1 m
Diaphragm Blades = 7
Filter Thread = 67mm
Weight = 1.38 lb / 625 g
Price = $998 US
Check Current Prices: https://geni.us/zyB9o0p
---
---