In this Hands on review I will cover the Sony E-Mount 16mm f/2.8 Lens also known as the "Pancake Lens" or SEL16F28.
I used the Sony Nex-C3 , Nex-5n, Nex-6, and A6500 to review this lens over several years.
In addition to the specs and features below, the E-Mount 16mm lens makes the Sony mirrorless cameras small enough to put in your pocket which is absolutely awesome!! The 16mm range although nice and wide is a bit limiting for an all around lens, but makes for a great landscapes, creative portraits, architecture shots, and more.
The Sony E 16mm f/2.8 is an excellent value for the dollar in my opinion. The lens is very wide, extremely light weight, ultra compact, and pretty fast with a max aperture of f/2.8. It also has a very quite auto focus motor which makes this lens a great option for video as well. For example, vloggers taking selfie video could utilize this lens and get some really good quality wide angle view footage in a large variety of conditions, and it would be a very lightweight solution.
I also like the 9.4″ minimum focus distance which creates deep separation from backgrounds when utilized in compositions like the test shots you'll see below.
Key Features:
Aperture (Max.) : f/2.8
Aperture (Min.) : f/22
Filter Diameter : 49mm
Lens Groups-Elements : 5 groups, 5 elements (1 aspheric surfaces)
Minimum Focus Distance : 9.4″ (0.24m)
Aspheric Elements : 1 aspheric surface
Non-rotating Focusing Ring : No rotation
AF for Movie Capture : Yes
Angle of View : 83°
Aperture Blade : 7 blades (Circular aperture)
Dimensions (Max. Diameter x Length) : 2-7/16 x 7/8″ (62×22.5mm)
Direct Manual Focus : Yes
Exterior Finish : Metal
Focal Length (35mm equivalent) : 24mm
Focus Ring in AF Mode : No rotation
Internal Motor : Yes (Stepping motor)
Lens Weight : 2.5 oz (70g)
Low Noise During Movie Capture : Excellent
Maximum Magnification : 0.073x (APS-C)
Mount Material : Metal
Light weight, heavy duty
Ultra compact and elegant, the SAL16F28 compliments your camera with a refined feel. The lens barrel is contracted from high-quality aluminum alloy which provides maximum durability in combination with the metal lens mount. Weighing in at only 2.5 oz (70g) it measures 62mm in diameter and 22.5mm thick.
Circular Aperture
The SAL16F28 features seven aperture blades that form a near circle. This result in a pleasing defocused circular effect on the background of your image when the aperture is set wide open. The same type of internal stepping motor used for the focus drive is used for aperture actuation as well, that result in a smooth, low-noise aperture operation ideally suited to movie shooting.
Smooth Manual Focusing
An easy-grip focus ring on the lens barrel gives you a solid "hands-on" feel in manual focusing. Additionally, Direct Manual Focus (DMF) allows you to focus manually after AF lock-on without the need for any switching. This can be extremely useful in situations where AF can't lock onto the subject accurately, or when AF locks onto a point that does not match your intention. Electronic manual focus technology was originally developed for professional Sony camcorders to ensure smooth, precise focus control.
Made for movies
The SAL16F28 performs equally as well when shooting video. Thanks to an internal stepping motor and rear-focusing design It has optimized video performance for smooth, quiet operation essential for high-quality movie capture.
Accessories for creative shooting
The VCL-ECU1 Ultra-wide converter and VCL-ECF1 Fisheye conversion lenses can simply be attached to the front of the SAL16F28 to provide ultra wide or fisheye fields of view. Both conversion lenses were developed concurrently with and specifically for the SAL16F28 and integrate elegantly as well. The Ultra-wide and Fisheye conversion lenses offer single-focal-length image quality with superior portability.
I reviewed both the Ultra Wide Angle and Fisheye Lens Converters using the Sony E 16mm f/2.8 Lens Here >>
High Res Photos of the Sony 16mm f/2.8 E-Mount Lens:
Be Sure to Click the photos for a nice Large Crisp view!!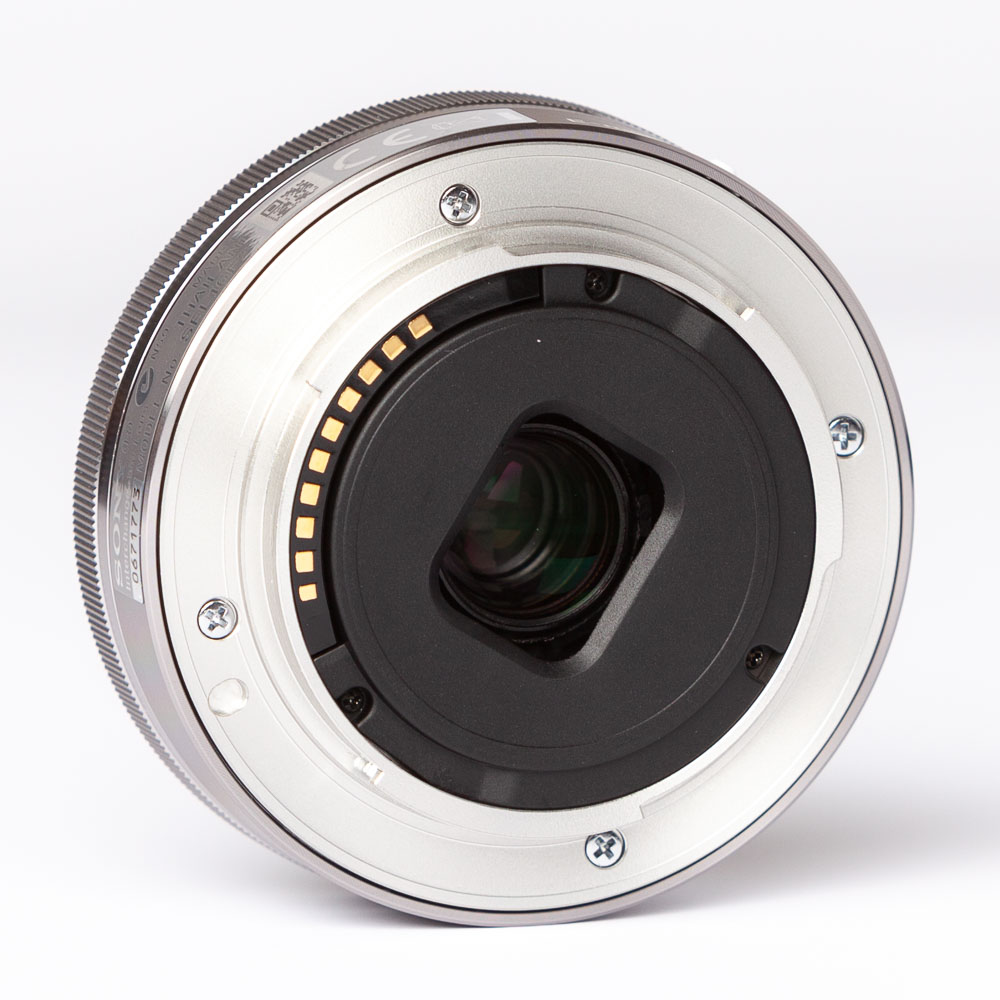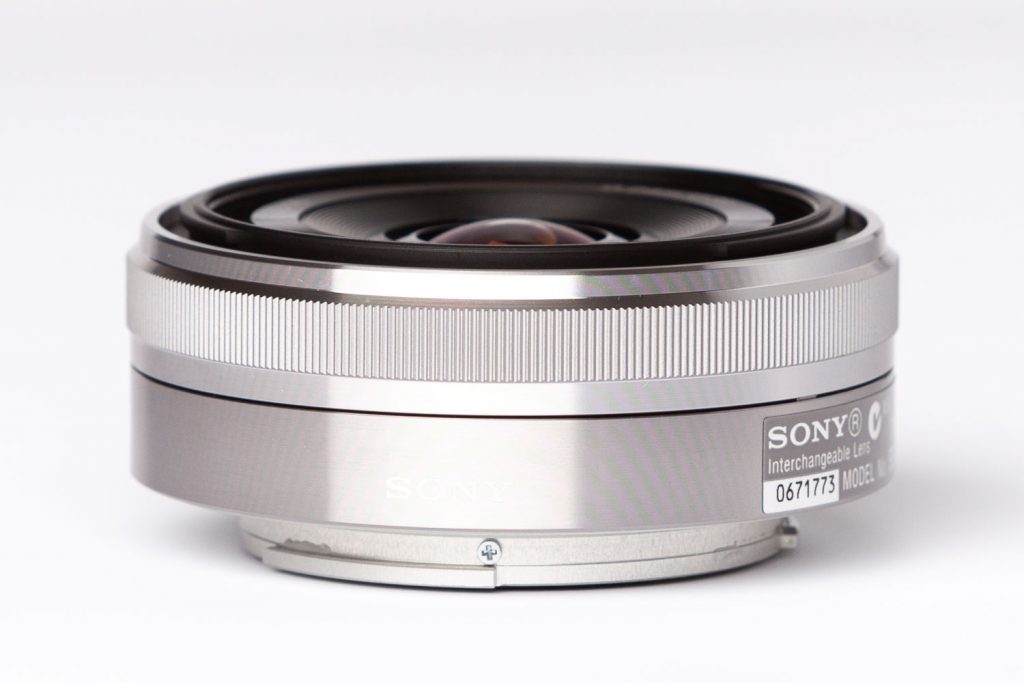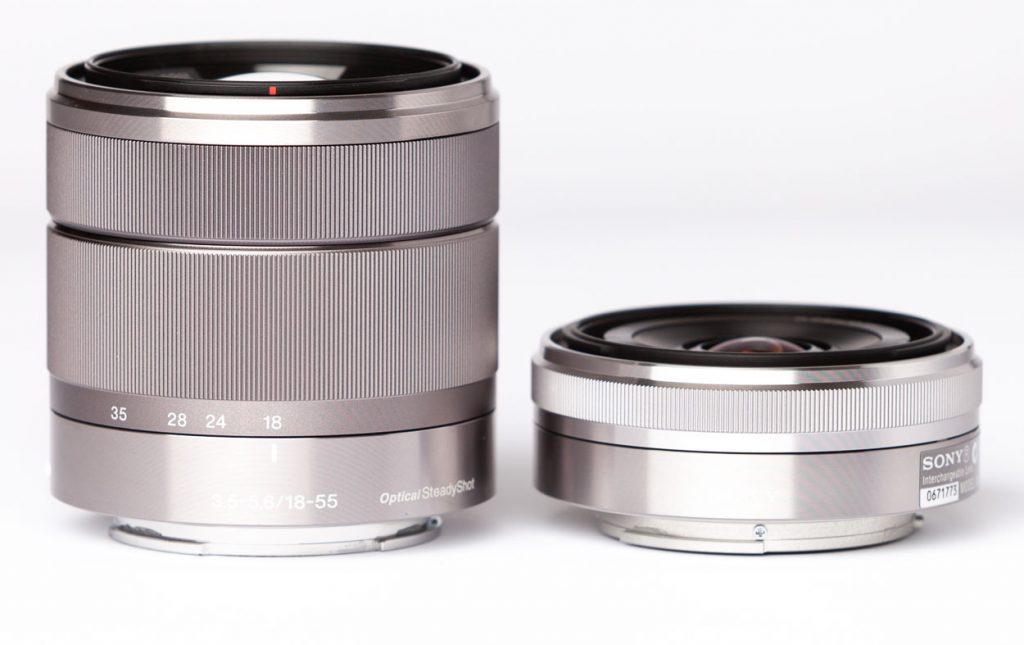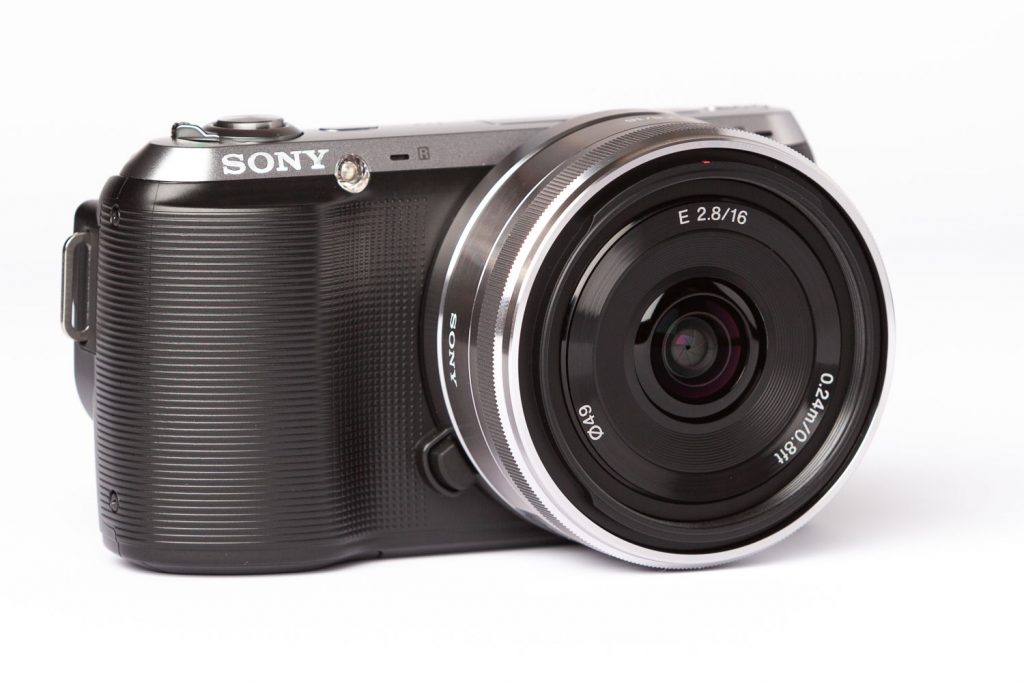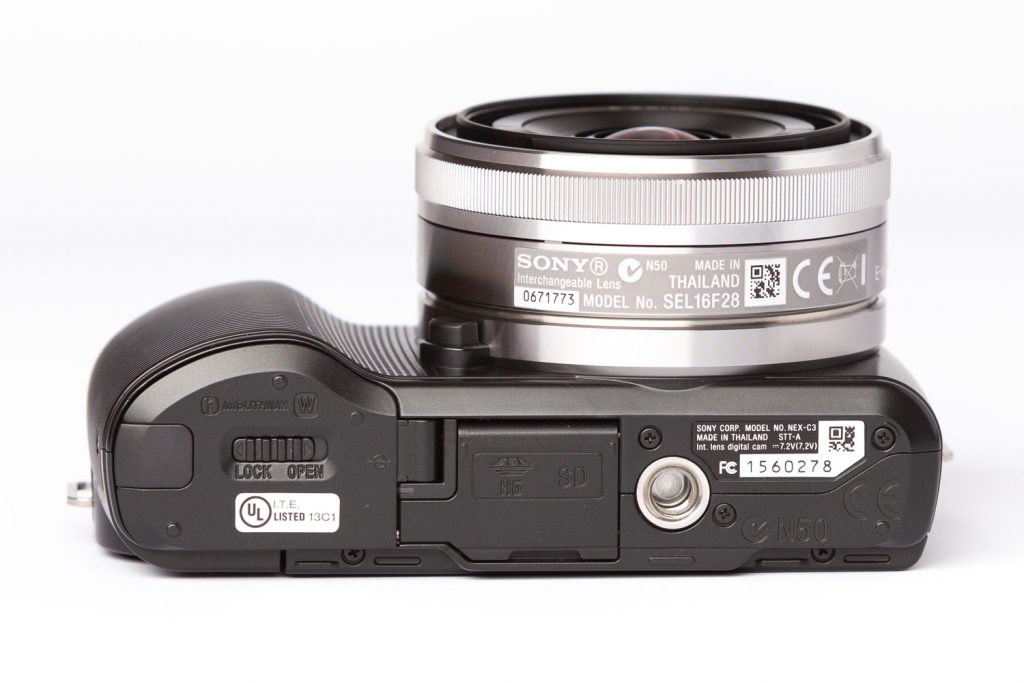 Sample Photos
I took an ton of sample photos over the years with the E 16mm f/2.8 Lens, so be sure to scroll thru and click on the ones that peak your interest for a much larger view.
Lab Testing
I took these lab test photos a while back, so the lab scene has changed drastically over the years, however it still does the trick! Be sure to click on the photos for a more detailed view.
The summary from this lab testing is this: The E 16mm f/2.8 Lens in this lab scene test suffers from some fairly soft corners and some vignette at f/2.8. Once stopped down a bit the corner sharpness comes back and the vignette goes away. F/5.6-f/8 appear to be the sharpest overall in this testing.
Real World Sample Photos
Conclusion:
The Sony (SEL16F28) 16mm f/2.8 E-Mount Lens is an excellent complement to Nex series cameras and I highly recommend it! The lens is incredibly lightweight and very thin which turns the Nex cameras into a pocket sized camera. With an effective focal range of 24mm the Sony 16mm f/2.8 lens offers a fairly wide view! Add to that Panoramic Mode, and you can pretty much capture anything with this combo!
The Sony 16mm pancake lens is also very sharp in the center, but the sharpness does fade towards the corners and at the very edge it's noticeable soft.
The bottom line for the Sony 16mm f/2.8 lens is for ~$250 your getting very good quality glass in a very well made lens housing that produces great results in the real world. I own this lens and Highly recommend it!
I also have the two Conversion Lenses for the 16mm lens reviewed over Here: Sony 16mm Conversion Lens Review >>
Also be sure to check out every E-Mount lens currently available for the Nex Cameras in my Sony E-Mount Lens Guide >>
Jay
Price: ~$249.99 @ BHPhotoVideo | Amazon

My Sony E 16mm f/2.8 Pancake Lens Review
Build Quality and Design
85
Pros
extremly lightweight
ultra compact "pancake" design
very good build quality
quiet auto focus
nice out of focus bokeh rendering
Cons
soft in the corners and fairly heavy vignette @ f/2.8 in particular
some distortion and chromatic aberrations present