100
APS-C E-Mount Prime Lenses
In this Hands on Review I will cover the Sony E 50mm f/1.8 OSS lens as tested on the Sony Nex-5n. I've done extensive testing with this APS-C lens and you will see exactly what it's capable of in this real world perspective review.
At a ~$300 US price point at the time of this review, it's easily one of the best bang for the buck Sony E-Mount lens currently available for the aps-c crop factor mirrorless cameras in my opinion. See all the currently available E-Mount Lenses Here >>
The Sony E 50mm f/1.8 OSS Lens has a fast f/1.8 aperture, high quality ed glass, optical steady shot, and a silent smooth focus motor.
The 50mm focal length on a 1.5x crop factor sensor body, like the Nex cameras, works out to an effective 75mm. (50mm X 1.5x = 75mm) 75mm is an excellent focal length for portraits in particular and with such a fast aperture of f/1.8, in combination with the huge sensor on the Nex-5n, you can get awesome separation between your subjects and backgrounds.
I took a lot of sample pics and some sample video that show off just how smooth and quite the Sony 50mm f/1.8 OSS lens really is when focusing from one subject to another, even in low light. I also wanted to note that I shot Jpeg for most of these images as that is what most users will be using when shooting with the Nex-5n in my opinion. Plus the fact that the camera fixes the minor lens flaws in jpeg mode, which is convenient bonus.
A closer look at the Sony E 50mm f/1.8 OSS Lens
Here's the Sony E-Mount 50mm f/1.8 OSS Lens w/ the provided lens hood.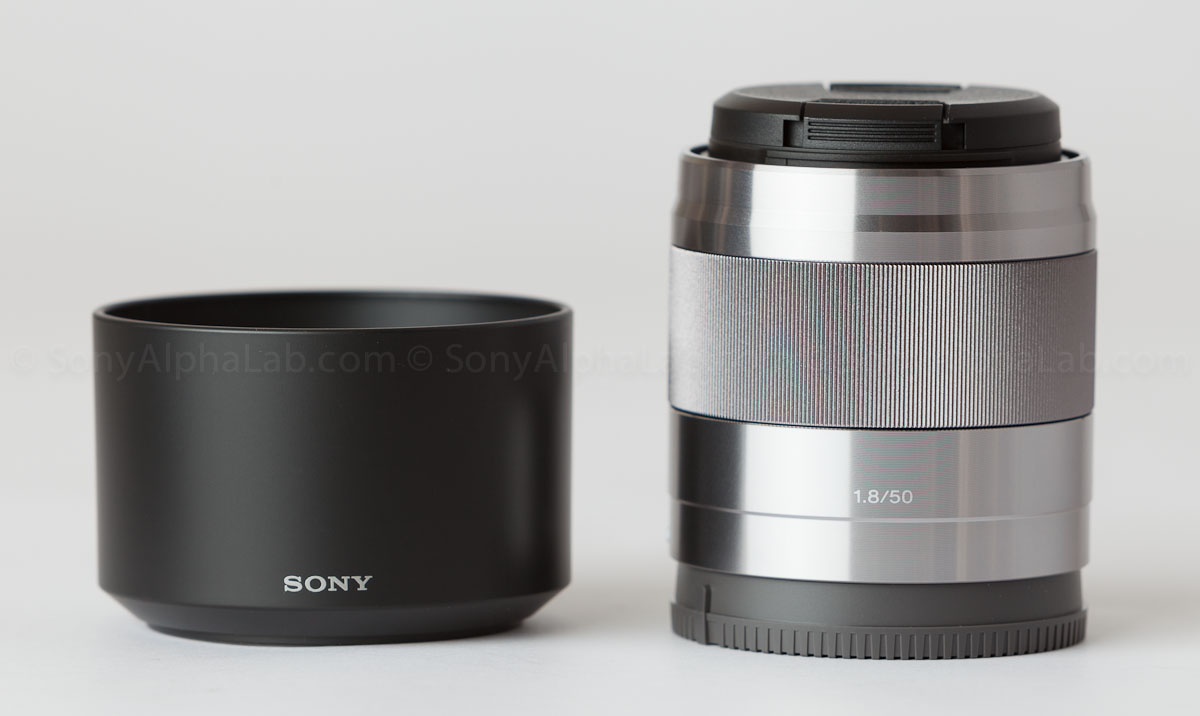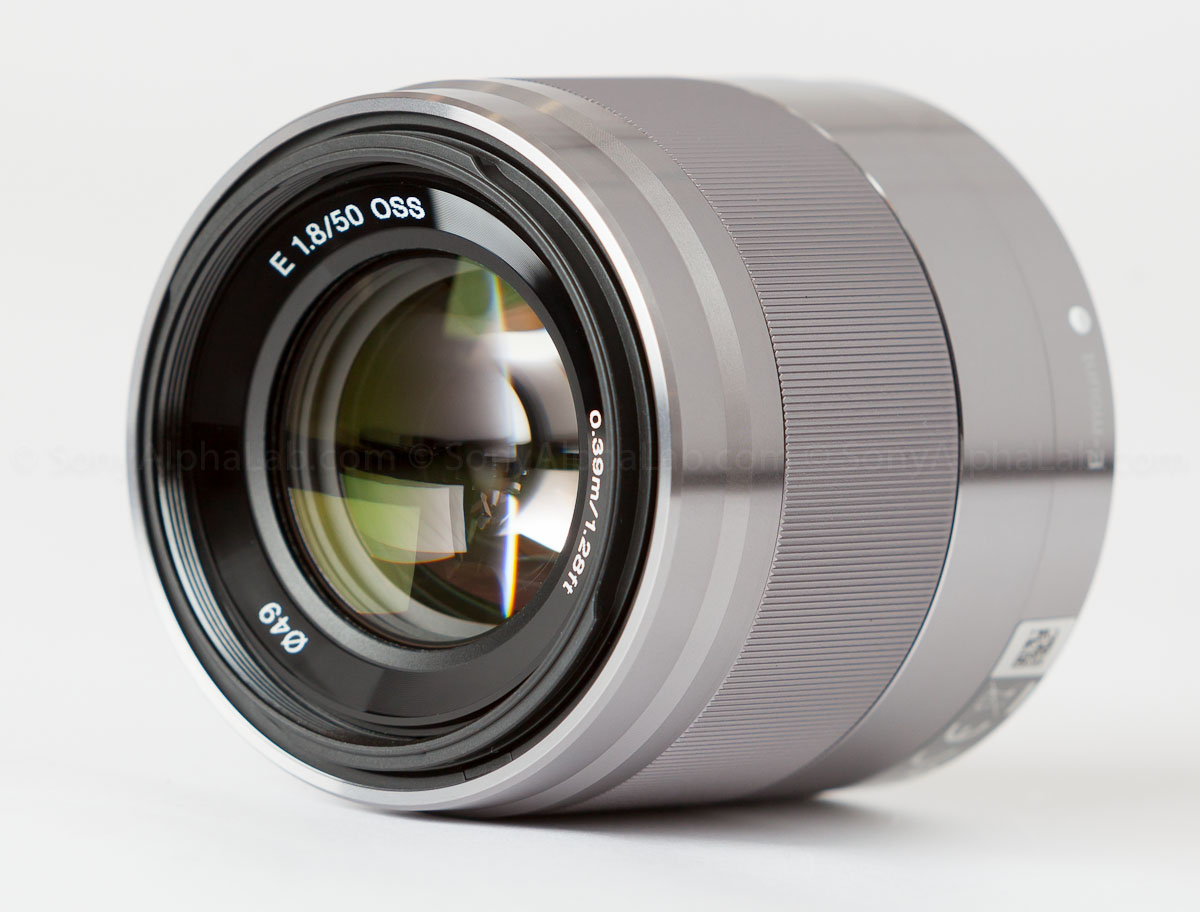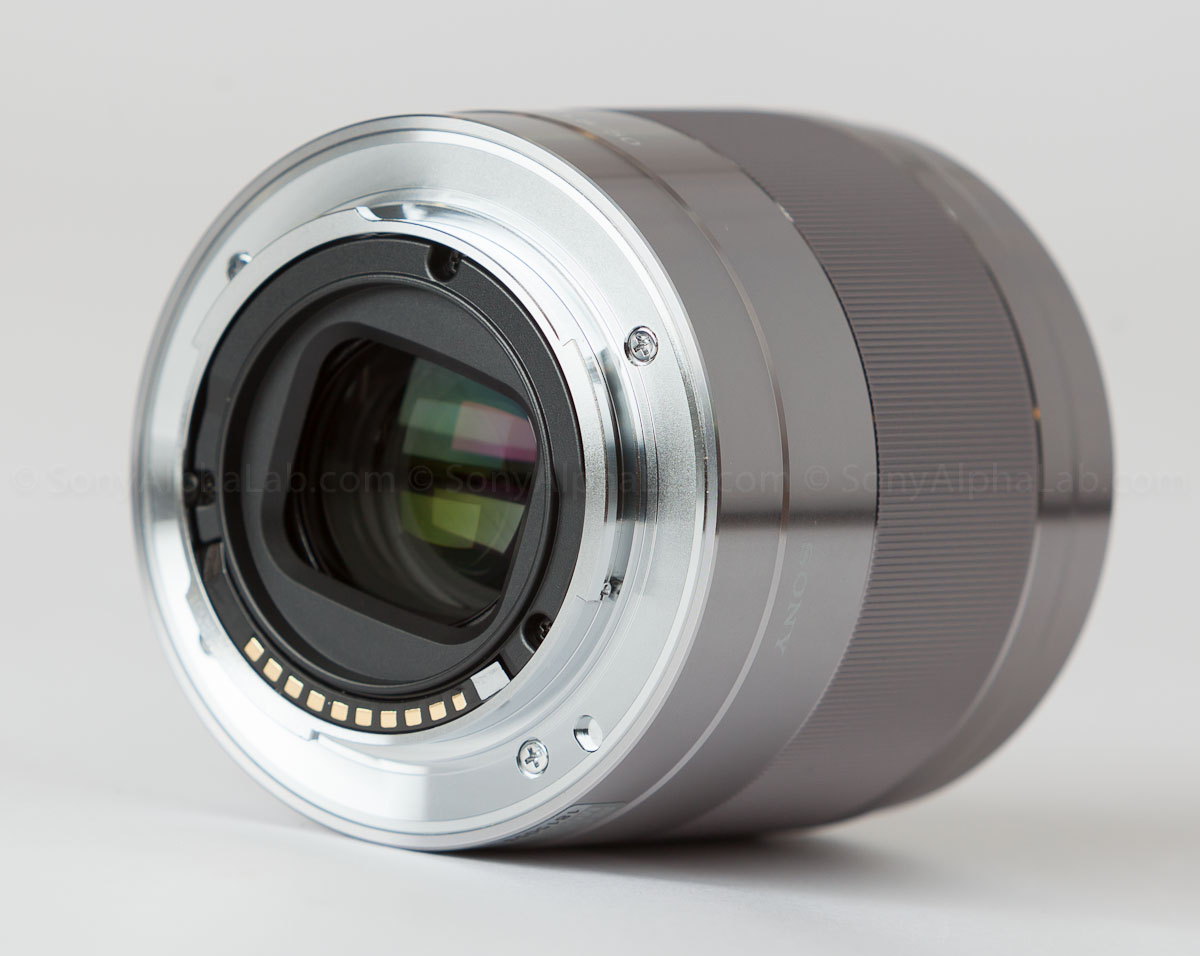 Here's the Sony E 50mm f/1.8 OSS Lens mounted to the Sony Nex-5n.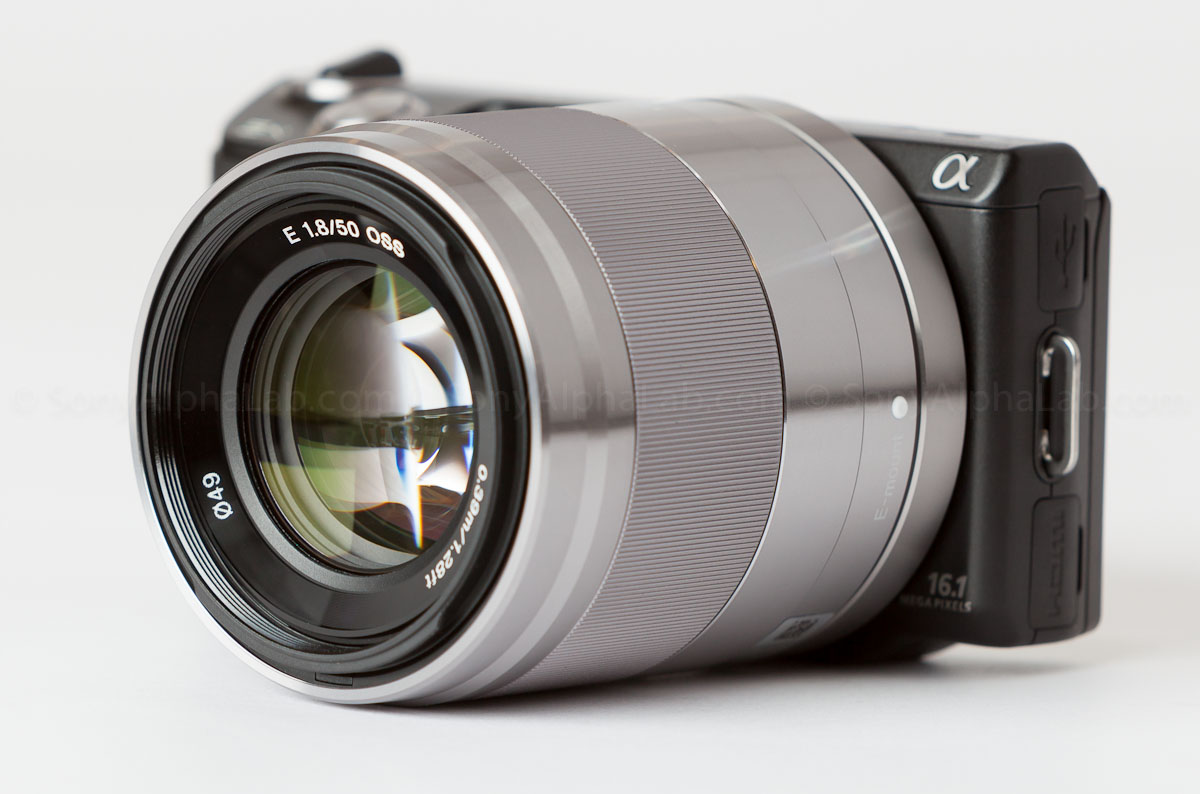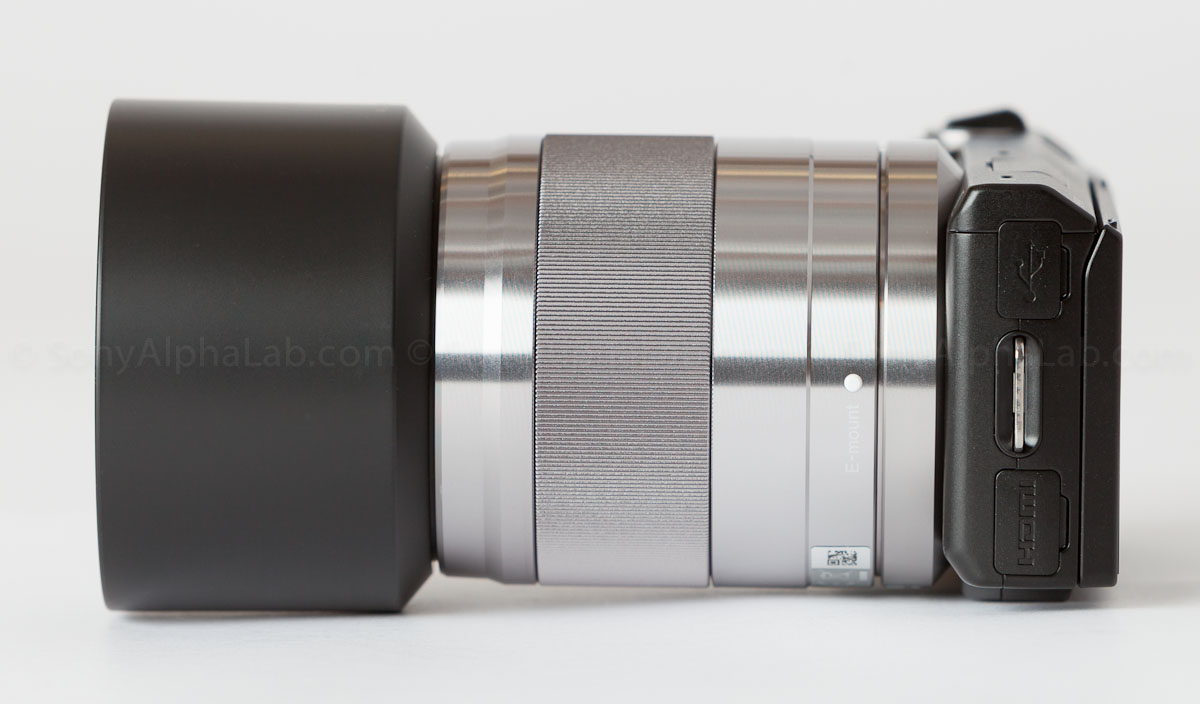 Optics/Lens
Aperture (Max.)
f/1.8
Aperture (Min.)
f/22
Filter Diameter
49mm
Lens Groups-Elements
8 groups, 9 elements
Minimum Focus Distance
15.3" (0.39m)
AF for Movie Capture
Yes
Angle of View
32°
Aperture Blade
7 blades (Circular aperture)
Direct Manual Focus
Yes
Exterior Finish
Metal
Focal Length (35mm equivalent)
75mm
Internal Motor
Yes (Stepping motor)
Lens Weight
7.25 oz (202g)
Low Noise During Movie Capture
Excellent
Maximum Magnification
0.16x (APS-C)
Mount Material
Metal
Weights and Measurements
Dimensions (Approx.)
2-1/2 x 2-1/2" (62 x 62mm)
Weight (Approx.)
7.25oz (202g)
Built-in Optical SteadyShotTM image stabilization
The built-in Optical SteadyShot image stabilization system provides a 4-stop (approx.) shutter speed advantage, making it significantly easier to achieve crisp, blur-free images and video.
Large F1.8 aperture
The SEL50F18 has an innovative optical design to achieve clear, high-quality images by effectively minimizing distortion and chromatic aberration. Moreover, the large maximum aperture of this lens with its circular aperture design, can produce beautiful, creamily defocused backgrounds.
Smooth and quiet high-speed focusing
Lens operation is fast but at the same time smooth and quiet, minimizing noise and image jitter when shooting movies. A linear motor used for focus drive contributes to low-noise focus operation, while a stepping motor built into the lens, technology inherited from Sony's professional camcorders, results in smooth, quiet aperture actuation ideal for movie shooting.
Compact and lightweight
The SEL50F18 is remarkably compact and lightweight for a large-aperture mid-range telephoto lens (50mm focal length/75mm equivalent in 35mm format). It is convenient to carry around for general photography, and particularly well suited to shooting portraits. The elegant aluminum alloy exterior of this lens affords an appearance that blends beautifully with the graceful design of E-mount bodies, and the engraved focus ring offers sophisticated appearance as well as superior grip and operating feel.
Direct Manual Focus (DMF)
Direct Manual Focus (DMF) allows the user to go directly to manual focusing after autofocus lock-on without having to switch modes. In cases where autofocus has trouble locking onto the subject, or when the user wants to focus at a specific point, DMF facilitates fast, easy fine focus adjustments. This can be particularly useful for portraits in which depth of field can be extremely shallow.
Price: ~$298.00 @ BHPhoto (Click Here)
Real World Build Quality
As you can see from the high res images above, the build quality is very good on the Sony E-Mount 50mm f/1.8 OSS Lens. It's skin is metal so it's rigid and strong, yet relatively light weight at 7.5 oz considering the large f/1.8 Aperture. It also looks really sharp in my opinion and has tight tolerances all around. When focusing manually, the focus ring is smooth as butter and when in auto the AF motor is virtually silent.
What stands out with the autofocus to me in particular is how it transitions from one focus point to another. It almost seems like it has a ease/ in, ease/ out effect on the focus transitions and you'll see this in the sample video below what I'm talking about. I don't know if it actually does that, but it's super smooth unlike other lenses I've used.
The lens hood is really large, but does the job well as I had no flare issues shooting outside etc.. The lens hood also screws into the lens front itself which ultimately gives it a slightly smaller profile and tighter seal. Again, a sign of quality that you normally do not get with a lens at this price point.
Honestly, this lens should cost more like $498 if I were to rate it on quality and features alone. Sony can't be making much on this lens I'm thinking, but this is great for those who need a high quality 50mm lens for cheap!
Sample Photos
I'll Start with a few of my favorite pics, then I'll go over in detail with 100% Crops the corner sharpness, lens blur (bokeh), vignette, etc..
A few of my favorite sample pics
I shot these first two african daisy flower photos in Raw as I wanted to insure I captured as much highlight detail as possible. I then converted them to BW for maximum dramatic effect.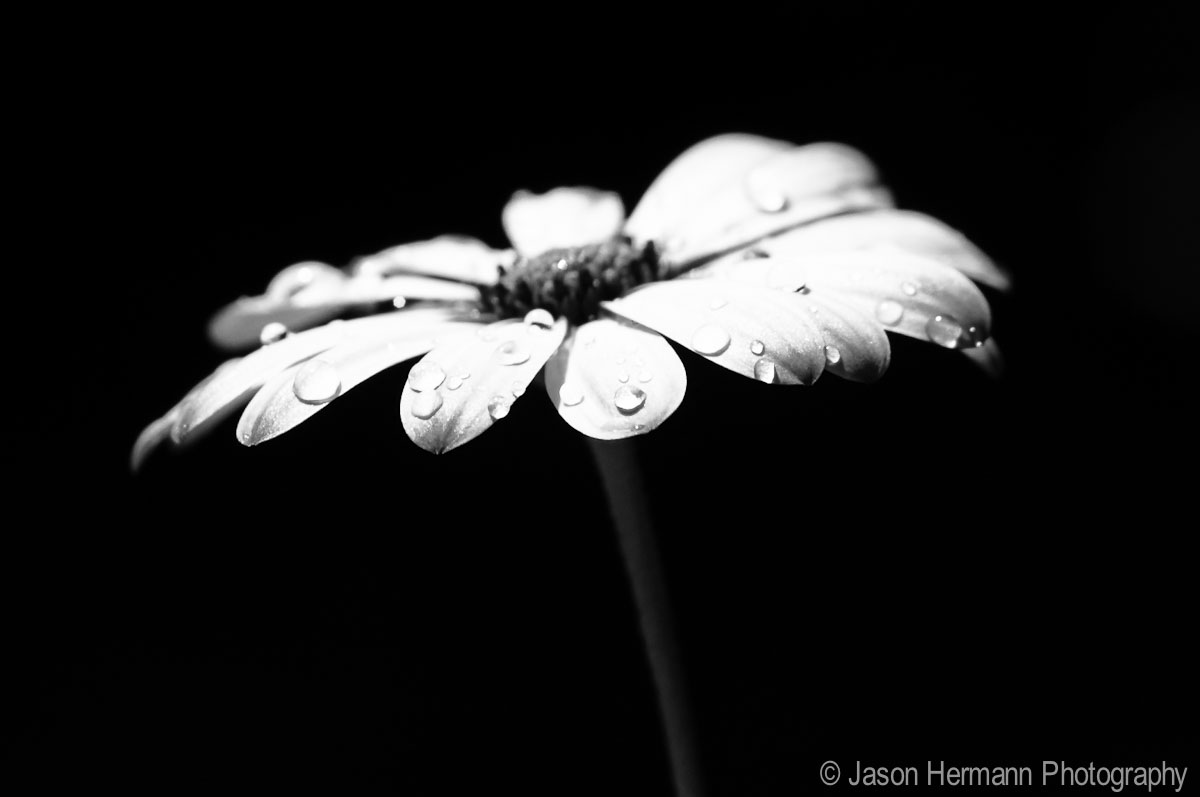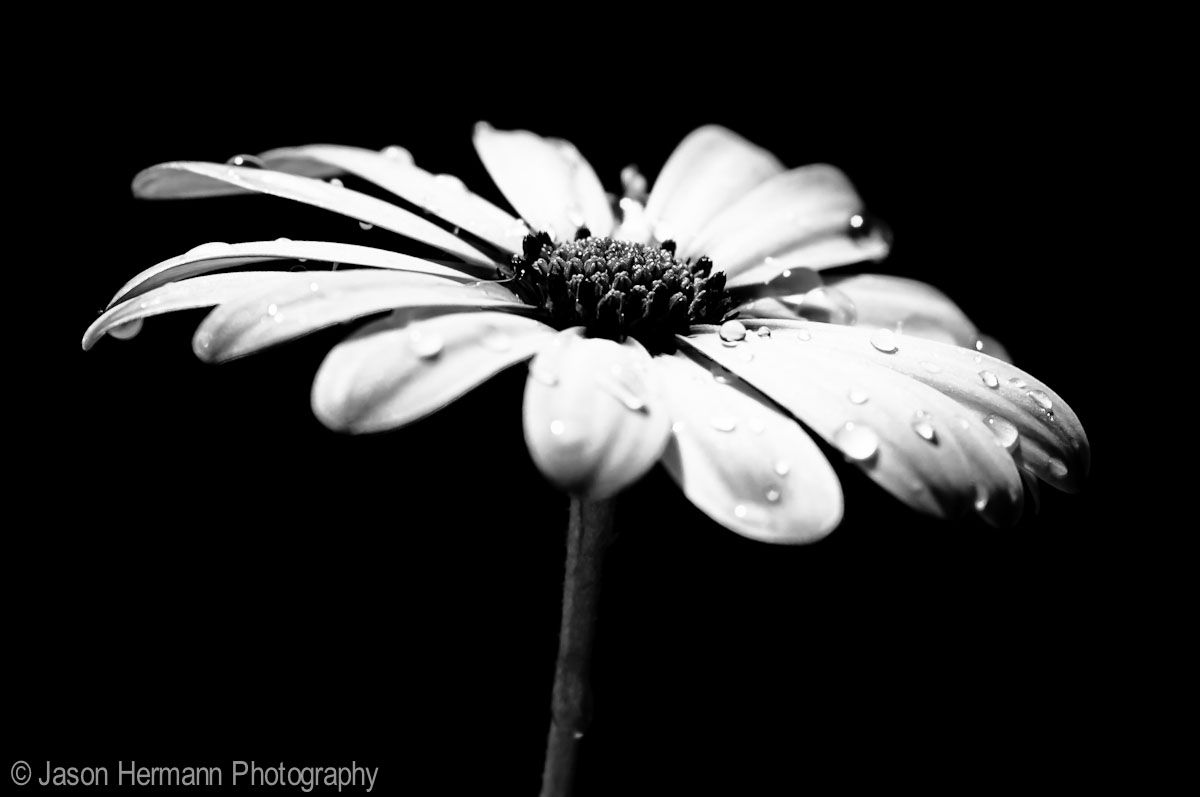 My Daughter Layla which illustrates the killer separation from the background this lens produces.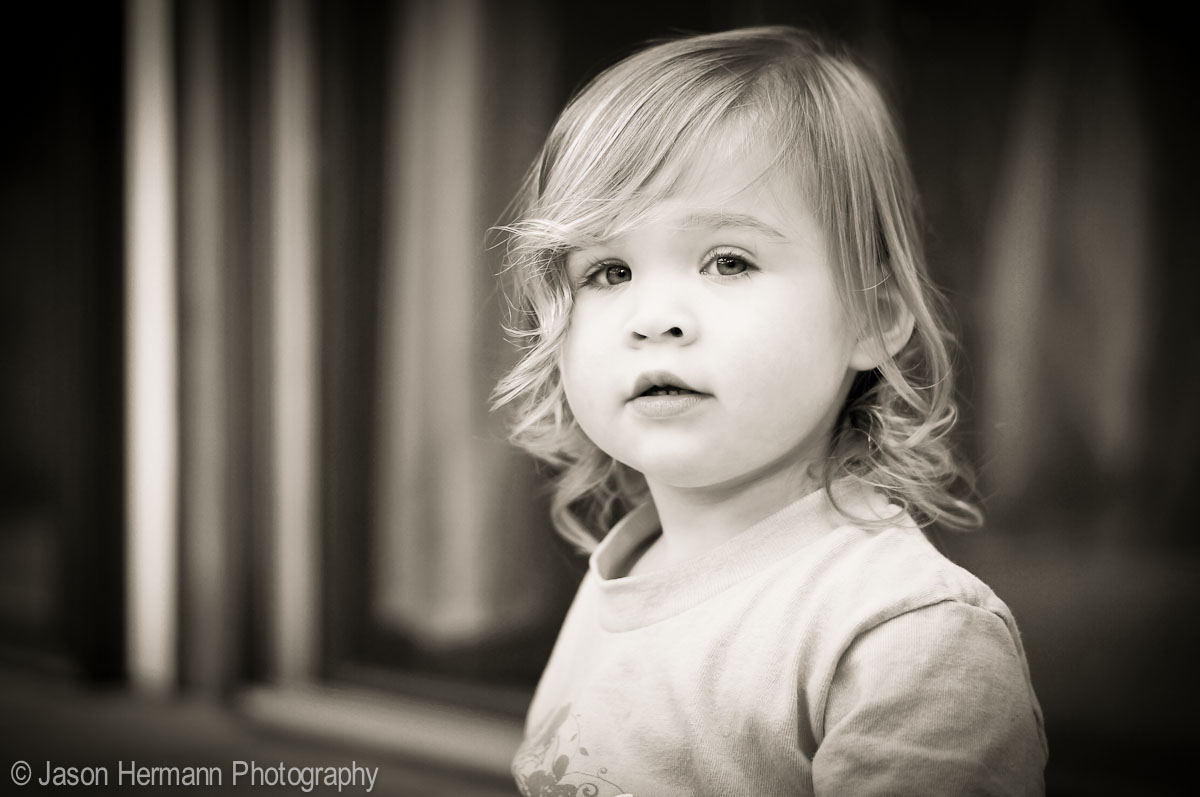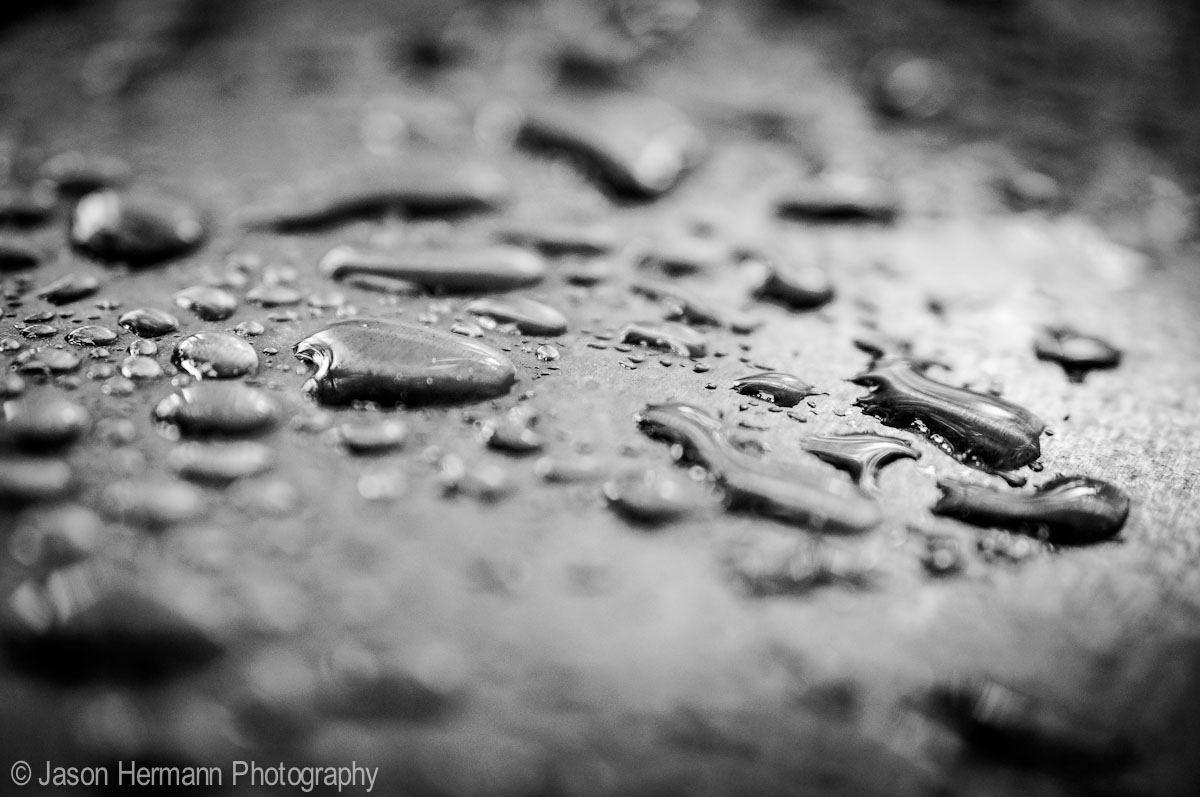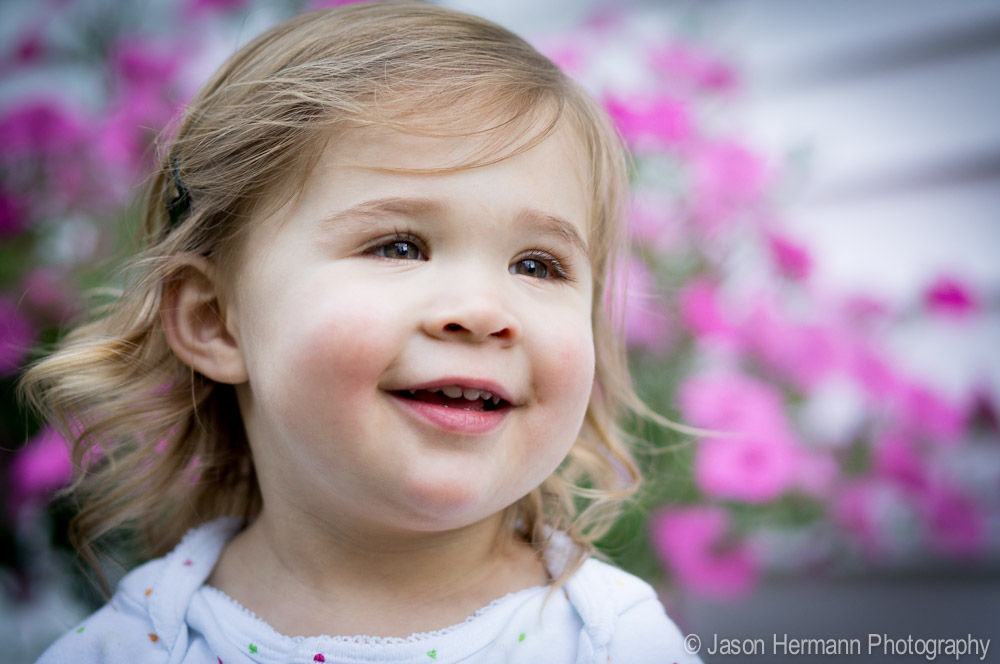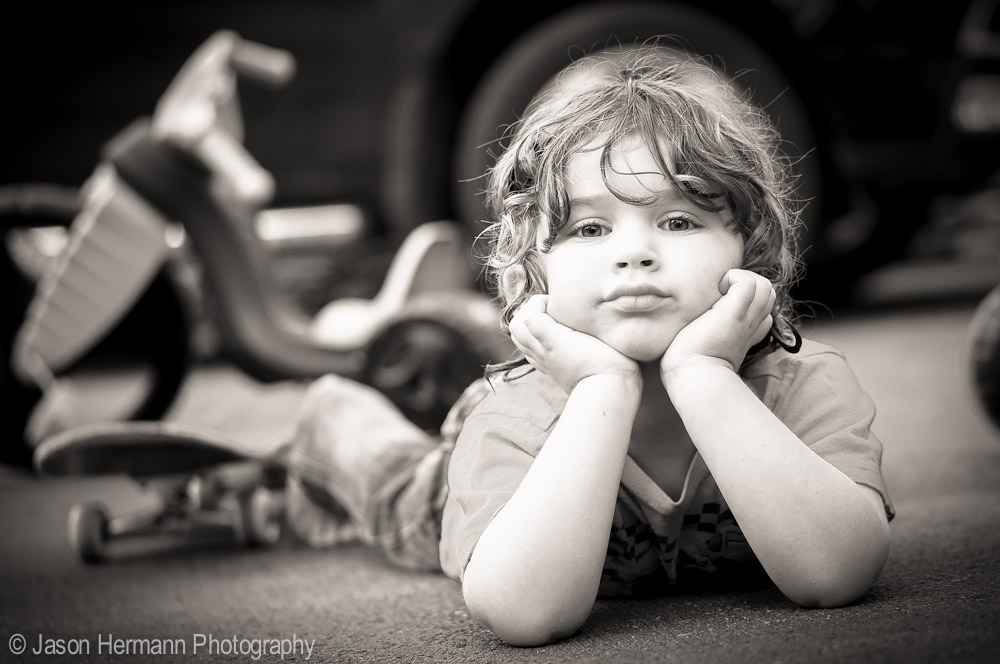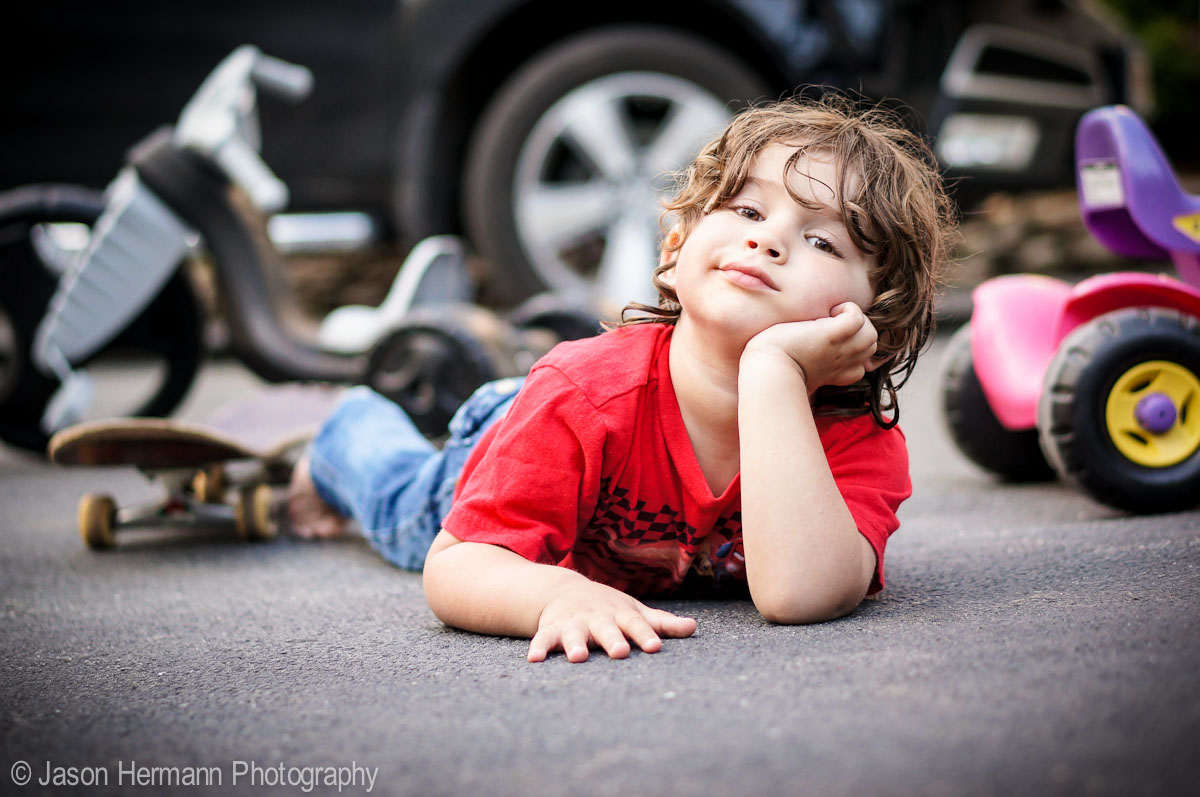 I this really cool fire-pit for fathers day, so we can all roast marshmallows and stuff together in a somewhat safe way. I prefer the raging fire pit, but I guess it's not the safest and the portable fire-pit is really nice!! Layla was so kind as to be my little helper assembling it. I really liked this capture 🙂
"Layla, can I have the Screwdriver please??"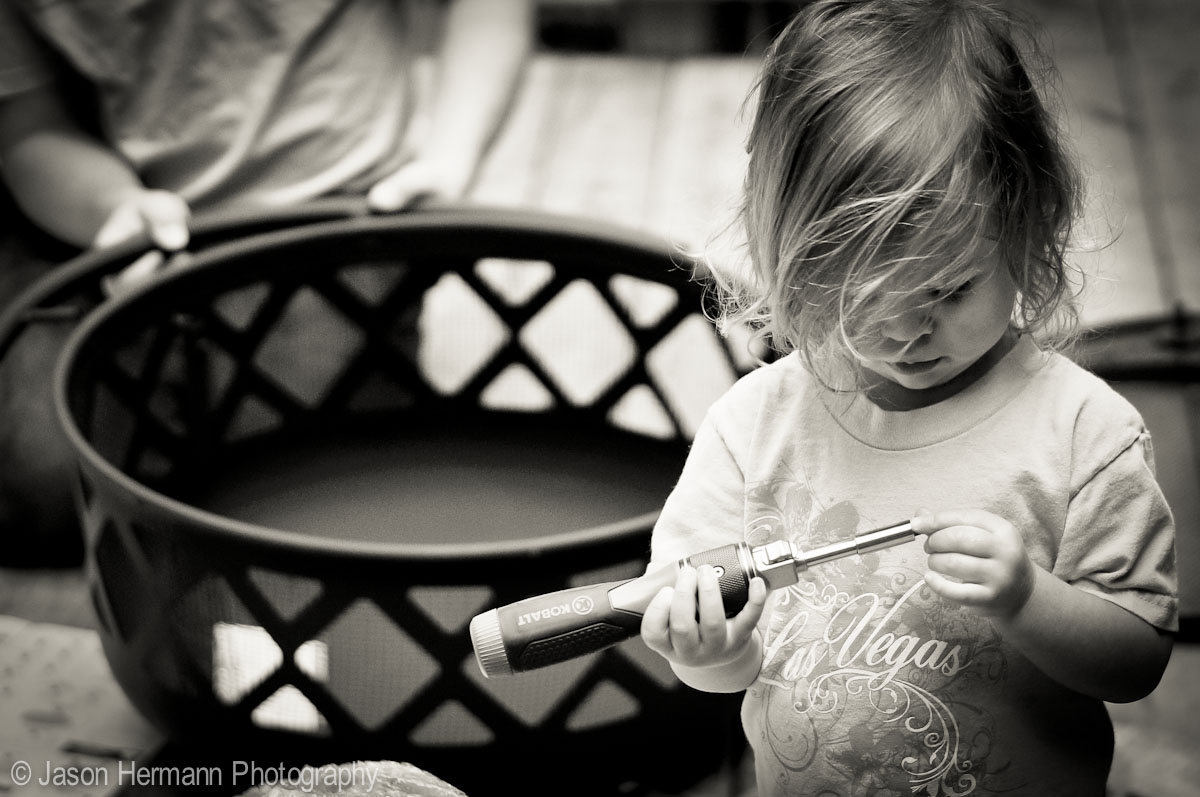 Look at these delicious juicy fresh blueberry pancakes!!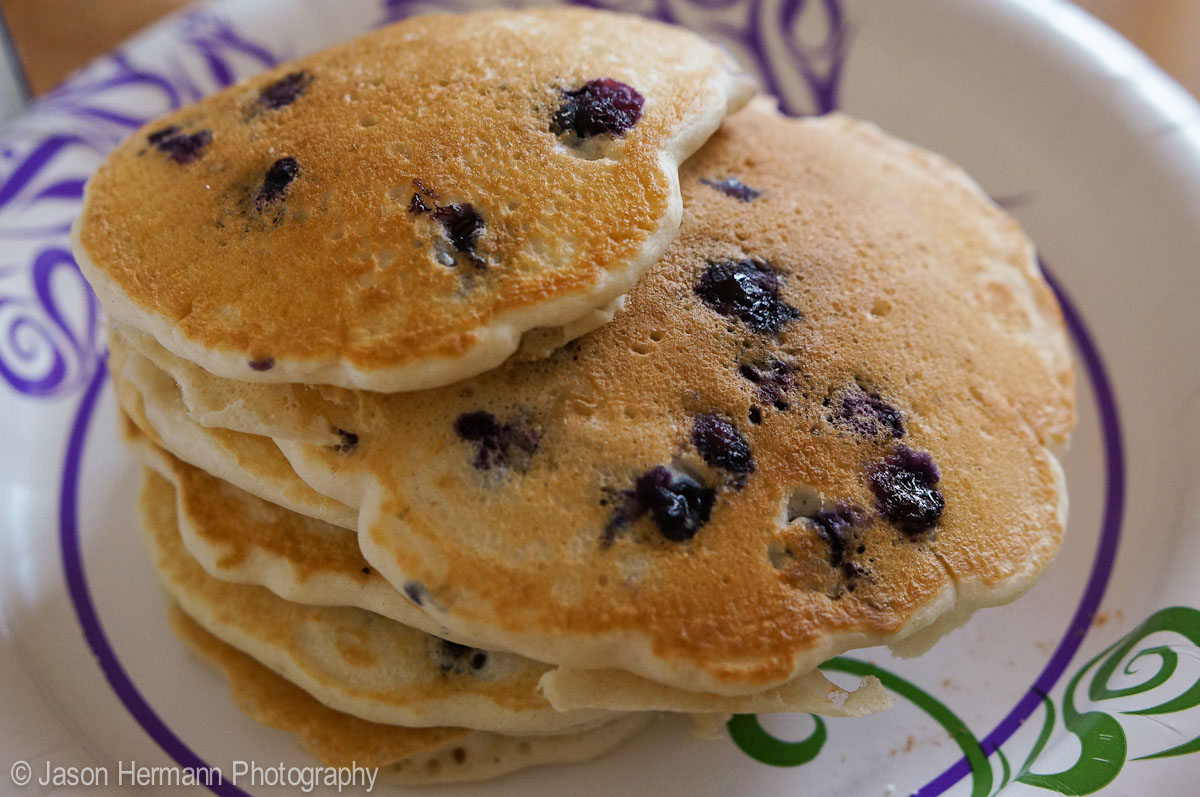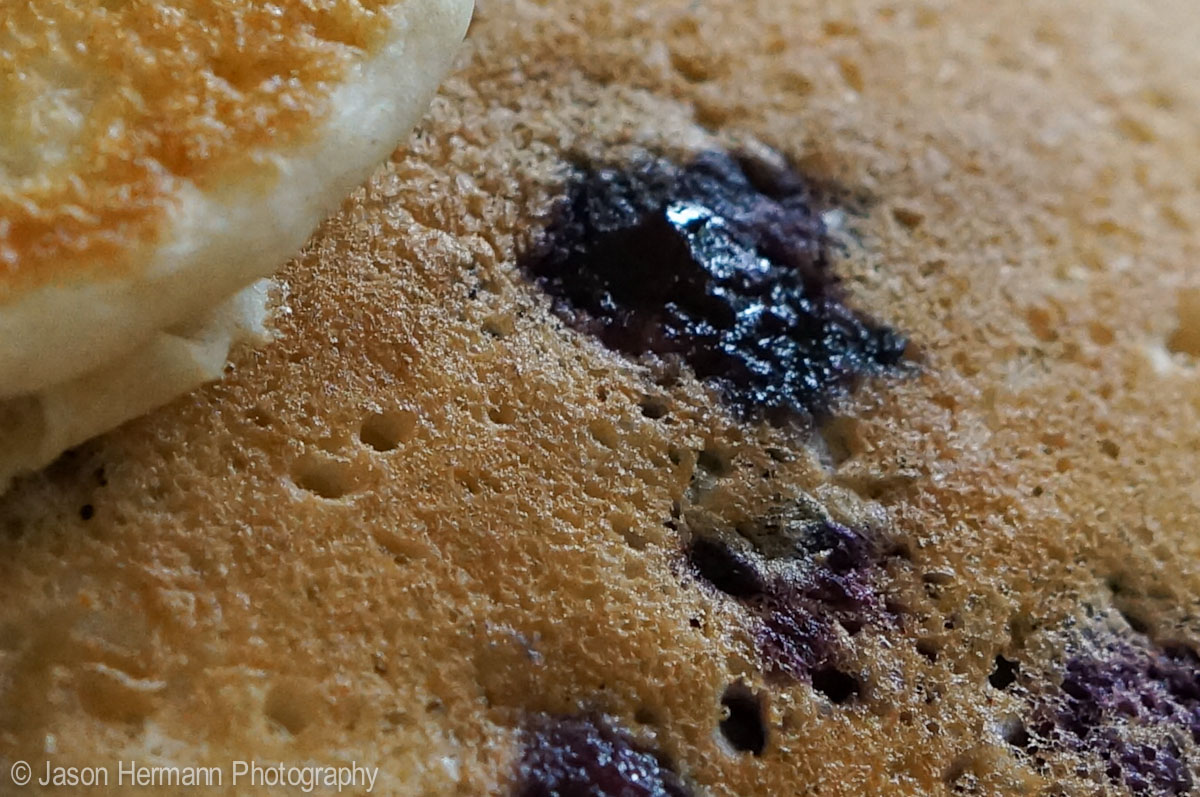 Sharpness Test
This next series is a Real World sharpness test, and the results are solid performance across the board from the 50mm f/1.8 OSS Lens. These were taken hand held with Auto ISO in order to maintain a somewhat constant shutter speed for the sharpness test. You may see a tad more noise in the f/8 images. Note the corner sharpness consistency!!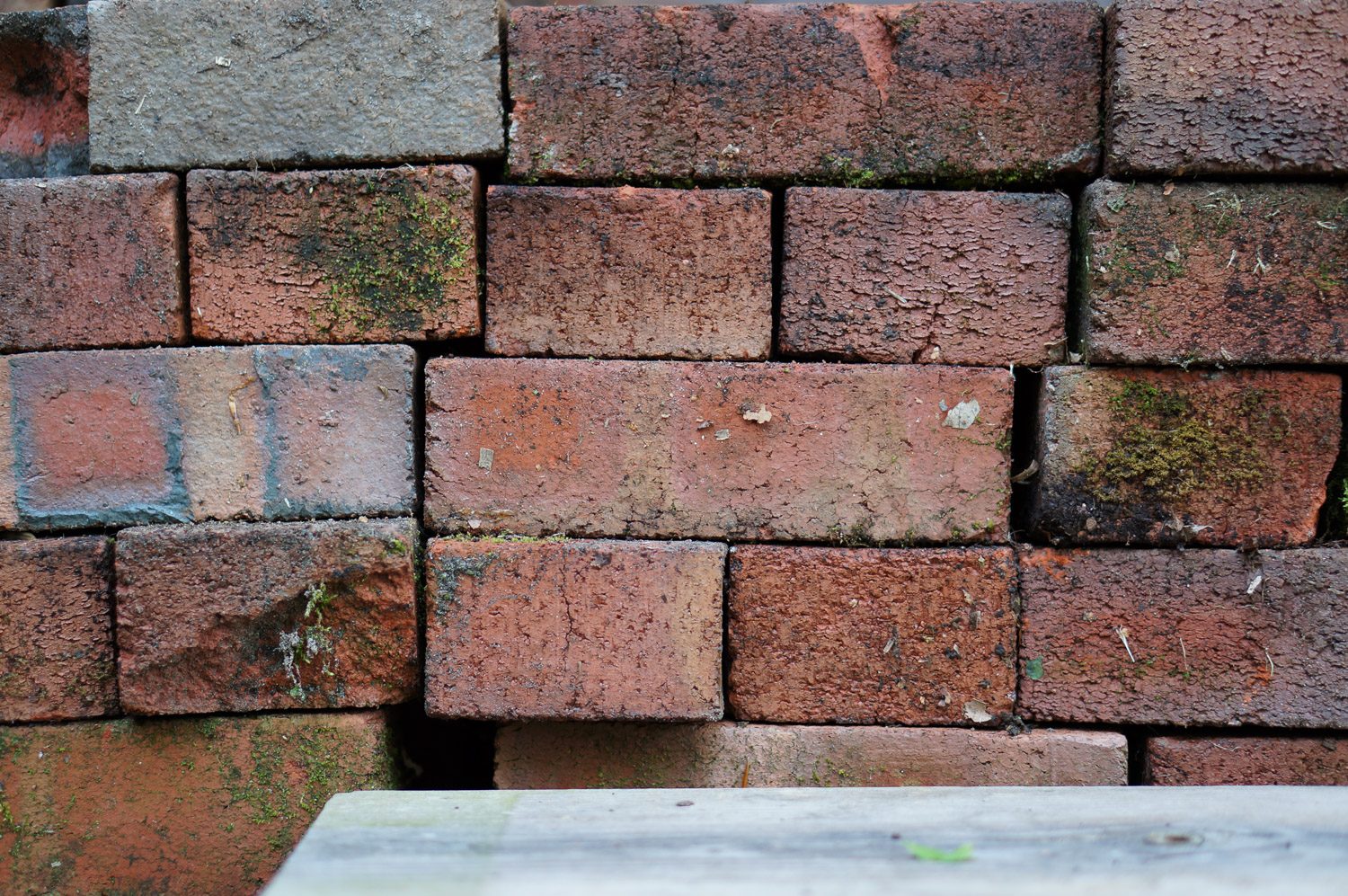 Be sure to Click on the Photos for the Large 1500px version!!
More random Sample Photos
Sony 50mm f/1.8 OSS lens Lens Flaws
The vignette is noticeable when shooting wide open at f/1.8, but goes away as you stop down to f/ f/2.8-f/4.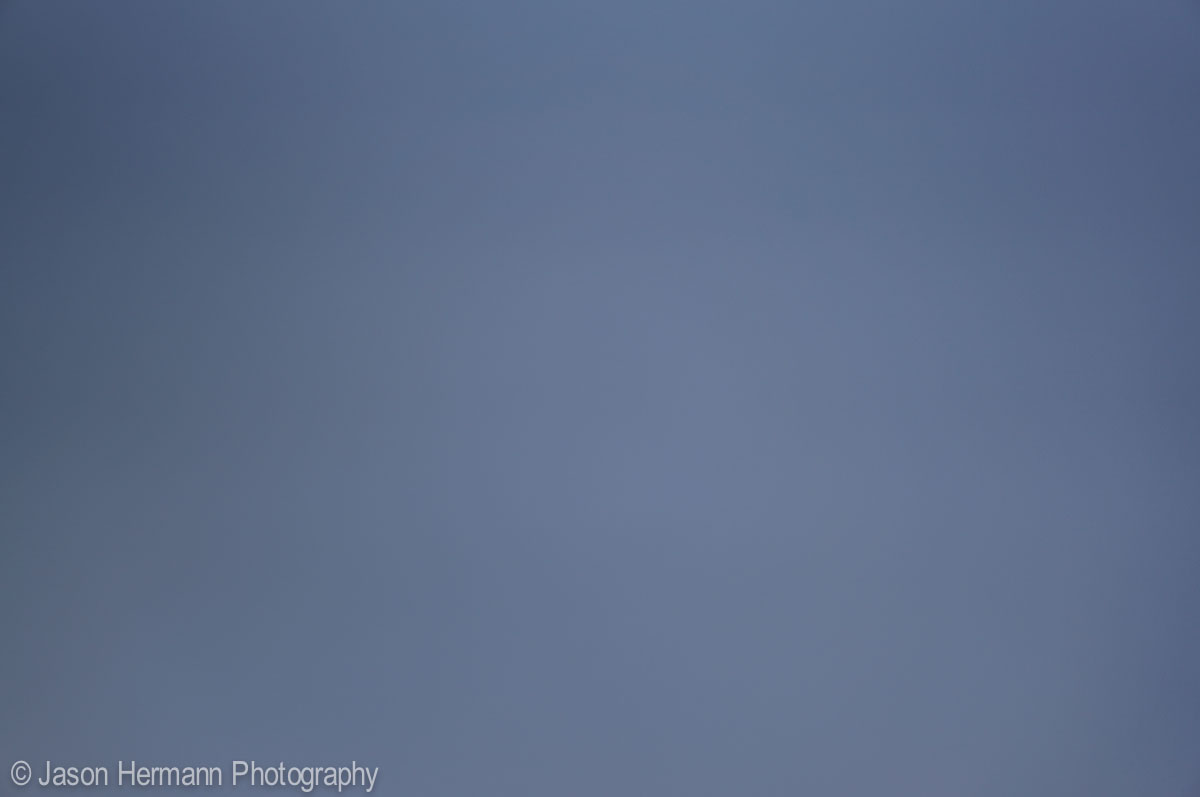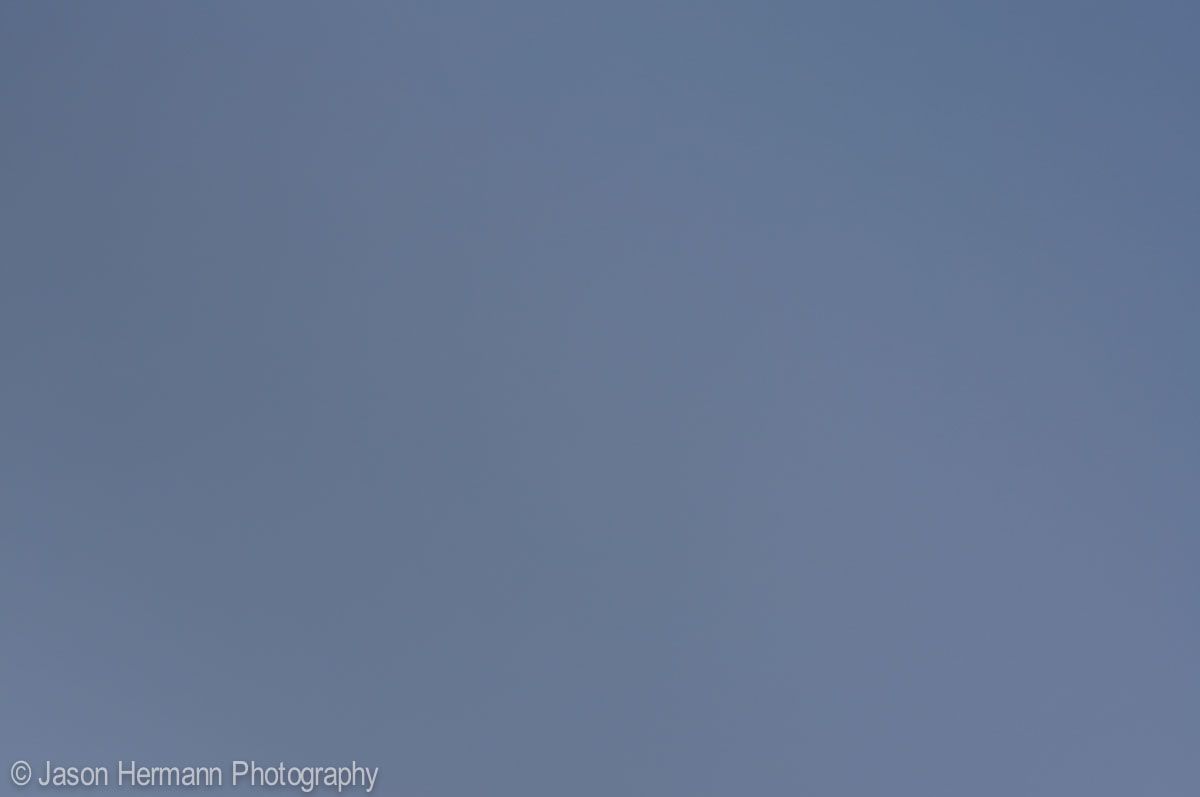 Chromatic Aberrations are also somewhat noticeable in high contrast areas. When shooting in raw it's more noticeable than when shooting in jpeg mode, because the Sony cameras automatically correct for this. However, it's easy to fix this in any raw processing program such as adobe Lightroom if you prefer to develop the raw files yourself.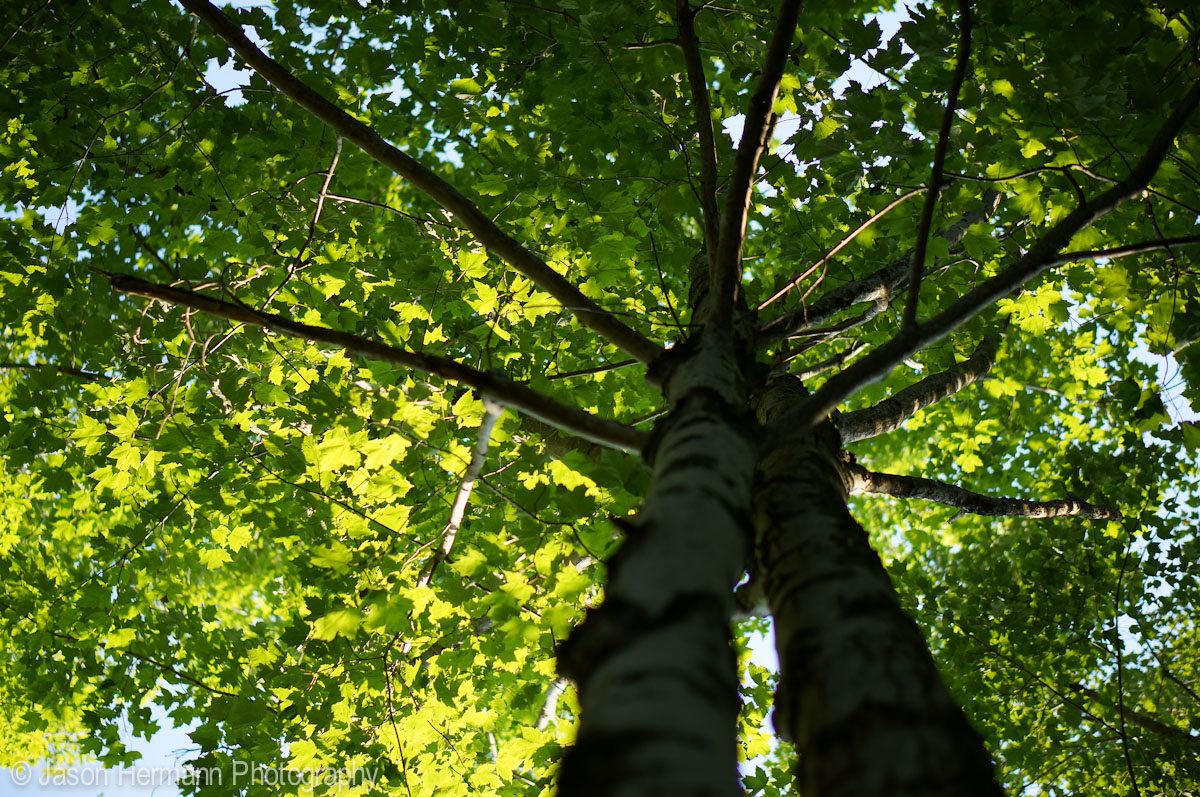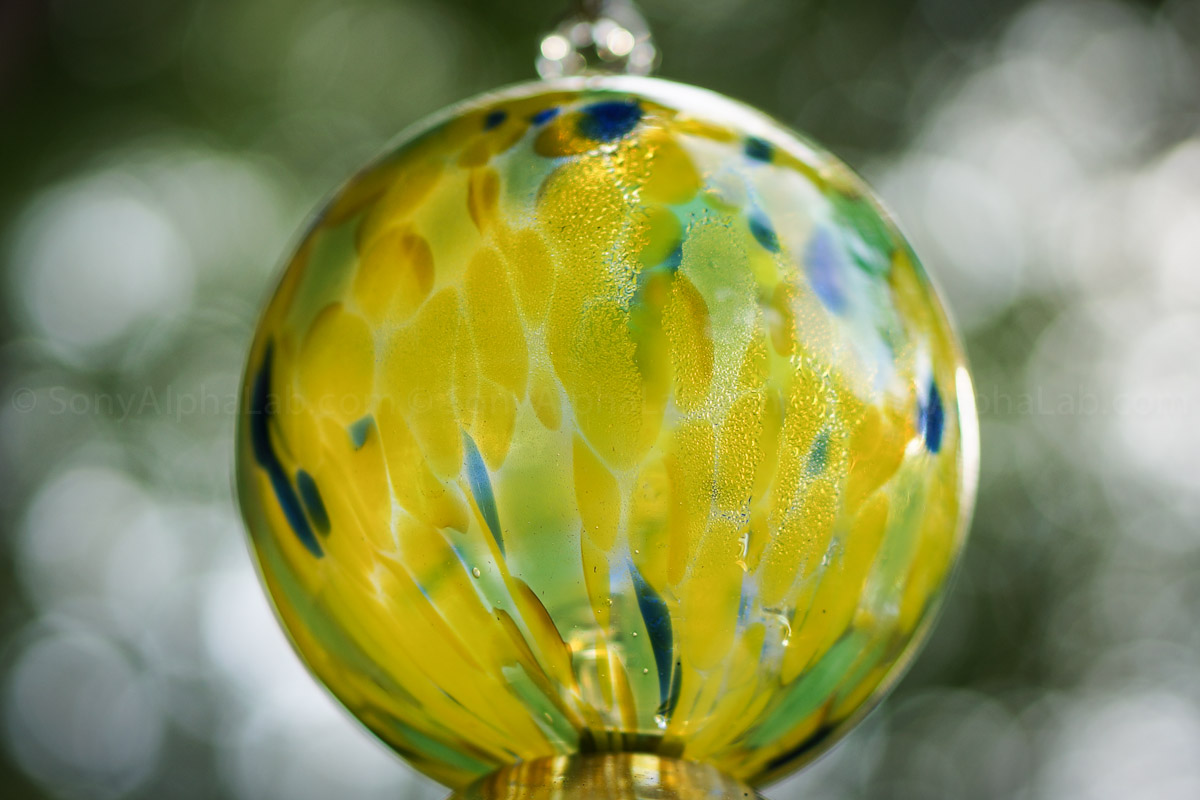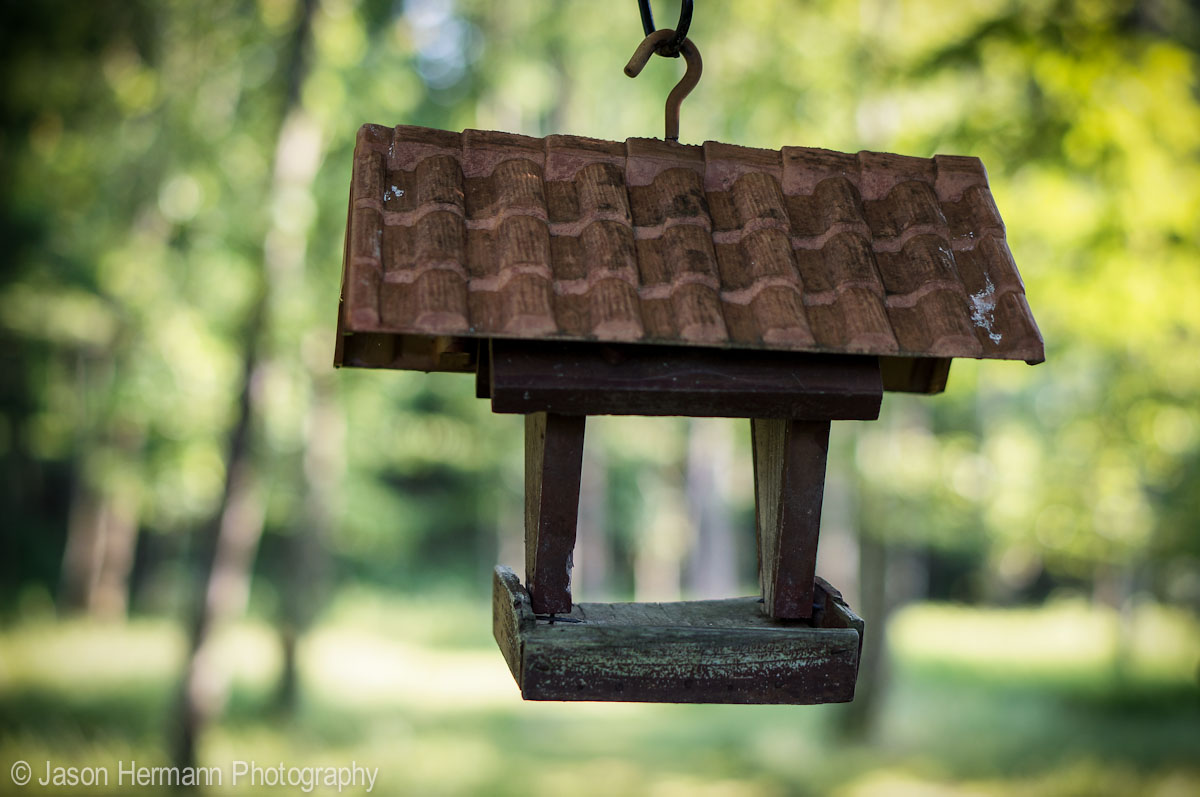 Sample HD Video Testing
Here is two sample clips showing how the Sony 50mm f/1.8 OSS lens performs in the focusing department in various lighting conditions. I also recorded the Naked Nex-7 Video with this set-up!!
Be sure to select the 720p quality option for the best viewing experience.
Conclusion
Overall I had a blast using the Sony 50mm f/1.8 OSS lens with the Sony Nex-5n, and I highly recommend this lens for anybody in the market. Like all the E-Mount lenses in my opinion, the 50mm is a killer value for the dollar at ~$298.00 US.
The 50mm f/1.8 OSS Lens is sharp from corner to corner and has a very pleasing bokeh in my opinion. The OSS works really well and as you can see in the video is very smooth and quiet. The focal length, fast aperture, and OSS, make this lens a no brainer for anybody interested in portrait photography, and low light photography in particular. Wedding reception always comes to mind. You could even take some excellent HD video and get top quality professional grade results with this lens. As far as lens flaws go, they are so minor and easily correctable that I would not worry about them very much.
For the price point, it's incredible how good this lens is. It's one of the best E-Mount Lens for the money I have tested to date!!
That is all for this review on the Sony 50mm f/1.8 OSS lens, and please feel free to ask questions if you have any! Jay
Sony E 50mm f/1.8 OSS Lens @ BHPhotoVideo

My Sony E 50mm f/1.8 OSS Lens Review
Killer 50mm APS-C prime lens for the money!
The 50mm (75mm effective) focal length, fast aperture, and OSS, and incredible low price, make this lens a no brainer for anybody interested in portrait photography in particular. I highly recommend this lens and judging by the real world sample photos, feature set, and crazy low price, you can clearly see why I like it so much!
Build Quality and Design
92
Lens Distortion Control
92
Overall Optical Quality
93
Pros
Value for the dollar is off the charts great!
optical stabilization built in
very sharp optics and please bokeh rendering
excellent build quality and near silent super smooth autofocus
Cons
some chromatic aberrations/ purple fringing visible in high contrast areas.
100
APS-C E-Mount Prime Lenses