93
Excellent Camera Support Solution
In this Hands on Review I'll be going over the Joby Gorillapod SLR-Zoom with Ballhead tripod in detail!! What is interesting and different about Gorillapod solution is the very small size, light weight, and incredible versatility when it comes to setting it up for shots. The Sony Mirrorless Cameras in particular being so light weight and small in size, are perfect candidates for the Gorillapod style solution.
You can literally straddle and grab onto almost anything with this small, lightweight flexible beast.
Basically, because this type of tripod is so flexible, the legs can wrap around stuff and grab hold firmly. I'm talking railings, spindles, tree branches, chairs, you name it!!I used it in all sorts of situations so far and it blows away a regular tripod in both speed and position options. Normally a tripod needs to be in a pretty decent spot so it doesn't fall over etc.. The Joby Gorillapod actually wraps around stuff, making it virtually impossible to fall or get knocked over.
In addition, the ballhead makes it very easy to level off the camera once you get the legs in a position that works for you.
Let me show you what I'm talking about and I'll explain further!
Gorillapod Product Photos from the Lab:
Here's the Gorillapod in the Lab with the Sony Nex-C3 mirrorless camera mounted atop.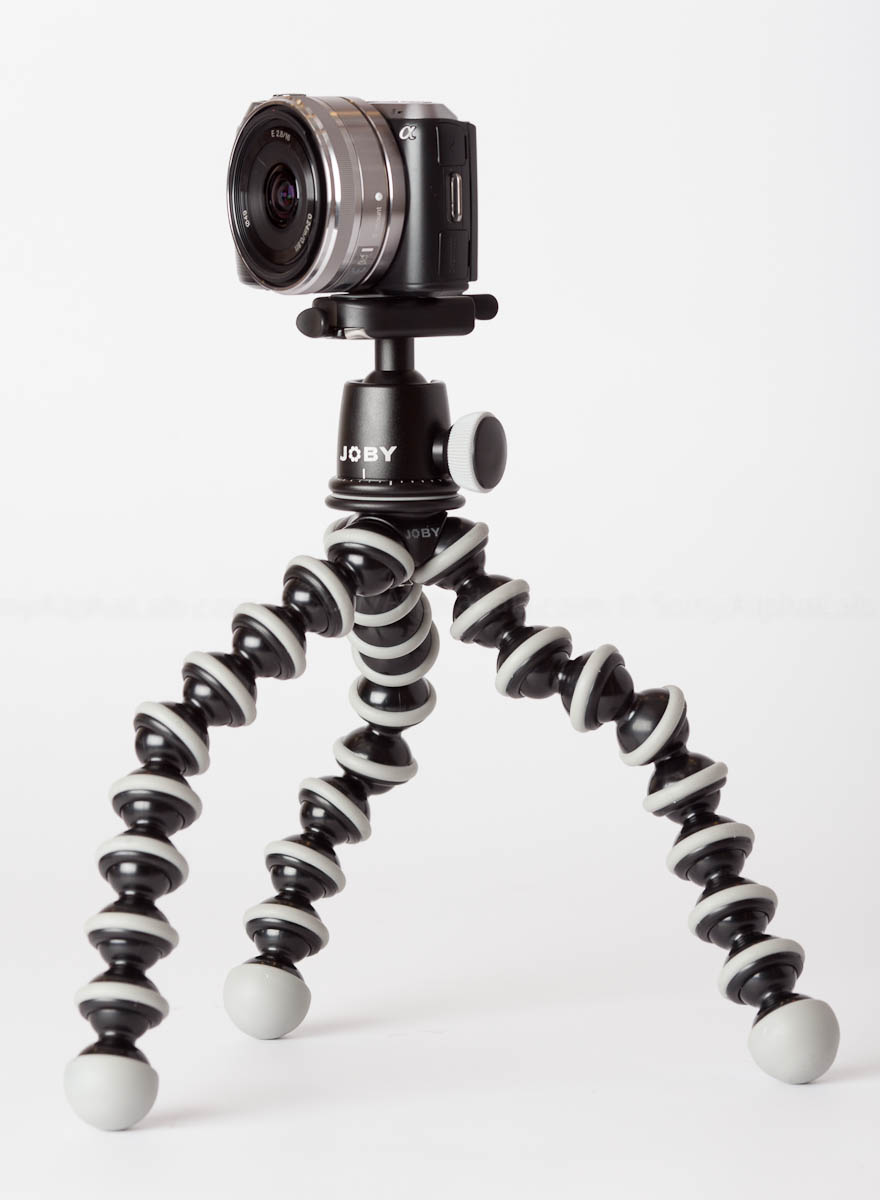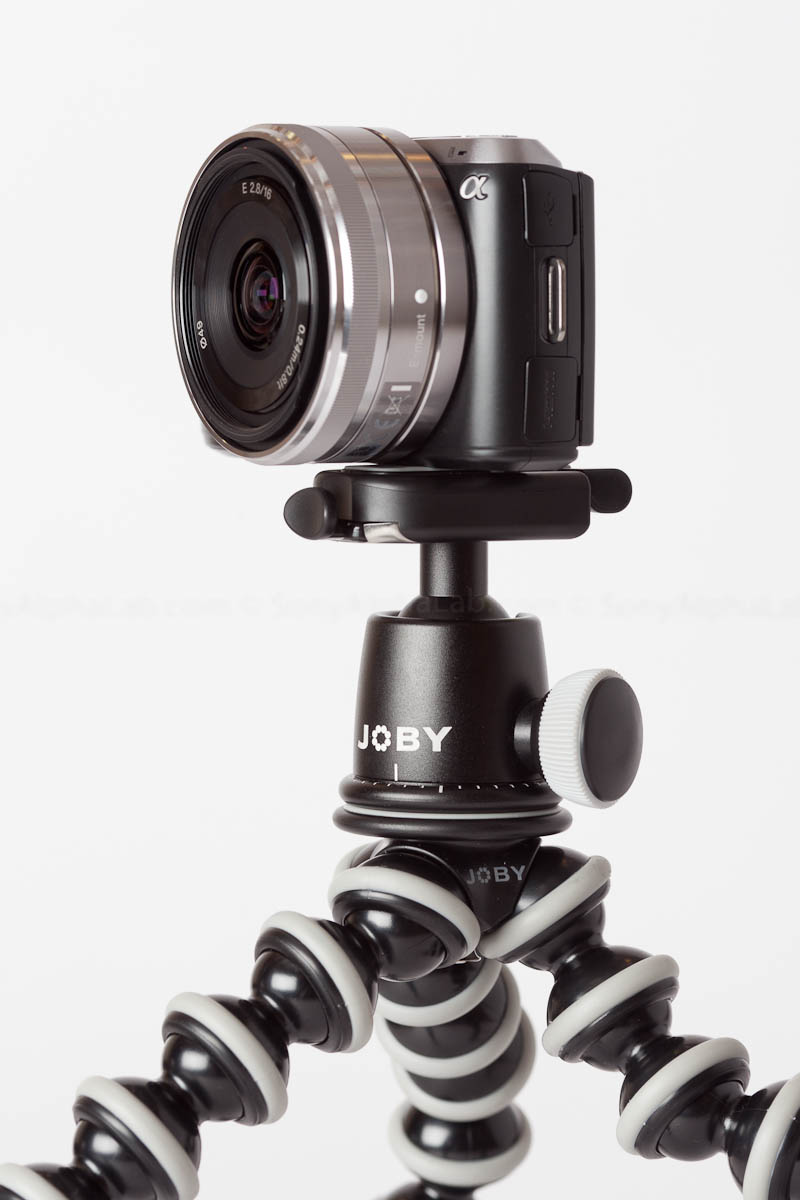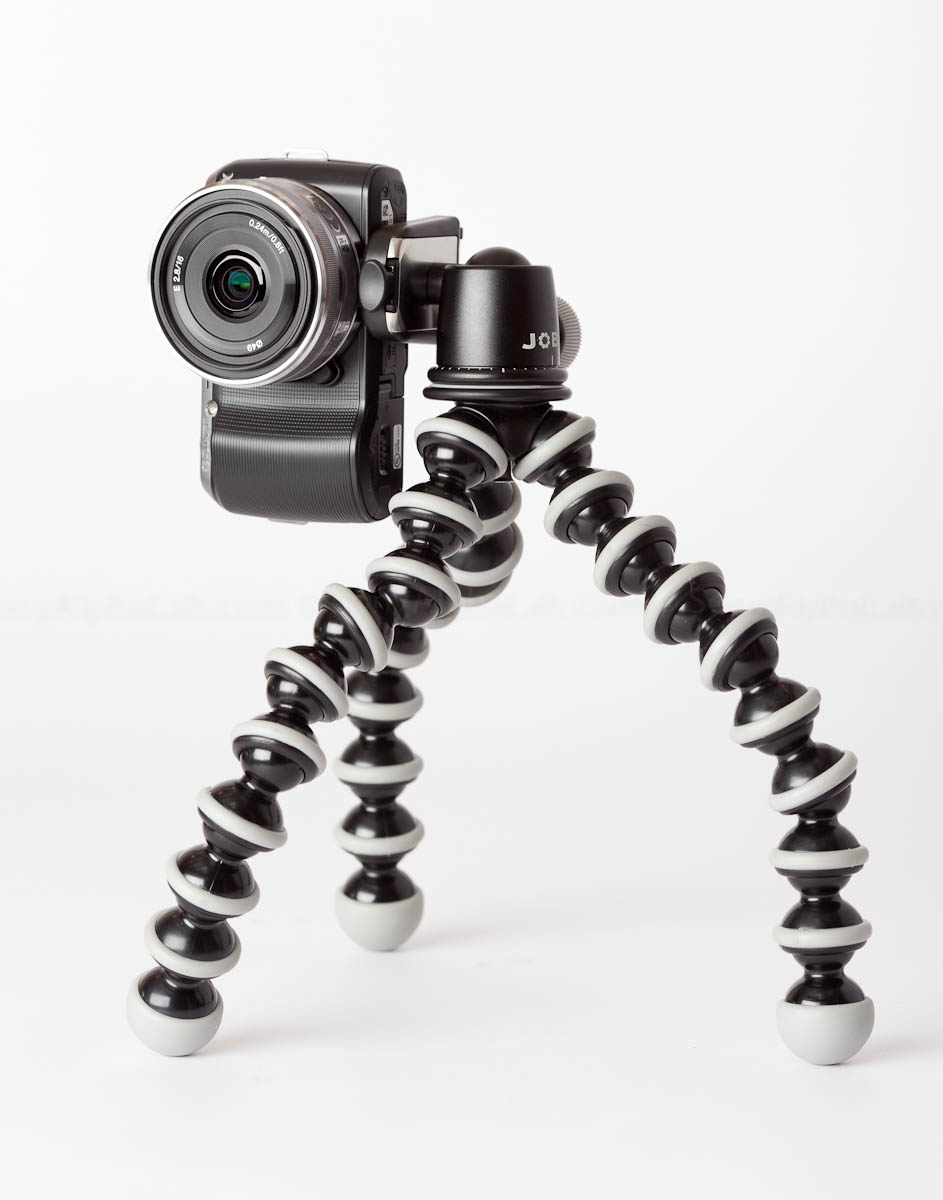 Here's a few close-ups of the actual ballhead and quick release plate. Notice the convenient bubble level.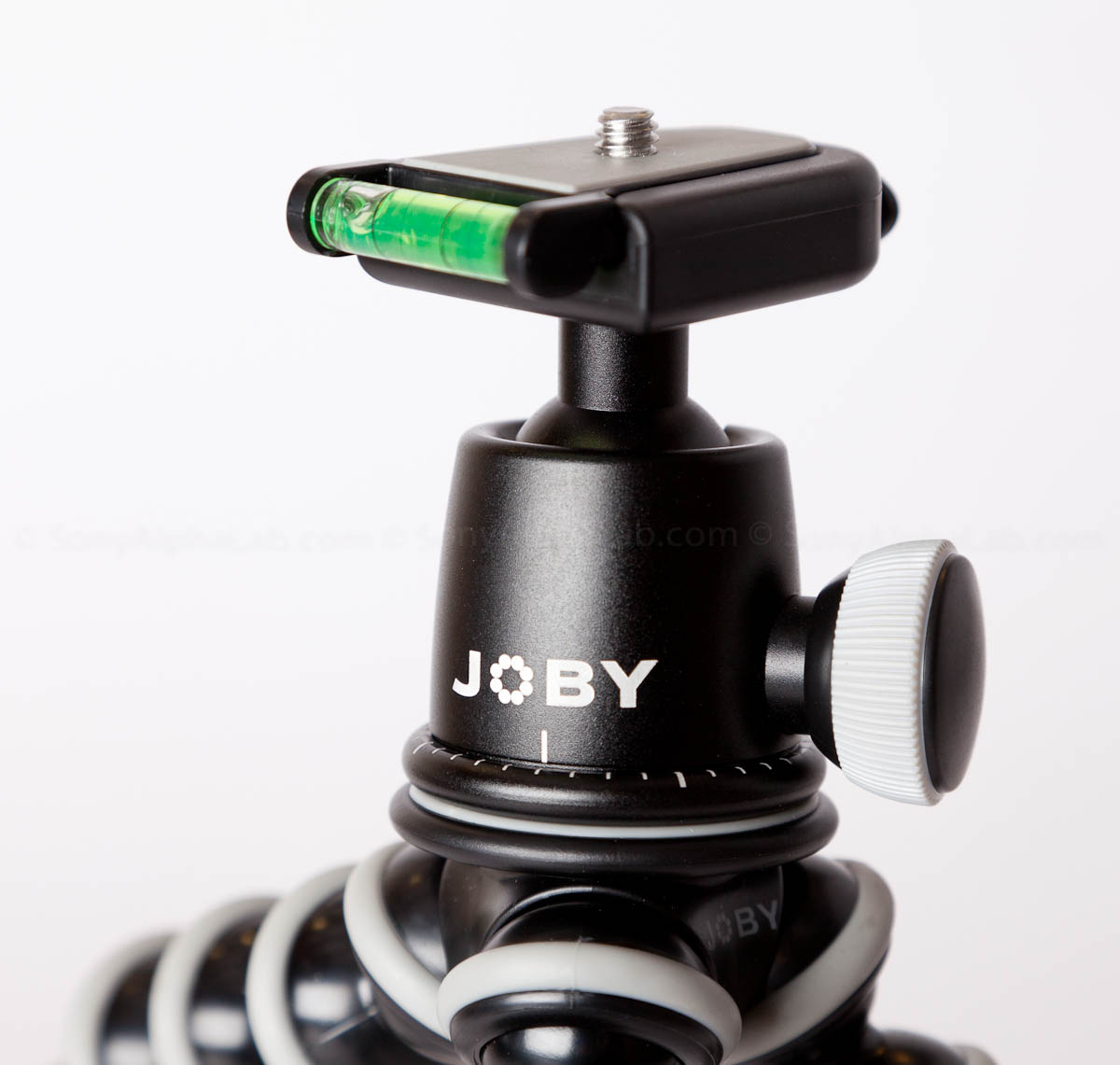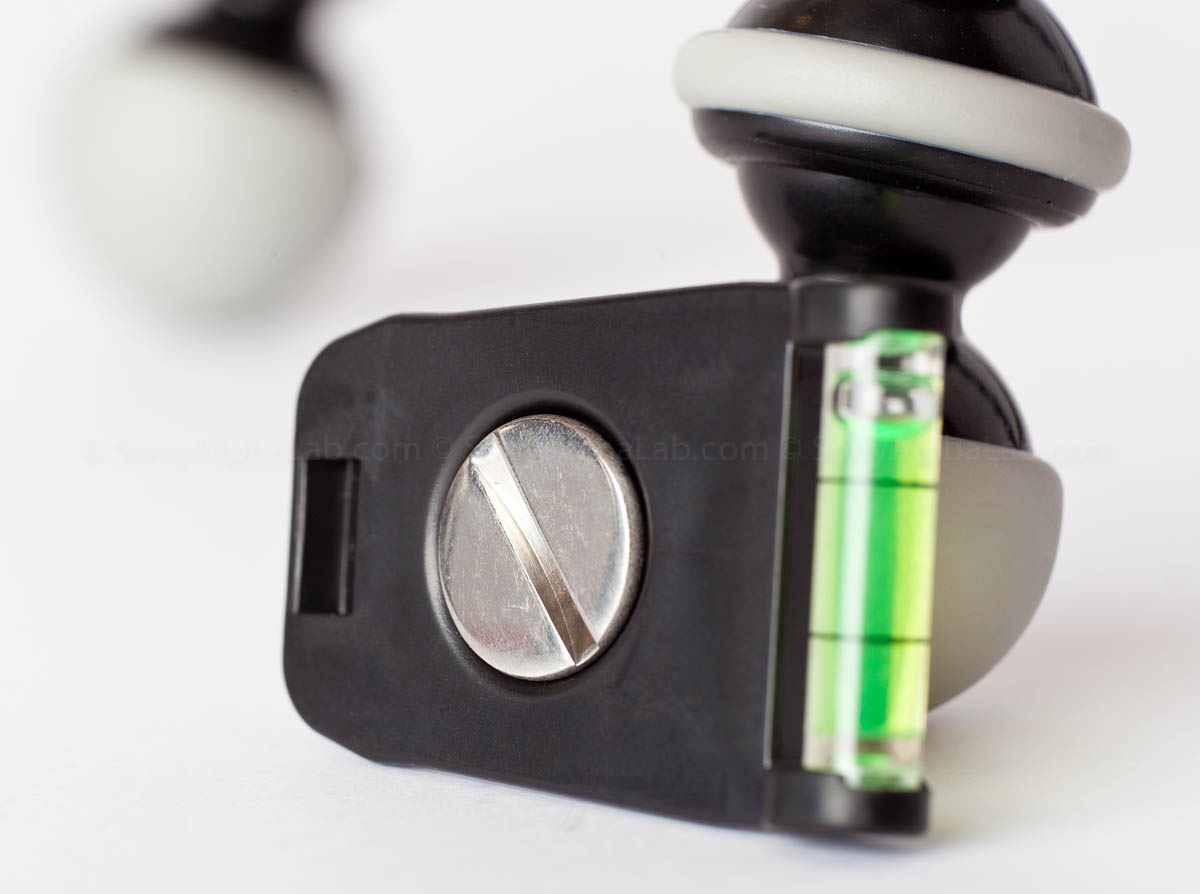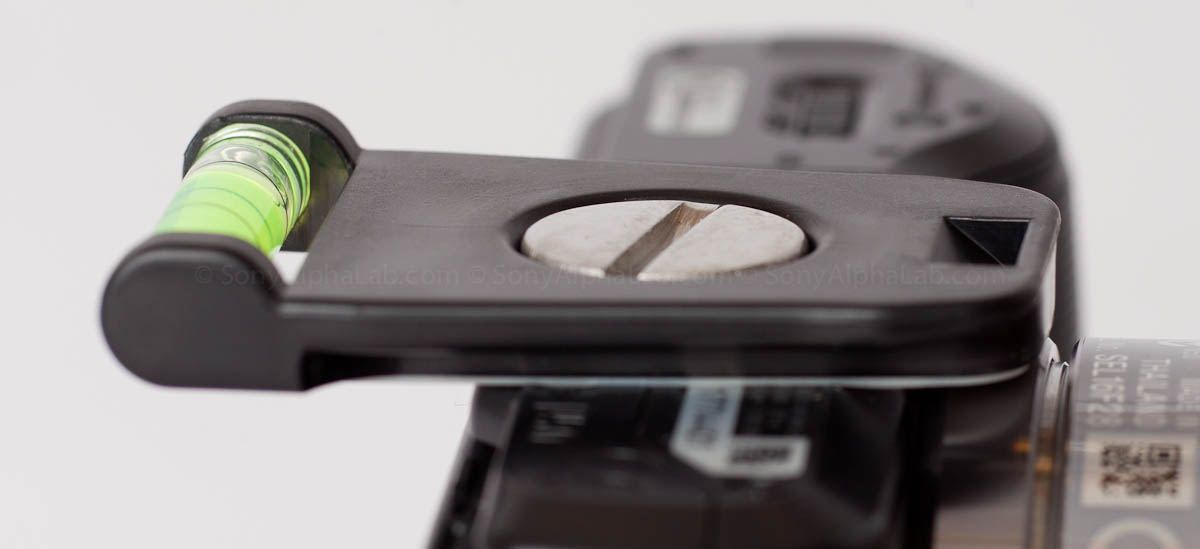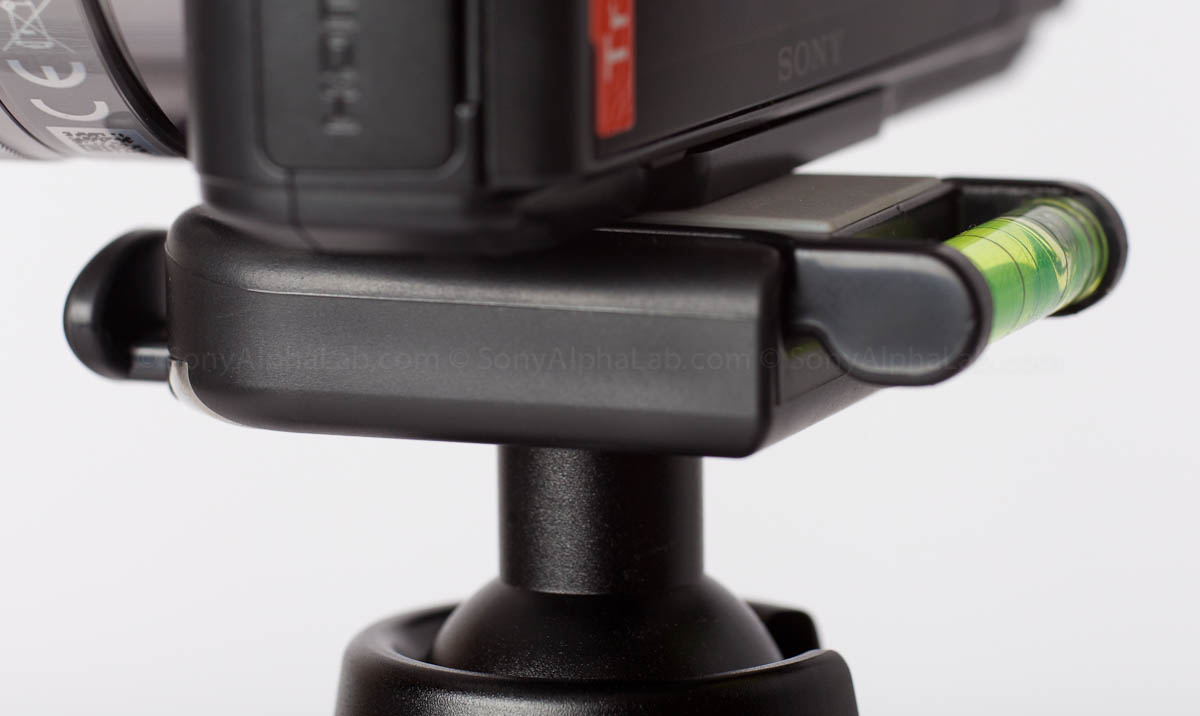 Hands on Review – Video Version
In this quick video you will see the Gorillapod up close in HD with me at the wheel. I go over it pretty good, but be sure to check out the Gorillapod "In Action Photos" below!!
Gorillapod SLR Zoom w/Ballhead in Action:
The Gorrillapod SLR-Zoom can support up to 6.6lbs, which is a pretty decent amount of weight. Check out my Canon 5D Mark II and Canon EF 24-105 f/4 L Lens mounted on it below. Mind you it's not rock solid with this kind of load, but it does support it with confidence. I used the self timer to insure the camera was not shaking after pressing the shutter.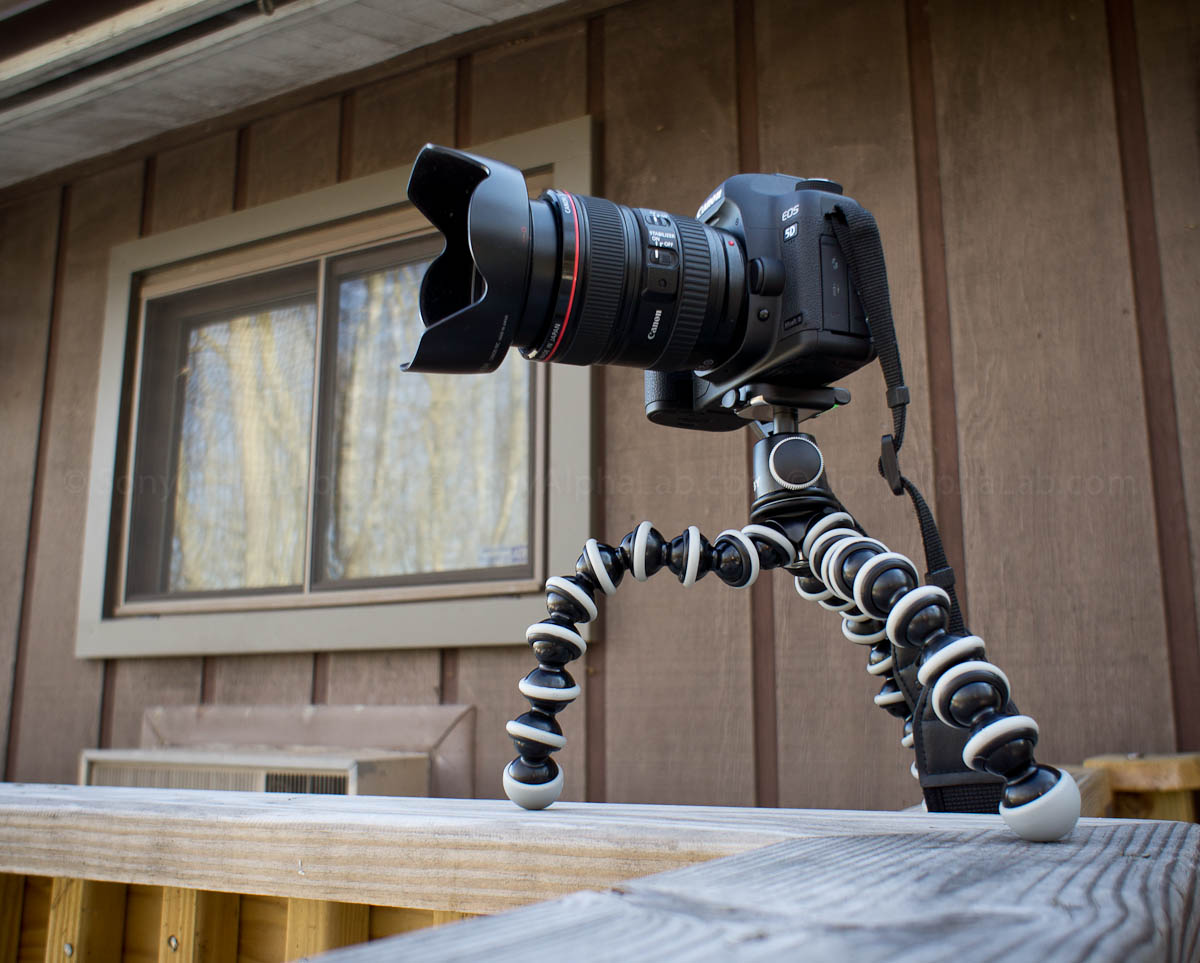 Check out this shot with the legs wrapped around the chair arch with one leg as an angle support. Again, not rock solid with this heavy load, but it's not going anywhere for sure and with the self timer or cable release its good to go.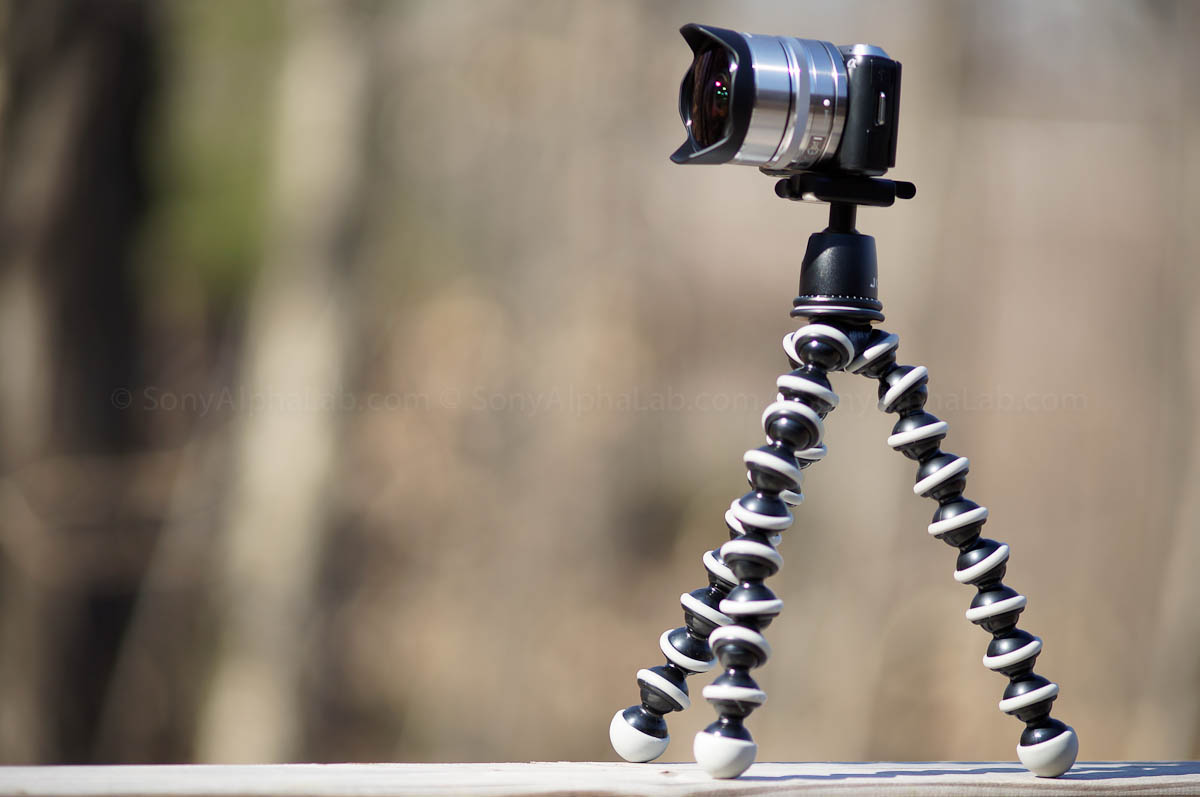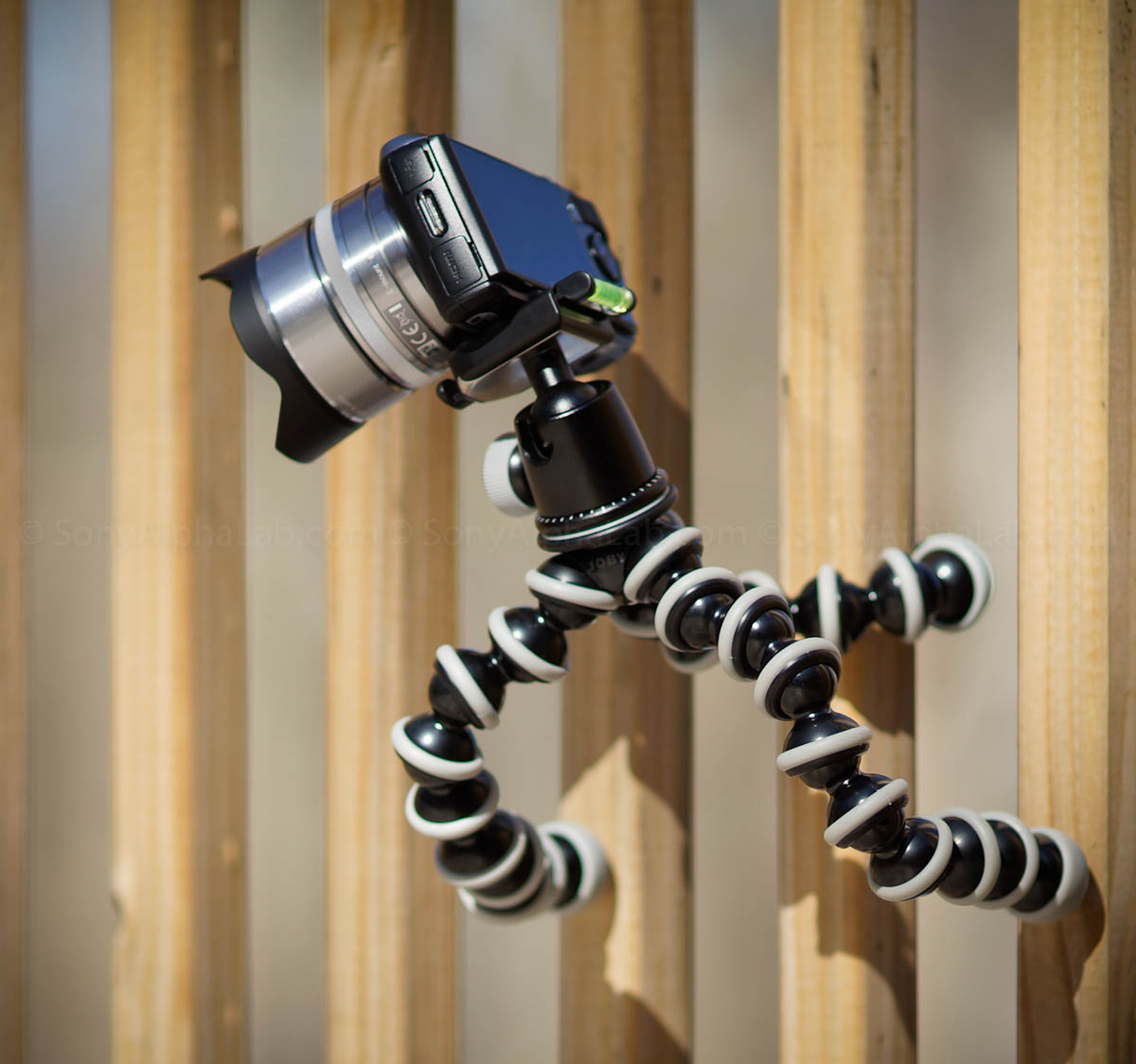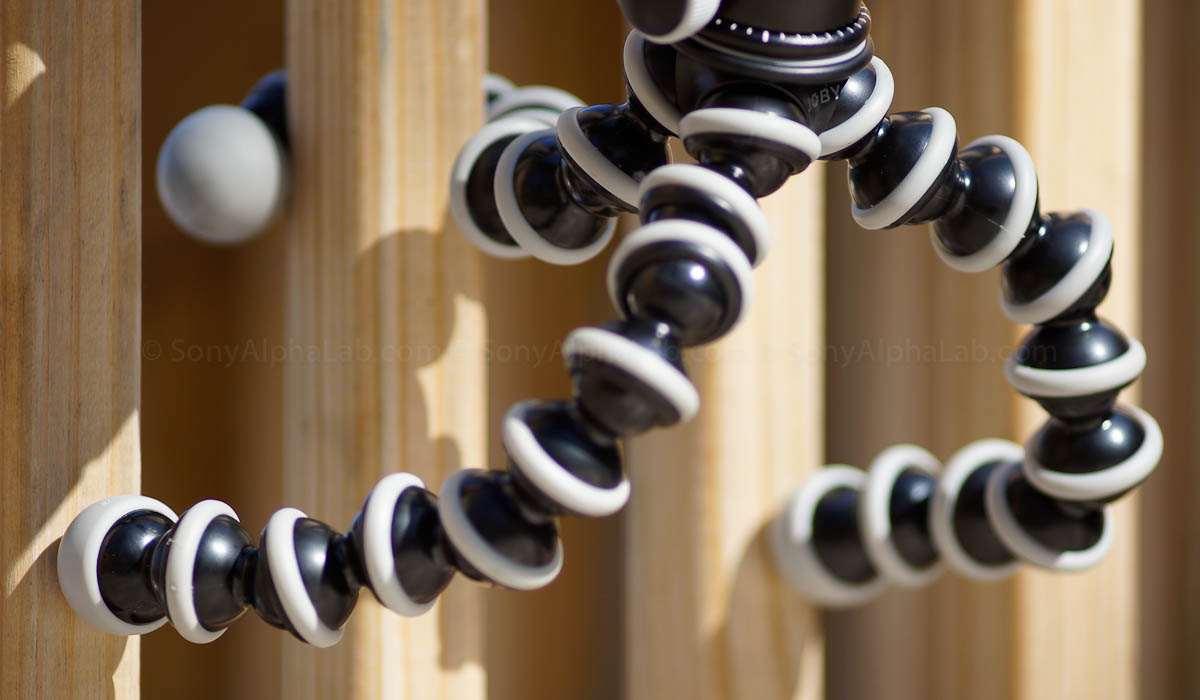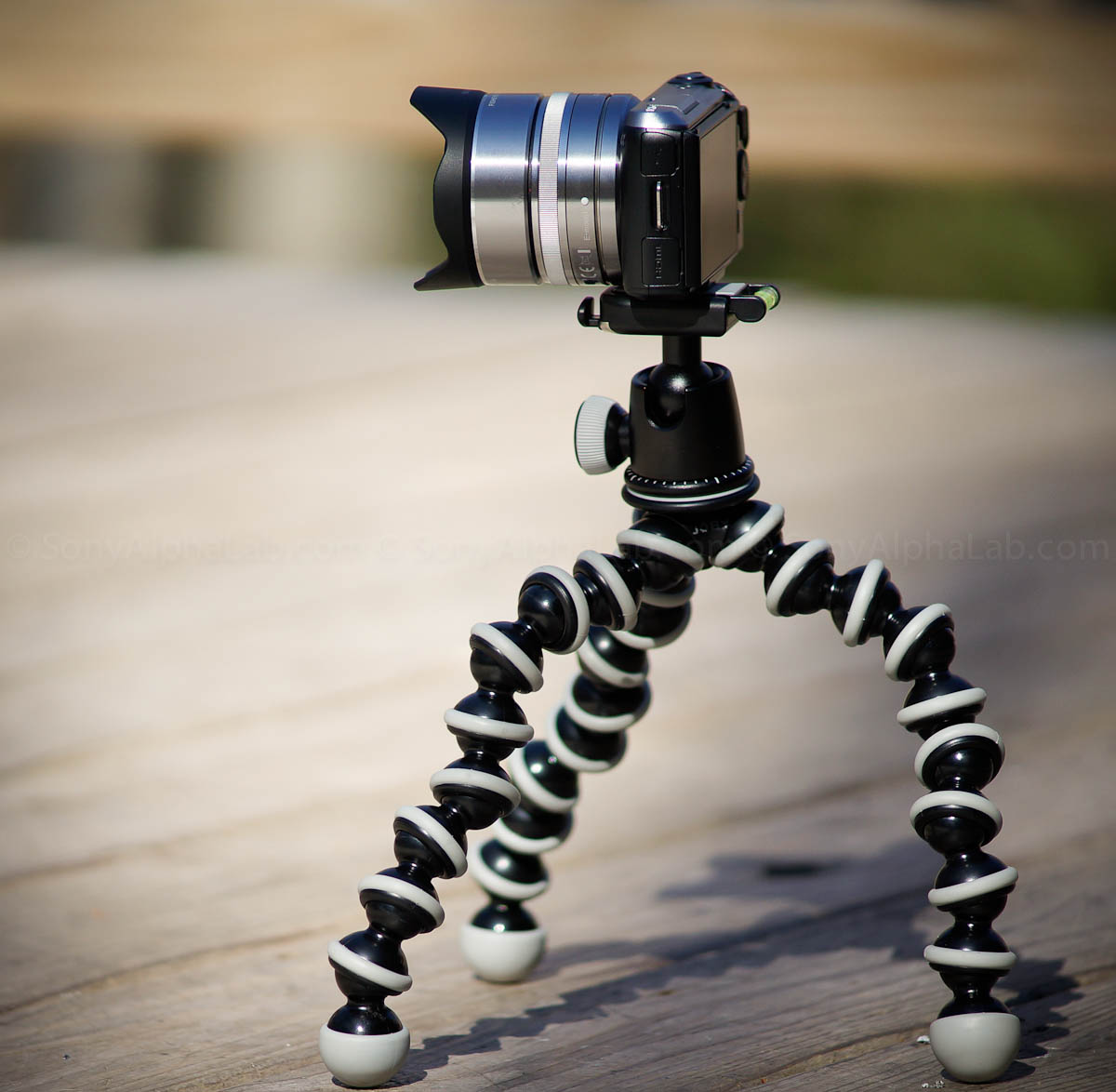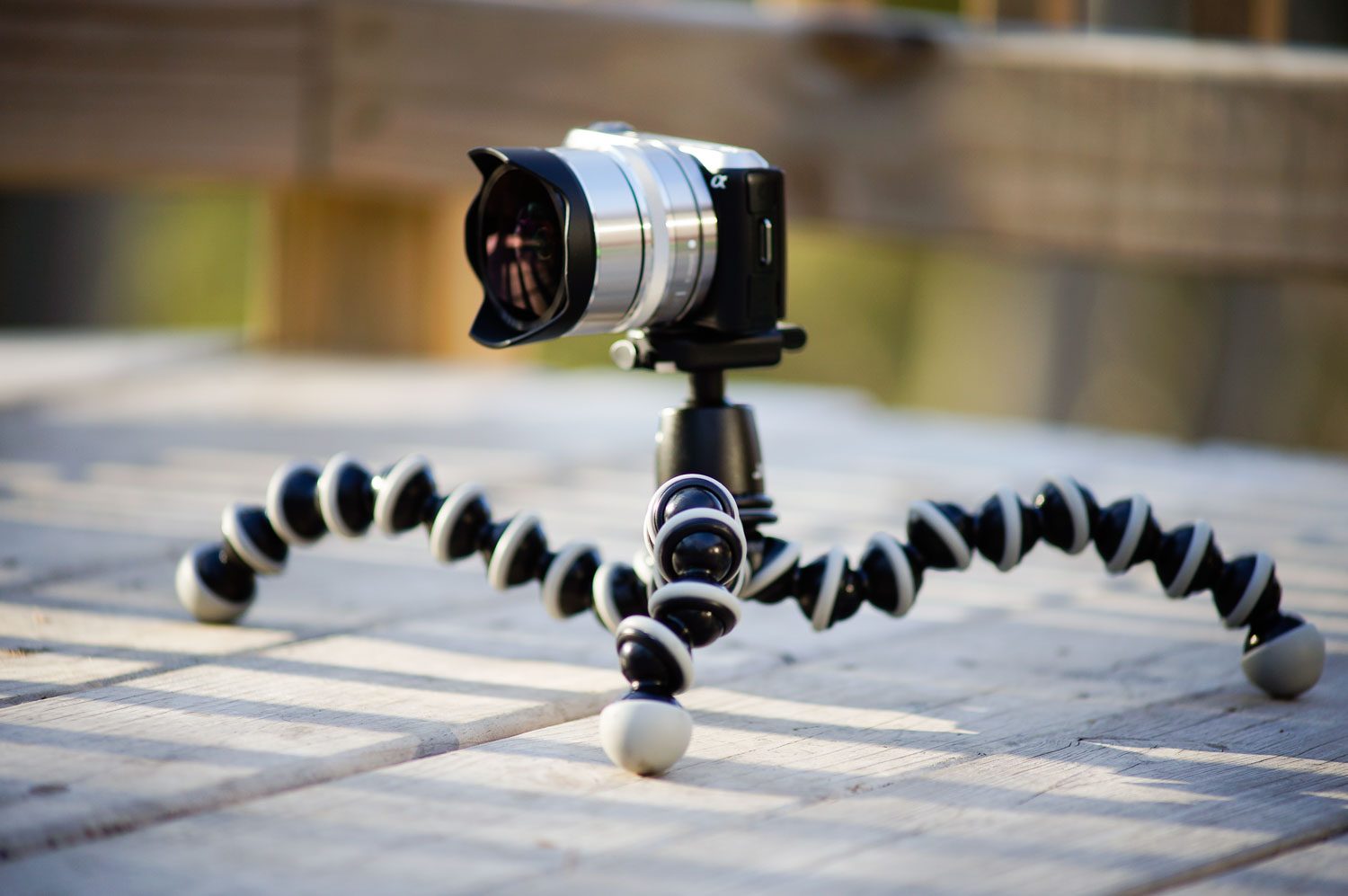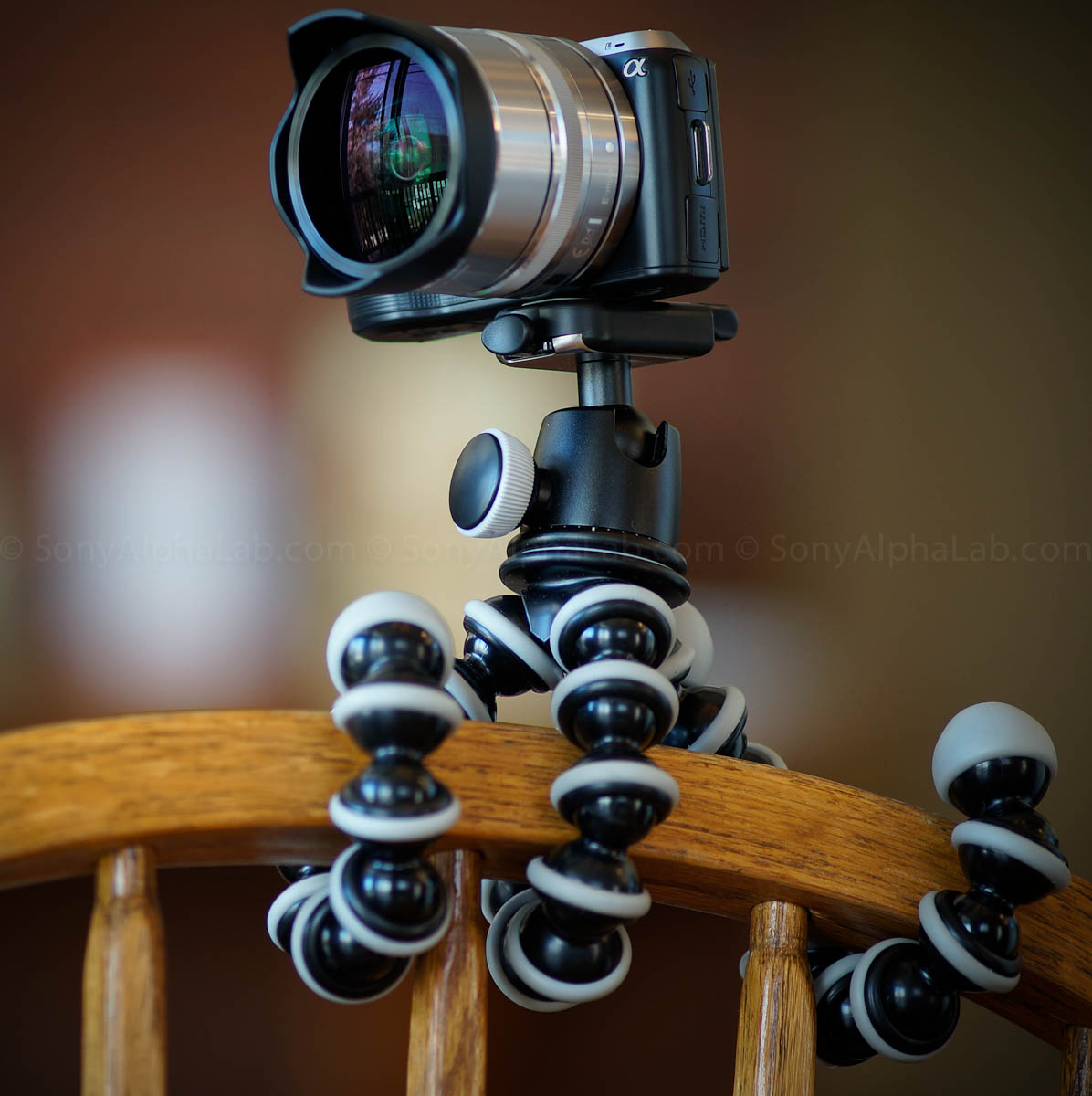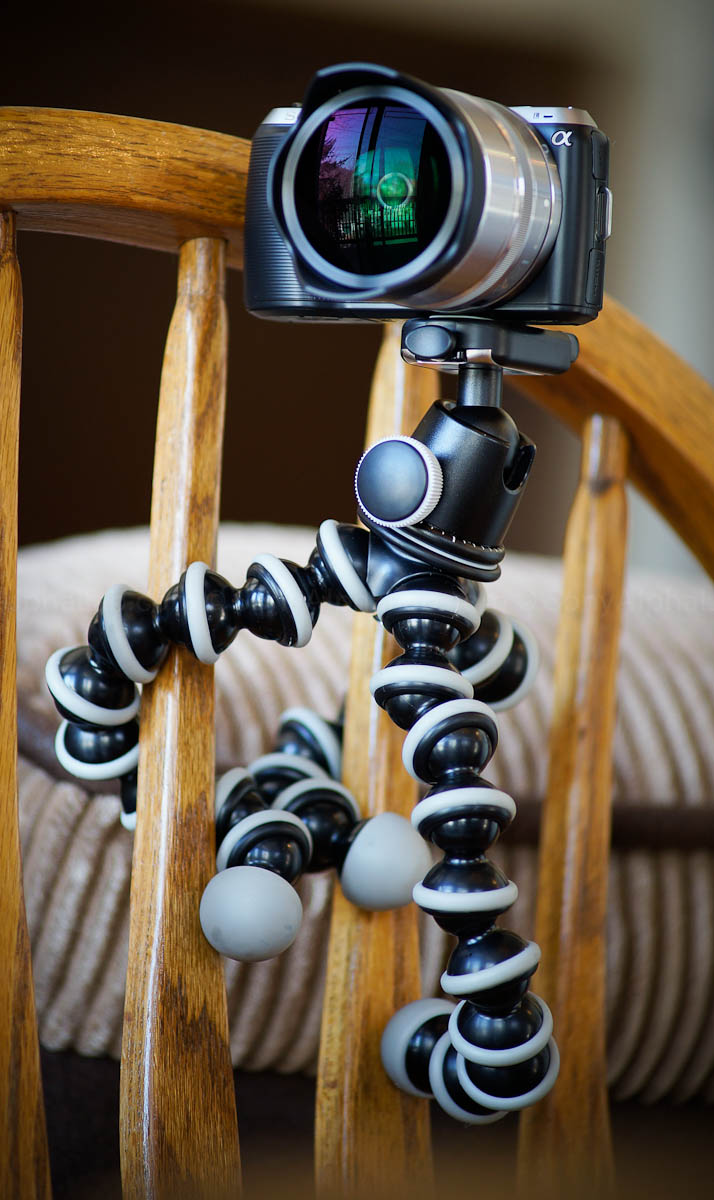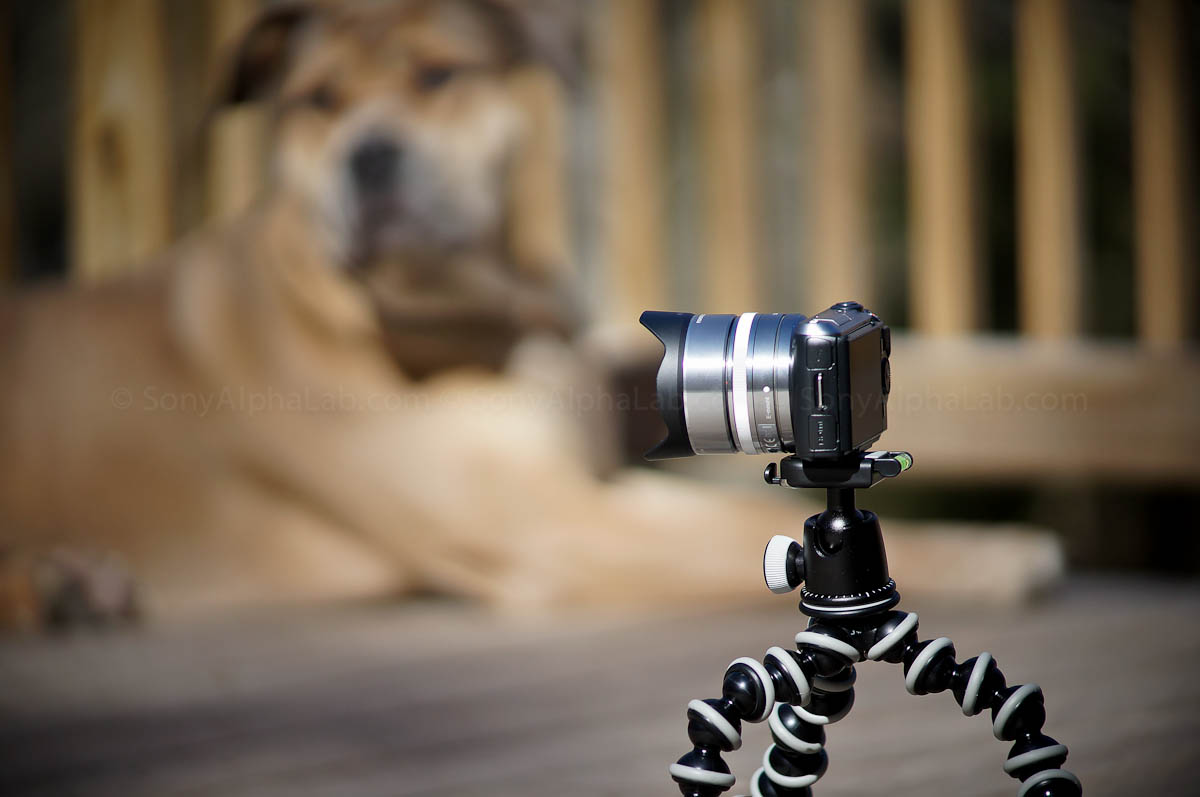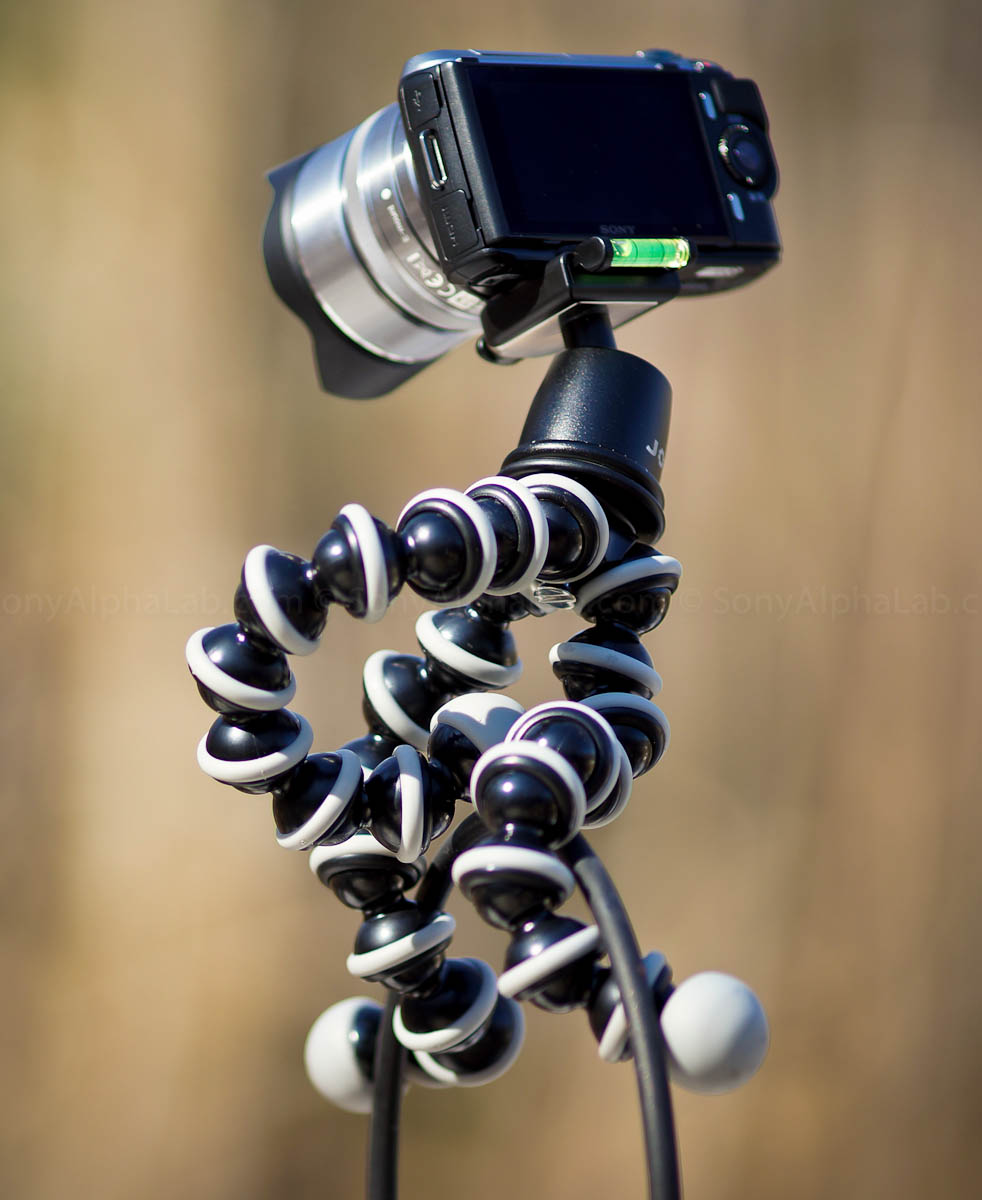 Just using one leg on this really skinny vertical plant hanger bar is enough to support the Nex-C3 and 16mm lens with fisheye conversion lens. The rubber is the grippy and durable kind. You know it when you feel it.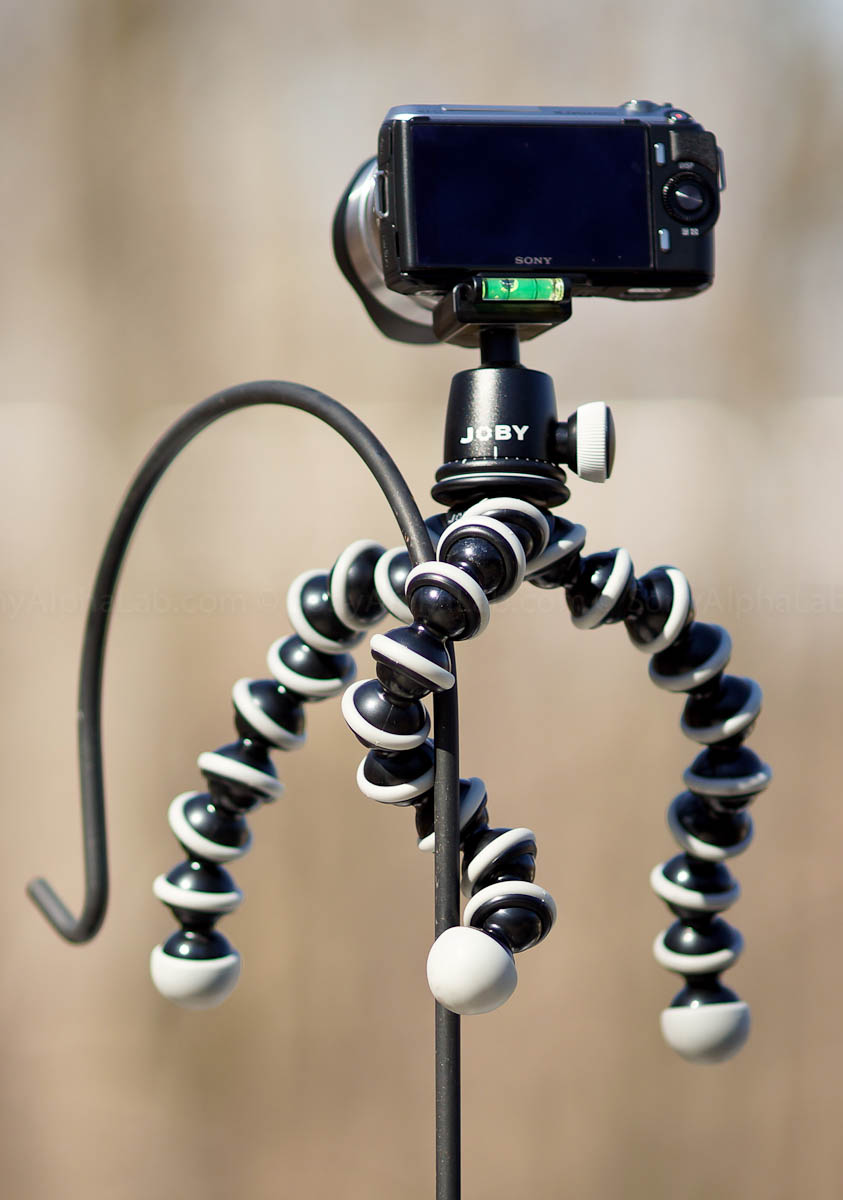 Conclusion:
The Gorillapod is a solid product for a reasonable price in my opinion, and the proof is in the photos and video above. Feel free to ask me any questions about it as I'm keeping this for my personal use 🙂 It's much easier to carry around everyday then a regular tripod. I'll use the regular tripod for heavier duty jobs from now on most likely. Time will tell!
I hope this review was helpful, and if you have an equipment or accessories you would like to see reviewed, please just throw a comment down below.
Jay

My Joby Gorillapod Flexible Tri-pod w/ Ballhead Review
The Gorillapod from Joby is an awesome tripod solution for those looking for extreme light weight, and insane versatility. The product is very well made and also extremely affordable in my opinion.
Build Quality and Design
90
Pros
Extremely versatile and lightweight
Good build quality
Very easy to use and fun
Cons
Limited to low ground shots most of the time unless you set-up on top of something or grab a railing for example.
93
Excellent Camera Support Solution