As a pro photographer, the best image quality possible is always desired, but carrying that heavy bulky full frame gear on a 8-10 mile trek is not ideal. Especially when the hard hike is really the focus of the day, and photos are ultimately secondary. With that being said, I still would love to capture time in the best quality possible. Therefore, a large sensor zeiss equipped ultra compact camera like the Sony RX100 VII is a fantastic candidate in my opinion.
The Sony RX100 VII, just like the RX100 VI, offers killer image quality, excellent versatility with the 24-200mm Zeiss lens, and an ultra compact lightweight design making ideal for situations like this when pro grade although desired, is not ideal to bring along.
As you will see in this article, the Sony RX100 VII did the job exceptionally well.
Now let's check out some of these photos which are a variety of bracketed HDR's, Auto HDR's, and processed raw files from the killer hike. If you would like to learn how to process HDR Photos, be sure to check out my recent tutorial article linked below. And if you would like to learn how to process raw files, be sure to check out the Lightroom tutorials on that, also linked below.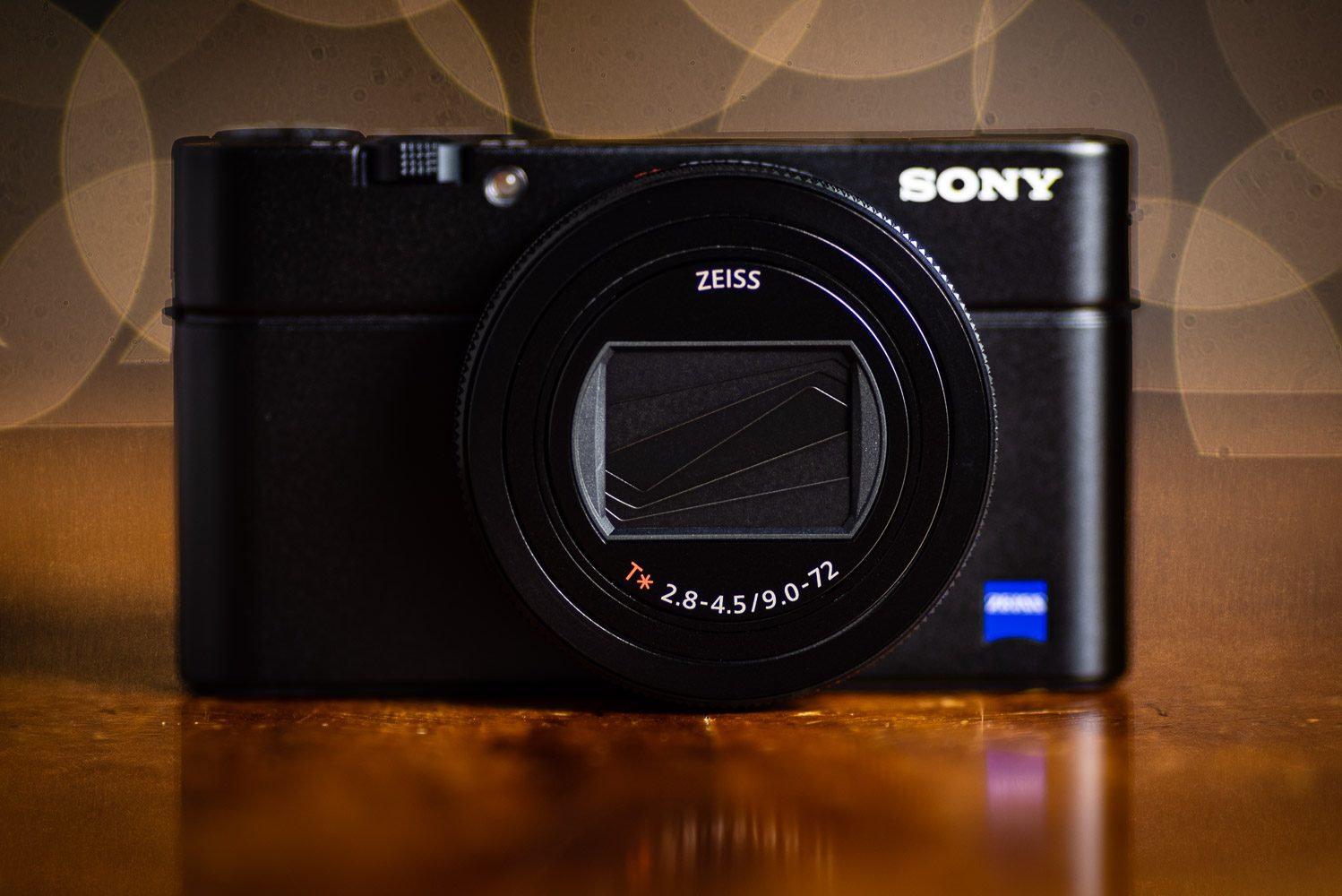 The Hike
I highlighted the route my buddy Jim and I took on the map below, and if you live in the area I highly recommend checking this spot out during the fall foliage in particular. Camping is also awesome at North-South Lake due to the killer hiking, awesome views, and fresh air 🙂 I used to go here back in the day with my best friend Jim as a kid. My Aunt and Uncle took us every year, and this was a nice "just like old times" kind of hike with my childhood friend. We had a blast to say the least!
Hiking North-South Lake – RX100 VII Sample Photos
So as you can see we started off at the upper parking lot just outside of the main gate to North-South Lake. We actually took two cars, so we could do a point to point hike, and I left my car at the start point Jim left his at the finish. Here is a shot from the finish line in early morning when we were dropping off Jim's car. We met at 7am, so the Sun was very low and offered this illuminating view. I just had to break out the RX100 VII for this and at an effective 24mm I had this gorgeous wide angle view of color and valley depth.
I also wanted to let you know I had the Sony RX100 VII set to the "Vivid Creative Style" which offers a little more punch in the colors straight off the camera. If you want to learn more about the creative styles be sure to check out my Sony RX100 VII Beginners Guide Tutorial Here >>
Be sure to click on the images for a larger gallery style view!!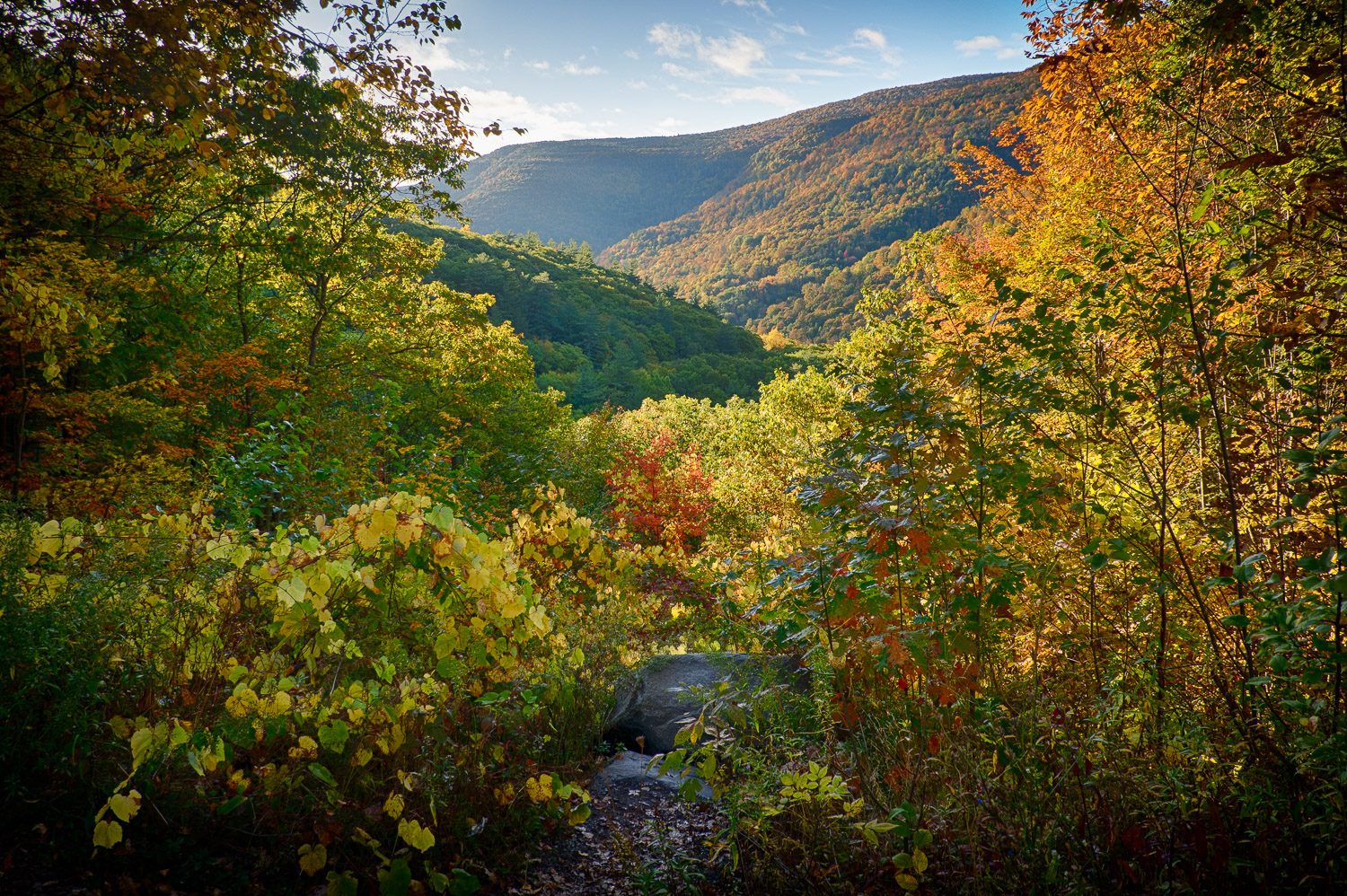 It was really nice to be hiking along in the woods for a change, because it's been quite a while for myself. I've done little hikes with the kids here and istanbul escort bayanlar there, but nothing like this!
I had the RX100 VII in a little zip lock bag inside my north face hiking bag that I have had for over 10 years. It has this little pocket on the top of the bag where you can put small items like a power bar or whatever, and that is where I put the ultra compact powerhouse of a camera. It was easy to grab and so light weight that I didn't even notice it when hiking a very brisk pass. Jim walks fast and he was leading the way on a mission.
We traversed over wooden planks, rocks, roots, and tons of colorful leaves. It was glorious eye candy and really fun exercise for a change 😉 I took a few snapshot in the early part of the kike at various focal ranges trying to capture the beauty as best I could. The RX100 VII made this a cake walk for me.
So we made are way up the mountain all the way to North Point. From there we had a killer view of North-South Lake and just miles of fall foliage color to enjoy. I used the Sony RX100 VII Auto HDR feature for these shots, because the sky was quite bright and I really wanted to capture all the dynamic range possible. In the distance it was hazy, but up close was crisp and clear and the air was so fresh I must tell you!
Next we worked our way down the mountain to what is called Newman's Ledge. I remember as a kid this being one of my favorite spots for the absolutely incredible view and crazy high scary cliff face we get to stand on.
Check out the view from this spot! I used the panoramic option on the first two shots which is a fantastic feature for situations like this in particular. It basically rapid fires while you sweep across the scene and then stitches all the photos together for you then pumps out a final result like what you see below. To find out more on Panorama Mode, check out my Sony Camera Modes Tutorial Here >>
The rest of the photos were just random snapshots at varying focal lengths and one of my buddy Jim towards the end. Note the incredible wide angle views vs the zoomed in views which offer great background separation and that 3d look that we all love to see. And yes, the RX100 VII can do a great job with portraits as well 😉


At this point we continued making our way down the mountain back towards North-South Lake and here are a few shots from Artists Rock. As you can see we are getting closer and closer to the lakes and note the incredible zoom range the Sony RX100 VII offers from the same exact spot! The 24-200mm effective range lens is no joke 😉
We then arrived at the Catskill Mountain House site which has a nice sign showing off some photos and historical details.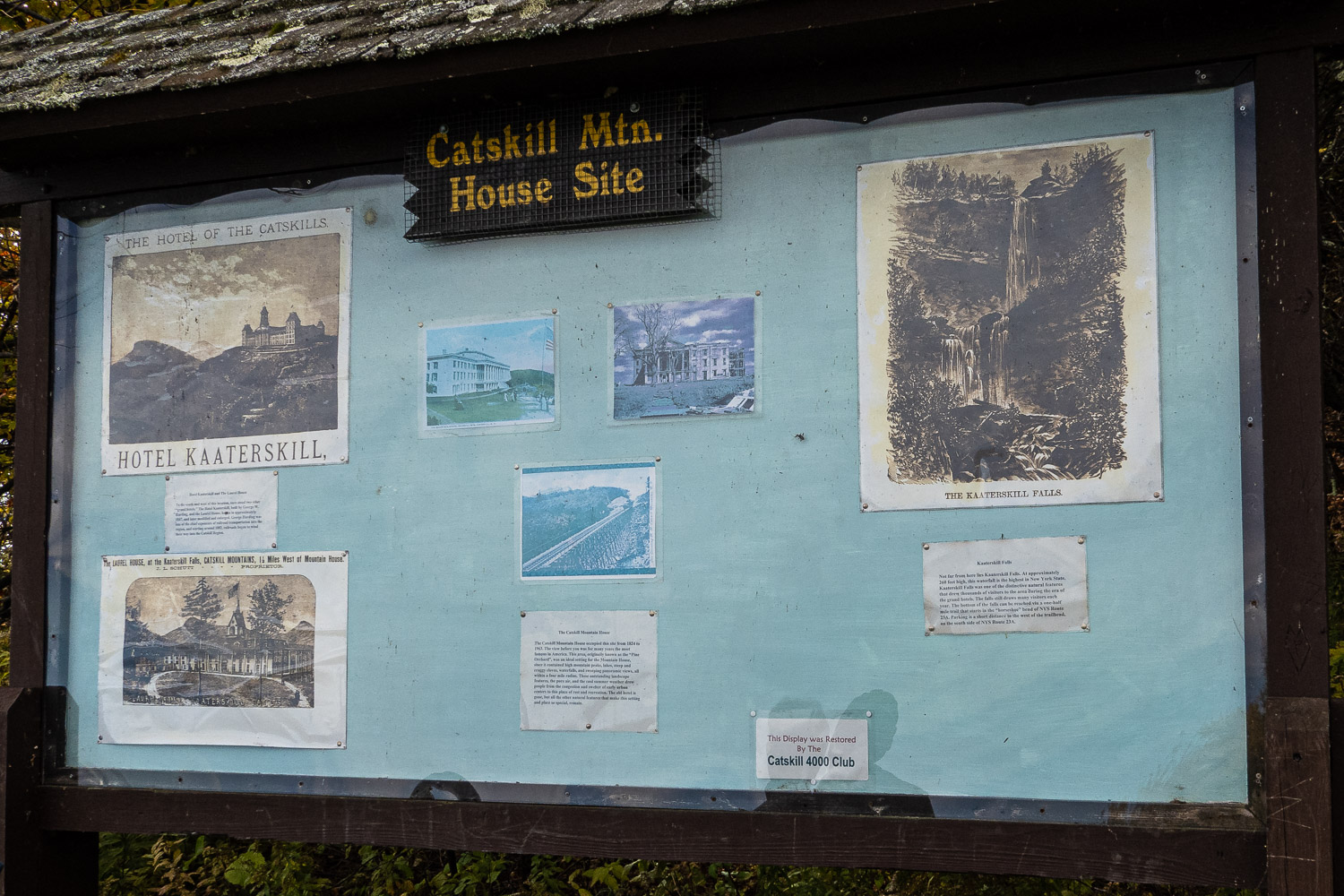 I would definitely take the time to read this sign, because the history is really something! Also, not the clarity and crispness of this image thanks to the top quality 1″ image sensor and killer Zeiss lens the RX100 VII is packing.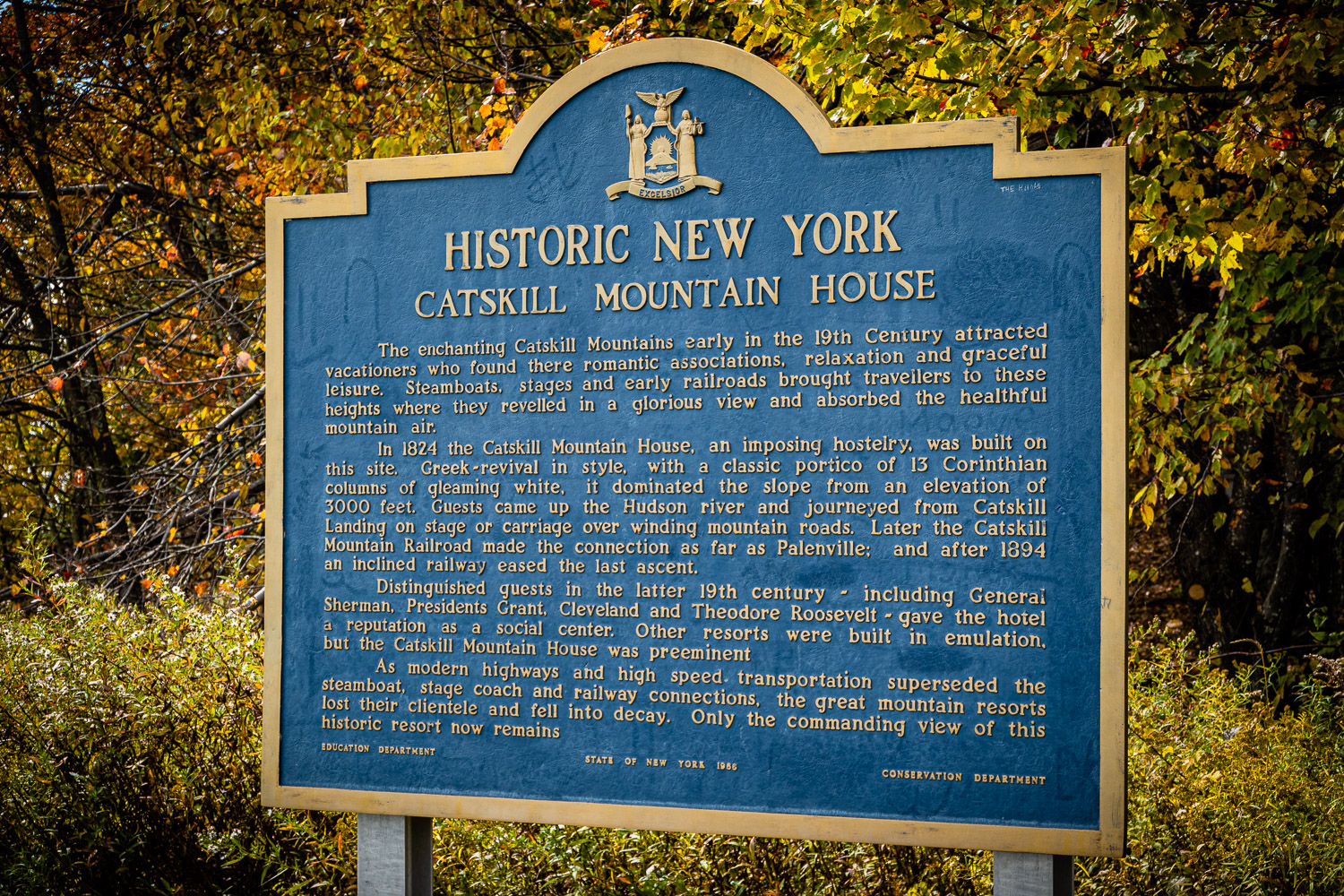 We then moved on from this area and made are trek towards Boulder Rock. On the way we stopped for a quick drink.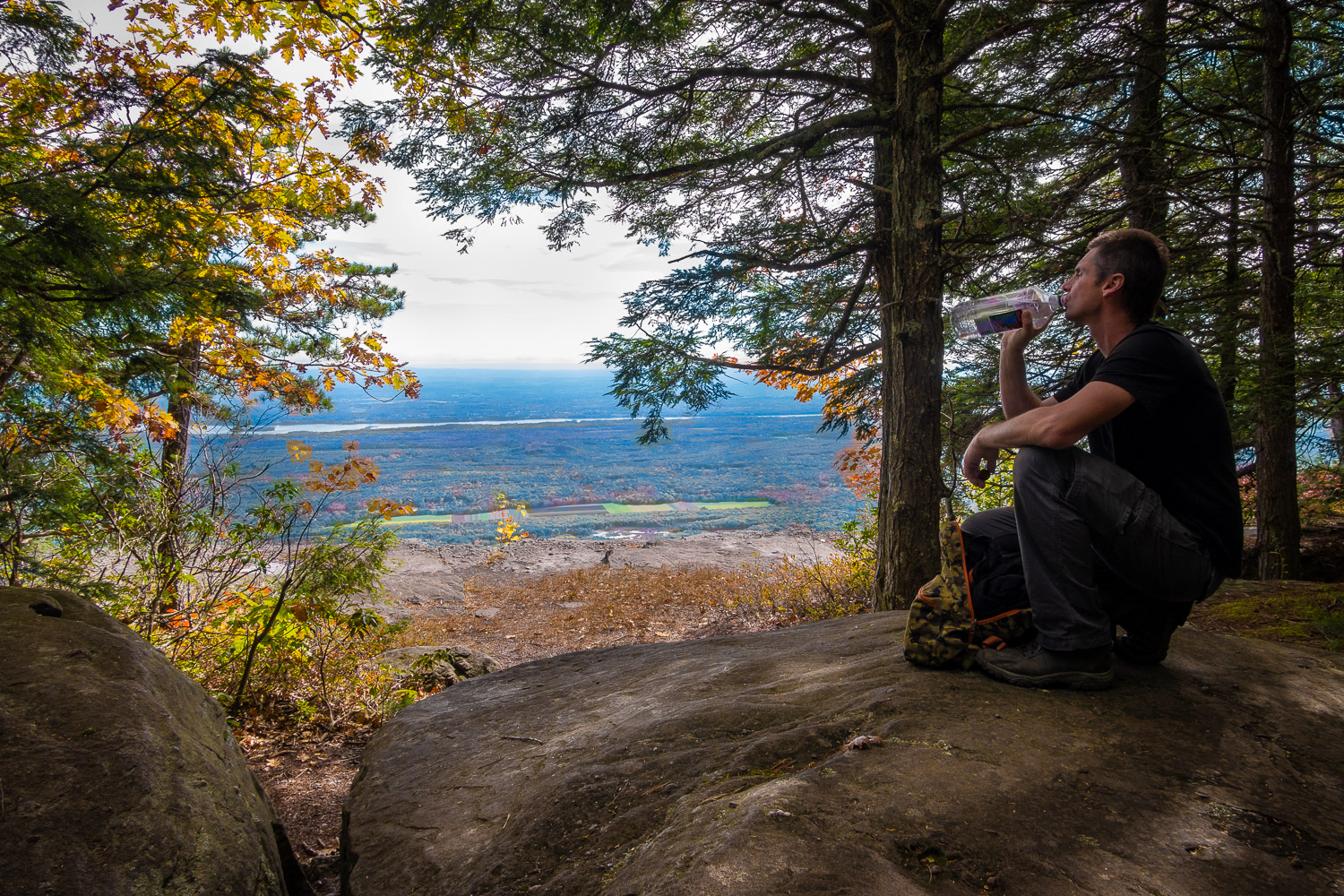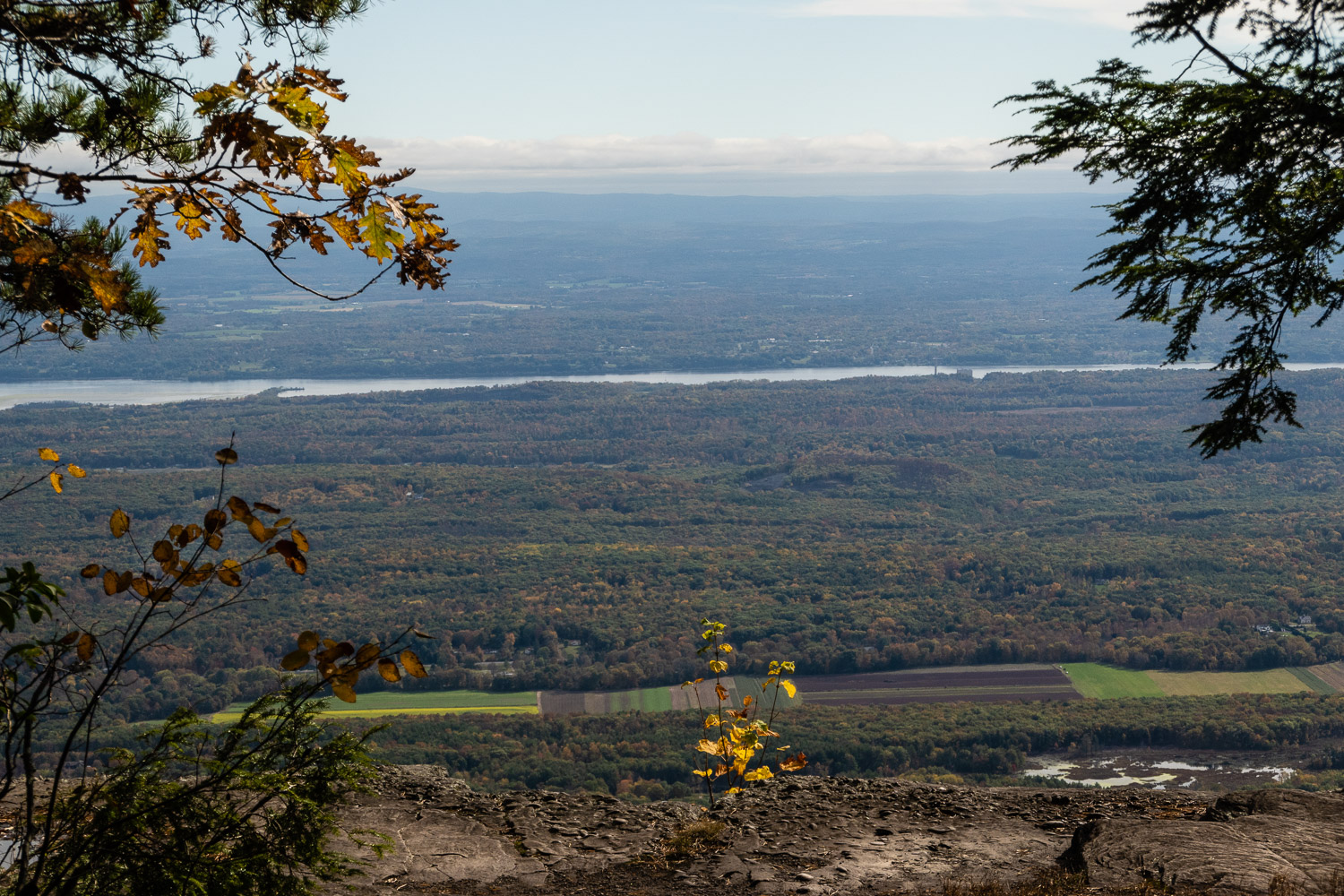 And here is Boulder Rock in all its glory. I mean, it's just a big rock, but it is oddly sitting here enjoying the amazing view year round day and night. I find this interesting because so many people over the years have leaned on the rock, taking photos with the rock, and so forth. It just makes you think about things in a different way. You gotta love the nature reset a long hike in the woods will be sure to give you 🙂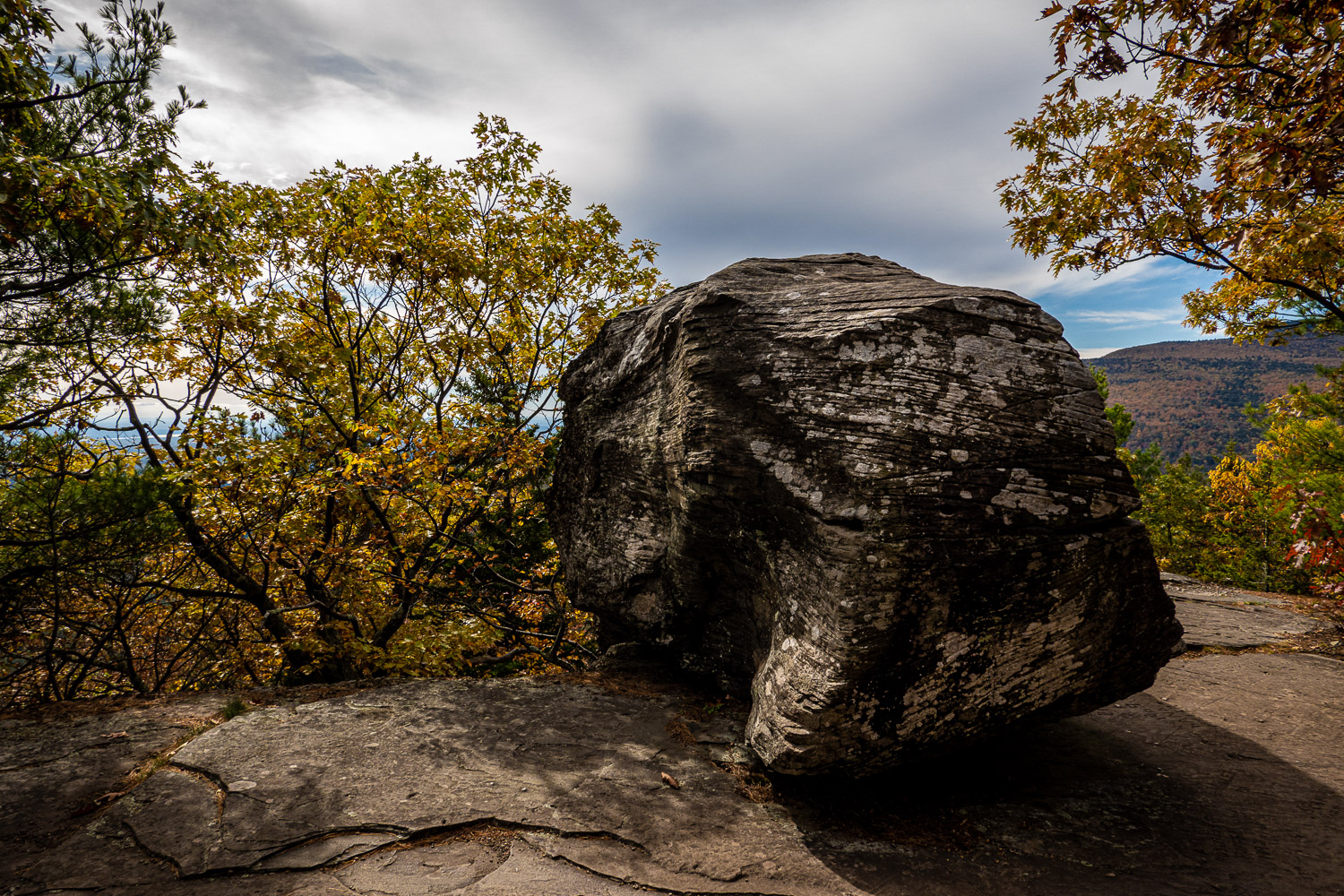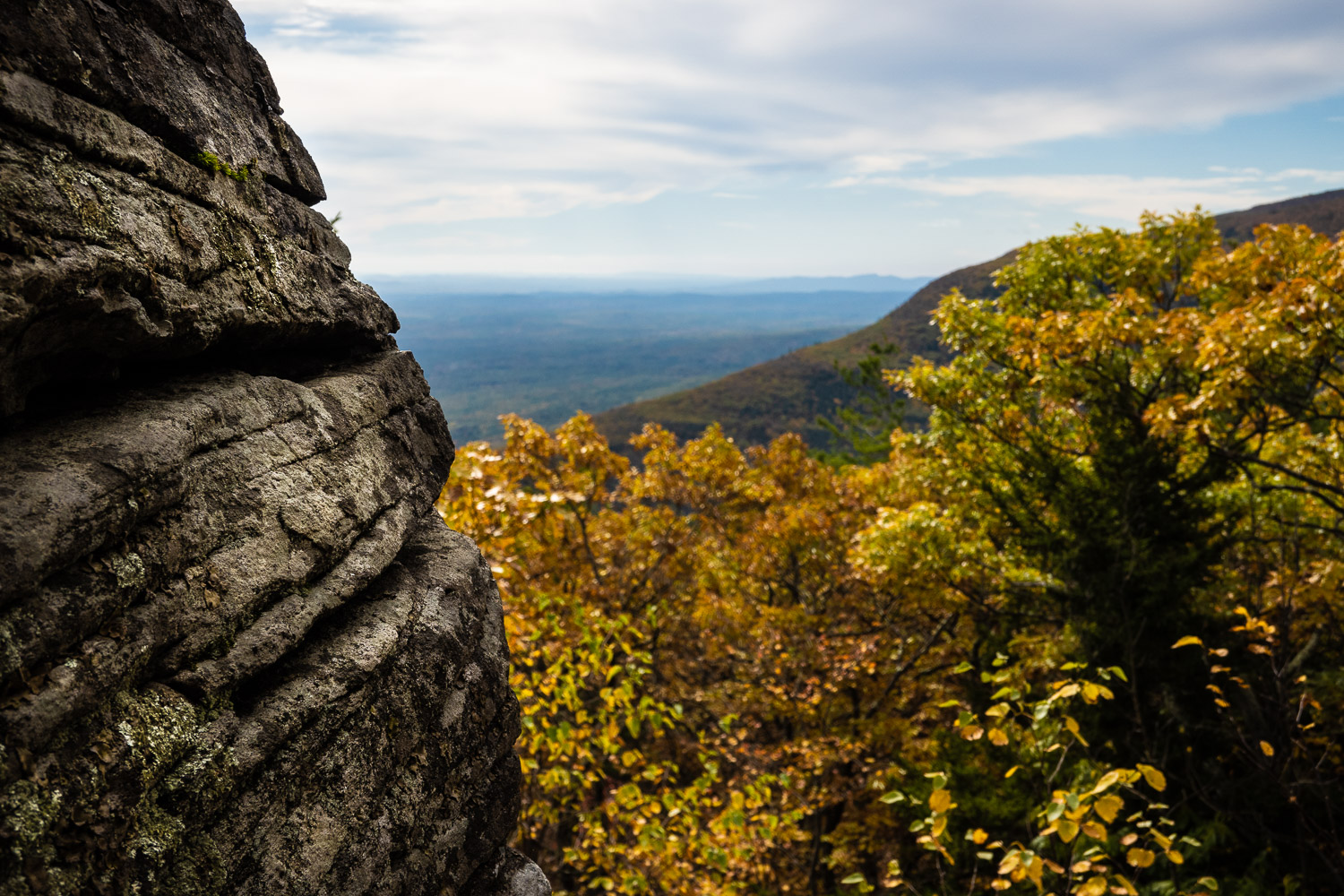 We then worked are way towards Layman's Monument and enjoyed this view along the way. It's incredible to see 10's of thousands of trees like this all so brilliant in varying color and states of fall.
Layman's monument was a pretty cool looking pyramid shape and was dedicated to a very brave firefighter that gave his life here. Forest fires are no joke, and that is one dangerous job!
A few more snapshots from the spot and the amazing view Layman's monument has.
Next we finally stopped for lunch and I honestly was serious getting tired at this point! A lot of elevation changes up and down, and I'm just not in the shape I used to be 😉 While eating lunch I could not help notice these perfectly posed achorns to my left.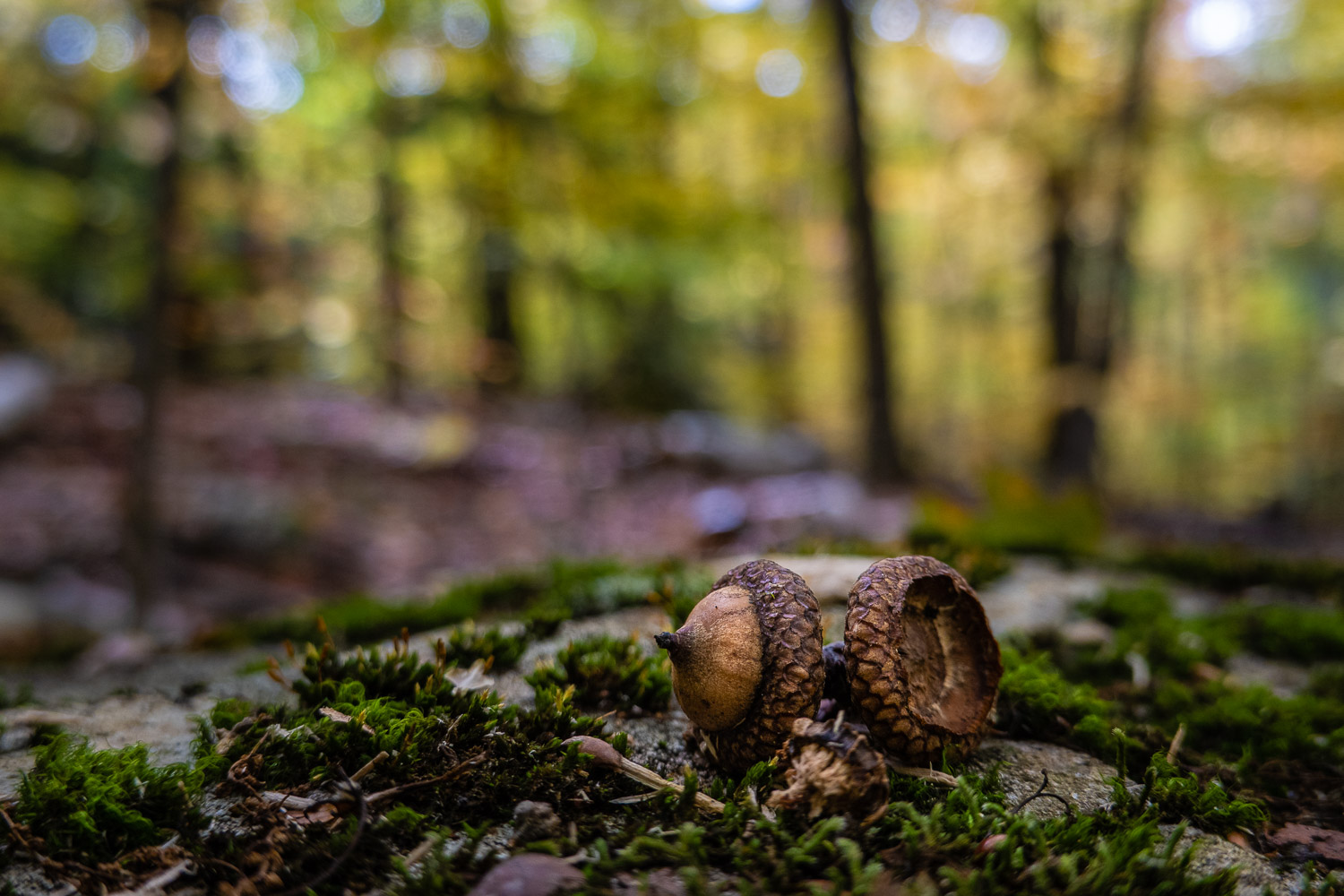 And then looking up I saw this.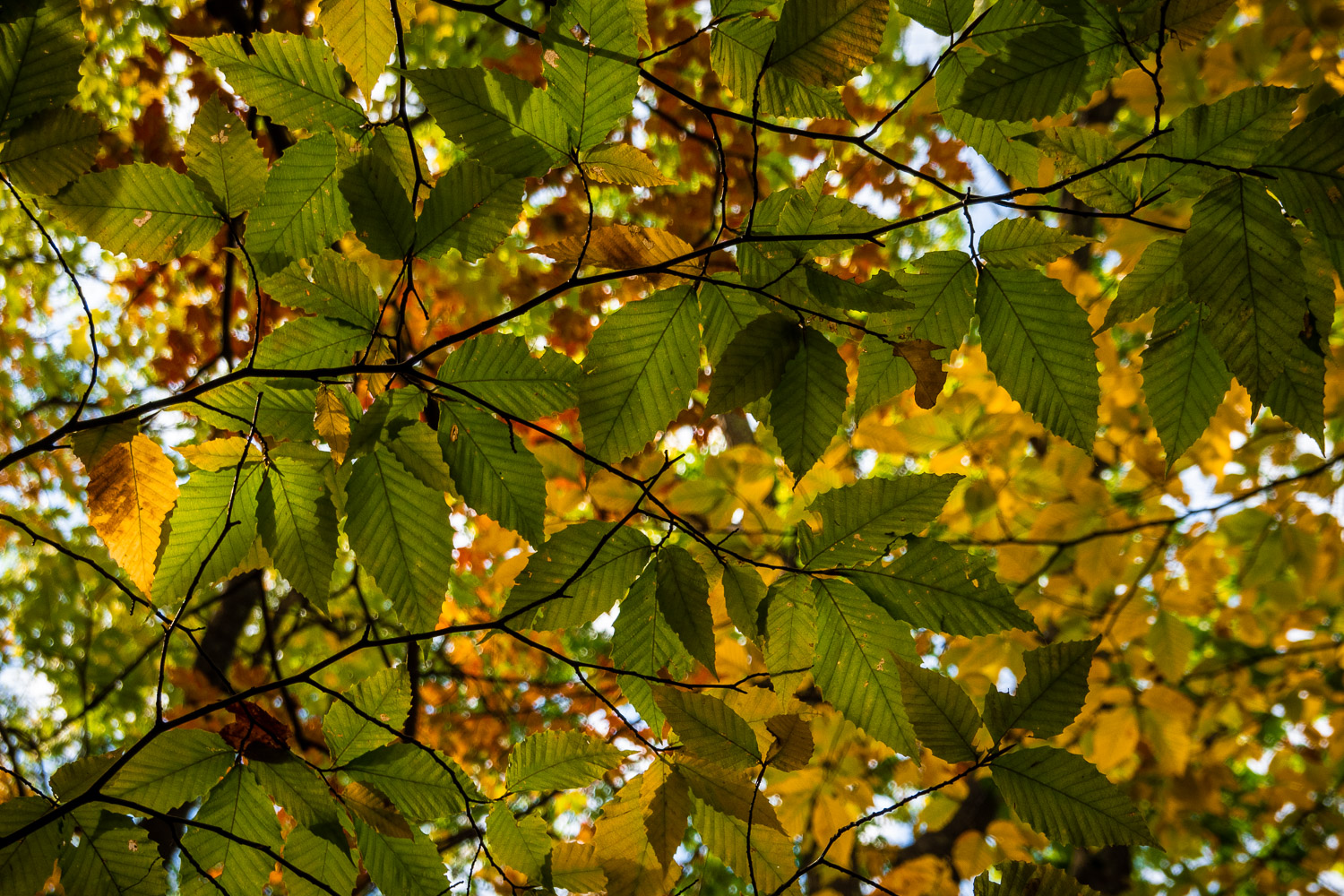 The next stop on our hike as the top of Kaaterskill Falls! Be sure not to get to close to the edge, because it's a serious drop off! Unfortunately the water was not flowing very hard on the day we were there, but I can assure you when it is flowing it's magnificent to say the least. I will show you a few older pictures from a previous visit towards the bottom of this article when it was flowing hardcore.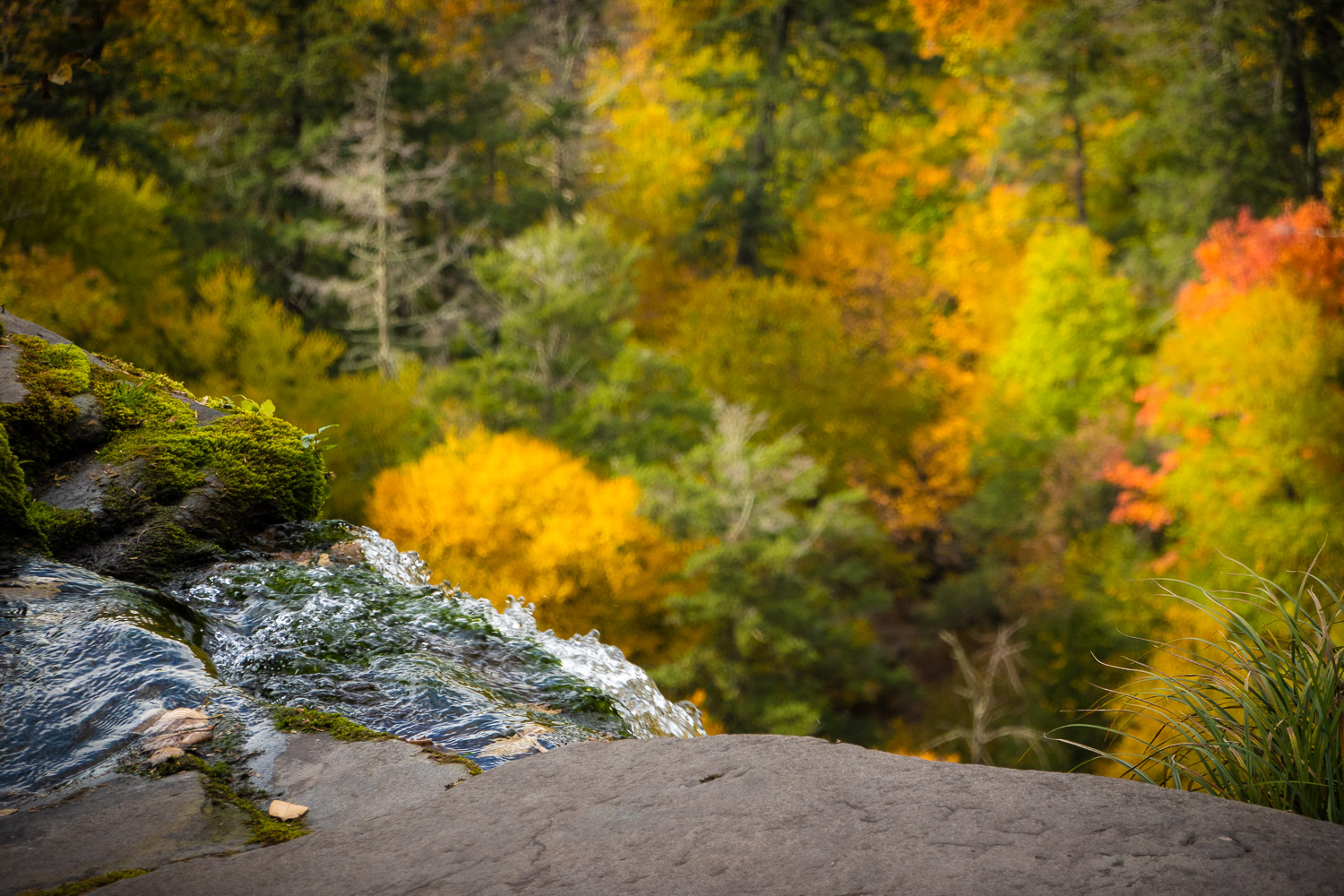 These next few photos are HDR's which means I processed multiple exposure using software which then blended them together taking all the good info from each. I used the Bracketing feature on the Sony RX100 VII for this at -2, 0, and +2 exposure values. The camera then fired off three separate exposure's in raw quality so I could work with them later on the computer. Ideally you should be using a tripod for this purpose, but if the shutter speed is fast enough and you are really steady, you can hand hold as well which is what I did.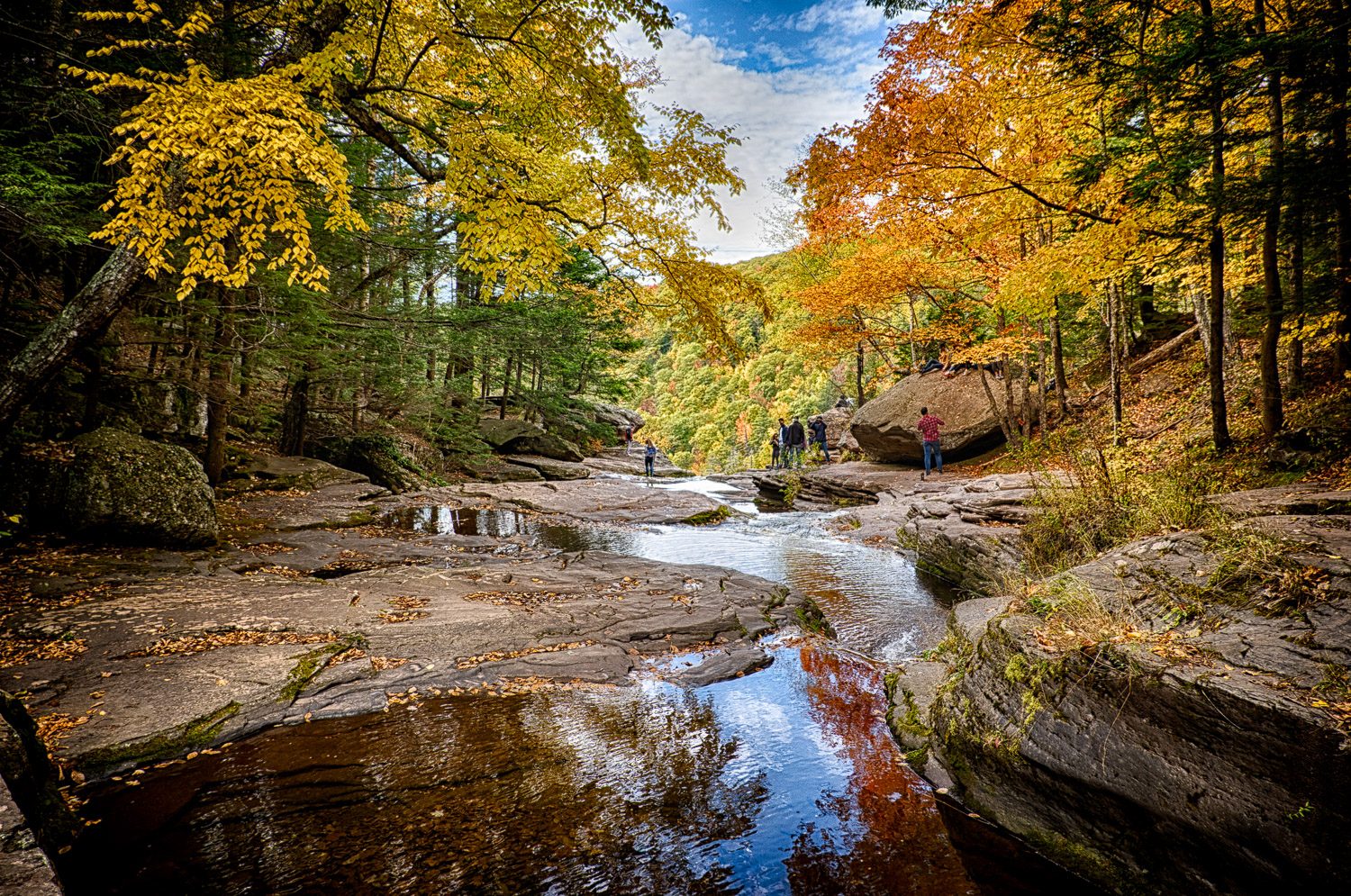 Last stop was a short hike down to the bottom of the falls. They now have an amazing stone staircase that brings you down which was not there years ago when we were kids. It's really nice, but was crazy crowded when we were there and I was really tired, so I didn't bother taking an pics of that, sorry.
And lastly, check out this artist at work. There was an entire group of people watching this guy just out of frame, and it was really cool to see.
A few older photos
As promised here are a few more photos from other visits to Kaaterskill Falls years ago when the water was really flowing!! Mind you, these are very old photos from around 2007 or so and the originals are are a backup drive somewhere, so I only have these framed logo covered versions on hand. They still look pretty good though 😉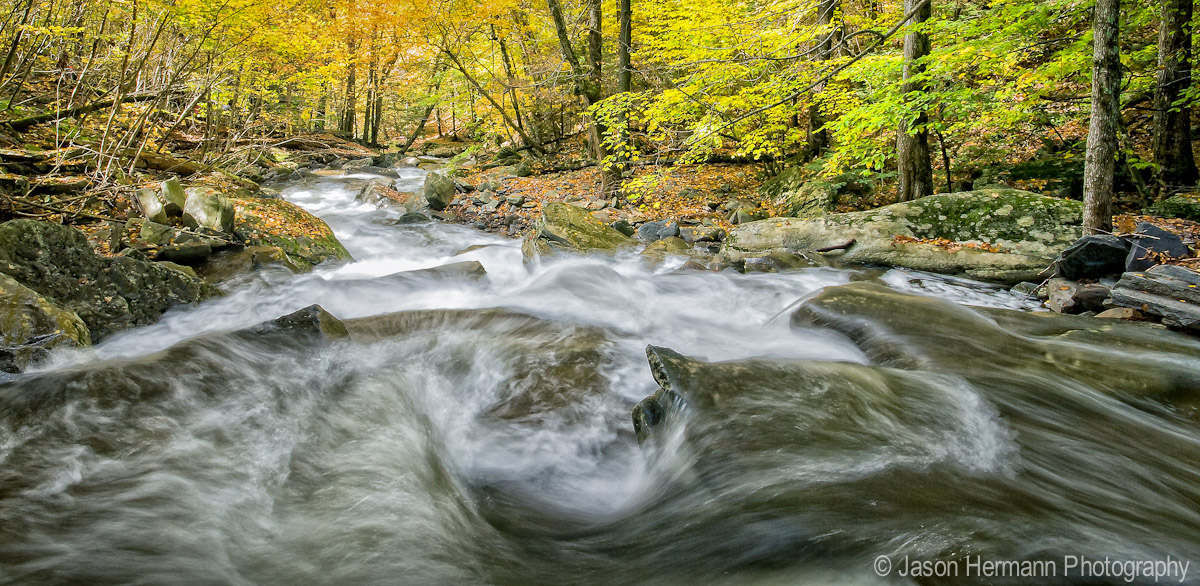 Closing Remarks
That is about it for this article and as you can see the Sony RX100 VII makes for a killer camera companion on trek like this! The battery lasted the entire time with no issue, although having a backup would certainly be a good idea. The lightweight and ultra compact size made the camera a breeze to carry. In addition, the versatility of the Zeiss 24-200mm effective zoom lens and high quality image sensor along with Auto HDR, bracketing, Panoramic mode, and other features made getting killer results easy and fun.
I was very happy with the results overall and I would love to hear your thoughts on the photos??
Please feel free to ask questions and comment below as always, and have a great day!
Sony RX100 VII and Recommended Accessories:
Today's Best Photography Deals & Rebates (Click Here)
Tip Jar: https://www.paypal.me/SonyAlphaLab
Follow Me on Twitter | Facebook | Instagram | Youtube
Patreon Fan Support Page: https://www.patreon.com/SonyAlphaLab
Thanks again,
Jay