Oh yeah, got some new gear on the way my friends 🙂 Not just any gear, but the NEW Sony A6500, NEW Sony FE 70-200mm f/2.8 GM OSS Lens, and the NEW FE 2X Teleconverter which is made exclusively for the 70-200mm GM lens.. Therefore, we are talking 70-200mm x 2 (teleconverter) x 1.5 (Crop Factor) = 210-600mm effective range!! That is some serious reach and should make for a lot of fun and some killer longer distance photography.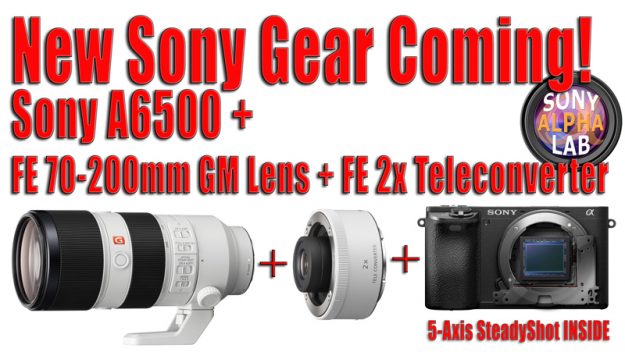 My 6 yr old girl Layla and I have been going snowboarding on Sunday's at this local mountain near where we live. We signed her up for the snowboard club this year, so it's the first time she has been on the slopes 🙂
Incredible fun to say the least, and a perfect opportunity to test out this new Sony gear in the real world.
I should be able to zoom in from a long distance away and capture killer frames in theory, so time will tell how well this particular set-up works for me. They also have snow tubing at the mountain, and lots of people everywhere, so a nice variety of subjects to photograph and take video of in general. I'm curious how well the A6500 will track high speed subjects at far distances using this set-up in particular.
I will be hand holding and also using a tri-pod for some of the video testing I'm thinking… I also want to snowboard, so perhaps the morning I will play on the slopes, then in the afternoon I will focus on testing the gear out as best I can given the conditions at the mountain.

Any specific testing you want me to do?
Please let me know below in the comments area if you would like me to do any specific testing that I might not normally do. I will do the lab testing, and real world testing as described above, and I have a request to take a few moon frames at max zoom. Other than that I will just be playing around as I normally do unless you request something in particular. If you let me know, I will try my best to deliver! I'm doing this work for you guys, so please don't hesitate to ask questions, or put in a special request 😉
[divider]
Closing Remarks
That is about it for this quick article, but please be sure to let me know what you think about the gear, and if you have any special requests. I'm always happy to help as best I can, and I'm really excited about testing the gear out in a few days.
Also, If your looking for a new Sony E-Mount lens and you have no idea where to start, or have an idea, but want more information, be sure to check out the lens articles I published on the manner…
Also, be sure to check out and join the SonyAlphaLab – Forums for the latest user photography, camera and lens reviews, and much more!
I really appreciate your support everybody and have a wonderful day,
Jay