89
Full Frame Mirrorless E-Mount Camera
The Full Frame Sony A7II is the latest and greatest mirrorless e-mount camera from Sony! In this review I will go over everything I can think of to test this bad boy out including real world photography and lab testing.
I have the killer FE 16-35mm f/4 OSS ZA lens to try out as well as my Canon EF lenses via the Metabones electronic lens adapter, and also my old school MC 50mm f/1.4 Rokkor-X Lens via a passive adapter.
So here is the Sony A7 II full frame mirrorless camera with the Sony Vario-Tessar T* FE 16-35mm f/4 ZA OSS Lens mounted so you can see the size/ scale.
The most notable improvement to the Sony A7 II is the built in 5-axis sensor stabilization and significantly better camera body build/ design. Although heavier, the camera body improvements are seriously welcomed by me!!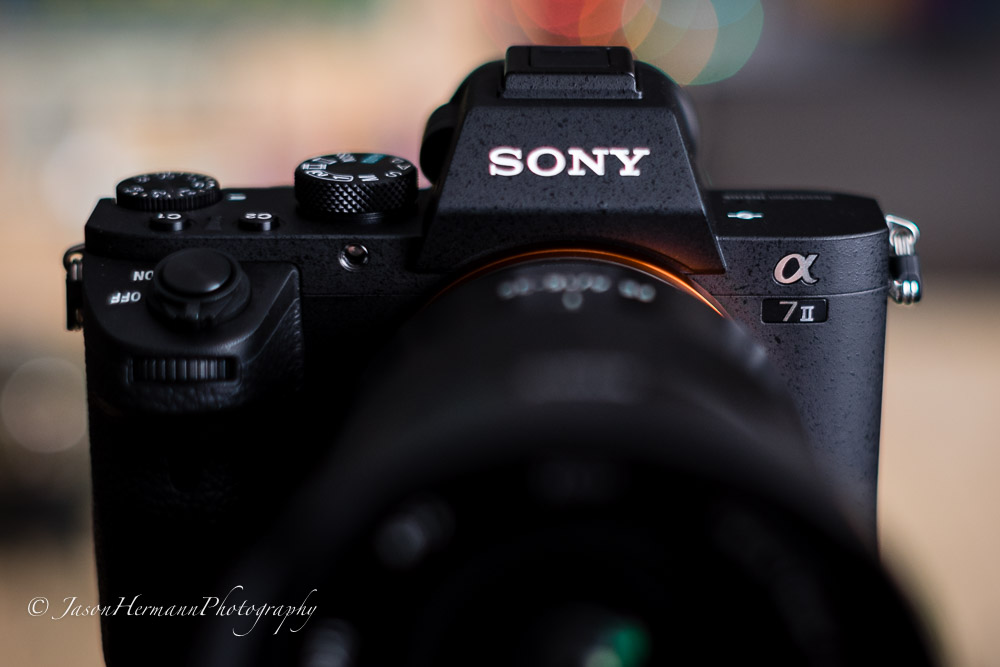 Build quality feels great and I like the slightly textured finish as apposed to the smooth finish of the previous generation. The larger grip is excellent as expected, and the new shutter position is a huge improvement ergonomically as well.
The A7II full frame mirrorless camera is heavier than the previous generation for sure! I noticed this immediately when I took it out of the box and was surprised honestly. Clearly the larger form factor, and full magnesium chassis added some heft to this camera and it is worth noting.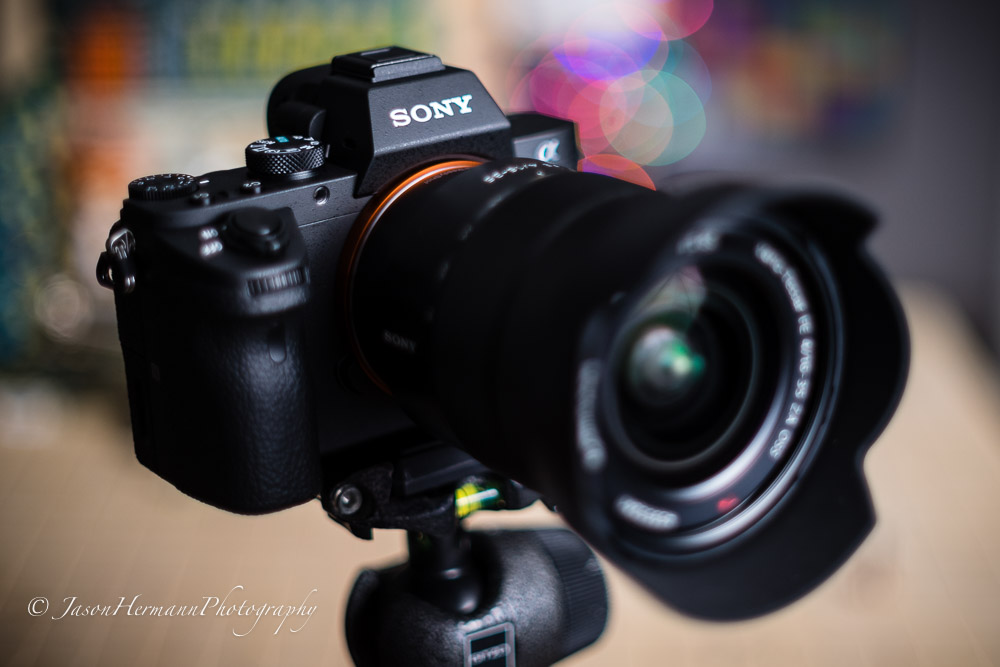 Loving the new larger grip, shutter, and built-in dial. It's pointer finger heaven and better than the previous generation in my opinion.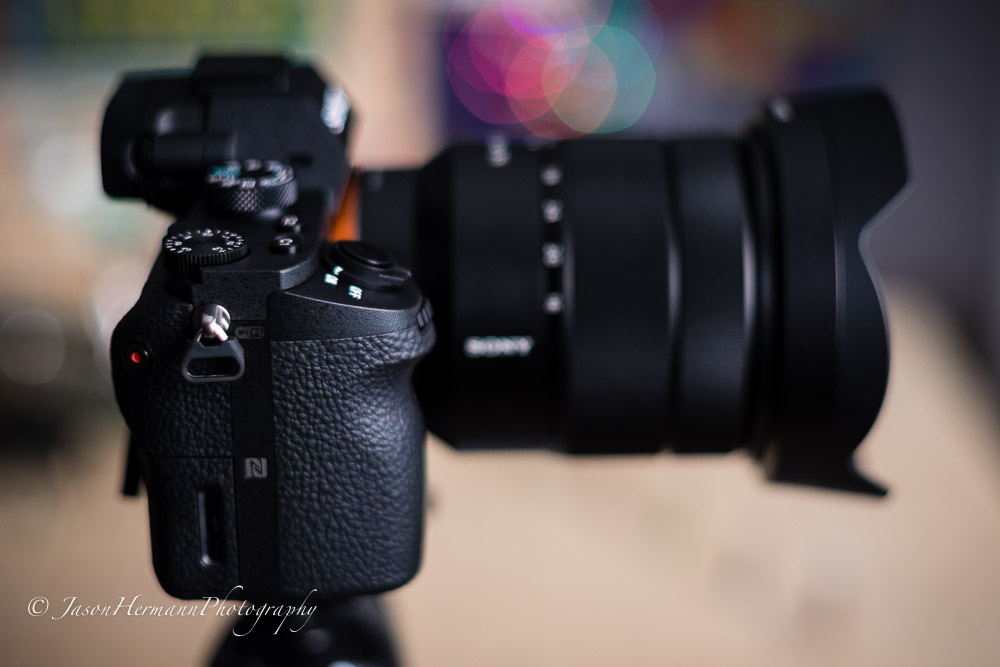 New port doors on the cameras left side open down and are rubberized plastic. It is definitely easier to get the usb cable in with this design, but the doors don't feel as good as the metal ones. A trade-off I suppose and they are otherwise working great so far with no accidental openings! Having an easier time getting the usb cable in and out might seam like no big deal ,but it's actually huge in my opinion considering how my times you have to do it.
The new slimmer front and rear control dials work really well and have nice amount of dampening and space between notches. It's easier to go from one notch to the next without going three clicks for example. I often go further than I want when using the A7r dials, but these don't have that problem. They are closer to the actually camera body though, so if wearing gloves they may be a bit harder to use.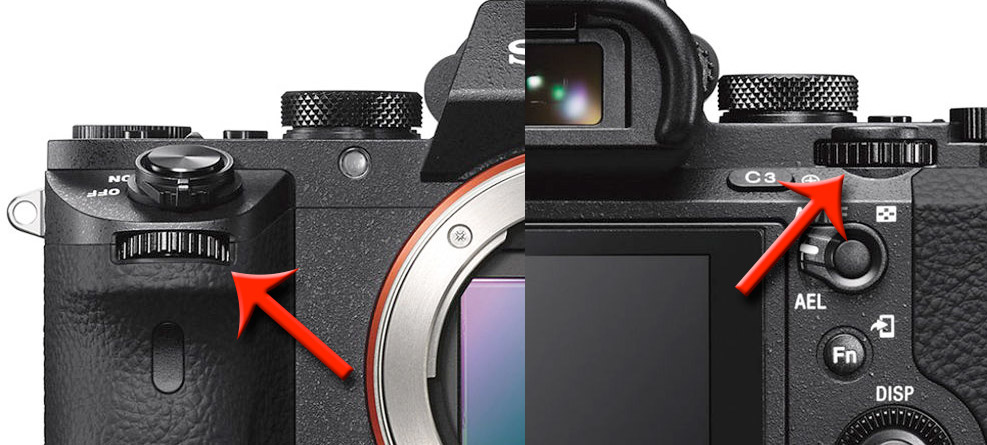 From the top you can clearly see the new shutter placement and thinner deeper grip design. Also note the SteadyShot INSIDE text and new custom button added to the top right side.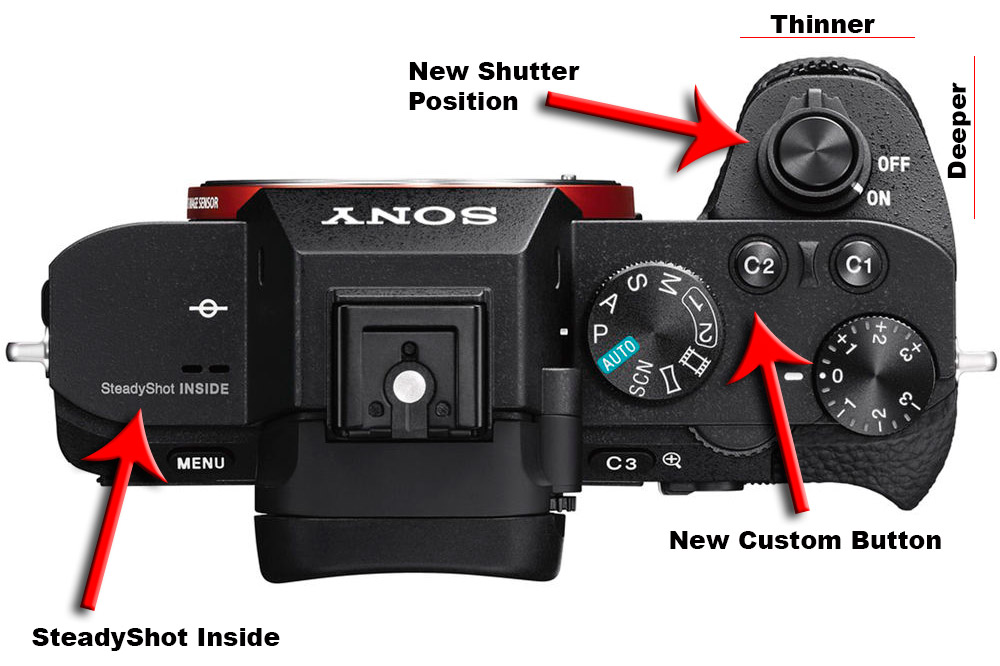 The bottom of the camera has been completely re-designed and is much better! The bottom flat area of the camera is almost 1/2 of an inch thicker front to back. This is a huge improvement and means your tri-pod plate will get full contact on the bottom of the camera. My Gitzo quick release plate hangs over the back a lot on my A7r. Basically, this means you can mount a heavier lens on with more confidence without the camera chassis flexing or anything. I would estimate the mount point is about 50% stronger with this new design based on how my tri-pod plate fits and how it feels when mounted. Awesome job Sony and thanks for addressing this "weak" point for lack of a better word.
As you can see the Sony A7 II has some serious upgrades going on for it in the camera body design and ergonomics department specifically. The increased weight and size is also significant. It feels great though in my hands and the extra weight is not bad at all honestly. With extended carrying I would notice the extra weight though I'm sure.
Sony Alpha A7 II Video Review – Video Version
Sony A7 II – Sample Video

My Sony Alpha A7 II Review – Best Full Frame Mirrorless Camera 2014
Awesome Full Frame Mirrorless Camera Option
The Sony A7 II delivers in my opinion and besides the few nit-picks I pointed out in the video review, it's fantastic. The firmware update addressed the only real issue with the camera and now the IBIS works flawlessly with my favorite old school lenses! 1/6th of a second sharp shots no problem and that can't be done on my Sony A7r. Any want my Sony A7r, so I can buy this new A7 II? Seriously, offers are welcomed 😉
Build Quality and Design
92
User Interface and Menu System
85
Pros
Great bang for the buck
5- Axis sensor stabilization
Great build quality and desing
Incredible real world image quality
Very good feature set
Cons
No weather sealing
Poor battery life
Could use more manual buttons
No fully articulating touch screen
Battery door does not auto lock close when closing
89
Full Frame Mirrorless E-Mount Camera
Sample Photos
These images are a combination of Jpeg and Raw quality saved out for the web via Lightroom 5 @ ~1000px, 75% Quality, Sharpening for web standard. 100% Crops of the center area are also provided on some images for easier per pixel detail inspection. See the info just below photos in the caption for details. Sony Alpha A7II (ILCEA7M2), FE 16-35mm f/4 ZA OSS Lens, FE 35mm f/2.8 ZA Lens
I had the camera on a tri-pod and used manual mode, ISO 400, 30seconds, f/8 and here is the result: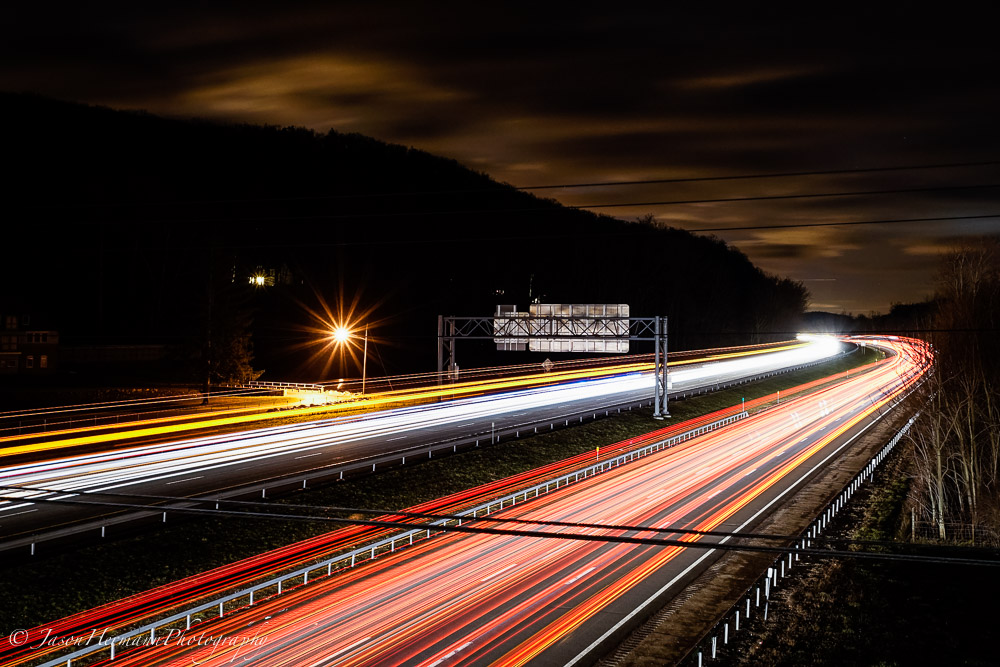 Bones is getting big already! This is from today 01/09/15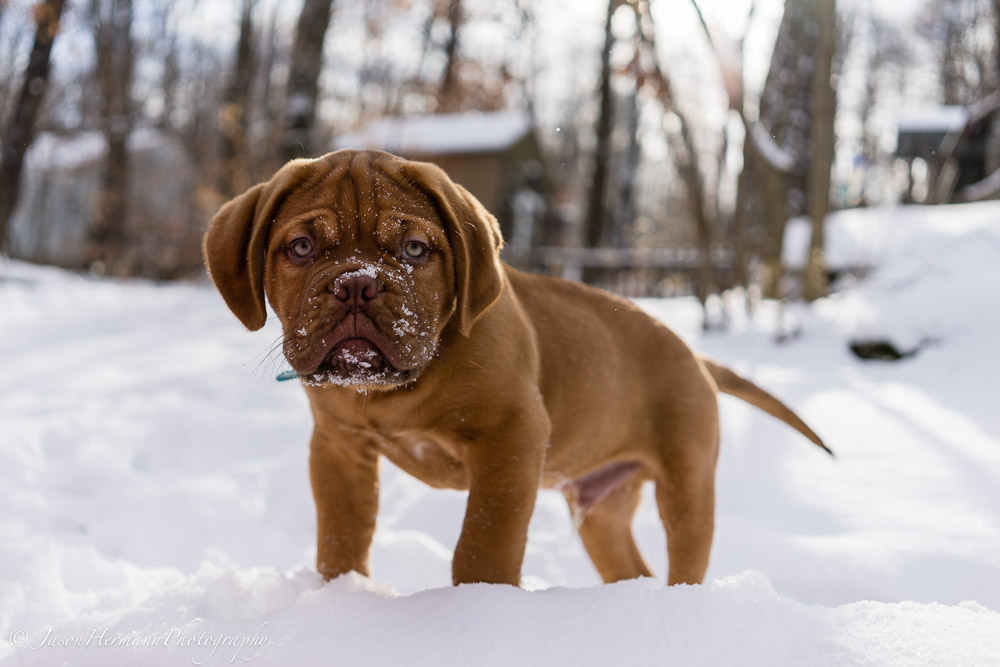 Resolving power is quite good on the 24mp A7II with the Zeiss 35mm f/2.8 Lens wide open in harsh lighting.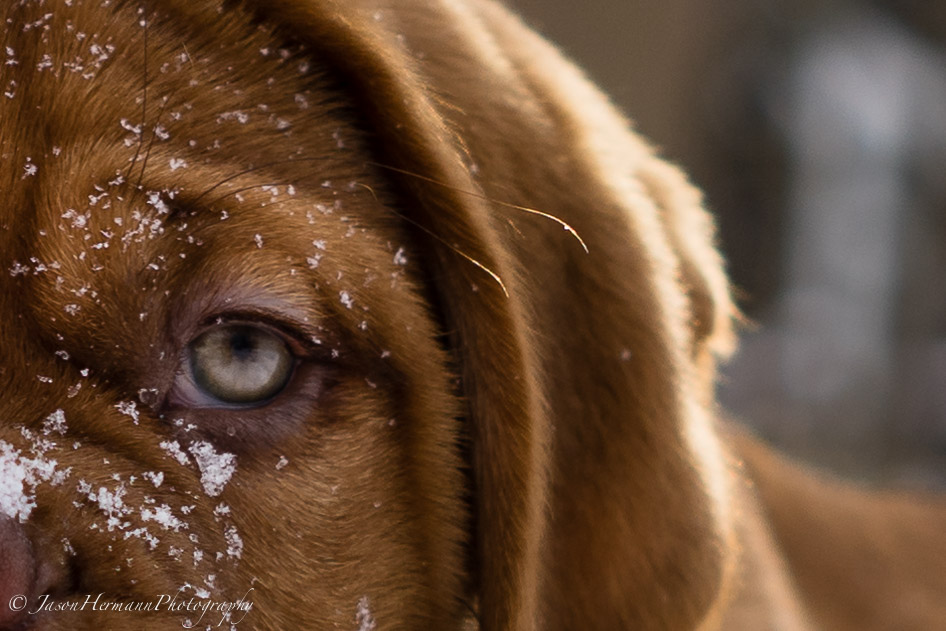 My boy Jase is just about 5 Months old already! I know, tome flies…. I did enhance the eye a little on this photo with an adjustment brush using a little brightness and clarity.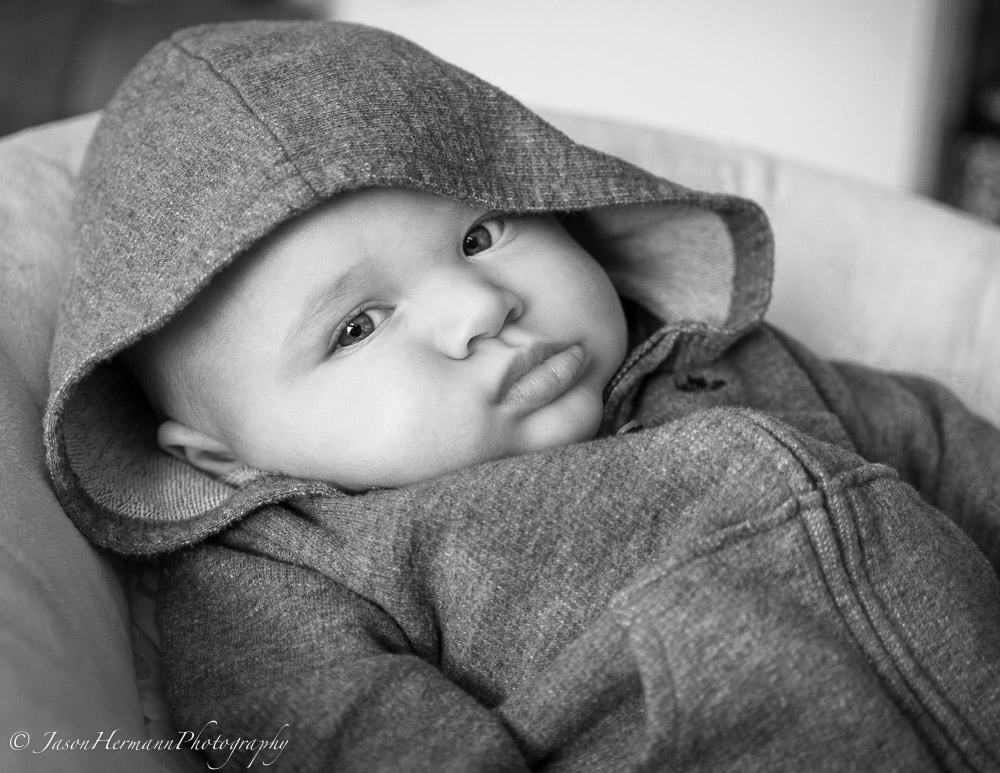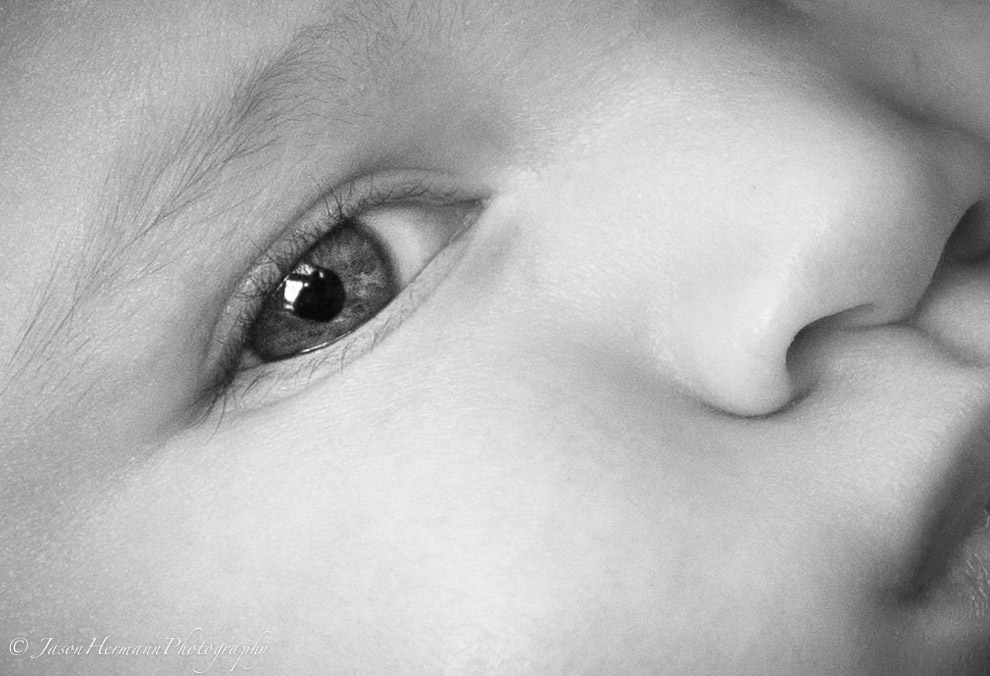 Another sample photo via the very sharp Sony Sonnar T* FE 35mm f/2.8 ZA Lens, raw quality.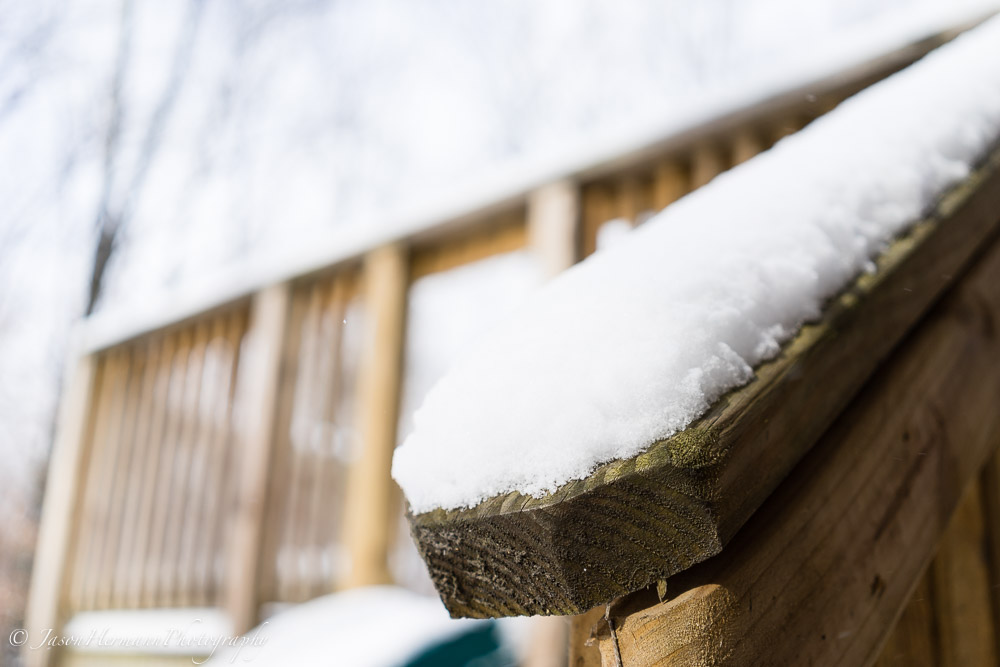 Even with the anti-aliasing filter in front of the senor the per pixel resolving power is very good, although not as good as my 36mp Sony A7r Review Here >>
Some nice detail offered on this dog food bag at Sam's Club @ f/4, raw quality 35mm lens again.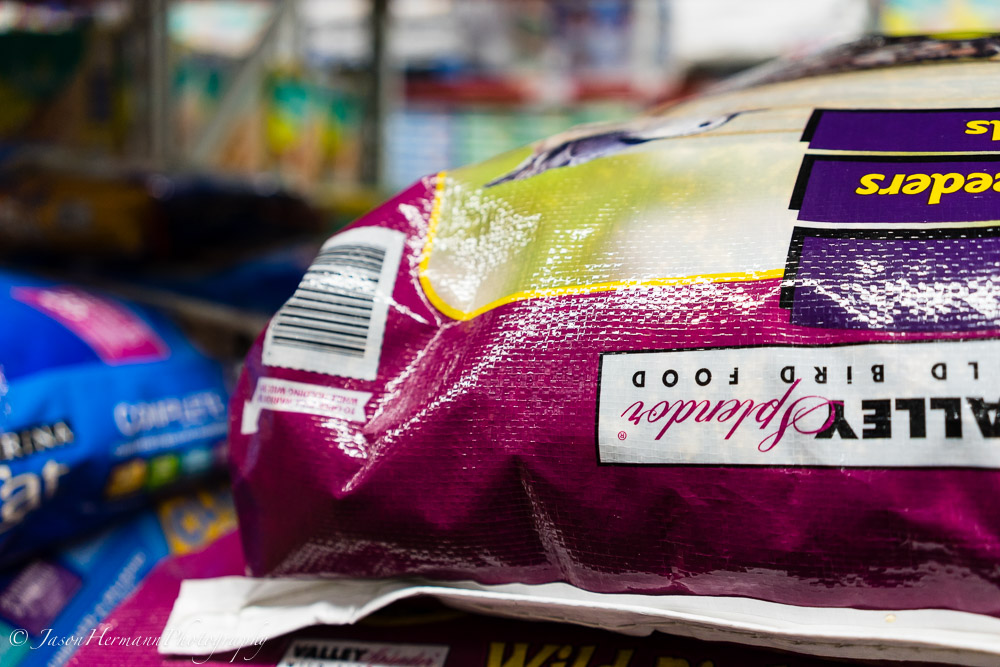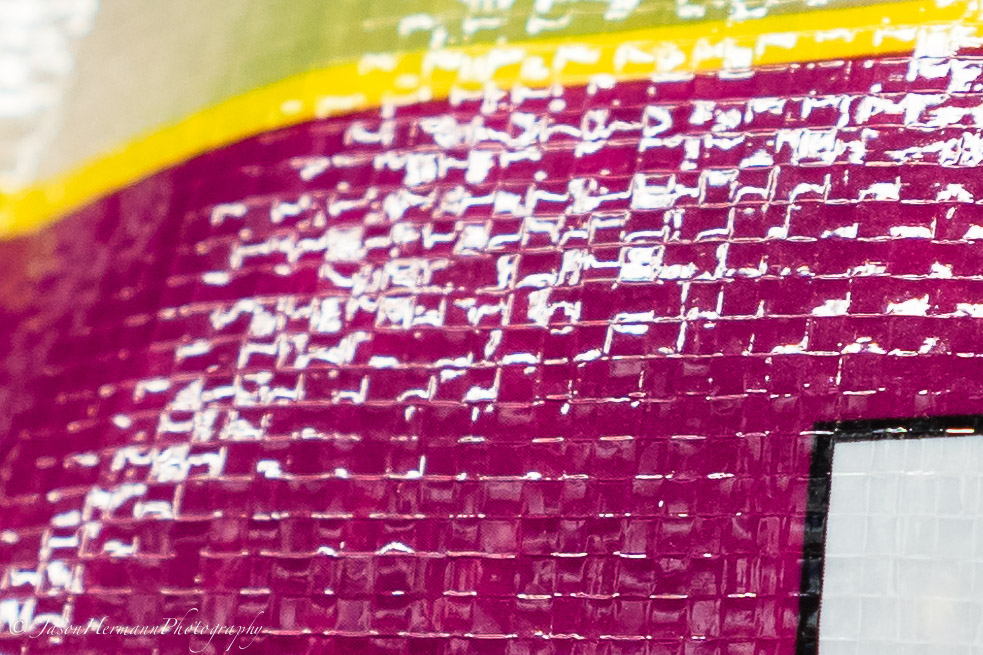 An old abandoned house that is starting to fall down finally.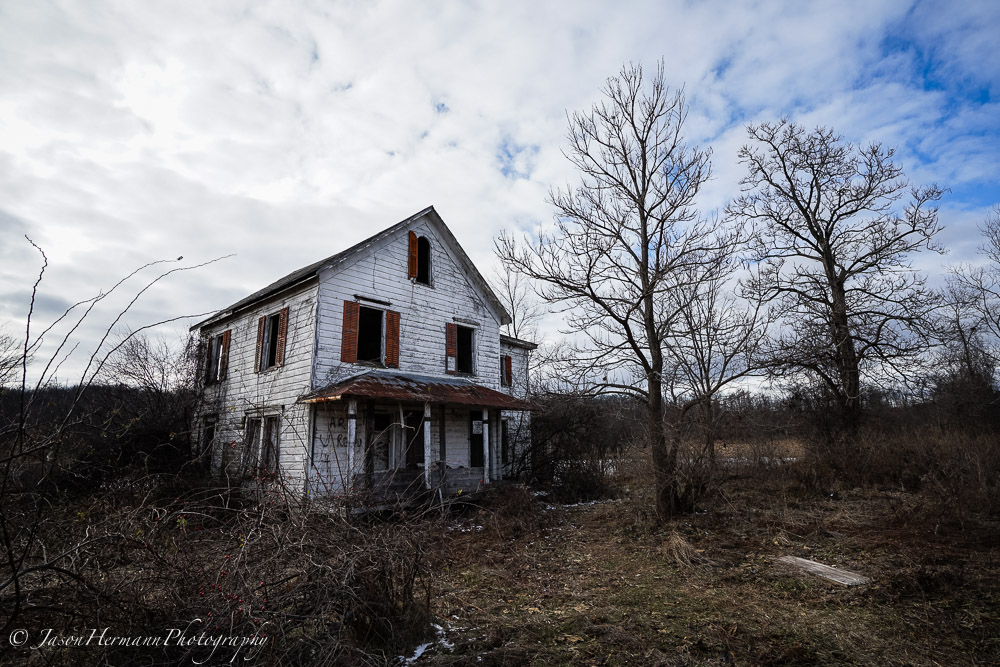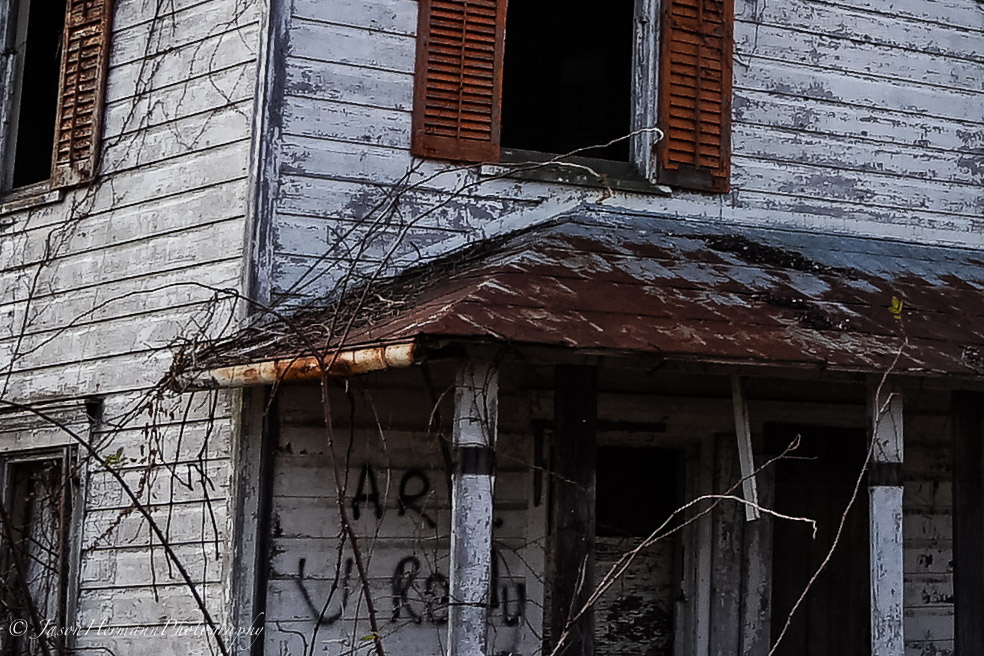 Auto HDR
Auto HDR is one of the Auto features that I really enjoy using from time to time. It does not work as good as taking sperate files and working them on the computer, but for a completely automatic process the results are quite good. See below what AUTO HDR did for this scene.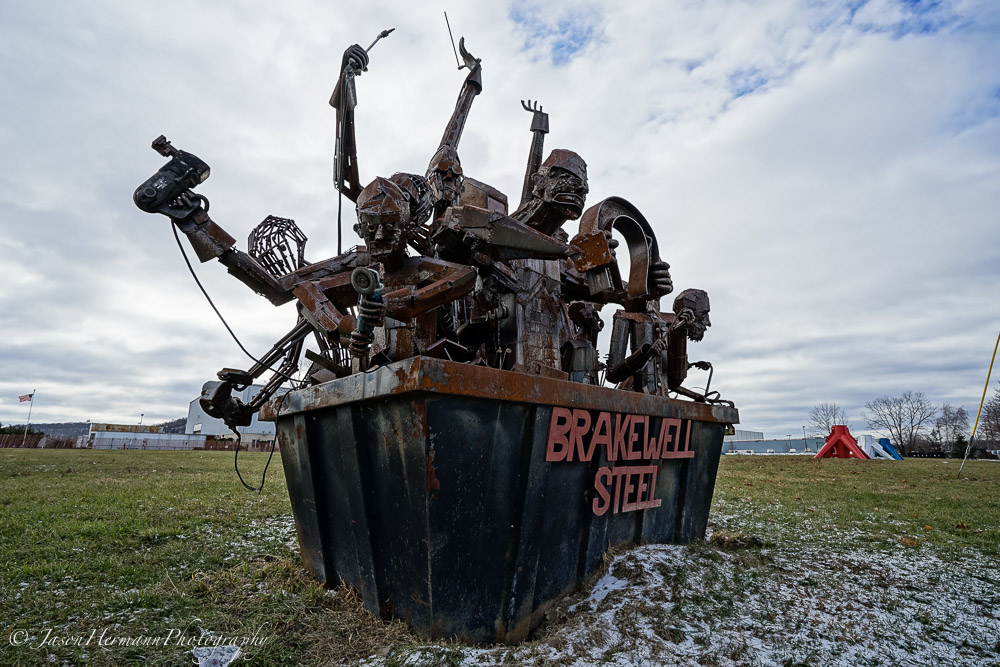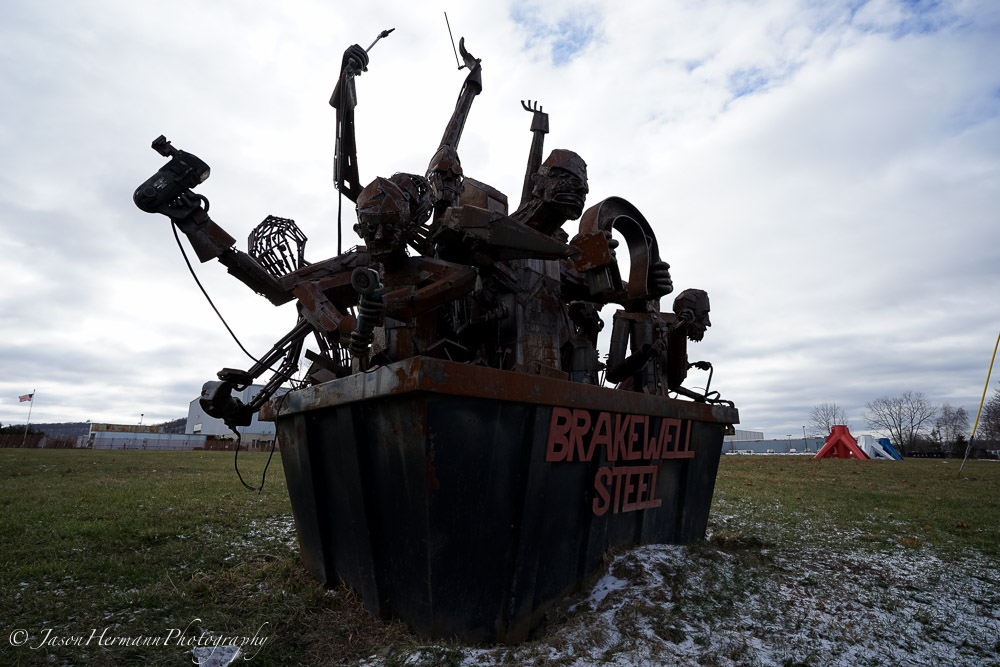 Lab Testing – High ISO
ISO – 25600 Raw Quality – First, the full scene @ 35mm, then the 100% crops below for detailed inspection!
Click Images for the full res ~1000px versions.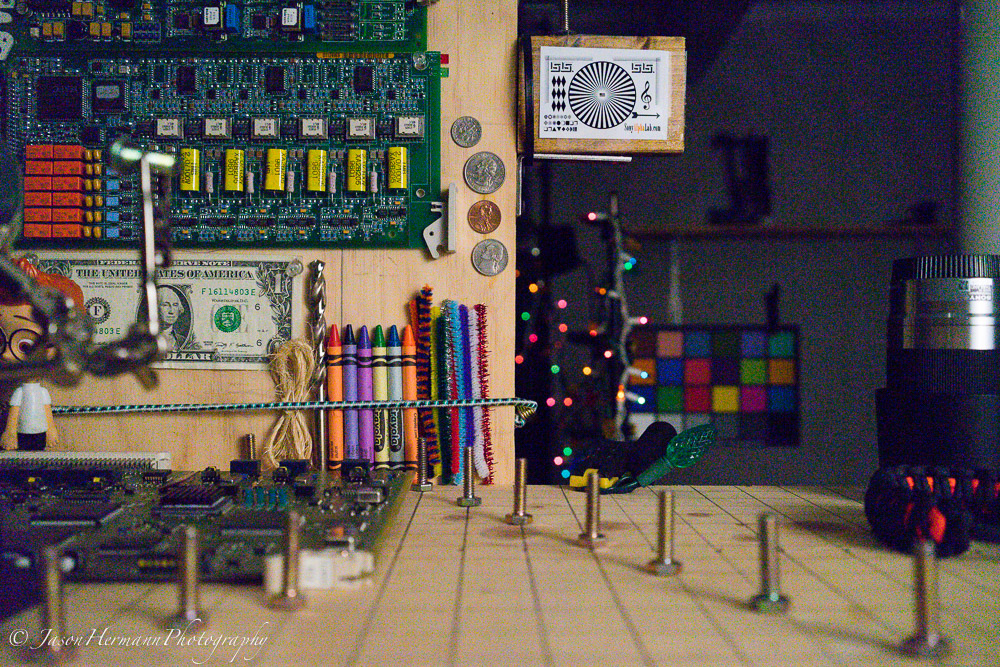 ISO 25600 – 100% Crops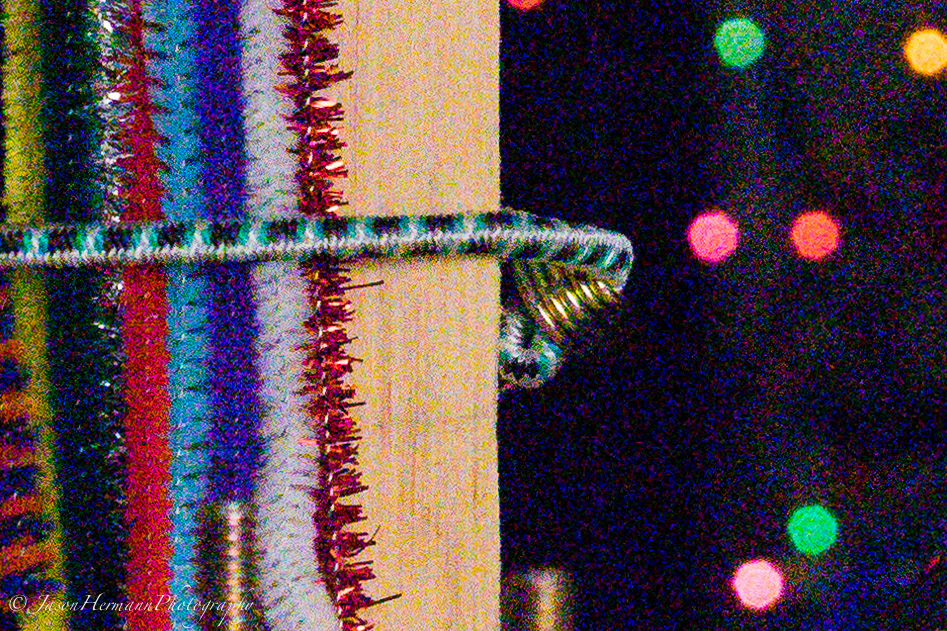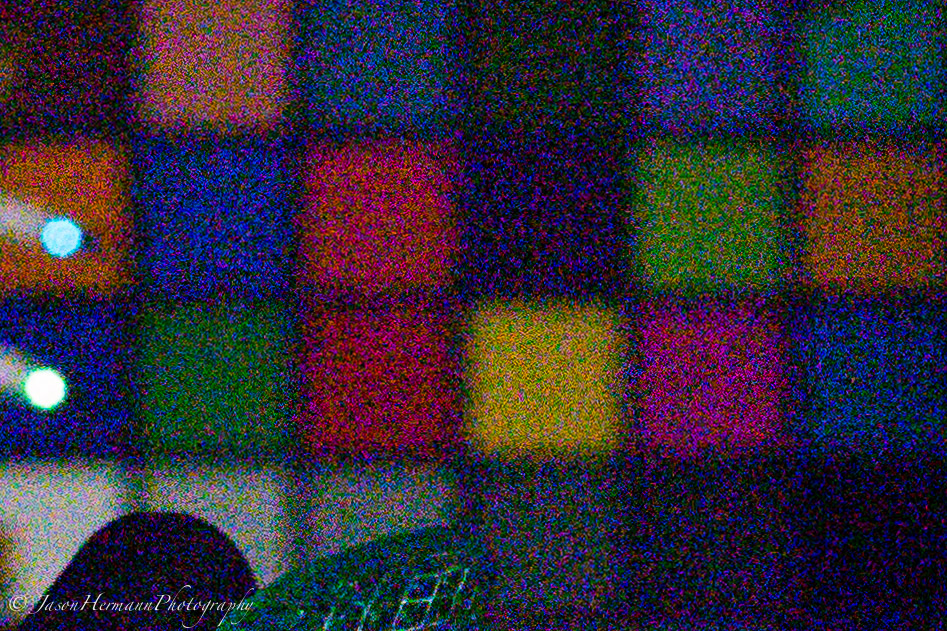 ISO 12800 – 100% Crops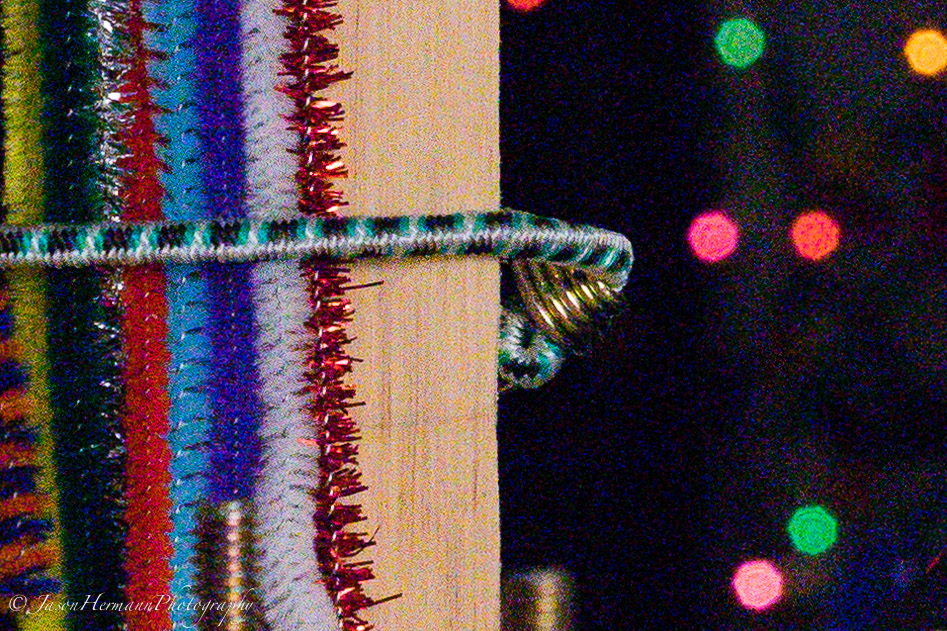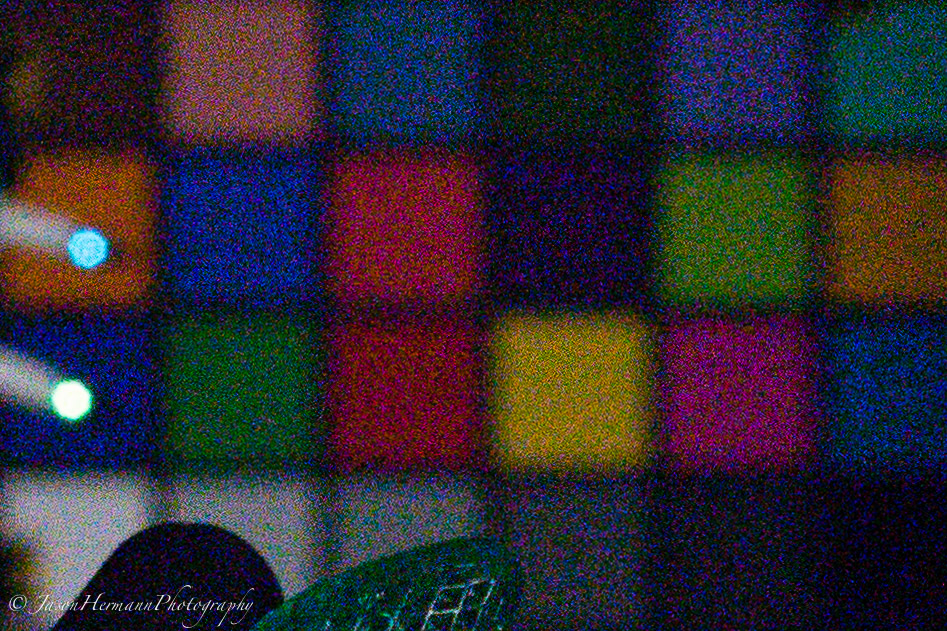 ISO 6400 – 100% Crops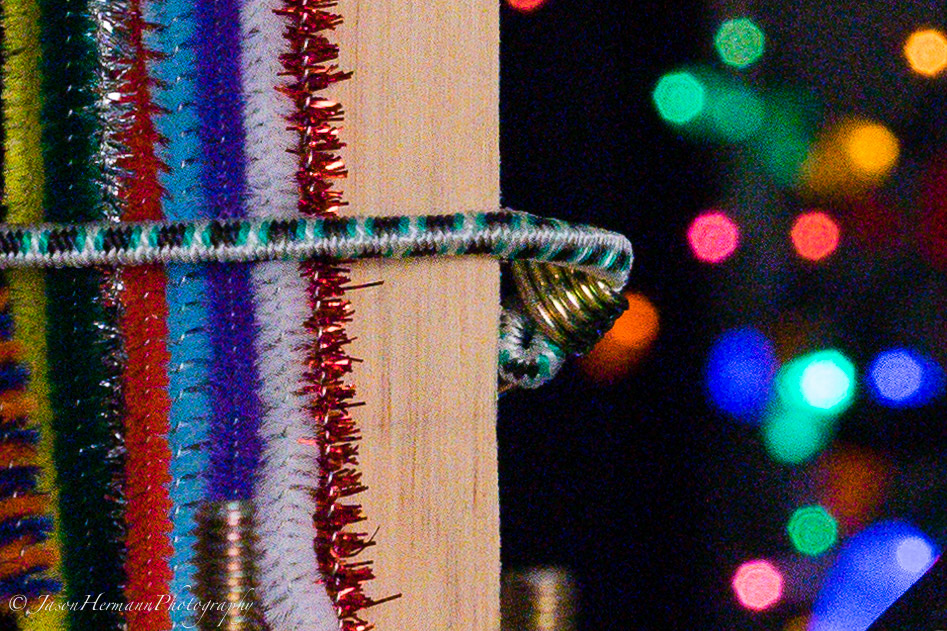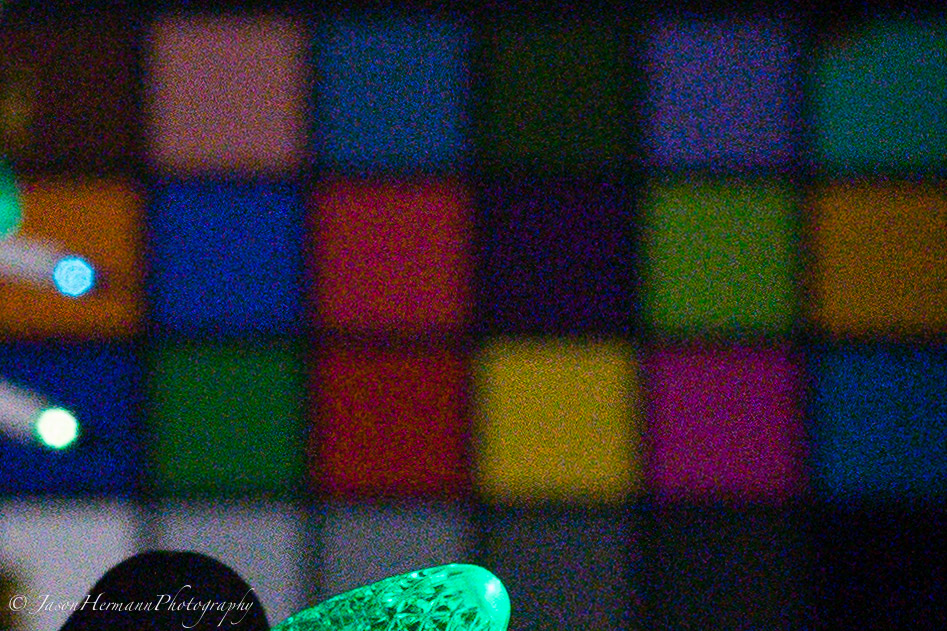 ISO 3200 – 100% Crops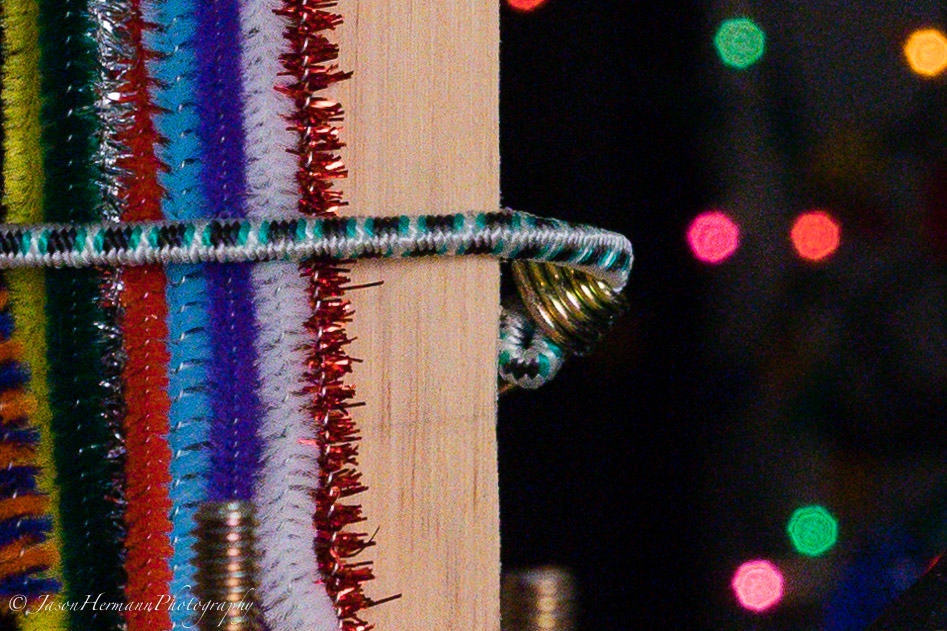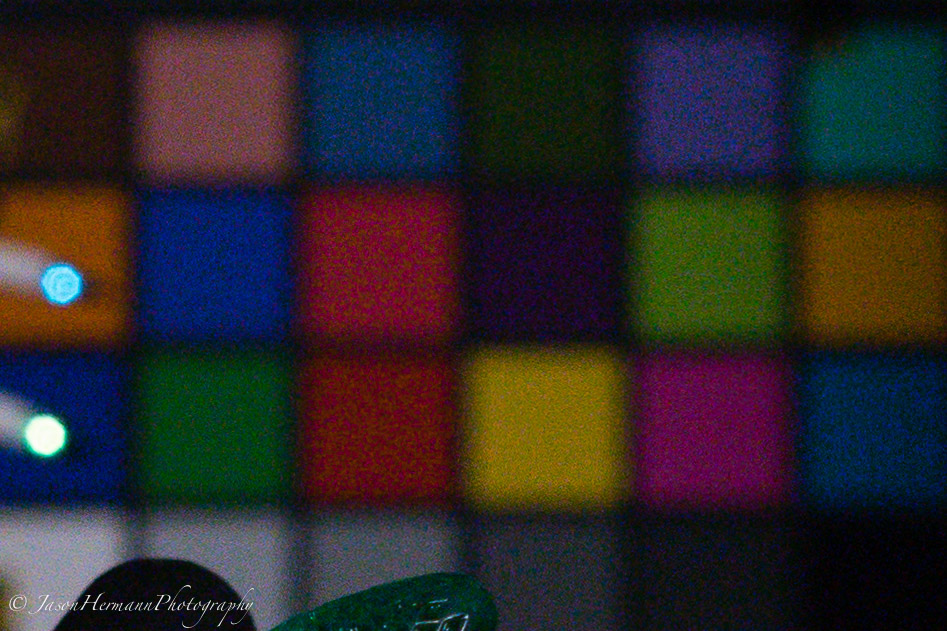 Once at ISO 3200 the results are very clean and totally usable for most anything in my opinion. Above ISO 3200 you will begin to see the noise creep in and get steadily more noticeable. ISO 25600 is pretty noisy and really un-usable in most cases. The black areas also have a slight purple color cast that is noticeable.
DXOMark Sensor Score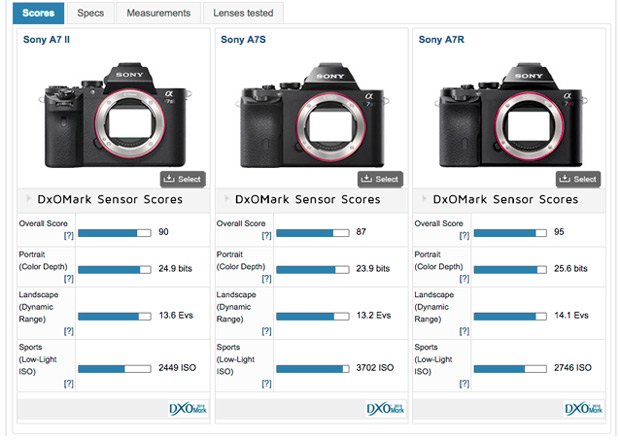 DXOMark does the most detailed technical sensor testing that I know of on the web. I trust the results and it's a great way to compare apples to apples when trying to decide what camera to buy I find. Note below how the new A7II fairs against the A7s (Reviewed here) and A7r (Reviewed Here) full frame mirrorless cameras. As you can see the dynamic range and color bit depth on the A7r have a slight edge, but in the real world this is pretty hard to notice honestly. Basically you would get a little more room for adjusting highlights and shadows if shooting raw quality. Also a little more color information to work with in the same way. The images other than resolution would still look very similar in the end though in my opinion, because it's relatively minor differences. The A7s High ISO abilities are just amazing though and it stands in a class of it's own as far as that goes… [divider]
5-Axis Steady-Shot
I tested the Steadyshot with my old school 50mm f/1.4 Rokkor-X Lens and it works awesome now with the Firmware update >> I have also tested the SteadyShot with the Metabones III lens adapter and it works awesome! It see the lens and I was able to get a 1/15sec shot @ 200mm with the lens IS turned OFF. Only utilizing the in camera steadyshot proved to be better than expected with such a large lens honestly. I figured I would get about 1/30sec maybe, but no much slower than that. The SteadyShot also works great in video as you saw can see in the full video review above at the beginning of this review article.
Testing Steady-Shot
Testing the steadyshot hand-held at very low shutter speeds was not only fun, it was a first for me! My A7r does not allow this type of shooting due to camera shake. First the full test scene then the 100% crops for sharpness inspection! Full Scene @ 1/15th sec hand held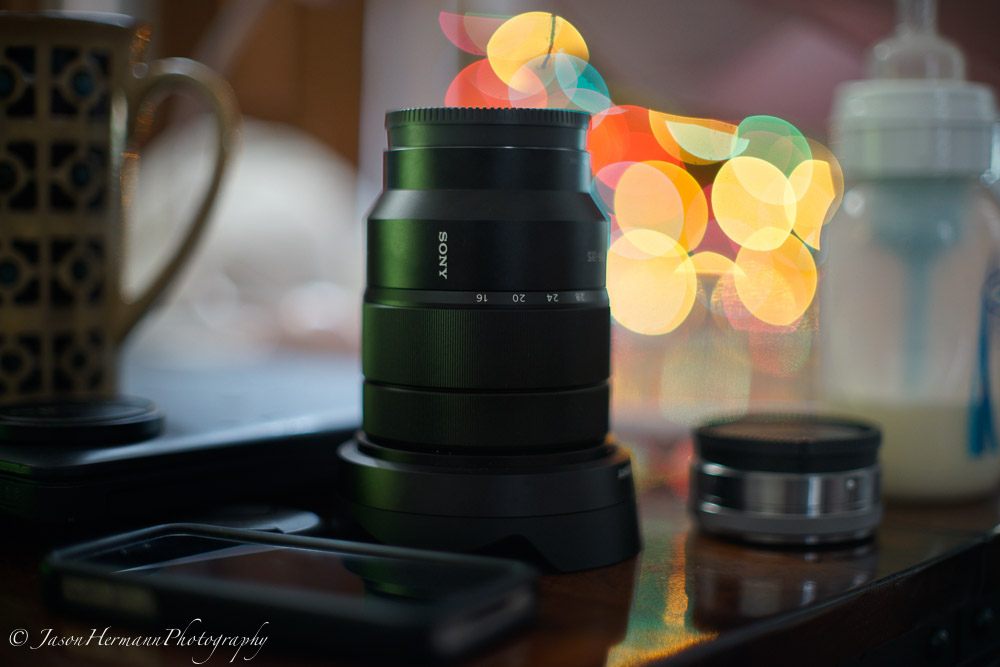 100% Crop – 1/15th sec
100% Crop – 1/8th sec
100% Crop – 1/6th sec
100% Crop – 1/4 sec
Using Lens Adapters
I really enjoy using alternative lenses on the Sony E-Mount cameras, and now with full frame and SteadyShot, it's way more fun and easy to get sharp shots! Here are some shots I got with the 50mm on Christmas Eve at family's house with killer decorations everywhere! Auto WB and Jpeg mode was used here for these images. You can pick up the Minolta MC Rokkor-X PG 50 F/1.4 Lens for ~$20 – $60 US on Ebay (Click Here) The Cheap Lens adapter I'm using only cost ~$17 US, and you can get it @ Amazon (Click Here)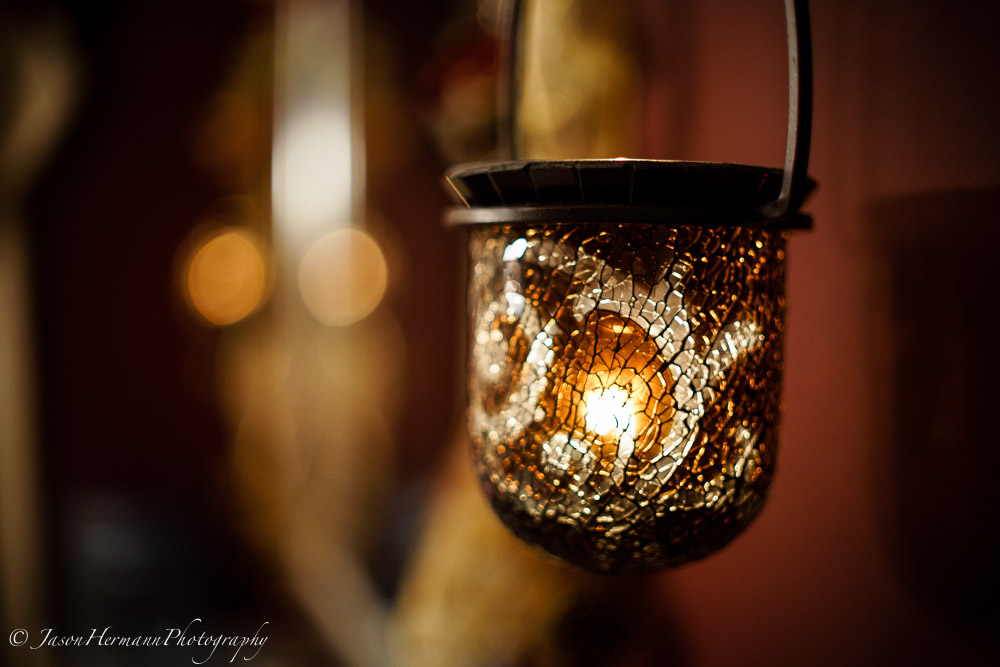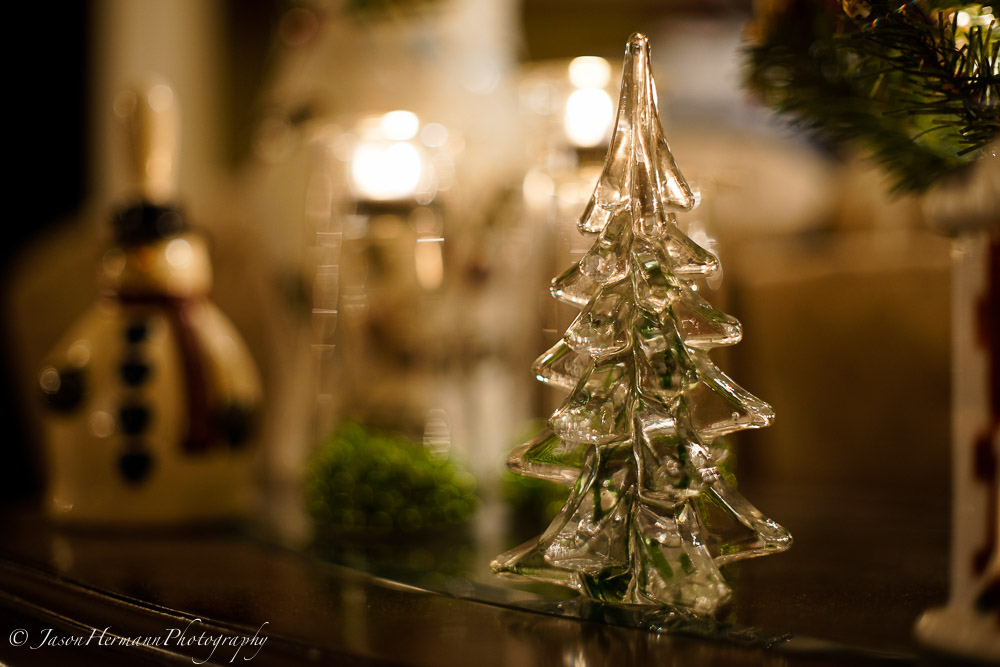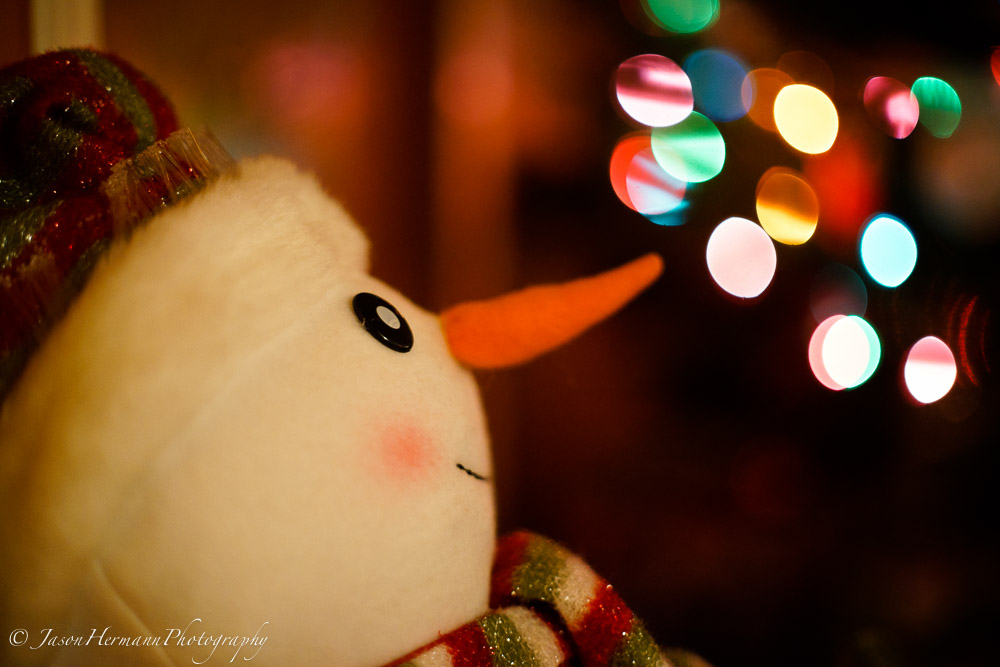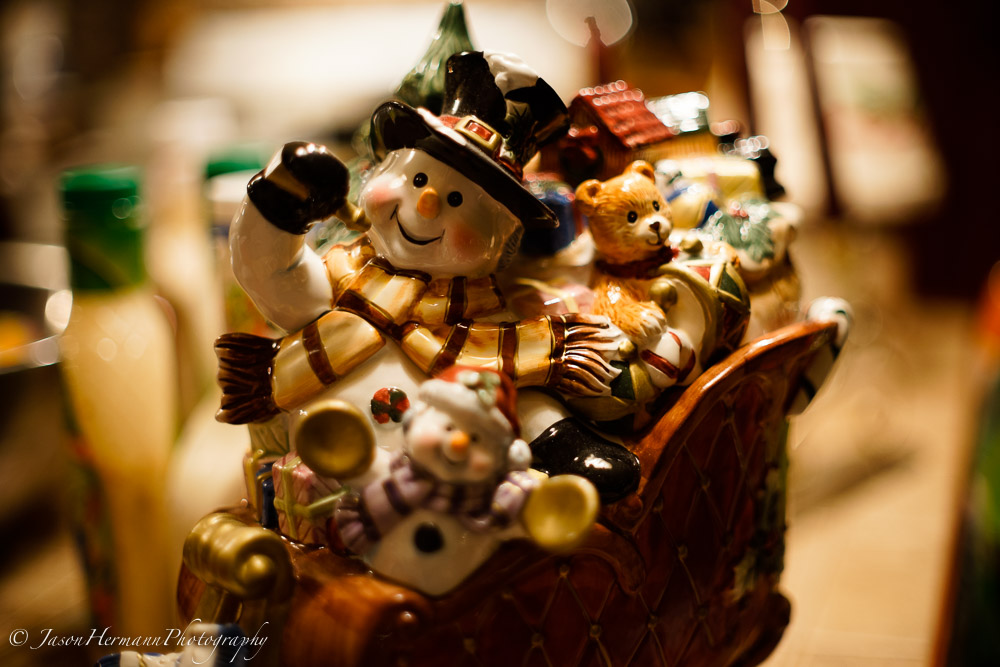 This next abstract style photo was taken on the kitchen table looking thru a glass with the Christmas tree in the background. The results look like deep space to me 😉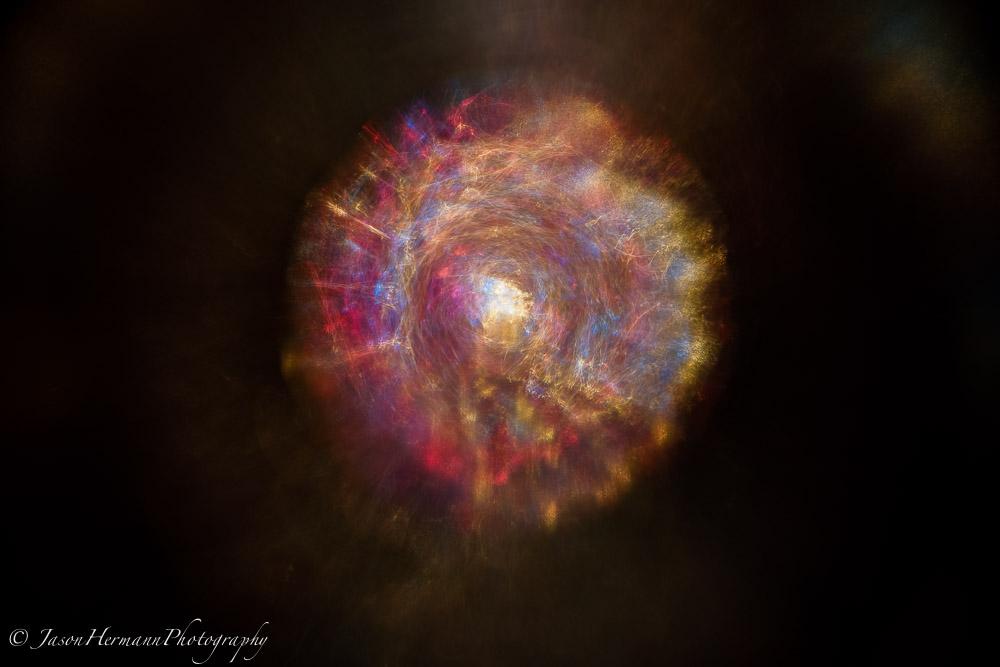 Bones sleeping 🙂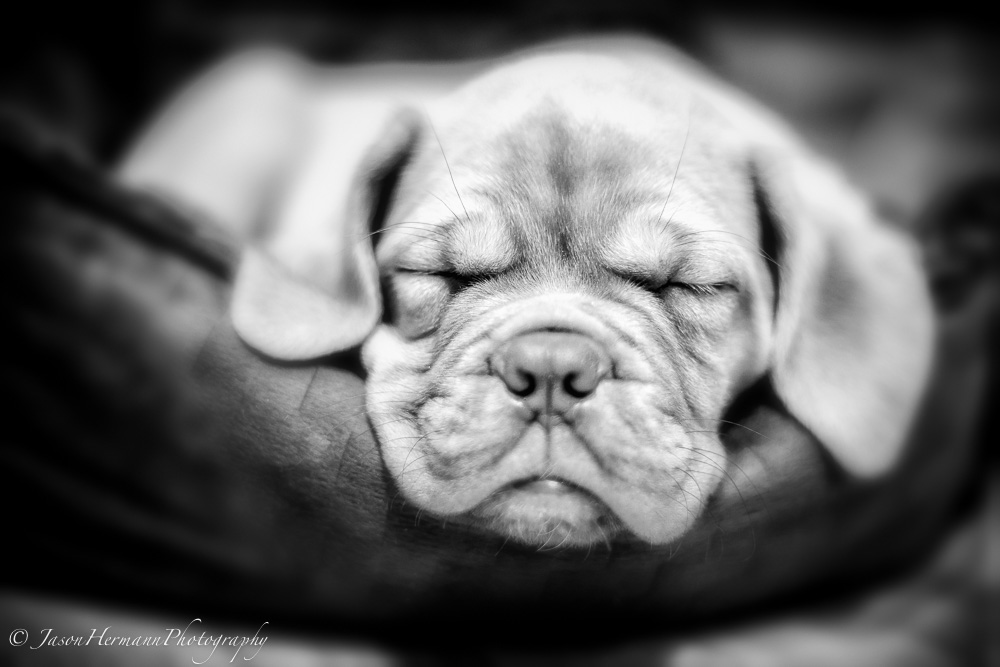 Here is another of Chubs shot with the Metabones III and EF 70-200mm f/2.8 L IS Lens and and I used the on camera steadyshot only. It worked awesome!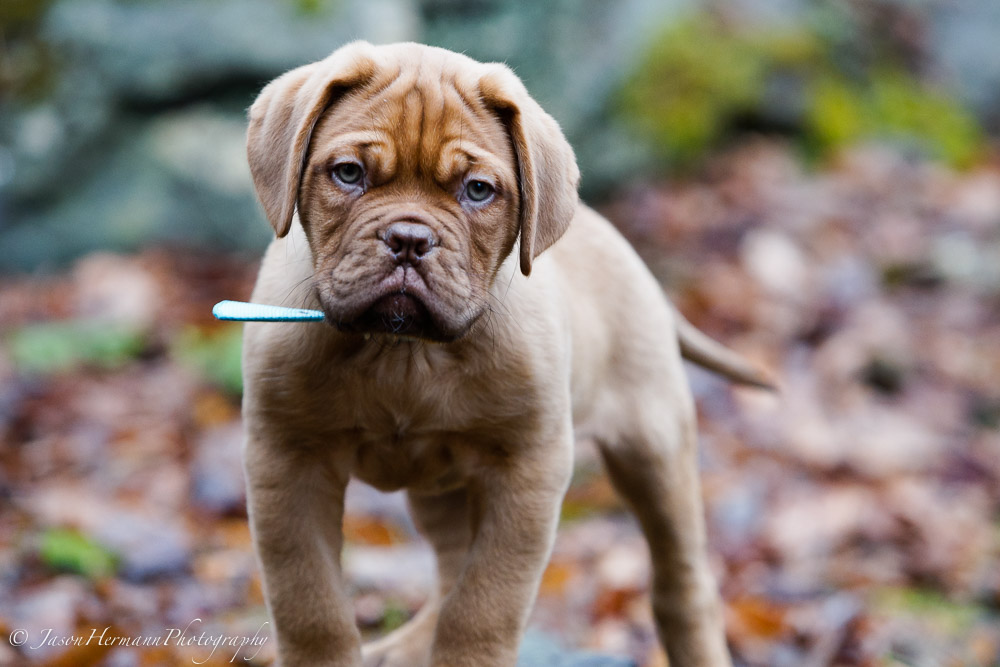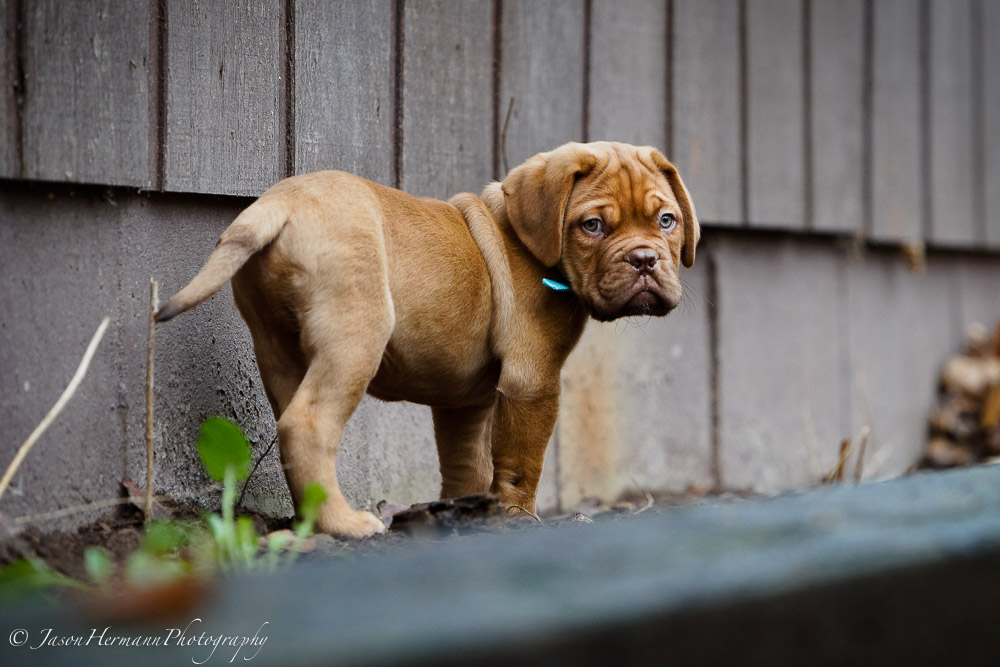 Conclusions
The Sony A7 II delivers in my opinion and besides the few nit-picks I pointed out in the video review, it's fantastic. The firmware update addressed the only real issue with the camera and now the IBIS works flawlessly with my favorite old school lenses! 1/6th of a second sharp shots no problem and that can't be done on my Sony A7r. Any want my Sony A7r, so I can buy this new A7 II? Seriously, offers are welcomed 😉
The FE 16-35mm f/4 ZA OSS Lens is a must have lens in my opinion! Killer at both 16mm and 35mm, plus rich color and great contrast. I also really enjoyed using the FE 35mm f/.8 ZA lens and the built in SteadyShot really helped with the low light situations. With the much heavier Old School Minolta 50mm f/1.4 Rokkor-X Lens the on camera stabilization was very noticeable and extremely helpful I found.
The A7II IQ is very good, but about the same as the original A7 as far as I can tell. Real world image quality is excellent and I recommend shooting Raw so you can get the most out of your photos in the digital lab so to speak. This does take time though, so using the built in picture effects and other creative modes are fun and the results are really good using jpeg quality. In Jpeg mode the noise reduction, saturation, and sharpening are fairly heavy. At times the images are a bit sharper than I would like which is why I prefer shooting Raw and enhancing more selectively myself. The Sony cameras so many options nowadays, that I highly recommend you check out my RX100 III How-To Use video.That video will show you how all the newer Sony cameras work for the most part in a variety of ways. All the menus systems and basic functions are the same for the most part as you will see.
Auto focus during video is not as good as the A6000 which I reviewed most recently (Click Here) It will not stay on what the flexible spot is set to for example and goes back into Auto AF mode when recording. This makes it difficult to record at the minimum focus distance for example as the camera will go into auto and loose the focus point when the record button is pressed. You can press the shutter which will force the camera to focus while recording, but once you let go it will float back to average auto again. It doesn't seam to matter what settings you have enabled for AF either. One way to fight this is by simple using manual focus when you need to and then switching to AF when applicable. I also would use the focus lock and just edit the video accordingly knowing I had to do that of course…
Notes for Sony:
Overall the camera is a fantastic next generation unit, but a few things could be improved in my opinion:
Menu Button really needs to be moved over to the right side of the camera
Memory card door should snap shut more aggressively, so it doesn't open accidentally when hand holding occasionally.
Audio and USB/ HDMI port doors are a little flimsy compared to the older metal doors. I feel they could also snap in better or be more rubberized for a tighter seal. It is easier to get the usb cable in though which is very nice
Battery door still does not snap closed without having to slide the little lock lever over. This should be spring loaded so a simple door closing will lock! Very easy and I can't believe this is still not fixed after all this time. In the real world it's only once and while when changing the battery, so it's not the biggest deal really. It was worse on the Nex-6, because the memory card is in under the same door and required more frequent open and closing.
The menu system is pretty good, but could be better. Please allow for a favorites area or something that can be custom programmed. So we can put whatever the most commonly used features we need. For myself, format, Custom WB set, and a few other things would be in there…
Self Timer and Bracketing should be in a different function menus so one can be used with the other. As it is now you need a remote, shutter release cable, or smart phone w/ Apps to get Bracket shots without touching the camera. Almost all other manufactures allow for this and it seams like a software fix can resolve this know frustrating issue. Particularly HDR Photographers complain about this mostly coming from Canon and/or Nikon.
Final Words:
I hope you got what you were looking for in this review and please feel free to ask questions or comment below. Using the support links below and elsewhere, helps keep things a float, so I really appreciate it you taking the time to use them when making purchases. Jay
Support Links:
Don't forget to check out my E-Mount lens Guides Over Here for all the lenses currently available!

My Sony Alpha A7 II Review – Best Full Frame Mirrorless Camera 2014
Awesome Full Frame Mirrorless Camera Option
The Sony A7 II delivers in my opinion and besides the few nit-picks I pointed out in the video review, it's fantastic. The firmware update addressed the only real issue with the camera and now the IBIS works flawlessly with my favorite old school lenses! 1/6th of a second sharp shots no problem and that can't be done on my Sony A7r. Any want my Sony A7r, so I can buy this new A7 II? Seriously, offers are welcomed 😉
Build Quality and Design
92
User Interface and Menu System
85
Pros
Great bang for the buck
5- Axis sensor stabilization
Great build quality and desing
Incredible real world image quality
Very good feature set
Cons
No weather sealing
Poor battery life
Could use more manual buttons
No fully articulating touch screen
Battery door does not auto lock close when closing
89
Full Frame Mirrorless E-Mount Camera