90
Best Full Frame Mirrorless Camera For Sports!
In this highly detailed Sony A9 Review I will cover pretty much everything this new flagship mirrorless camera is capable of doing. I tested the Sony A9 in the lab and in the field including street photography, high speed subjects, landscapes, and more! I have a large variety of sample photos and video to show you including lots of slow motion 120fps video and 4k video from around the area I live.
For optics I used the Sony FE 24-70mm f/2.8 GM Lens primarily for this review and I must say it was one heck of a match up with the Sony A9! I also used my Metabones electronic lens adapter and Canon EF 70-200mm f/2.8 L IS Lens as well as an old school fully manual Minolta MC 50mm f/1.4 Rokkor-X lens via a super cheap non electronic lens adapter.
Please strap in and prepare for spending some time on this article, because it has a ~40min video style review, plus all the good stuff in this written portion, including a more detailed analysis of various aspects of the Sony A9 and more.
I will also link to the various articles I have written on the Sony A9 which test certain things, like High ISO for example…
The Sony A9 Full Frame Mirrorless Camera
So lets talk some numbers first:
Price = ~$4500
24mp latest and greatest Full Frame Exmor RS CMOS Sensor
693 AF points embedded in the sensor
93% AF point sensor coverage
1200-zone evaluative metering
20fps shooting with Continuous Autofocus
5-axis steady-shot
4k internal video
120fps HD Video for Slow-Mo
3.6 million dot OLED viewfinder
1.44 million dot touchscreen TFT
1/250sec max flash Sync
1/8,000sec max shutter speed (mechanical)
1/32,000sec max shutter speed (electronic)
1 x HDMI micro connector (Type-D)
1 x Multi/Micro USB Terminal
1 x Pc Interface
1 x X-Sync Socket
1 x 1/8″ Headphone
1 x 1/8″ Microphone
2280 mAh NP-FZ100 Battery
Approx. 480 shots (Viewfinder) / approx. 650 shots (LCD monitor)
Weight = Approx. 673 g / approx. 1 lb 7.7 oz
Sony A9 – Around The Camera
The Sony A9 camera itself is only slightly larger and heavier than the A7r II. I honestly can't notice a weight difference at all based on my hand holding use with the FE 24-70mm f/2.8 GM Lens and my Canon EF 70-200mm f/2.8 L IS Lens mounted. The new camera body design is very nice and has a lot of improvements! I particularly like the new buttons, locking dials, and refined ergonomics. See the top view of the Sony A9 vs the Sony A7r II below for comparison.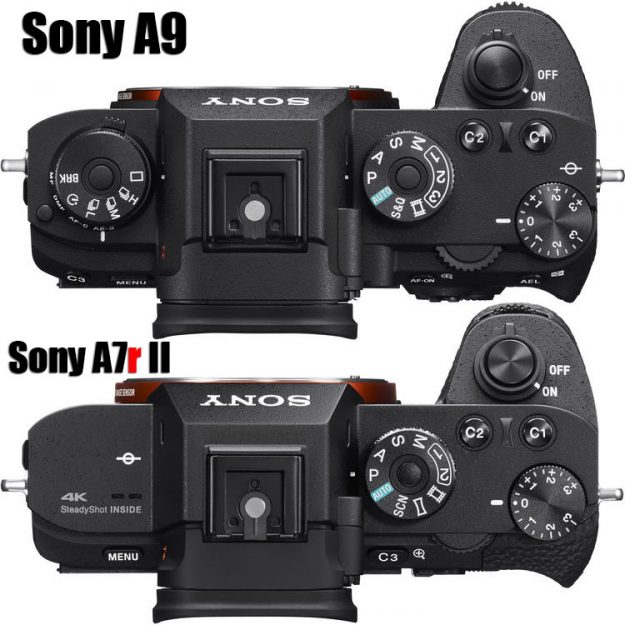 Weather sealing wise, the doors on the sides for the various ports are the plastic style, not rubber. Therefore it's not the super rugged water resistant style doors found the the DSLR style A99 II, and A77 II cameras. They are the same as the A7r II in that regard for reference and do offer an overlapping lip design which you can see more clearly in the video review below.
Here is the port side of the A9, A7r II, and A99 II for comparison:
And here is the A99 II Port side doors for reference which are the hardcore rugged style…
The new dual memory card door design on the Sony A9 is really nice and a very welcomed improvement over the single slide lock style door found on the A7r II as seen below. The A9 can hold 2 SD cards total. Only one slot is UHS-II compliant however, the other is UHS-I…
From the back, the new thumb joystick is awesome for moving around the focus point quickly, and the locking drive mode/ focus type dials are very convenient. The focus type dial lock was a little awkward at first, but using the thump and pointer finger ironed that out. Also note in the image below, how the thumb dial is larger and bumped outward a bit compared to the A7r II. A more refined and better ergonomically oriented design in my opinion. The video record button is also in a better spot on the A9. You can see it next to the viewfinder as apposed to the outside right edge of the thumb grip on the A7r II.
The touchscreen on the back looks pretty darn good, but not as good as the new higher resolution electronic OLED viewfinder when comparing in use. I used the Sunny Weather mode while shooting outside for the most part which makes the 3inch LCD screen much easier to see!
One nit-pick I have with the new Sony A9 is the battery door lock. I just don't understand why Sony does not make the door lock automatically when closing? You still need to slide the little lever over to lock the door, and this continues to baffle me. It's seams like such an easy thing fix, but they refuse to do this on the mirrorless cameras for some reason. Room for improvement here if you ask me, but really not that big a deal at the end of the day…
A few more Sony A9 Camera Body Shots and Illustrations:
In the Box
Included in the box is a lot of goodies as well. You get both the real deal wall style battery charger (BC-QZ1) and the USB style in camera charger unit as well. The new NP-FZ100 battery is also quite large, and should really help extend life. It also comes with a cable support that mounts to the side of the camera for extended use like tethering and/or HDMI display hook ups. The A9 also comes with a standard camera shoulder strap and an awesome instruction manual!
Here is My Sony A9 Video Style Review
I cover pretty much everything in this ~40min Sony A9 video style review, and please be sure to select the best quality when viewing as well as going full screen! Sony A9 4k sample video will be below the review…
Sony A9 4k Sample Video
Here is some Sony A9 4k Sample Video and I think it looks awesome! Please judge for yourself, as I am not a pro video guy, but based on all the testing I've done with 4k video, this looks amongst the best I've shot…
---

My Sony A9 Review – The Best Full Frame Mirrorless Camera Yet for Sports!
Sports Photography Champ
Is the new Sony A9 the best full frame mirrorless camera yet? I say absolutely yes it is! I want one for sure, and only wish I could afford it... That being said, it's a bit to expensive for what you get at the end of the day in my opinion when compared to something like the newer A7 III. However, for high speed Sports action photography the Sony A9 is in a class of it's own.
Build Quality and Design
85
User Interface and Menu System
85
90
Best Full Frame Mirrorless Camera For Sports!
Sample Photos
Sony A9 High ISO Testing in the Lab
Here is the full Lab Scene first for reference, but below that are all the 100% Crops so you can check the details at 1:1 view.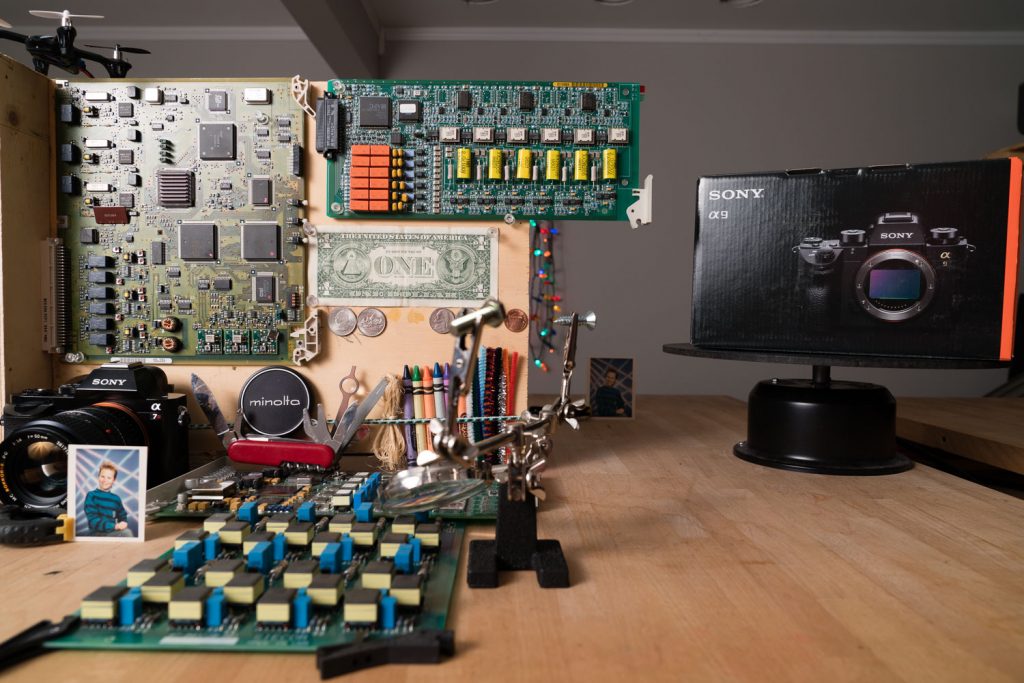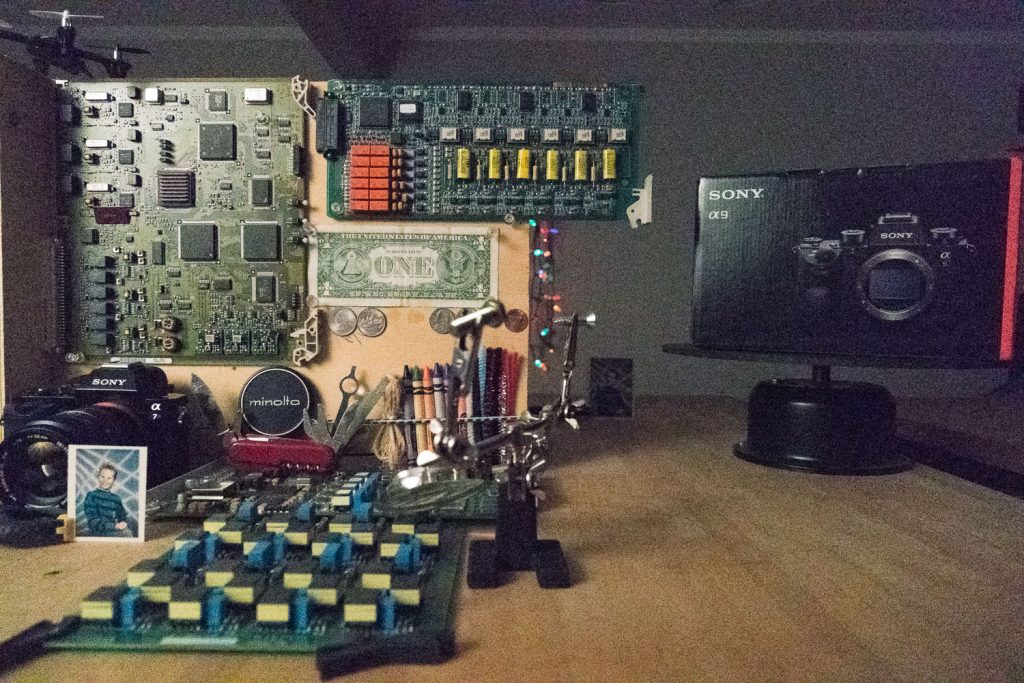 A few more real world High ISO Test Shots for Reference
I must say the Max ISO of 204800 is pretty darn good and this is thanks to the latest and greatest 24mp Exmor RS full frame sensor the Sony A9 is Packing.
Sony A9 @ ISO 51200

Sony A9 @ ISO 102400

Sony A9 @ ISO 204800
Sony A9 20fps Focus Tracking Tests
Here are the consecutive photos from the first slower speed subject test, and I had a 100% sharp shot hit rate!
Sony A9 @ f/2.8, 70mm, 1/500sec – 1/1250sec
In this second test I took some photos of the kids swinging on a swing and very close range. With Jase I did not have a very good hit rate due to being so close and the relative speed. Layla however, I did get most of the shots sharp, because I backed up a few feet giving the camera a bit more room to judge the focus which also increased the depth of field a bit.
Sony A9 @ f/2.8, 70mm, 1/500sec
Sony A9 – Real World Sample Photos
I wanted to share some of my favorite shots from my time reviewing the Sony A9. And let me tell you , I got some really good photos of the kids, landscapes and much more! Be sure to click the images for a larger high resolution version.
From the bash Kill Wildlife Preserve
Using the FE 24-70mm f/2.8 GM Lens
More Real World Sample Photos
Sony A9 and Lens Adapters?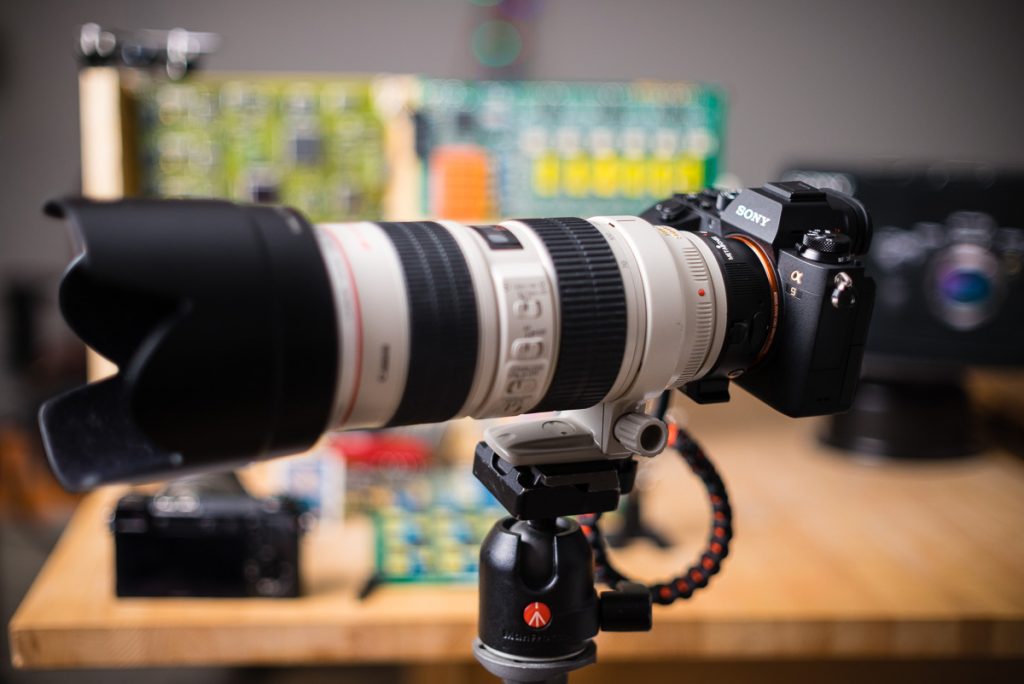 I used my Metabones Lens adapter with my Canon EF 70-200mm f/2.8 L IS Lens and took a bunch of photos at a family party.
The Sony A9 performed awesome with the Canon lens in my opinion. It nailed the focus on almost every shot and it only hunted a few times when shooting at 200mm. This is because my lens is the 1st generation and, because I'm using the older Metabones III adapter as apposed to the newest Mark V unit. Overall fantastic performance I would say and totally usable in the real world. For Pro work it could be done, but you do lose a little responsiveness compared to native glass.
Full dedicated article on this here >>
Sony A9 W/ Minolta MC 50mm F/1.4 Rokkor-X Lens
I have an entire article dedicated to using The Sony A9 and Minolta MC 50mm f1/4 Rokkor-X Lens Here >>
In that article I break down all the particulars of shooting with this old school lens like configuring custom buttons for magnify zoom and so forth. But here is a quick synopsis if you are in a rush 😉 Basically you need to go into the camera's menus system and assign a custom button to the magnify zoom feature, so you can check to make sure the manual focus accuracy is on point. Check out what it looks like on the back of the camera below: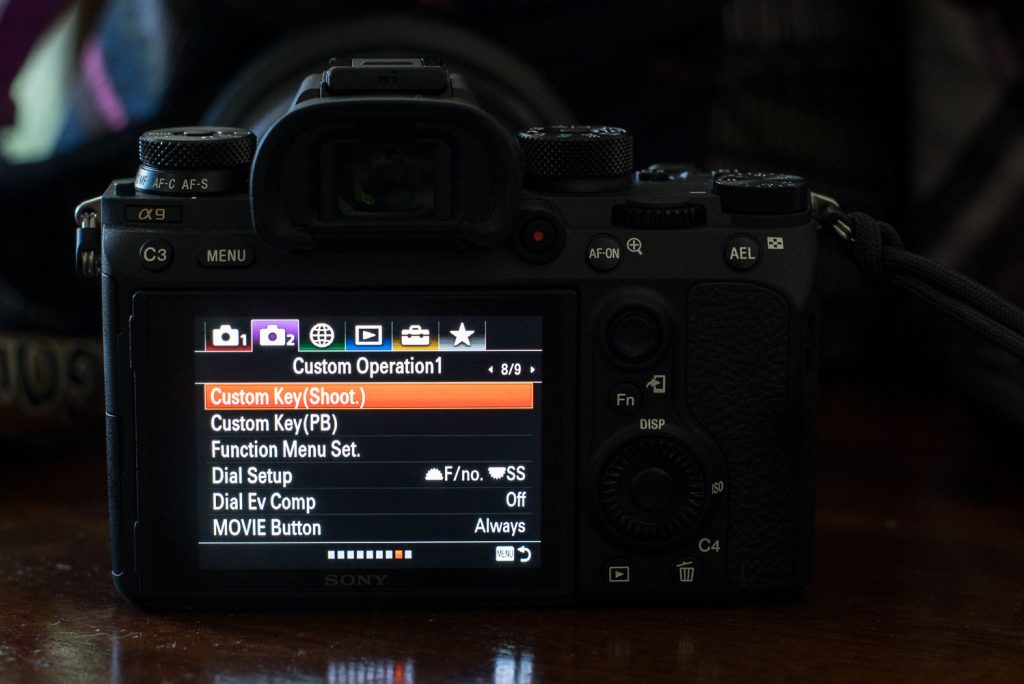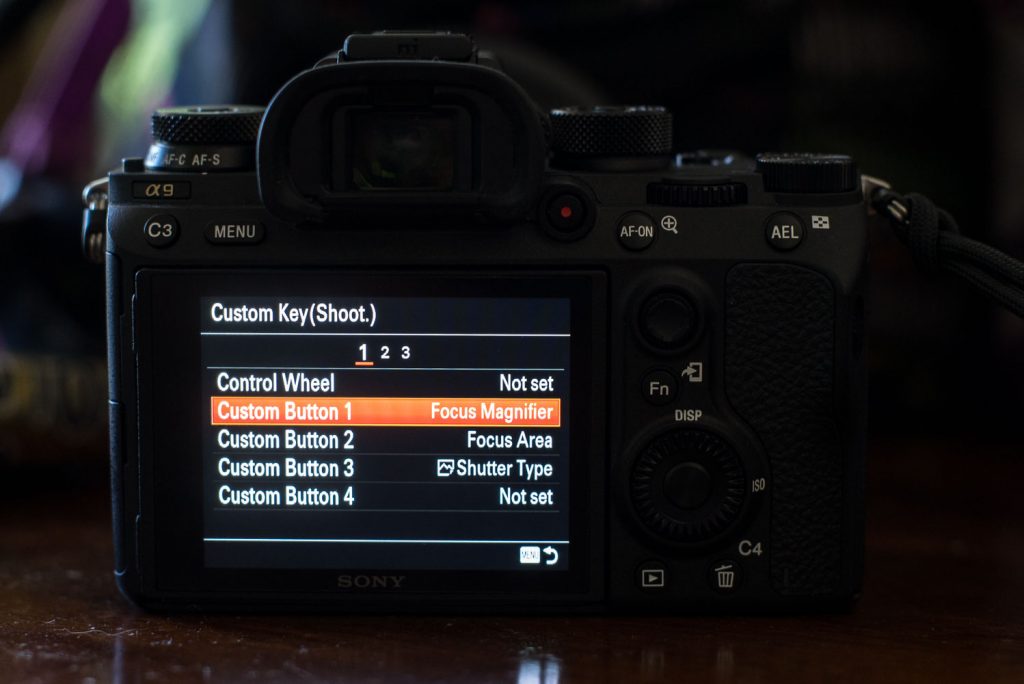 And here are a few sample photos from the session of fun with Jase and the bubble machine:
Sony A9 Accessories Worth Noting
Sony makes a number of accessories for the Sony A9 that can really help you get the job done more effectively depending on your needs. I just wanted to quickly go over a few of them so you can see what they look like and make you aware of what is available.
Lenses:
If you are looking to really get the most out of your Sony A9, then you must consider some addition optics for your tool chest. You can also use lens adapters and utilize almost any lens on the Sony A9 which is both remarkable and extremely versatile literally opening the door to insane optical possibilities.
Power Related
Sony makes a high quality VG-C3EM batter grip for the Sony A9 which will make it easier to hold the camera with large lenses or in the vertical position, and also effectively doubles your battery! Two batteries fit in the unit and they can be charged while in the grip via USB. Sony also makes an awesome NPA-MQZ1K Multi Battery Adapter Kit which allows for 4 batteries to be charging at once!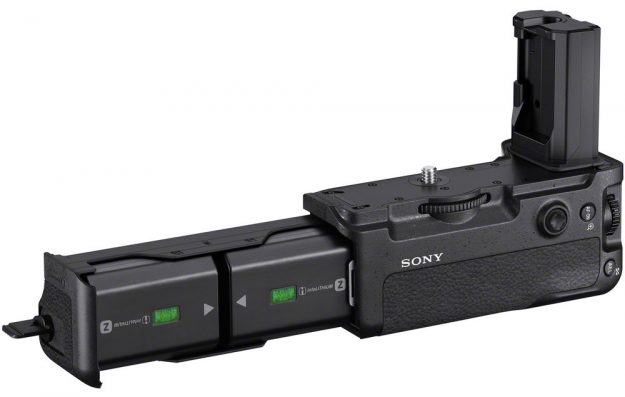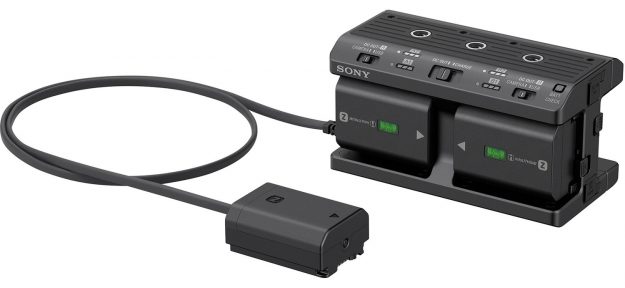 Ergonomics Related:
When it comes to ergonomics the A9 is pretty good overall, but for extended use and when using with larger heavier lenses you can utilize a few different accessories to help yourself out.
Protection and Cleaning:
Expanding your Creativity:
Sony A9 Manuals and Help Guides from Sony
Sony A9 Review Conclusions
Is the new Sony A9 the best full frame mirrorless camera yet?
I say absolutely yes it is! I want one for sure, and only wish I could afford it… That being said, it's a bit to expensive for what you get at the end of the day. Yeah, the AF is incredible, but that is not all that matters when it comes to spending $4500 on a camera in my opinion.
Cost?
Well, that is always relative. Yes it's expensive, but you do get a lot more for your money when comparing to the Sony A7r II, other than the higher resolution of course. So, it's almost worth the money in my opinion based on the new camera body design, quality, way better battery life, very good 20 fps performance, and killer video footage. Do I wish it cost less? Of course I do! Something like $3500 sounds a bit more fair if you want me to put an actual number on it. Especially when compared to the something like the A99 II for example…
Body Design?
The Sony A9 camera body is now on the 3rd generation and it's got a lot of improvements to it. Sony pretty much solved all the nit-pics I had over the years except for the battery door which does not lock automatically. Ergonomics are better than ever and the camera body itself feels super solid. Even with the heavy Canon EF 70-200mm f/2.8 L IS Lens mounted, the camera felt super rigid and more than strong enough. The 1st gen body for example had a little flex to it, but the 2nd gen really fixed most of that. This 3rd gen is just that much better and more refined.
Image Quality?
The IQ is phenomenal in my opinion. Colors and clarity look awesome and the skin tones in particular look better to my eye. The skin tones look almost the same as my older Canon 5d Mark II, which is a very welcomed improvement! Sony has been slowly modifying their color algorithms, and I think this is the best rendering to date. The High ISO abilities are also very respectable. I do find the images produced by the Sony A7r II a tad shaper however, thanks to the higher resolution sensor and lack of low pass filter. The extra MP does make a difference when editing photos for sure!
Video Quality?
The 120fps HD video is really good in my opinion, and the 4k video footage is also excellent. I'm not a video expert mind you, but I have taken a lot of sample footage over the years. The Sony A9 provided me the best footage I have ever gotten from my perspective. I have not tested the A7s II however, and the RX10 III also had great quality footage, but the smaller sensor did not provide the same depth and 3d look in my opinion. The touch to focus feature while recording video is absolutely awesome! I was able to create some cool focus transitions while recording video and this feature could be exploited for interviews and many other practical purposes video production wise.
Auto Focus Performance?
The AF performance on the Sony A9 is amazing! It has so many af points and they are so fast it's really remarkable to see and use. I pushed the camera to failure in this area with Jase on the swing, but that was an insanely difficult test. In the real world, the A9 should be able to capture almost anything moving, unless it's going crazy fast and you are super close to the subject also. I wish I had an opportunity to go to a race track! Perhaps when I test the New FE 100-400mm GM OSS Lens, I will be able to make that happen!
A7r II or A9?
That is a hard question when you are looking at the prices, however, I would still rather have the Sony A9 personally if money was no object. The much better battery life and camera body design in particular make it worth it to me. The more advanced sensor design and auto focus abilities also make it notable better performance wise, but the A7r II also worked really well in the real world… I also don't really need more than 24mp, although it is nice to have the extra resolution don't get me wrong. When it comes to landscape photography I would rather have the A7r II for sure. Portrait work would also benefit from the extra resolution of the A7r II. However, any kind of moving subject would be easier to capture with the A9 for sure, and for me capturing the kids and stuff is my primary photography purpose these days.
A6500 or A9?
Well, if you are actually pondering this, then I would go with the Sony A6500 for sure! You can't beat that camera for the money and performance if you ask me. Or even the A6300 or A6000 for that matter! The A6500 has awesome autofocus performance that is very similar to the A9 based on my testing, and it also offers the in camera stabilization. For the money, the A6500 is a way better value all day in my mind….
Update: A9 or A99 II?
So I just got the A99 II for review and wow is that camera incredible! It has everything you could ever want when it comes to a camera body design. Having the A99 II in hand really makes me realize how awesome the Sony A9 could be. As good as it is, the camera body falls short when compared to the A99 II. The fully articulating screen on the back, tons and tons of physical buttons, illuminated LCD on the top, awesome build quality and port door designs, an auto locking battery door which I have been complaining about forever on the mirrorless cameras, and more. All this and the A99 II camera body is $1300 less than the Sony A9? Weight wise the Sony A9 comes in at 1.48 lbs / 673 g vs 1.868 lbs / 849 g for the Sony A99 II. So even the weight savings with the mirrorless Sony A9 is not really that big of a deal anymore… Food for thought is all I'm saying…
Sony A99 II Review Now Up Here >>
Final Word
That is about it for my Sony A9 Review guys! I really hope you got what you were looking for in this review, and please feel free to ask questions and leave comments below as always. I would love to hear your thoughts good or bad! If you are interested in purchasing the Sony A9, please consider using my links so I get the referral credit at zero cost to you!
Have a great day, Jay

My Sony A9 Review – The Best Full Frame Mirrorless Camera Yet for Sports!
Sports Photography Champ
Is the new Sony A9 the best full frame mirrorless camera yet? I say absolutely yes it is! I want one for sure, and only wish I could afford it... That being said, it's a bit to expensive for what you get at the end of the day in my opinion when compared to something like the newer A7 III. However, for high speed Sports action photography the Sony A9 is in a class of it's own.
Build Quality and Design
85
User Interface and Menu System
85
90
Best Full Frame Mirrorless Camera For Sports!