My Sony Alpha A7 Review – 24mp Full Frame Mirrorless Camera
In this Sony A7 review I will go over everything you need to know using a real world photography and perspective. I will be using the native FE 28-70mm f/3.5-5.6 OSS Lens, and some old school Minolta glass via lens adapter, and some of my pro-grade Canon glass via the Metabones III electronic lens adapter.
I also did extensive "Lab" testing so you can see exactly what the camera will do in a predictable and controlled environment.
Sony A7 vs Nex-6 testing was also done in the lab to help illustrate how the sensor size will affect your photography, and by the end of this Sony A7 review, I am confident you'll know whether or not this camera is worth the investment for you. I had an absolute blast using the camera just to let you know 😉
The Sony A7 w/ 28-70mm kit lens
We've been waiting years for this camera and it's finally here 🙂 Check out this beast of a full frame camera with the kit lens mounted.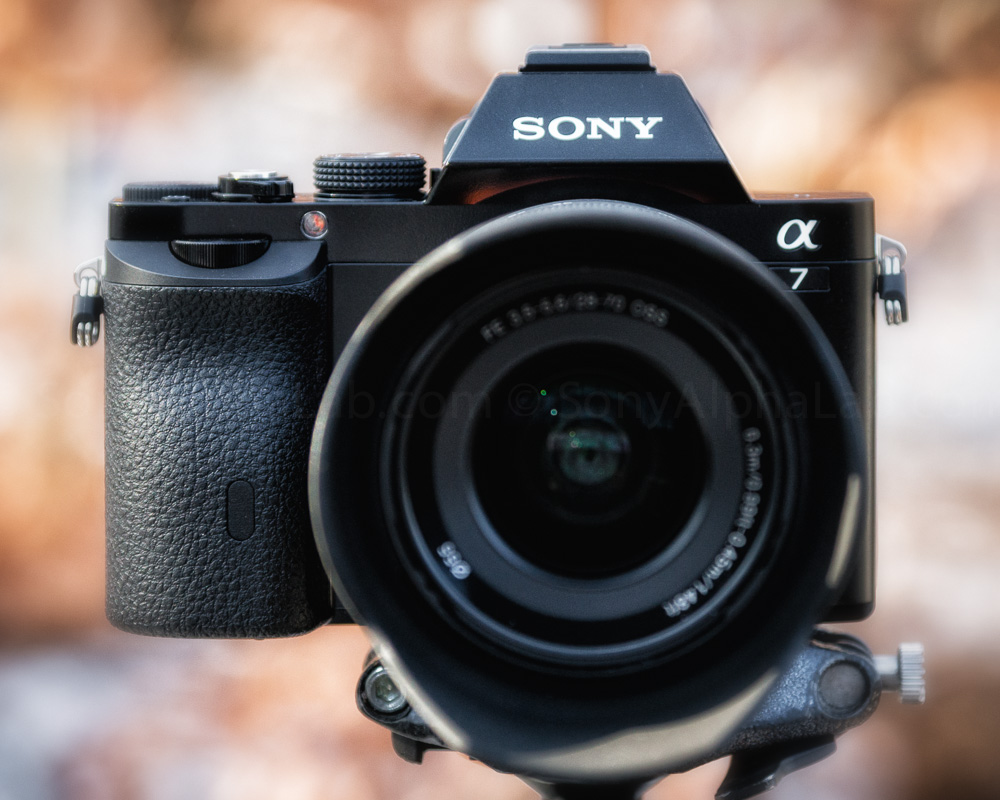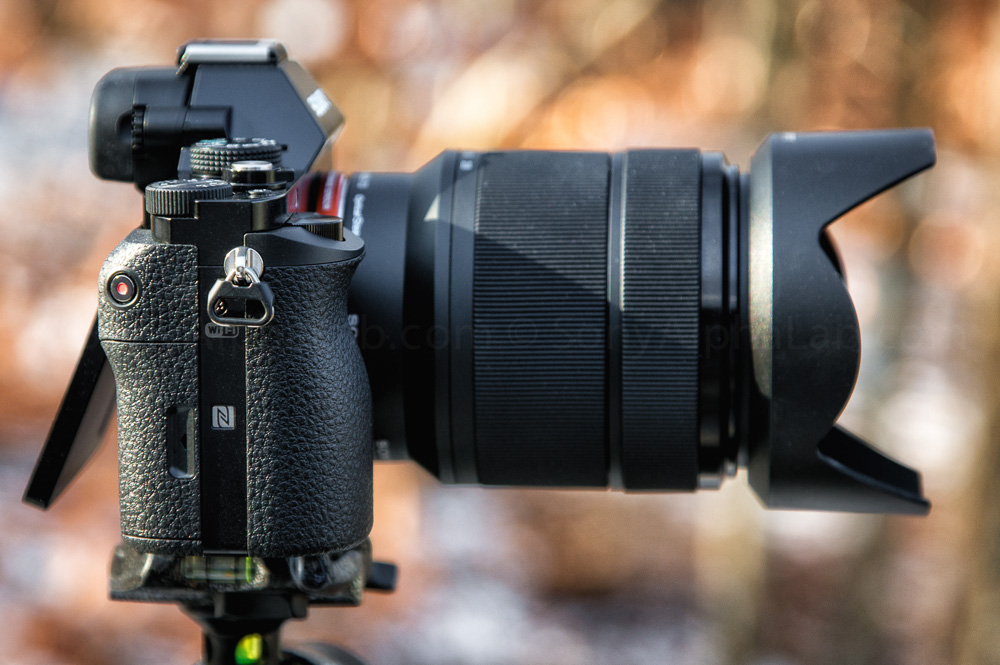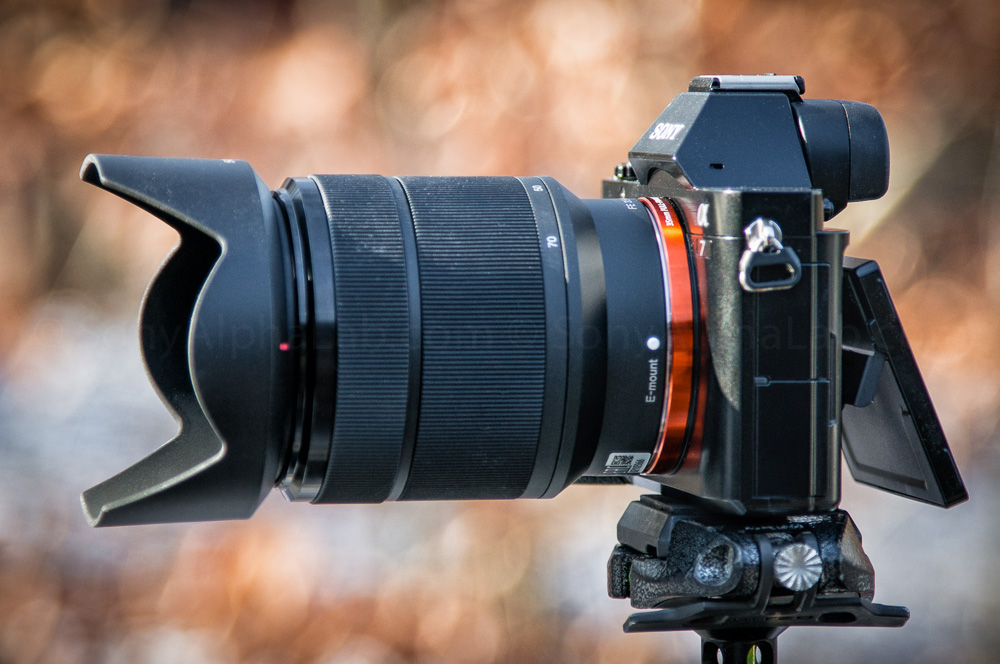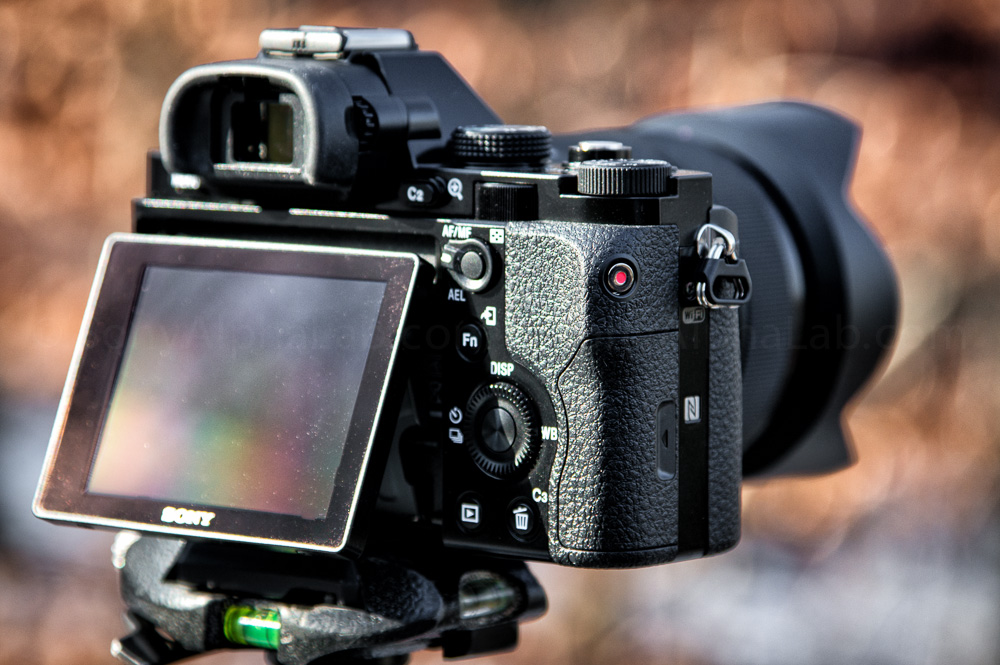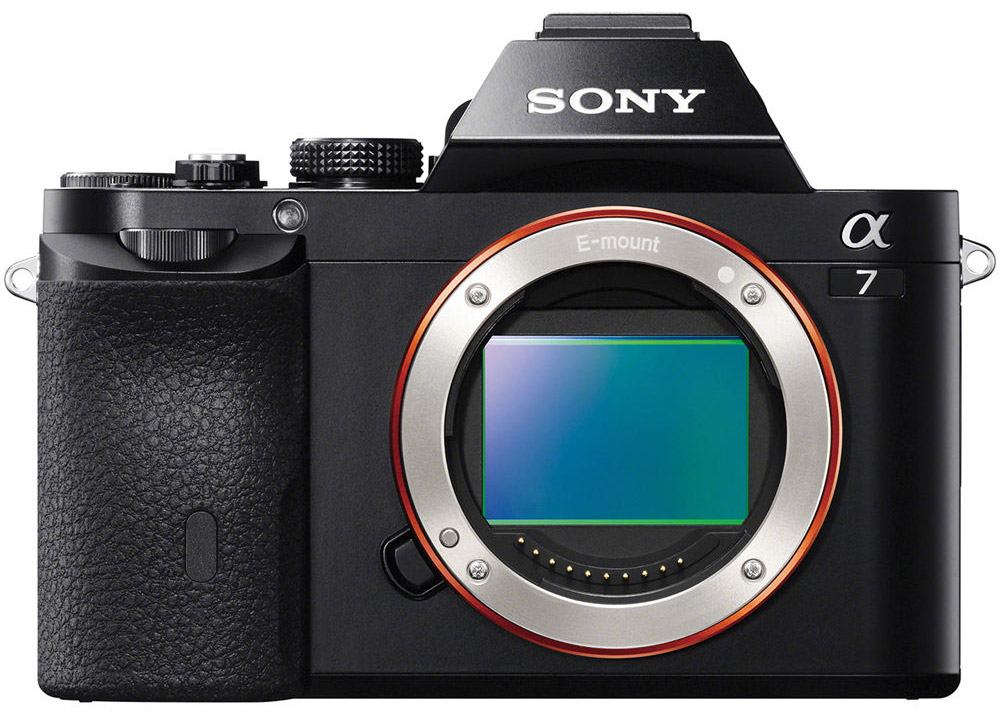 Is the A7 the Best Sony Camera Ever Made?
It's the best Sony mirrorless camera I ever used, but it really depends on your personal wants and needs. It could be the best camera ever made for me, but for somebody who needs a built in flash or super accurate auto focus for sports, it's worthless. See what I mean? What do you want and need as a photographer should be your first question. Then you can figure out what camera is best for you logically. The Sony RX100 has been said by many to be the best Sony camera ever made, and for its size I must agree. The cameras really need to be put in a category in order to say what is best.
So, with all that being said… The full frame mirrorless Alpha A7 is one of the best Sony cameras ever made in my opinion. Killer versatility via lens adapters and top quality full frame sensor coverage for under $2k
Is Full Frame A7 Better Than APS-C Nex-6
Yes, it's clearly better image quality wise and in low light situations due to the much larger full frame sensor. However, the camera is also larger, heavier, and also requires larger, heavier lenses to cover the full frame sensor.
Format
It's a different format sensor is how to look at it in my opinion. With the larger sensor comes some advantages, but also some disadvantages could be argued. Image quality in the end is going to be outstanding from almost all sensor sizes beyond 1″ these days. Look at the amazing Olympus E-M1 Micro 4/3rds for example 😉 In the end, the smaller Nex-6 sensor is very similar in image quality to the Sony A7 in the real world using a kit lens in good light. When you strap on quality optics, the full frame sensor really comes to life though…
Pros
Significantly better High ISO Performance
More depth of field control, much easier to separate subjects from backgrounds
Larger field of view – offers a slightly different perspective
Ultra-wide angle lenses have much less visual distortion do to the larger format
Cons
Less depth of field, therefore potentially harder to get a scene sharp from front to back. You may need to use a higher aperture than your used to, and a longer exposure is often required. This can be an issue in the following scenario: Low light, you need a fast shutter and low ISO, but a large depth of field and no flash. In this particular situation, a high quality smaller sensor would actually be better. If you needed a fast shutter speed and large depth of field, the 1″ sensor packing Sony RX100, and RX100 II would be a much better option.
Potential harder to focus for the same reason as above. Really only applies when using fast glass with narrow depth of fields and usually people.
Significantly more expensive lenses, do to larger glass elements.
Larger and heavier form factor lenses under most circumstances
In the Sony A7 VS Nex-6 comparison images, you will see exactly what the different sensor sizes do using same effective focal length and aperture. That is a true apples to apples test as it relates to depth of field. I also compare the High ISO performance against my Nex-6 so you can see the difference with your own eyes using the same exact "lab" scene.
Sony A7 VS Sony Nex-6
Check out this hands-on video comparison of the Sony A7 and Nex-6 for a much closer look and detailed breakdown.
In this Sony A7 review I also compared the full frame Sony A7 vs the smaller APS-C sized sensor Nex-6 in the lab in various ways to help illustrate the differences. In the end both cameras perform outstanding, but the A7 does provide more depth of field depending on the situation, and significantly better High ISO performance. More Raw Quality comparison images (Click here)
High ISO – A7 VS Nex-6
Sony A7 @ ISO 25600 – Raw
Sony Nex-6 @ ISO 25600 – Raw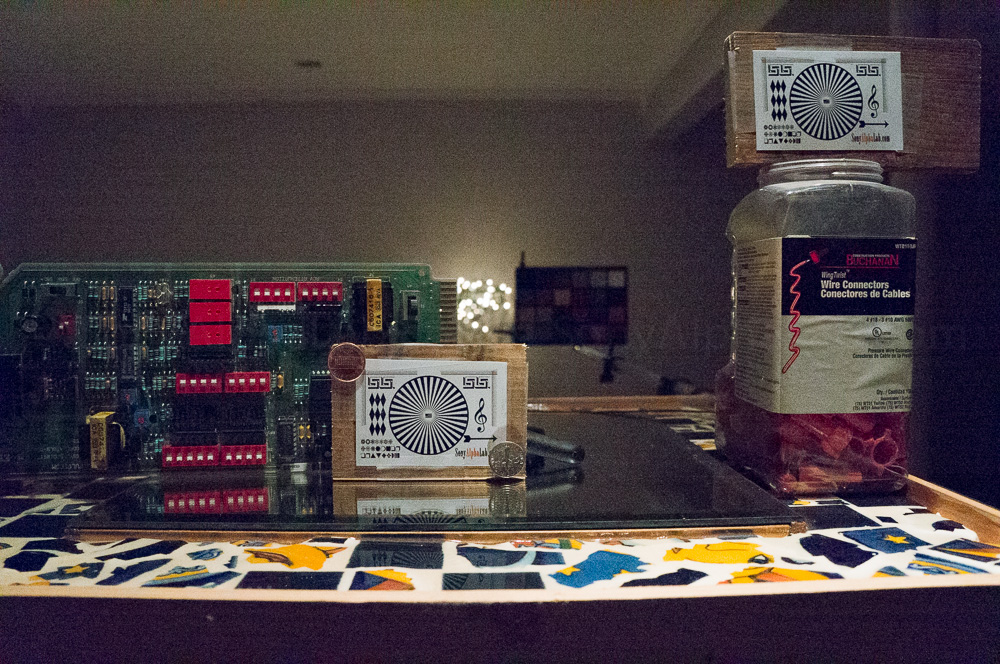 Depth of Field – A7 VS Nex-6 @ 50mm F/4
In this next test I wanted to try and compare apples to apples as far as the depth of field difference is concerned. I'm using the same Canon EF L lens @ f/4, and an effective 50mm focal length on both cameras. That means 50mm for the A7 and ~32mm for the Nex-6 in order for the composition to be same. The cameras were exactly the same distance from the scene and I only raised the tripod about an inch for the Nex-6. More Depth of field Comparison Images (Click Here)
Sony A7 w/ Canon EF 24-105 f/4 L Lens @ f/4, 50mm
[divider] Sony Nex-6 w/ Canon EF 24-105 f/4 L Lens @ f/4, ~32mm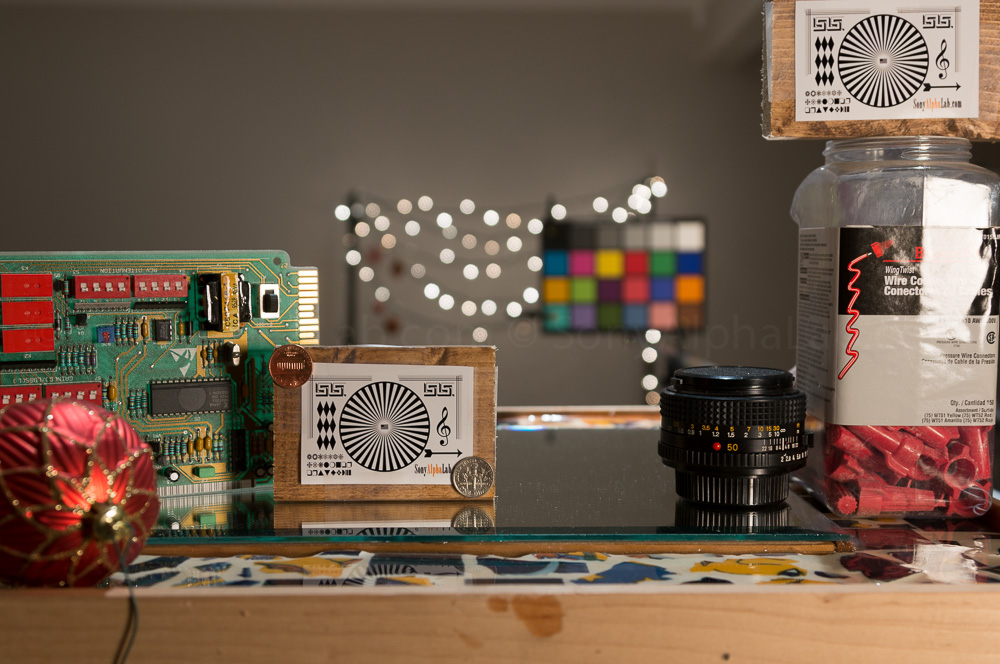 Sony A7 Jpeg – Sample Photos
I took a ton of sample photos for this Sony A7 review! When I first received the Sony A7 I did not have the ability to develop the raw files as Lightroom 5 did not support them yet, so I shot in Raw+Jpeg mode. Here a few a sample photos straight off the camera with no post processing other than resizing for web. @ 28mm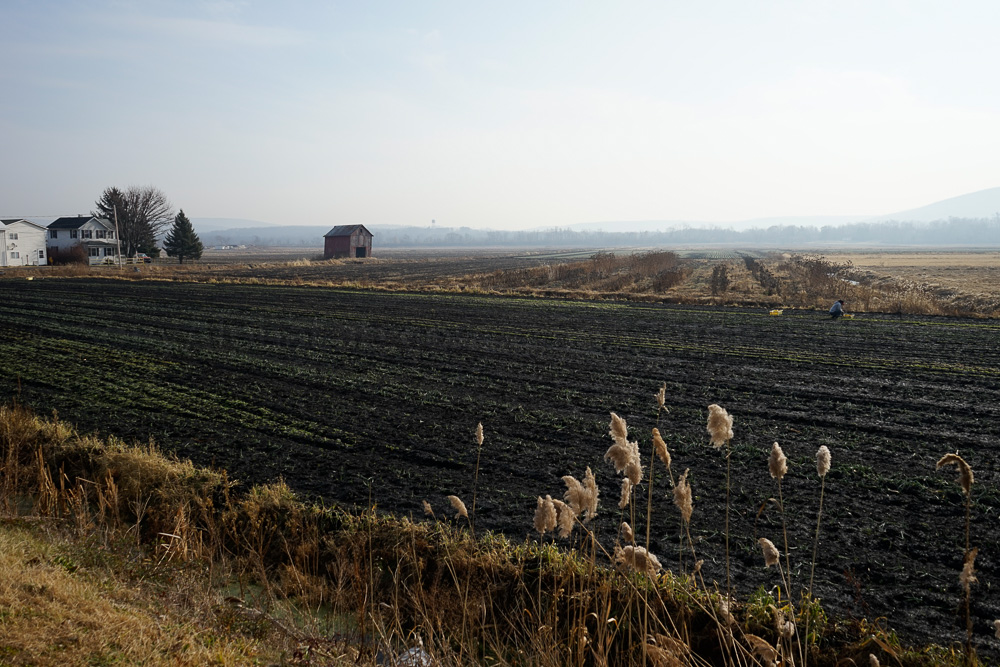 @ 70mm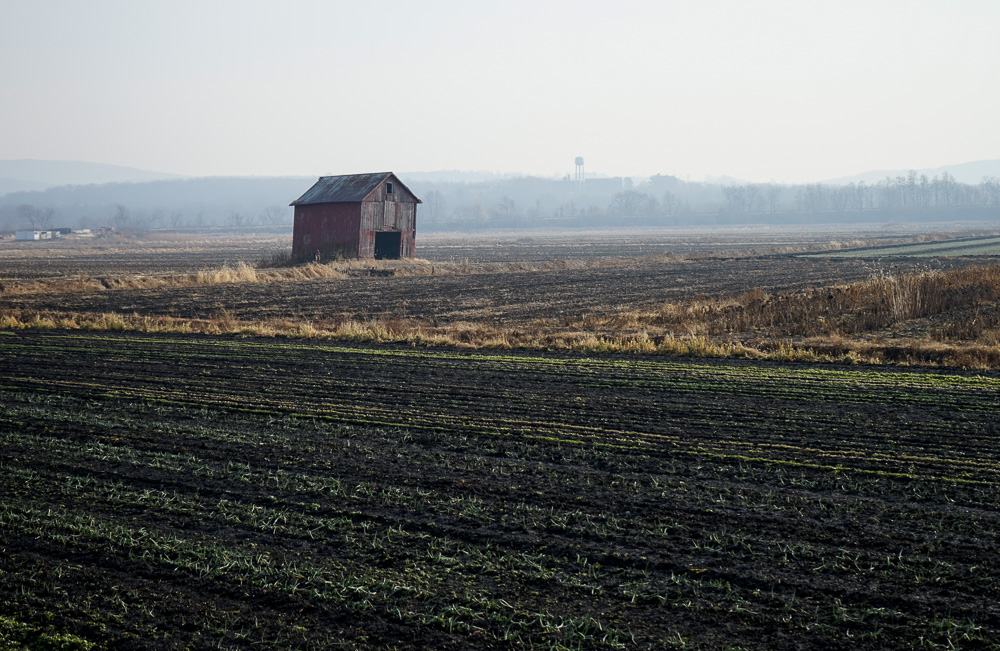 Another view @ 70mm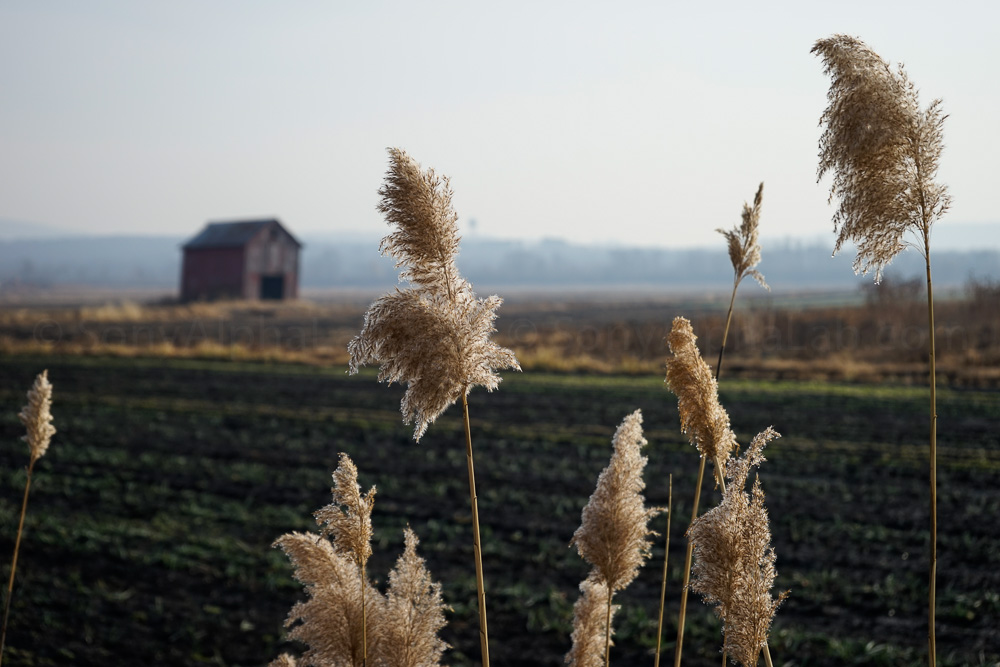 Impressive dynamic range captured in this next scene on the full frame sensor, although the jpeg compression and on camera processing is not the best. The noise reduction is too strong, and the contrast is also really high. Sharpness is also high, but not as high as the Nex-6 jpeg's in my opinion. These jpeg profile settings can all be tweaked in the camera under the Creative Style section of the menu. The camera has some presets, and I'm using standard just so you know, but you can adjust these settings to your liking if you are a jpeg shooter.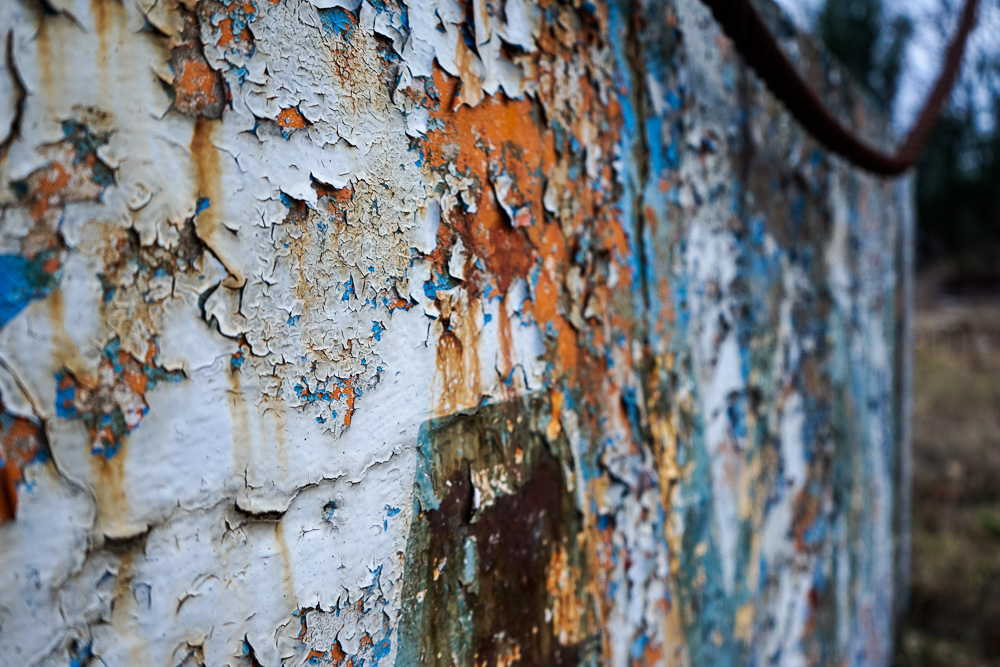 In my opinion this image below offers that "look" you may recall me mentioning earlier. It almost has more of a 3D quality to it than when taken with a crop factor camera. Call me crazy, but the larger full frame format sensor absolutely provides a slightly different perspective on things. See what I mean?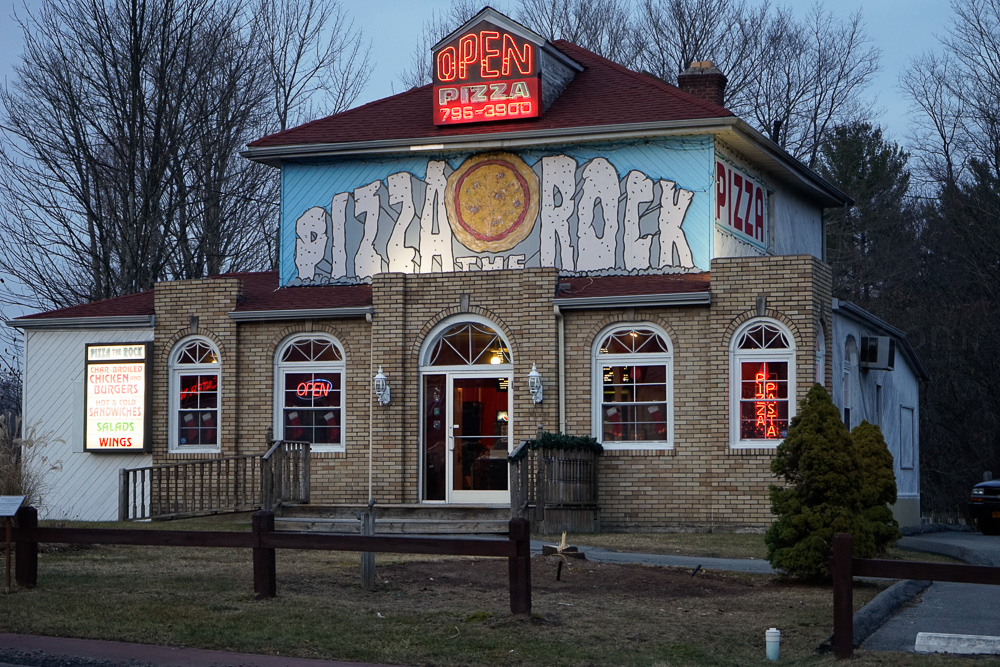 I also took some High ISO images in jpeg mode to see how the camera processing does. These next images are ISO 4000 and 5000, and are remarkably clean in my opinion. Looks awesome straight off the camera when viewing at normal size, but once zoomed in to 100% the noise reduction is a bit muddy looking.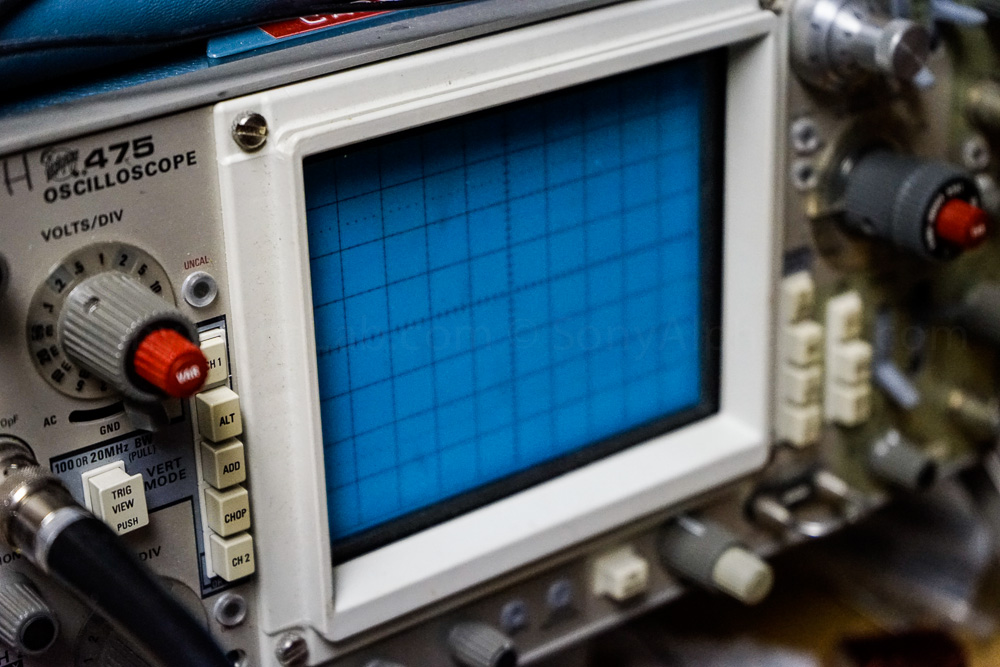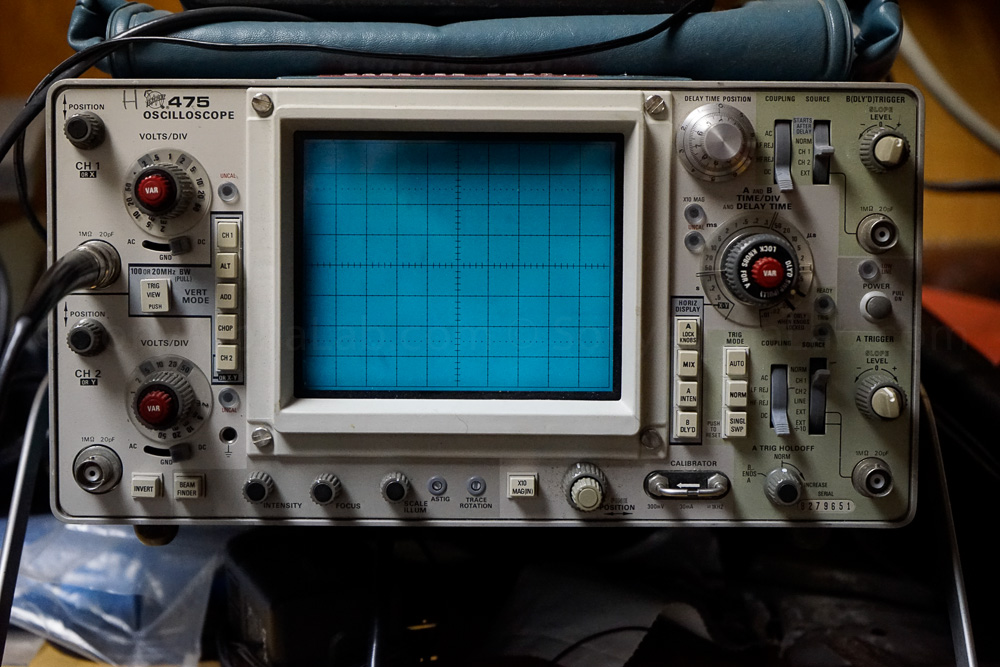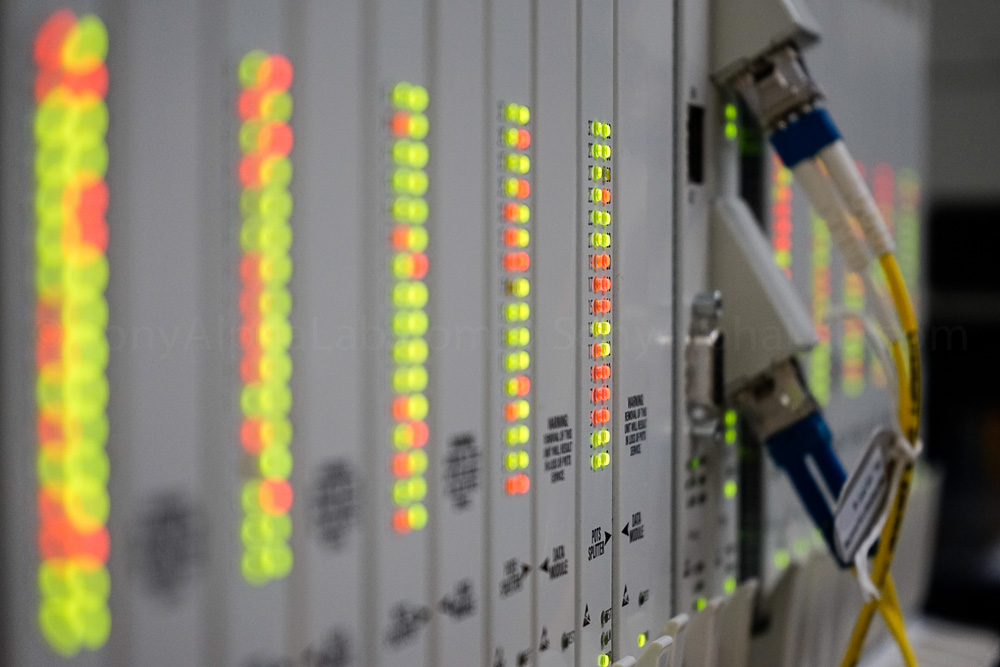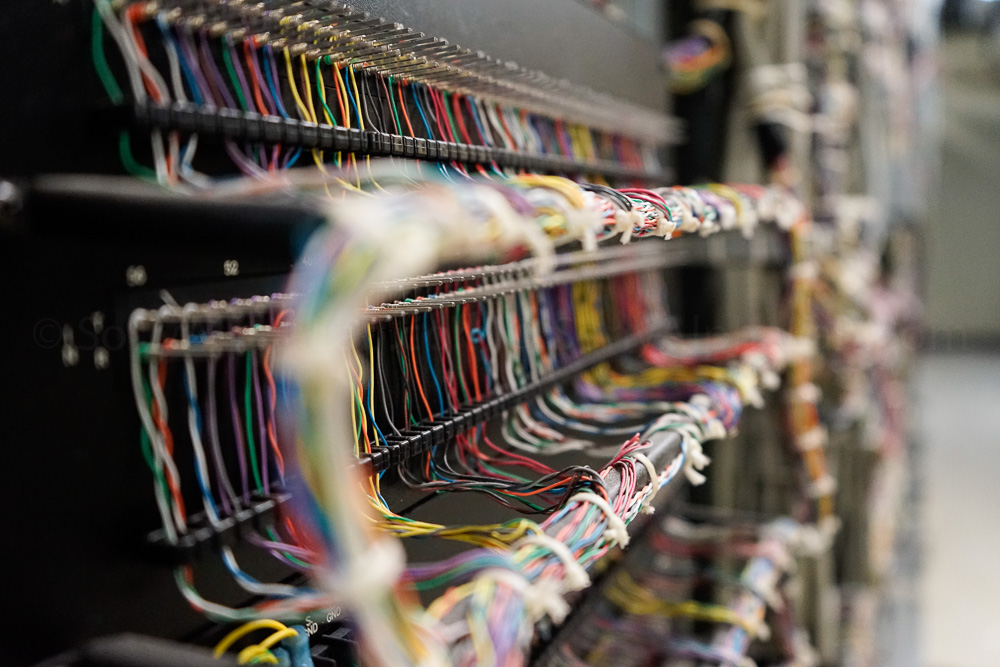 The kit lens is a little softer at the 70mm end, and it's more noticeable towards the edge of the frame.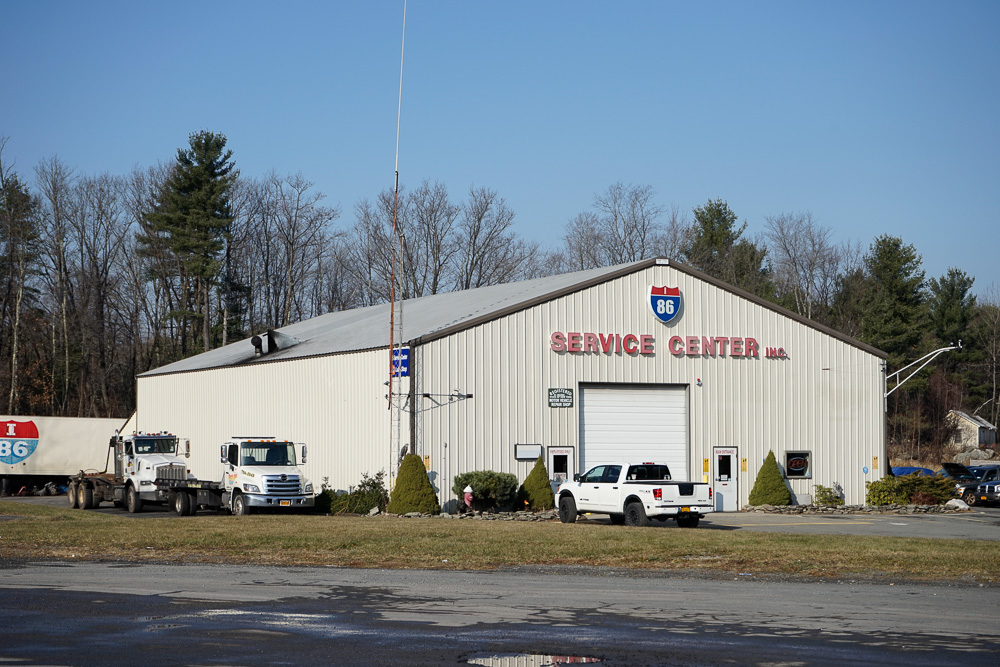 ISO 25600 – Jpeg Lab Here is what ISO 25600 looks like in the Lab @ 100% Crops: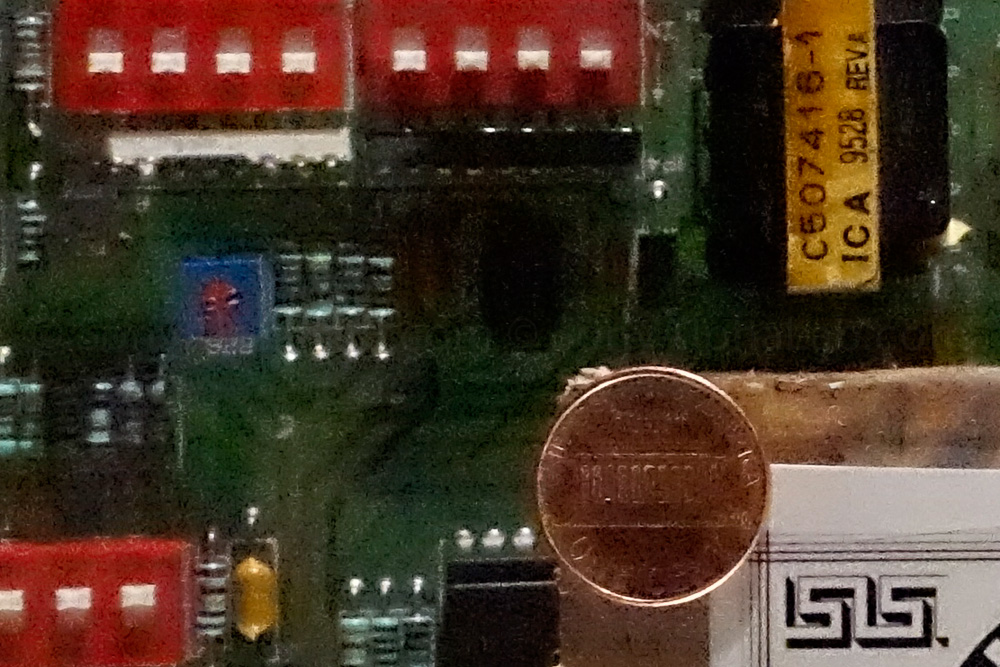 Here are 100% Crops of ISO 100 in jpeg quality for comparison purposes: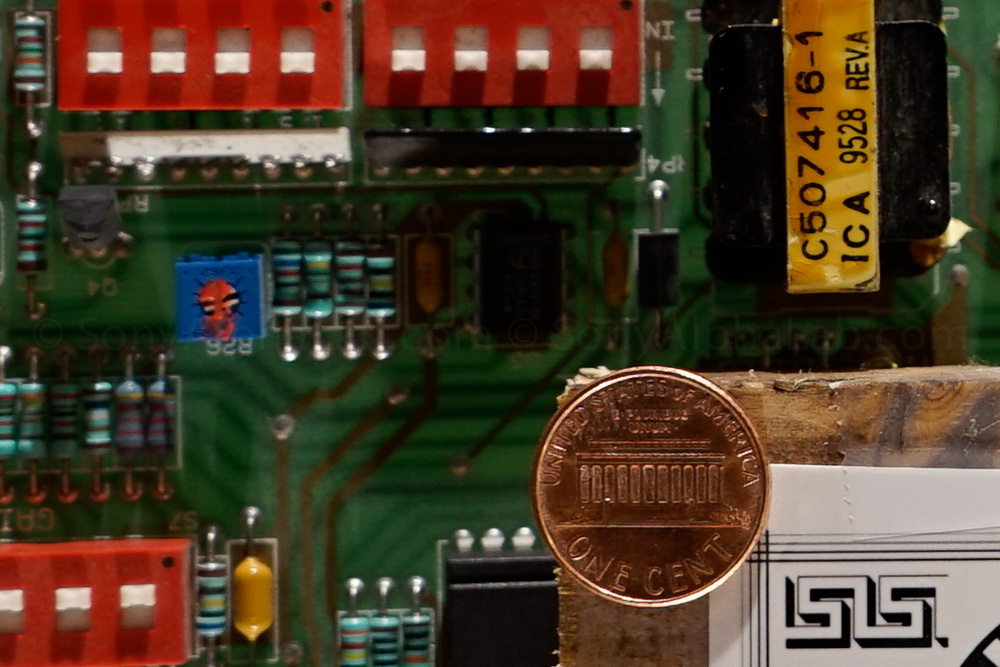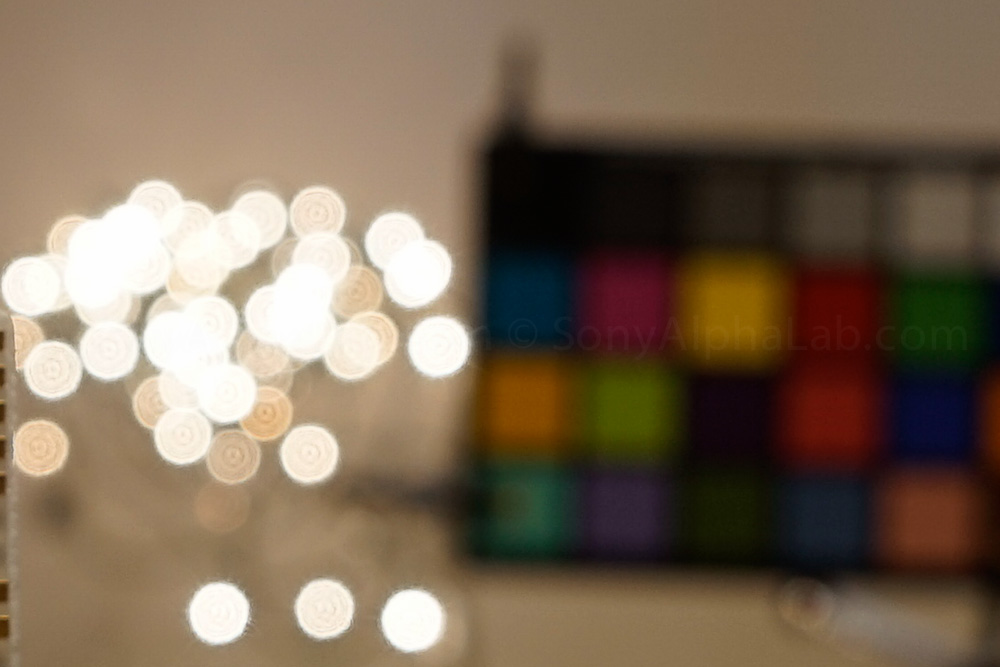 Panoramic
I took a quick panoramic when I was down at the Basha Kill the other day. The A7 did a very good job stitching it together automatically on camera via the panoramic mode feature.
Sony A7 – Raw Quality Sample Photos
The advantage to shooting raw quality is huge if you have the time and effort to use a program like Lightroom 5 for developing your photos. The reason raw quality is so much better, is simple. The camera did not do any post processing on the image for you, and the file has a lot of extra information inside. Once the image is saved out as a jpeg, that data is gone and the file compressed. Raw files give you the ability to pull information out of the dark shadow areas, and back from blow highlight areas. Jpeg files do not allow for much editing room one way or another due to the compression and maxed out processing on the image file per the camera. I have several high detailed tutorial videos showing you how to develop Sony raw files, although a raw file is raw file in the end ; basically you need to add contrast, sharpness, and tweak the exposure to get it looking similar to a jpeg straight off the camera. By default raw files look flat, and this is normal! In these raw files below I added some contrast using the tone curve and slightly adjusted the exposure on a per image bases. If I did anything else to the images I will let you know.
The Basha Kill Wildlife Preserve:
From the top: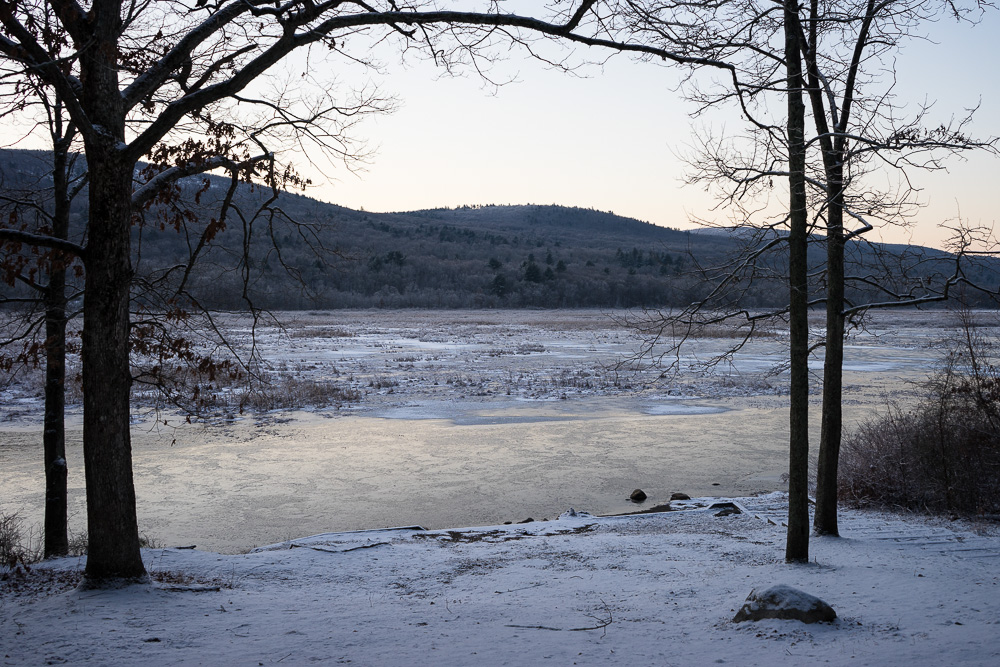 Looking along the shoreline @28mm: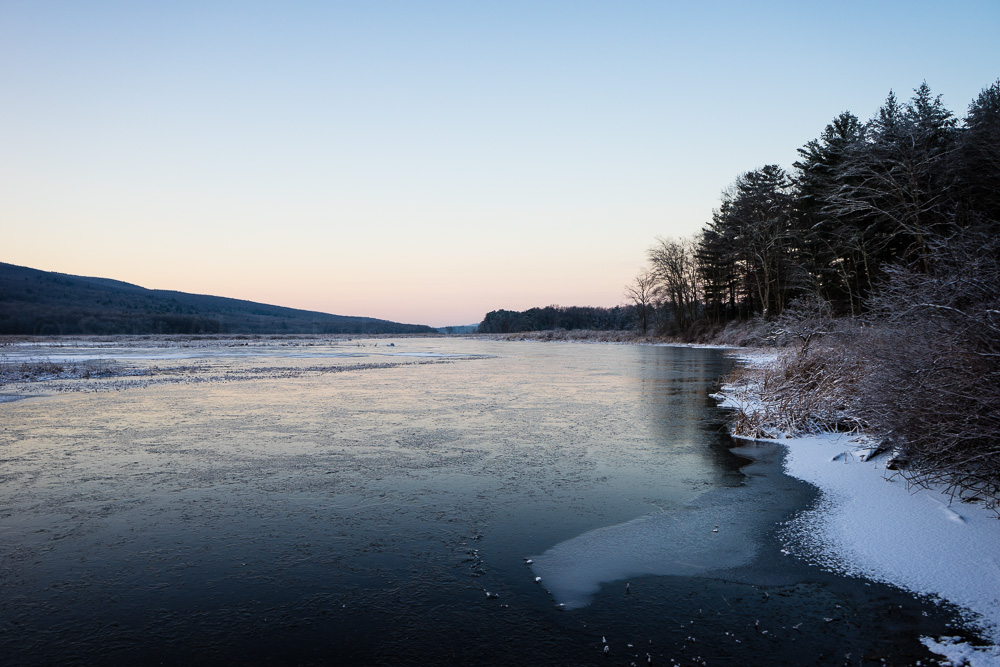 And zoomed in @70mm: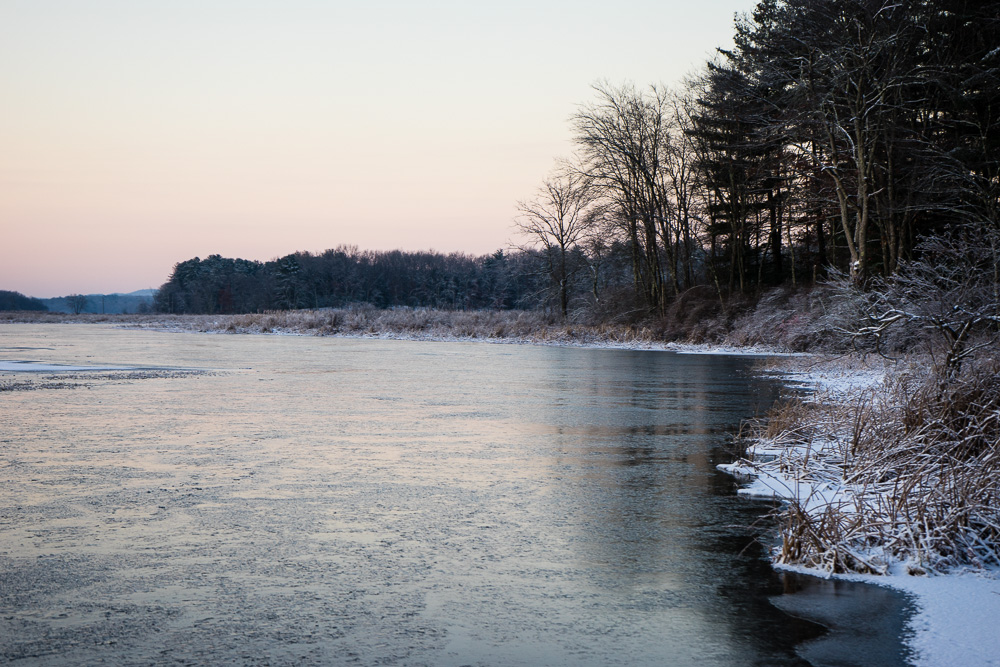 Up the stairs:
Tree knot with vignette added for effect:
Looking into the woods was very easy on the eyes. I could have looked for longer, but was running out of time on my way to work!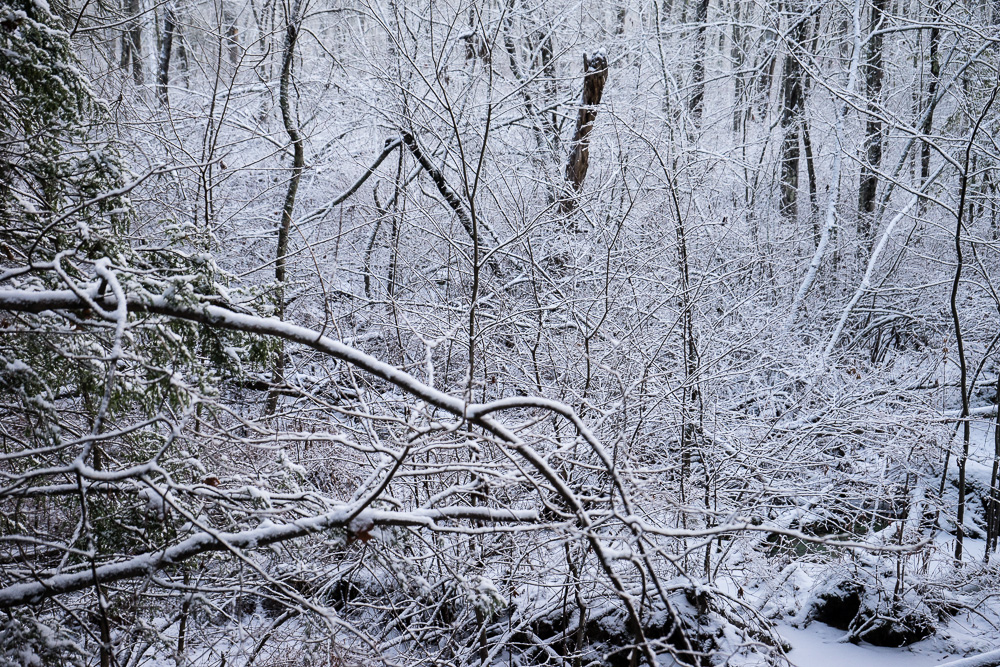 On the way out which again shows off the killer full frame coverage @28mm plus the dynamic range abilities of the Sony A7 raw files:
I just took this photo today (12/28/13), because it's a perfect test subject, but I also did not have any 100% crops of the corners showing off the kit lens in Raw Quality. The histogram for this Sony A7 raw file is to the right, and note how the highlights are protected even though I was using +.3 exposure compensation and average metering. The exposure looks good though it could use a touch of contrast, because it's a raw file. Check this out: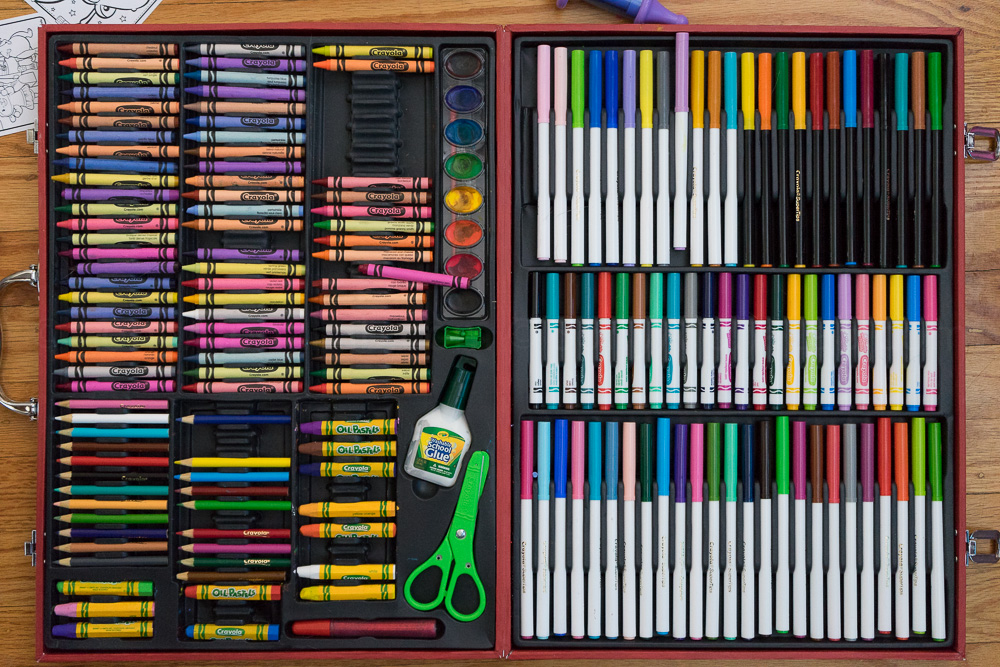 | | | |
| --- | --- | --- |
| Top Left | Middle | Bottom Right |
| | | |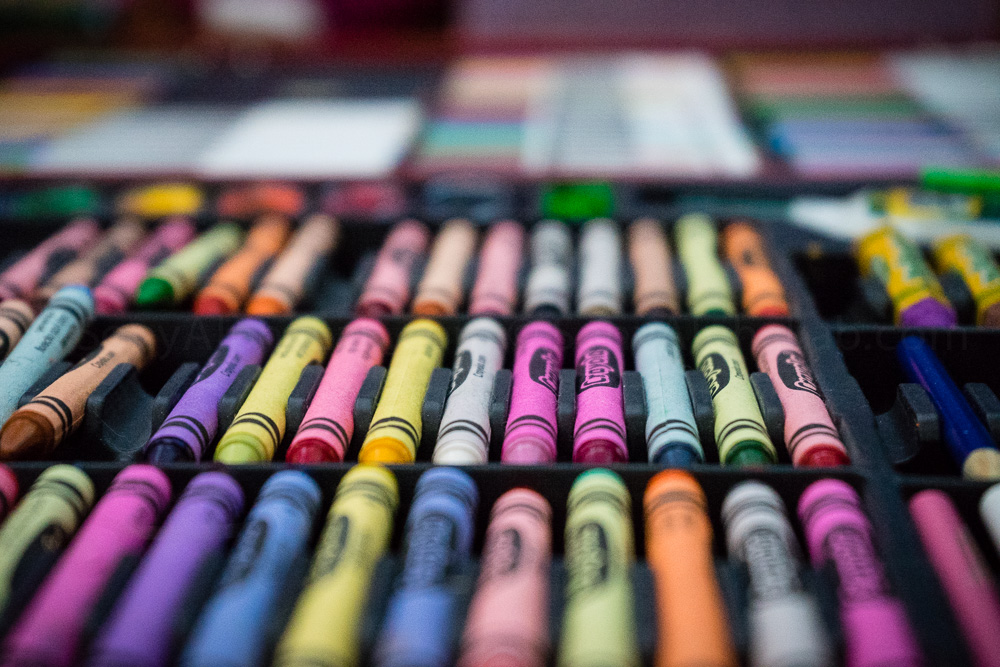 EYE-AF
From the Sony A7 Manual (Click Here) on Eye-AF:
Eye AF Focuses on a person's eyes when you press the button. 1. MENU (Custom Settings) [Custom Key Settings] assign the [Eye AF] function to the desired key. 2. Press the key to which you have assigned the [Eye AF] function and focus on the eyes. 3. Press the shutter button while pressing the key. -Depending on the circumstances, the camera may not be able to focus on the eyes. In such cases, the camera detects a face and focuses on the face. -If the camera cannot detect a person's face, you cannot use [Eye AF]. -Depending on the circumstances, you cannot use [Eye AF], such as when [Focus Mode] is set to [Continuous AF] or [Manual Focus], etc. [Eye AF] may not function in the following situations: -When the person is wearing sunglasses. When the front hair covers the person's eyes. In low-light or back-lit conditions. When the eyes are closed. When the person is in the shade. When the person is out of focus. When the camera focuses on the eyes and [Smile/Face Detect.] is set to [On], a detection frame is displayed on the face after it is displayed on the eyes. When [Smile/Face Detect.] is set to [Off], a detection frame is displayed on the eyes for a certain time.
A few photos of Layla using the Eye-AF feature which worked really well overall I must say. Basically you press the Eye-AF button, in my case default C3(the trash can), and/or the center navigation button. Then the camera looks for a face and a little square comes up on one of the eyes. If you hit it again it switches eyes. Press the shutter button and you have a tack sharp eye 😉 I recommend turning Pre-AF ON for this to work a little better. I had mine off initially and needed to focus first in order for the face recognition/ Eye AF to work.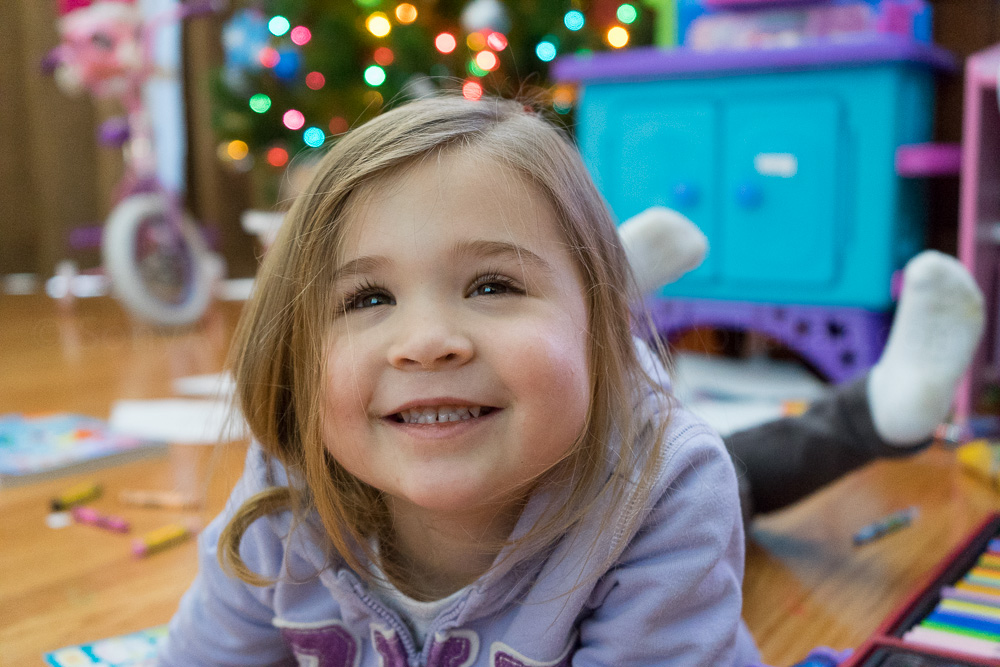 This photo was taken at 70mm and 1/30sec, ISO 6400.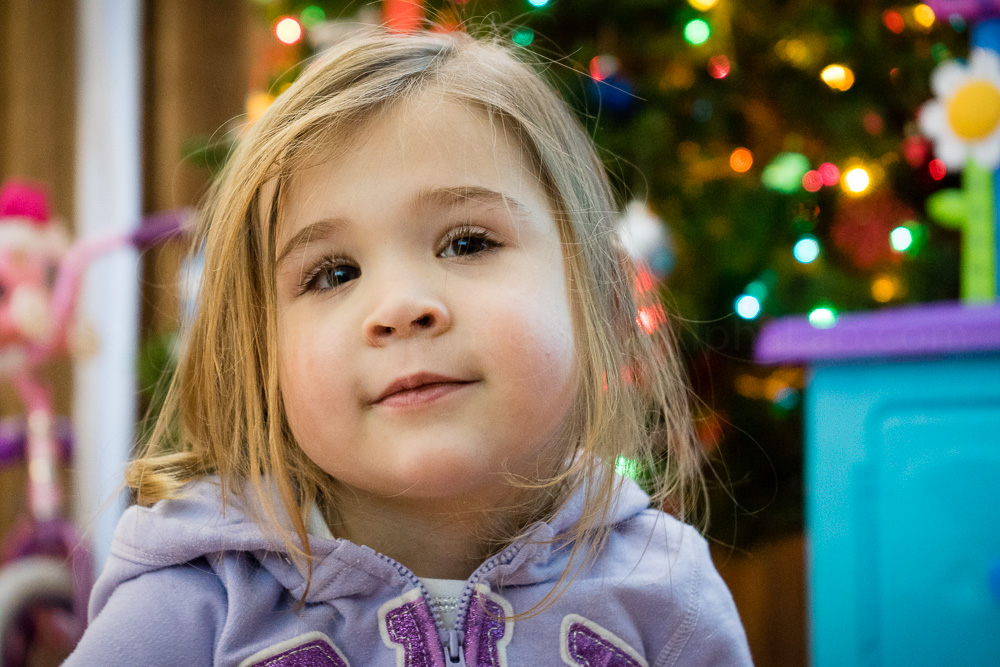 A more wide angle attempt, but the image is slightly soft because Layla is always moving! Out of about 10 shots, two were sharp because of Layla's movement in combination with the slow shutter speed. ISO was maxed out for Auto @ ISO 6400, so the shutter speeds were not getting any faster unless I took it off Auto ISO. Clearly the Eye-AF feature works and if I only had a faster native Zeiss lens to play with 😉
ISO 25600 In the Lab – Raw Quality – 100% Crop
A7 w/ Metabones III Electronic Lens Adapter
I took some sample photos using the Metabones III electronic lens adapter and my Canon EF 24-105mm f/4 L lens. It was a lot of fun to use and the optical quality is far superior than the kit lens in comparison. I also used my EF 135mm f/2 L lens and the EF 17-40mm f/4 L lens with the adapter.
The ultra wide angle was a bit soft overall because I hand-held the photo and should have used a tripod. I was in a serious rush though picking up Layla from school after work. If I get a chance I will take more sample photos with the 17-40mm lens. Check out what the raw file looks like completely untouched. A working train #5114 in the harsh daylight sun with glaring snow everywhere. Dynamic range is off the charts in this raw file!
Here is a slightly developed version of the same file. All I did was add a little fill light and lower the exposure a touch for the sky. If this was a jpeg file, I would not have been able to pull back the highlights or raise the shadow detail nearly as much. The sky will start to band in shades of blue if you push the jpeg file to far. Raw files offer much more latitude.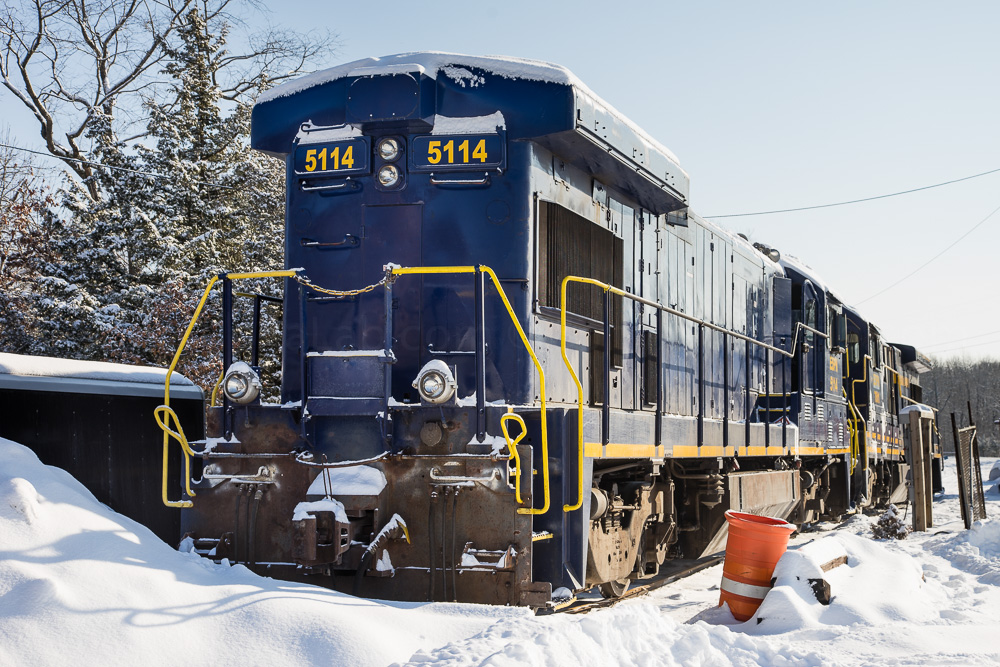 Here is another parked train car taken @24mm. The vignette is noticeable in the corners @24mm, but not that bad. The sharpness of this lens is amazing and makes me really want a Zeiss kit lens for the A7 asap!
The Canon EF 135mm f/2 L lens really has a buttery bokeh, and the A7 sensor does an excellent job taking advantage of the optics.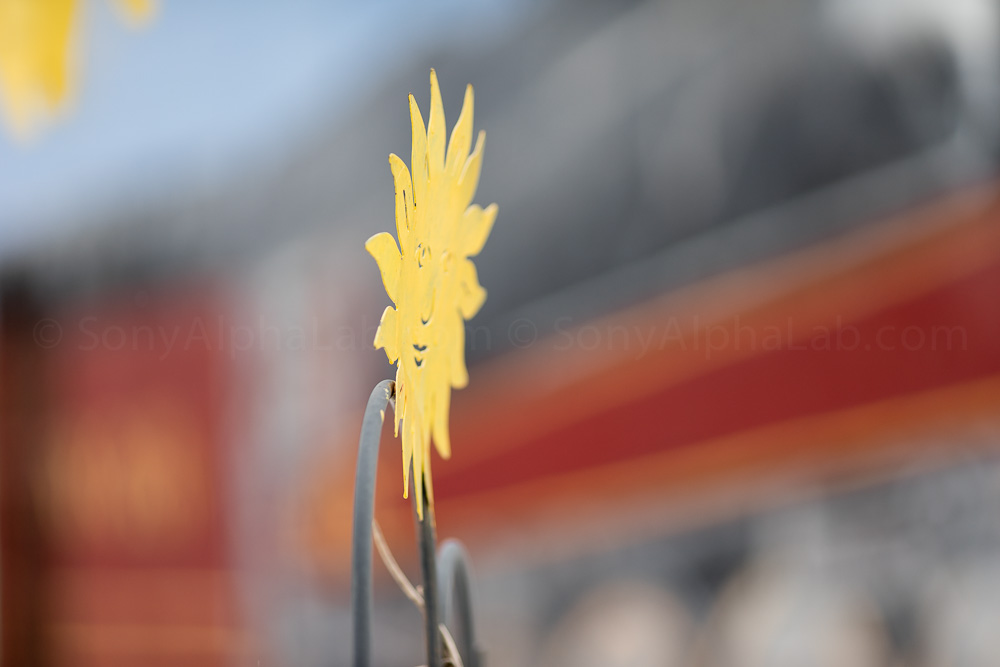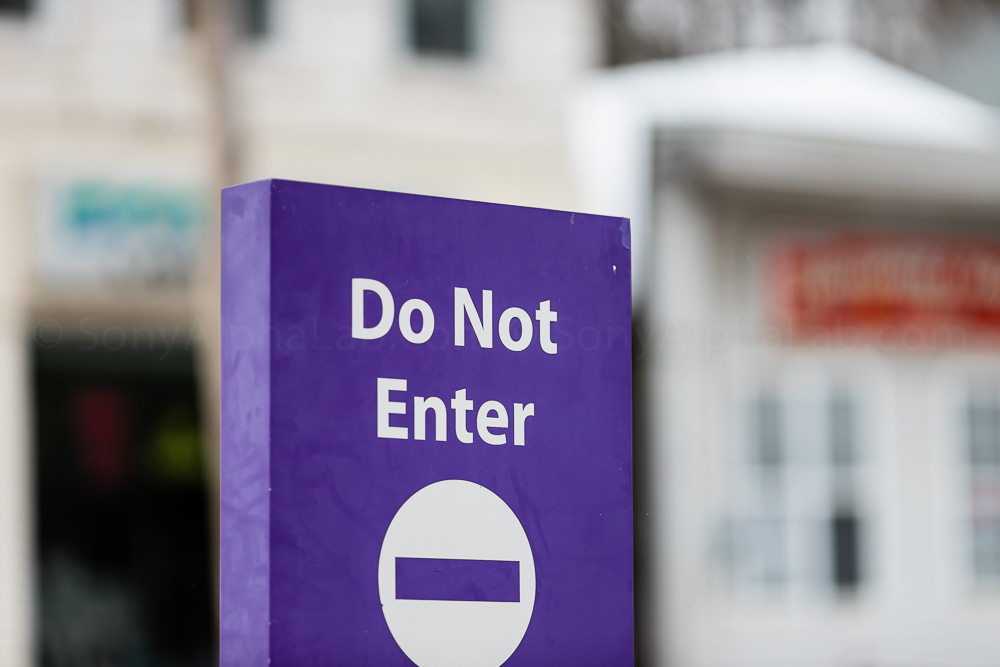 Here is a quick snapshot with my Canon EF 17-40mm f/4 l lens hand-held.
An HDR Photograph taken with my Canon EF 24-105 f/4 L Lens and processed in Photomatix Pro. I also used Lightroom 5 to polish up the image a bit.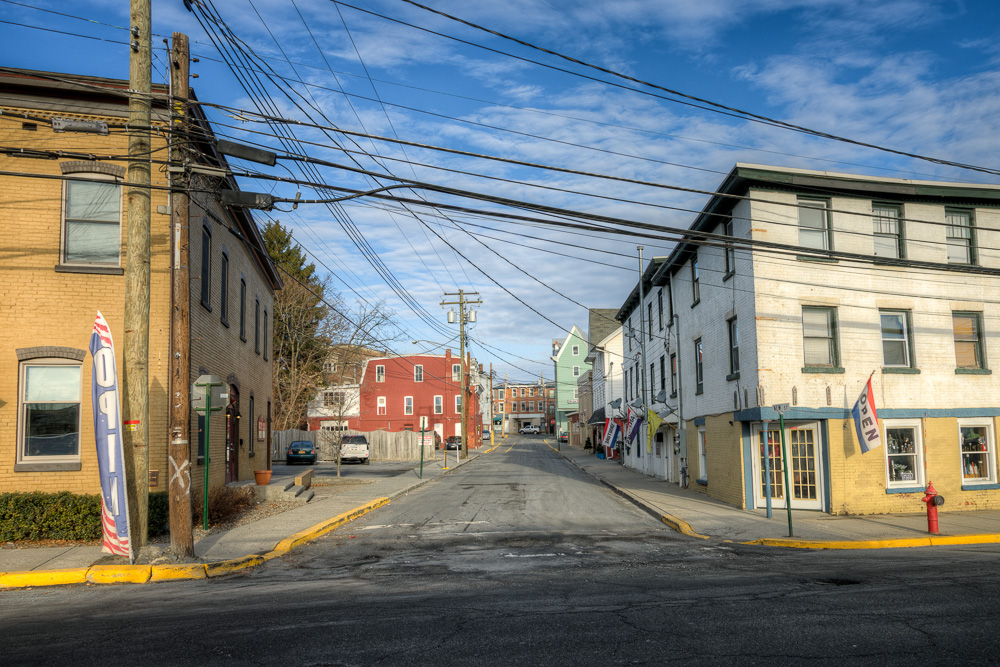 A7 w/ Minolta MC 50mm F/1.4 Rokkor-X Lens
I took a few snapshots around the house after we set-up the Christmas tree, and the bokeh that the Minolta 50mm f/1.4 Rokkor-X lens produces on the A7 is amazing.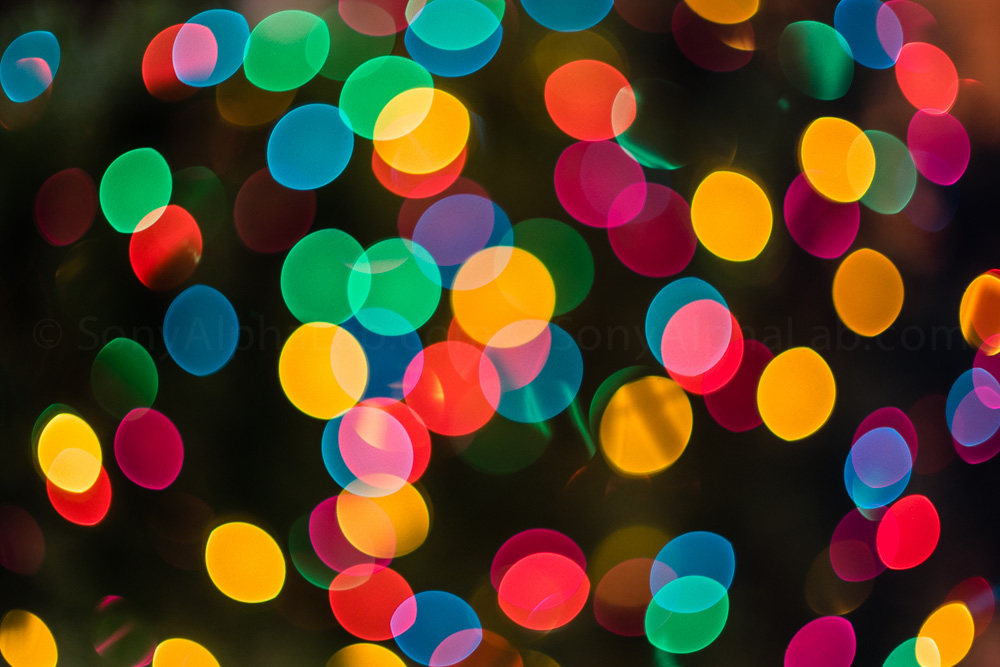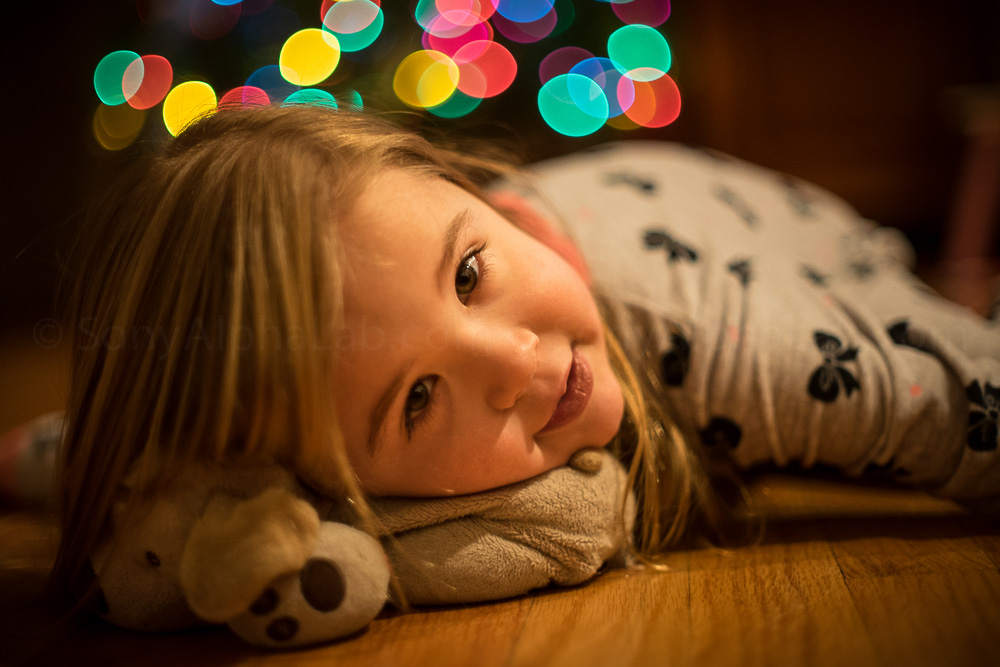 I brightened up Layla's face a lot on this image as it was dark in the original raw file. I went a little too far with the edit and you can tell it looks a little funny.
Here is one of that "Do Not Enter Sign" that I also took with the Canon 135mm f/2 L lens for comparison.
A Few Studio Shots – Raw Quality
My Dad was kind enough to hang out in the Lab for a few minutes while I took some test shots. First I used the kit lens, then I mounted up the Metabones III and Canon EF 70-200mm f/2.8 L IS Lens. The difference in sharpness from the kit lens to a pro grade lens is significant, but the kit lens is still not bad for the money I must say again. A7 w/ kit lens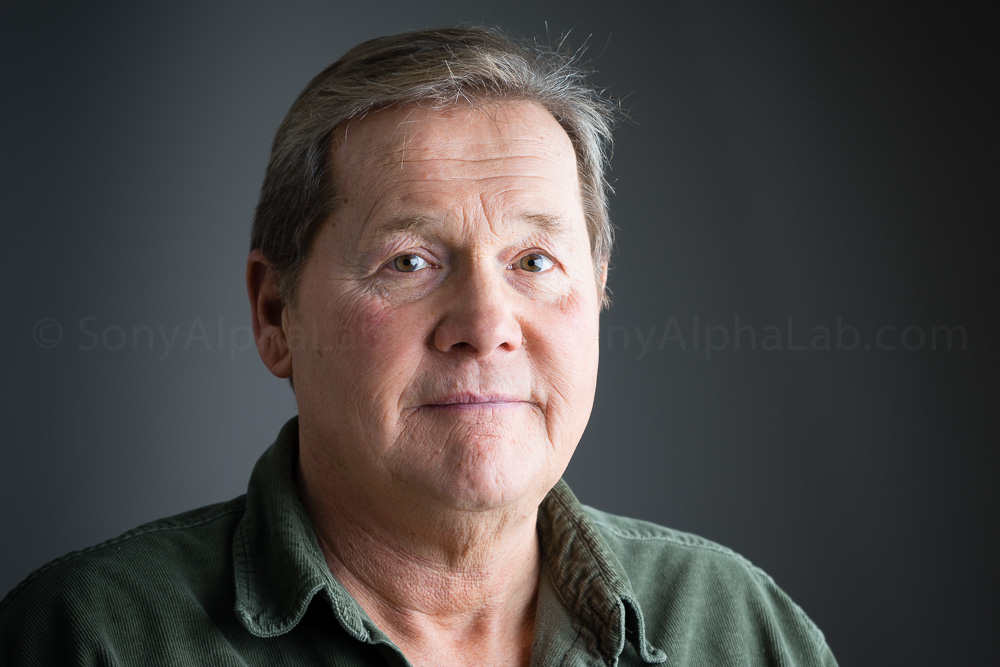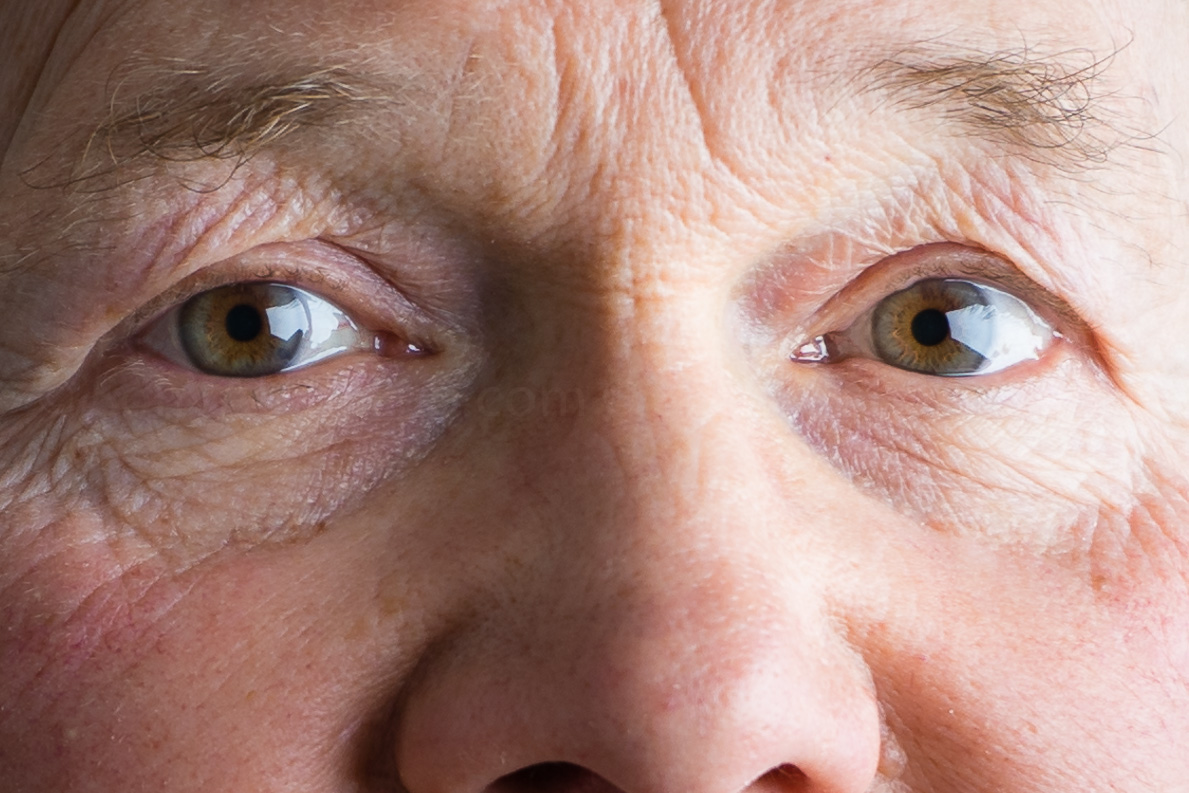 A7 w/ Metabones III and Canon EF 70-200mm f/2.8 L IS Lens Note the slightly cooler colors. All settings were left the same on the Sony A7 for WB. It was originally calibrated using the kit lens and really needs to be re-done for each lens in a perfect world 😉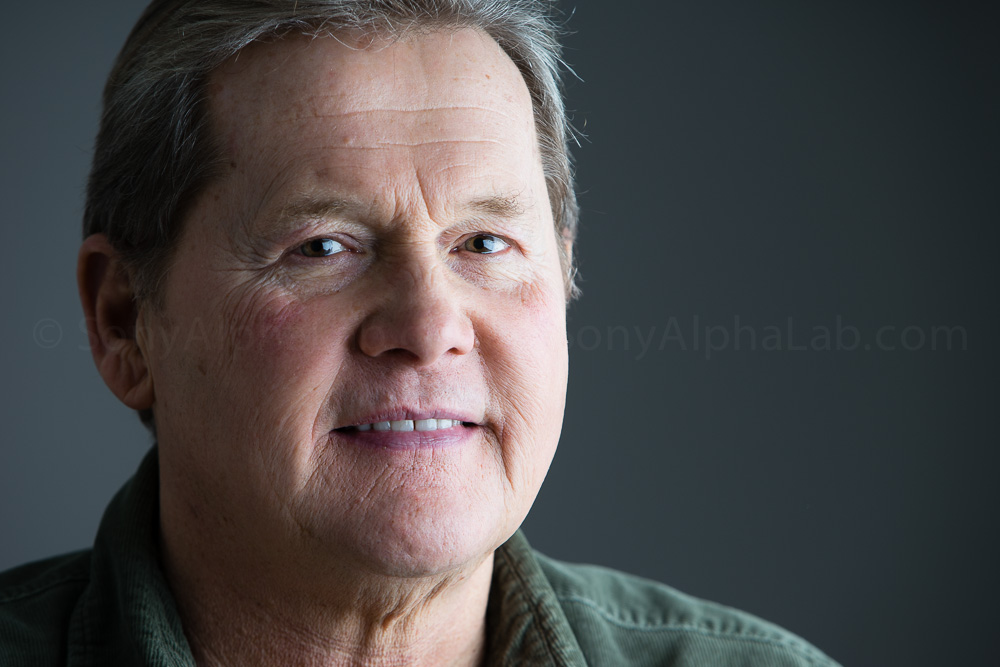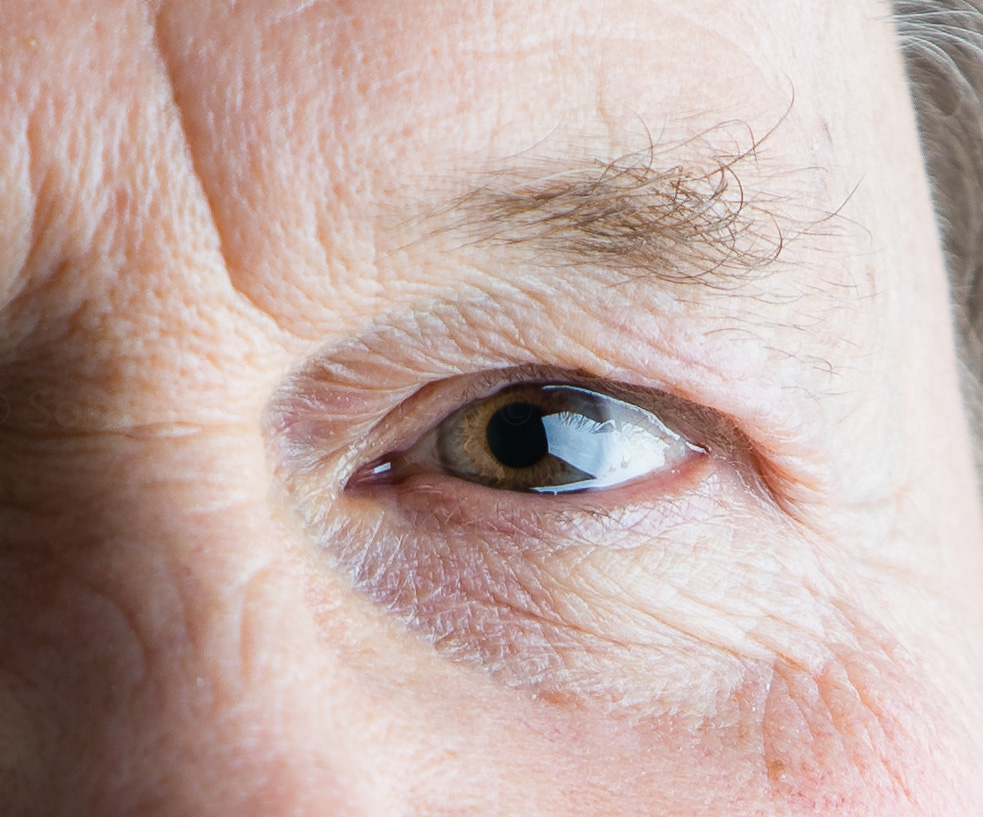 Quick BW Conversion on this frame: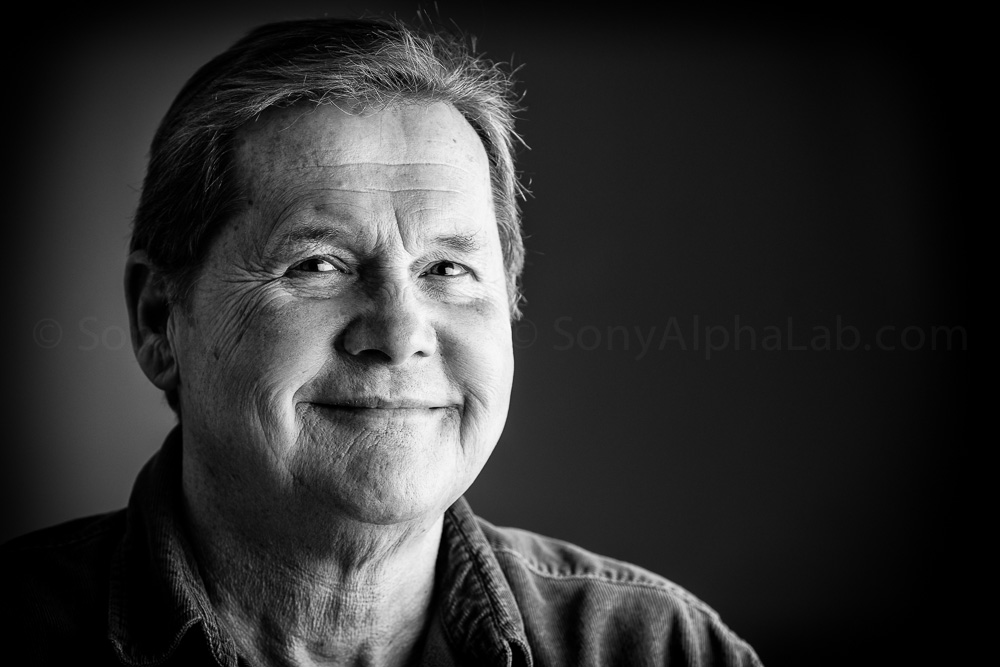 Sony A7 Review – Video Version
In this video I will go over the Sony A7 in detail explaining most of the camera functions and menu items, so you can get the most out of your user experience. The menu is really deep, so the video takes a bit of time to get through. At the end I use the camera a bit so you can see how it works live. The facial recognition and Eye-AF works, so at the end you can see that tested on a photo of Layla. I also included some sample HD video at the end to give you a taste of how the Auto focus transitions from one focus point to another, and how it tracks flying geese.
Sony A7 Accessories:
A few extra NP-FW50 batteries are a must for the Sony A7 in my opinion. A stand alone charger is also a nice thing to have, although the Sony BC-TRW charger is a bit expensive if you ask me. The after market charger made by Watson is a pretty good deal and gets the job done equally as well. The smaller W-Series battery is not the best for longevity, but I did get ~350-400 on each charge. You can turn off the Pre-AF feature to save some battery life as you saw in the detailed video review. You can also put the camera in airplane mode, and set the turnoff times to 10 seconds. All these things will help with battery life, but the bottom line is you still need extra batteries, so get one at the very least.
If you need more battery life and better ergonomics, the optional VGC1-EM battery grip is awesome! I tried it at the PhotoExpo and it really felt excellent in my hands, and the build quality matched perfectly. It holds two batteries and effectively doubles your shooting time. The grip also allows for vertical hand holding with ease do to the extra built in buttons and dial controls.
I really want this grip for portraiture work in particular as I am often holding the camera vertically, and go through batteries fast checking the images over and over. Sometimes baby portrait sessions can go for hours, and waiting for batteries to charge is not an option. I would recommend you have at least four to six batteries on hand if your planning on using the A7 for Pro work. I also recommend getting the RM-VPR1 remote, so you can take long exposures easily without having to touch the camera. If your looking for quality optics, the Zeiss 35mm f/2.8(sel35f28z) and 55mm f/1.8 lens(sel55f18z) primes are highly recommended. I've seen tons of sample photos on the web and both lenses appear to be exceptional in my opinion. Did I mention Lens Adapters?
One of the most powerful features that the Sony A7 has to offer is it's versatility. Not only can you use any Sony A-Mount lens, but as you saw above, aftermarket companies like Metabones also make lens adapters. In addition to E-mount lenses, you can add an optional 35mm full frame compatible adapter (LA-EA3 or LA-EA4) to mount any A-mount lens to the A7. The LA-EA4 features a built-in AF motor, aperture-drive mechanism and Translucent Mirror Technology to enable continuous phase-detection AF. Both adapters feature a tripod hole that allows mounting of a tripod to support large A-mount lenses.
Conclusions:
Image Quality:
The Sony A7 has excellent image quality and is noticeably better than my smaller sensor Nex-6. In the real world when using quality optics, the images are very similar and in the end the photographer makes most of the difference. Using the camera and lenses to their potential is often easier said than done 😉 Only when you push the ISO beyond 6400 does the Sony A7 show a significant advantage over the Nex-6. The dynamic range is also larger and noticeable when developing raw files in Lightroom 5. You can bring back blown out highlights, and detail from the shadow areas beyond that of a Nex-6 raw file. This allows for a lot of editing room in whatever direction you decide to go. I highly recommend shooting raw quality and learning to develop your photos if you have yet to try. It will really open up your eyes to how far the images can actually be manipulated, especially compared to the jpeg files. Lightroom Tutorials (Click Here)
28-70mm Kit Lens:
The kit lens is pretty good but based off the lab tests I did, a little soft in the corners. It's also a little softer at 70mm than fully wide open @28mm. Overall, it's not bad for only $300 when included as the kit lens, considering it has OSS and a pretty solid focal length range. However, for investment purposes I would not recommend the kit lens. A better quality Zeiss lens would be highly recommended for the A7 and A7R. Hopefully a Zeiss zoom will be coming soon.
Auto Focus Performance:
The Auto focus performance on the Sony A7 is pretty solid, but you really need to have the facial recognition turned on for people. It helps drastically with the hit rate accuracy in my experience. The Eye-AF works although I did not get a chance to test it thoroughly. Quick tests showed it worked with Layla, but not my dog Chubs. Overall, the AF performed well and focused most all of the time. I recommend using the flexible spot for the most accurate focus. If you go with average, you are likely to have the camera find something else than what you want for a focus point. With a full frame sensor this will result in soft images, even @ f/5.6. The focus really needs to be on the money for a sharp shot as it relates to depth of field. A foot or two one way or another, and a slightly soft image will be the result when zoomed into 100%. It will look fine on the camera though and at regular size. This is probably why so many people are reporting that the A7 and A7R do not have the best AF performance. Expecting DSLR speed and accuracy is not going to happen, nor is a realistic expectation with a full mirrorless camera in my opinion. All the AF sensors are tiny and built into the actual image sensor module creating the hybrid AF.
Build Quality and Ergonomics:
The build quality on the A7 is excellent in my opinion. The ergonomics are also very good, but could be slightly improved with a more refined body design. As great as the A7 is, it seams like Sony went for a heavily modified RX1 chassis as opposed to an all new design from scratch. This resulted in a modified "RX1 like" body at an affordable price point relative to the ~$7000 Leica M9. It also means the body can be refined a bit more. Like where the menu button is for example. The shutter button was a little awkward at first, but after I used the camera for a few hours my hand adjusted to the grip and new shutter position with no issue. I was honestly concerned about this, but it's a non issue in my opinion and the grip is excellent. The battery grip is a nice feature, but not a requirement for easy hand holding ergonomics like I originally reported back when I went to the Photo Expo in NYC (Click Here). Back then, the A7 felt much better with the battery grip than without coming from the the Nex-6. Now I can say it's totally fine without the grip. I also think a built-in flash would be a nice feature and could be added to the left side on the top probably.
Overall Conclusion:
In summary the Sony A7 is a better quality camera and worthy upgrade from both the Sony Nex-7 and Nex-6 if you have the means. The cost is significantly more for arguably not that much difference in image quality when using quality optics, but the larger format and sensor does offer a significant advantage in the low light depart and depth of field capabilities. This Sony A7 will not replace a pro dslr when it comes to real world AF performance; sports photography in particular. For the everyday auto focus demands including, Street, Portraiture, Landscape, and even a backup Wedding camera, the A7 will do the job, and do it well. Video wise, the A7 can also work for wedding photographers looking to take advantage of both markets.
The Sony A7 is the best Sony Mirrorless Camera I ever reviewed to date. It's also ground breaking and sets the bar for all future full frame mirrorless cameras to come. I highly recommend the Sony A7 for those in the market.
I hope you got what you were looking for in my Sony A7 review, and please feel free to ask questions and comment below.
Jay Thanks for your support, links below if your in the market:
Sony A7 $1698 US @ BHPhoto (Click Here)
Sony A7 w/ kit lens $1998 US @ BHPhoto (Click Here)