You know the phrase, "learn something new everyday"?? Well today I just learned that using the e-Front Curtain Shutter is not a good idea with fast aperture lenses and fast shutter speeds… In fact it effects the image bokeh and exposure way more than I ever expected was possible. This is shocking information and I can't believe I was not aware of it till just now….
This is a must watch for those nerds out there like myself that just have to know this type of stuff 😉
I recently published my review of the 7Artisans 35mm f/0.95 Lens (Click Here for Review) and a commenter was kind enough to mention this phenomenon to me and recommended I try it out to achieve even better results.
Well, I'm going to try this out as soon as I get home later, but I found this awesome video courtesy of Manny Ortiz that basically shows exactly what happens and why you DO NOT want to use the e-Front Curtain Shutter when using a fast aperture lens at high shutter speeds…. Thanks Manny for the excellent info and demonstration!!
Why you SHOULDN'T use the ELECTRONIC SHUTTER for PORTRAITS!
e-Front Curtain Shutter – Switch it OFF or Leave it On?
Here is another great video on the topic that goes into a bit more detail courtesy of Mark Galer's Alpha Creative Skills.
From the Sony A6400 Manual
A found this in the A6400 manual and if you look at the Note area towards the bottom it does mention this very thing, but I honestly never noticed it before…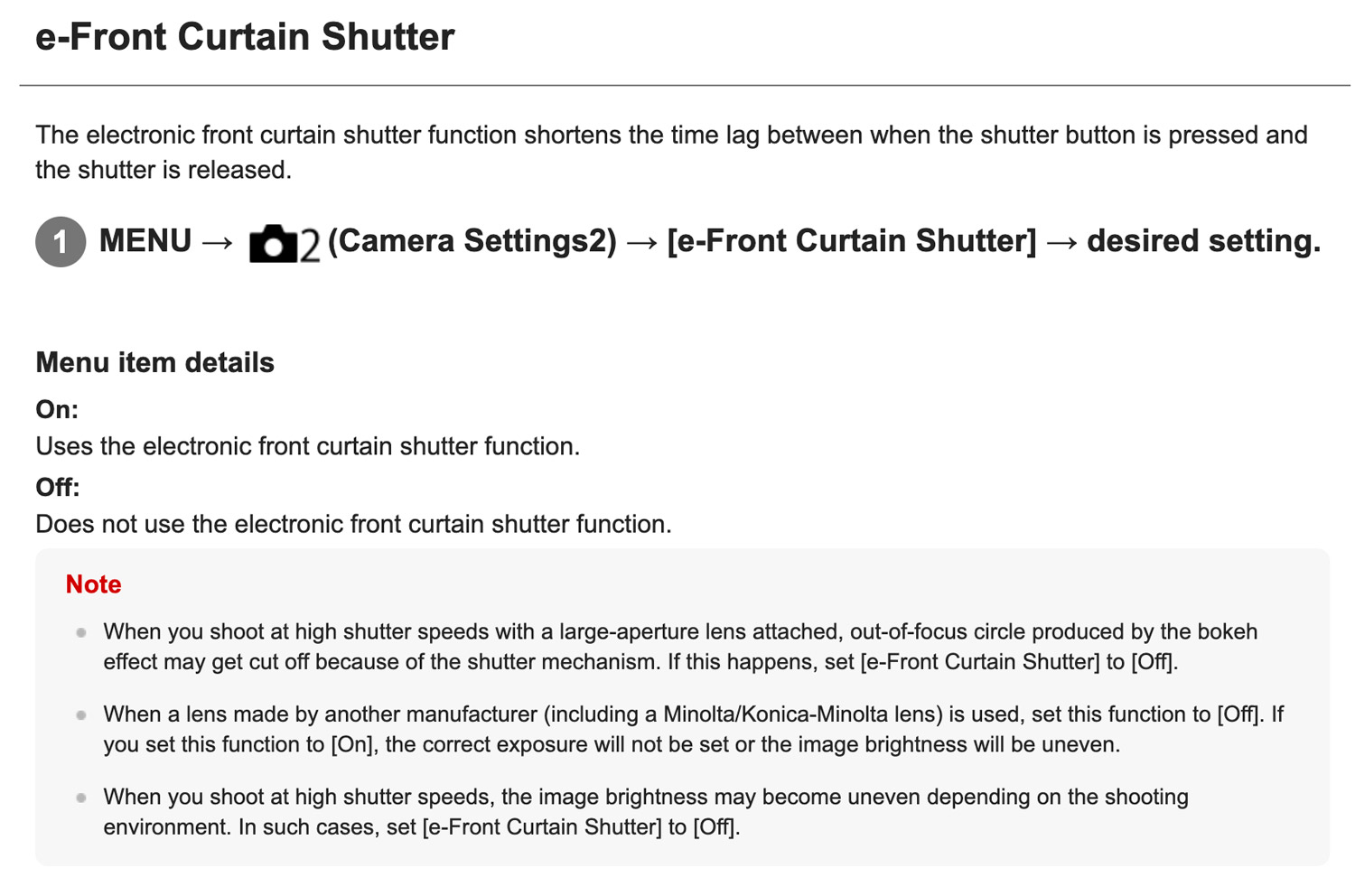 Closing Remarks
So, be honest…. Did you know about this and if so, when did you find out??
I will catch up with you all later and please have a great day! Jay