I put all the gear I got so far on the turntable for a 360 preview with informative information on each item. Starting with the Sony Nex-F3, I go over the key features and show you how the screen articulates. I then mount the ECM-SST1 Stereo Mic, and OLED Viewfinder, so you can see exactly what it looks like on the camera from every angle! Next I break out the Yasuhara Nanoha Macro Lens and show you how the LED's work and then I mount it to the Nex-F3 for closure.
I went with the turntable this time instead of the normal product photography I do, because the turntable is a little faster for me than taking all the photos and processing them. Let me know if you want to see any close-ups of anything in particular, and I'll gladly take the photos and post them up asap. I'm on-call for work this week so time is especially limited, and I apologize.
HD Video on the Turntable
Check out this HD Video of all the goods, and be sure to select the HD option in the player settings!

Sony Nex-F3
The Sony Alpha NEX-F3 Digital Camera with 18-55mm Lens is not a point-and-shoot and not a DSLR, but it holds its place in the market, intriguing those who want the flexibility that interchangeable lenses and numerous manual and creative features can give them, without having to lug around a huge DSLR body. The body is packaged along with an 18-55mm Sony lens, allowing you to start shooting right from day one.
Size aside, the Alpha NEX-F3 embodies a number of features that make it a worthy option for any connoisseur of digital cameras. First and foremost would be the 16.1Mp APS-C CMOS sensor. With 16.1Mp, your images will have lush color and impressive detail. Your options for making enlarged prints are boundless as well. Sony's Exmor APS HD CMOS technology works together with the BIONZ image processor for excellent low light sensitivity and a distinct lack of sensor noise. On the back of the body is a 3.0″ Xtra Fine LCD that boasts Sony's TruBlack screen which suppresses internal reflections. This LCD also tilts down 45° and up 80° for framing hard-to-get shots.
In addition to capturing still images, the NEX-F3's video capabilities do not disappoint. In addition to versatility in lens options, along with a small form-factor, the HD video capture is right up there in importance. Video can be recorded at 1920 x 1080 in a number of frame rates, including 60p and 24p. The camera also uses the AVCHD codec for high-quality capture, and the MP4 codec for easy upload to the Internet. The camera also sports an HDMI output for one-cable sharing of your favorite videos on the big screen (AKA: your HDTV).
When it comes to what lenses the NEX-F3 takes, Sony made it compatible with their E-Mount series of smaller, lighter lenses designed specifically for Alpha compact interchangeable lens cameras. Using optional LA-EA1 and EA2 adapters you can also attach A-Mount lenses to the camera as well. The LA-EA2 also provides Phase Detection AF as well. The mirror built-in between the two mounts directs a small portion of light to the phase detection AF sensor in the bottom of the unit, making this feature available to you when the adapter is connected.
As for shooting options and modes, the NEX-F3 has a number of them. First up is the 5.5 frames per second burst shooting mode, at the camera's full 16.1Mp resolution. This mode enables great sports and kids photos. Another notable feature is Photo Creativity Touch. This mode allows you to be creative with your photos in-camera, right on the LCD screen, in real time. Sweep Panorama and 3D Sweep Panorama modes allow for capture of scenic vistas and 16:9 (wide angle) shots as panoramas and in wondrous 3D, respectively. Among the other features you'll find Object Tracking AF, Auto HDR, Intelligent Auto Focus, iAUTO mode, and many others respectively. Among the other features you'll find Object Tracking AF, Auto HDR, Intelligent Auto Focus, iAUTO mode, and many others.
18-55mm Zoom Lens Included

With the included 18-55mm zoom lens you'll have a great all-purpose lens to get you started, right from day one
16.1 Megapixel resolution

Thanks to the 16.1 megapixel APS-C sensor, and Sony Exmor APS HD CMOS technology, the camera achieves high resolution with no penalty in low-light sensitivity or sensor noise. So you get incredible detail and gorgeous enlargements
APS-C Size HD Image Sensor

The same sensor format that Sony builds into the full-sized DSLRs–with 13 times the area of the typical point-and-shoot image sensor–APS-C makes the difference between "snapshots" and "photographs," delivering an exceptional combination of high resolution, high sensitivity and gorgeous, blurred backgrounds
Full HD 1080 / 60i / 24p Video

Record super smooth 1080 Full HD Video in either 60i or 24p frames per second. Records in your choice of 1080/60i or 24p AVCHD format, or in PC-friendly 1080/30p MP4 format
3.0″ Tiltable LCD

180° tiltable 3.0″ Xtra Fine LCD screen for easy self portraits
Photo Creativity interface

The Photo Creativity interface enables you to easily enjoy the creative expression of SLR-quality digital imaging. Changes can be combined/removed and viewed in real time on the LCD making it a breeze to make adjustments. Choose from seven different Photo Creativity functions using the convenient control wheel and center button: Picture Effect, Background Defocus Control, Soft Skin Effect, Color, Brightness, Vividness, and Self-timer / Continuous Advance
Auto Portrait Framing

Simply photograph a person and Auto Portrait Framing will save an additional, optimally framed image in portrait or landscape orientation. Combining Face Detection and By Pixel Super Resolution technologies with rule of thirds, Auto Portrait Framing provides beautifully composed and appealingly balanced full resolution portraits
Picture Effect mode

There are 11 types (15 variations) of picture effects to choose from: Posterization (Color), Posterization (B/W), Pop Color, Retro Photo, Partial Color (R), Partial Color (G), Partial Color (B), Partial Color (Y), High Contrast Monochrome, Toy Camera, Soft High-key , Soft Focus, HDR Painting, Rich-tone Mono, Miniature. Each is unique, giving you a new and exciting way to make your images and videos stand out
Clear Image Zoom

Utilizing Sony's exclusive By Pixel Super Resolution Technology, Clear Image Zoom increases the effective focal length of your lens up to 2x by digitally magnifying the center of your image with nearly imperceptible degradation. It virtually doubles the effective focal length of whatever lens you're using providing greater shooting flexibility
Built-in flash

Perfect when an extra burst of light is needed to get the shot, the built-in flash combines with high ISO sensitivity to enable shooting in just about any setting
Interchangeable lenses

Compatible with Sony's E-mount series of smaller, lighter lenses designed specifically for compact interchangeable lens cameras–opening up a world of creative options
Up to 5.5 frames per second

Capture the decisive moment in sports and get the ideal baby photo. Up to 5.5 fps continuous shooting at full 16.1 MP resolution with exposure and focus fixed at the first frame. Standard continuous shooting at up to 2.5 fps
ISO 16000 sensitivity

Capture incredibly clear low-light pictures without sacrificing detail. The excellent ISO performance is made possible by a low-noise Exmor APS HD CMOS image sensor and refined BIONZ image processor
3D Sweep Panorama Mode

Capture vast scenic vistas and 16:9 shots in spectacular 3D. As you sweep across the panorama, the camera records separate right-eye and left-eye images that make landscapes come alive on your 3D television4. Records both JPEG and MPO file formats
Sweep Panorama™ Mode

Capture expansive landscapes automatically. Press the shutter, sweep vertically or horizontally. The camera does the rest, continuously shooting images and stitching them together. Up to 23 MP image size. Up to 202 degrees maximum sweep angle (16mm focal length)
Anti-Motion Blur mode

Corrects for subject movement to capture amazingly clean and sharp images in low light. The camera leverages the large, APS-C image sensor and captures six images in a fraction of a second. Combining the data from all six creates a single image that minimizes subject blur
Hand-held Twilight Mode

Get cleaner and sharper nighttime pictures–beyond the capability of traditional cameras–without using flash or a tripod. The camera leverages the large, APS-C image sensor and captures six images in a fraction of a second. Combining the data from all six creates a single image of extraordinary detail and low noise
Auto HDR built into camera

High Dynamic Range (HDR) photography captures more scene contrast than a single exposure can handle by combining the best highlight detail from one shot and the best shadow detail from another for one incredible shot. Until recently, you needed a computer and editing software. Sony builds HDR in. Handles severe backlighting and other high-contrast scenes. Captures in a split second
Live View LCD

The LCD monitor is active full-time for composing shots. Provides a what-you-see-is-what-you-get preview of white balance, focus, depth of field, exposure and 100% framing accuracy, plus informative on-screen displays
Tiltable 3″ LCD screen

Empowers your photography with a different point of view. Tilts down 13° and up 180° to frame high- and low-angle shots that would otherwise be hit-or-miss
921K pixel TruBlack LCD screen

Sony's Xtra Fine LCD monitor features a TruBlack screen that includes a special resin layer to suppress internal reflections, increase contrast compared to conventional LCDs. Sunny Weather mode boosts visibility even further in bright sunlight
Intelligent Auto Focus

Pre-focuses as you compose the shot, further reducing focusing time to a bare minimum
iAUTO (Intelligent Auto) mode

Unifies and simplifies Sony intelligent technologies. Takes advantage of Intelligent Scene Recognition, Face Detection technology, and Optical SteadyShot image stabilization without leaving Auto Mode so you always get the best shot
On-screen Help Guide

Provides a ready-reference that explains the camera's modes and settings. It walks through the camera's operation so you get the best shot. Helps you advance from basic operation to greater sophistication
Control Wheel + Customizable Soft Keys

Unlike cameras that bristle with knobs, buttons and dials, the NEX-F3 features a simple turn-and-click Control Wheel and context-sensitive Soft Keys. It's elegant, uncluttered and intuitive
BIONZ image processor

The brain of the camera is a refined version of Sony's BIONZ image processor. Its chroma noise reduction delivers high-resolution, low-noise photos even at ISO 16000 sensitivity. Also enables fast processing for up to 5.5 fps continuous shooting of data-intensive 16.1 megapixel images, 2D / 3D Sweep Panorama modes and 6 image layering
Dynamic Range Optimizer (DRO)

Dynamic Range Optimizer improves results with backlit subjects and recovers details hidden in shadows. Settings include Auto, Level with a choice of five operating levels and Off
Accepts Alpha DSLR A-mount lenses

Using the LA-EA1 or LA-EA2 adaptor (sold separately), you can attach the full selection of A-mount system lenses, which includes 34 current models and an installed base of millions of lenses worldwide. Operational restrictions apply
25-point Auto Focus

25
sensors cover a very wide area of the scene, for accurate focusing even when the subject is far from the center of the frame
Multi-segment metering

Optimizes exposure based on 49 segments. Choice of Multi, Center and Spot metering accommodates a full range of shooting situations
Manual Focus Assist

Greatly magnifies the viewfinder image when you touch the focus ring, making it easy to get razor-sharp images. Works with E-mount lenses only
Peaking for Precise Focus

The Peaking function makes precise manual focusing much easier by highlighting the edges that are in focus in your choice of three colors (white, red, or yellow). This is especially helpful during macro or portrait photography where your focal plane can make or break your shot
RAW image capture

The NEX-F3 saves your pictures as compact JPEG files or ultra-high quality RAW files. RAW files save images prior to compression, white balance, sharpness and color enhancement. This retains maximum latitude for enhancing the image on your PC
"Background Defocus" control

Cameras with APS-C sensors take beautiful pictures because they can blur the background. That helps make your subject stand out as the center of attention in portrait photography. But you've had to know about aperture f-stops and shutter speeds. Now Sony makes it easy. Simply turn the Control Wheel one way for backgrounds in focus, the other for background defocus
Accepts image stabilized lenses

Selected E-mount lenses incorporate Optical SteadyShot image stabilization to combat the effects of camera shake. Building stabilization into the lenses enables the camera body to be remarkably thin and light
Powerful supplied software

To help you refine and manage your images, the camera is equipped with computer software including Image Data Converter SR, Image Data Lightbox SR and PlayMemories Home software
Face Detection technology

The camera can automatically detect up to eight individual faces and adjust focus, exposure, white balance and flash to help deliver crisp, properly lit images of family and friends. Can prioritize children or adults
Smile Shutter Technology

Captures a smile the moment it happens. Simply select the Smile Shutter mode and the camera takes the picture automatically. You can prioritize children or adults and adjust the smile sensitivity
HDMI® output for HD viewing

Enjoy HD movies and stunning still images on a compatible HDTV. The camera includes an HDMI output. In addition, the BRAVIA Sync system works with compatible Sony BRAVIA HDTVs enabling you to control camera playback using the television's remote
Eight Scene Selection Modes

These help you get the shot by optimizing the camera for specific shooting situations. Select from Portrait, Sports Action, Macro, Landscape, Sunset, Night View, Night Portrait and Hand-held Twilight modes
Six Creative Style settings

Control how the camera processes your images with six finishing styles: Standard, Vivid, Portrait, Landscape, Sunset and B&W. You can even fine-tune contrast, saturation, and sharpness to your personal taste
P/A/S/M operating modes

The NEX-F3 offers a full range of controls from the beginner's iAUTO mode to P/A/S/M: Program, Aperture Priority, Shutter Priority and Manual. On-screen prompts help you refine your skills, build your confidence and exercise greater creative control
Anti-Dust Technology

Anti-Dust Technology helps keep the CMOS sensor clean, resulting in consistently clear pictures. First a static-free coating on the sensor's low-pass filter helps repel dust. Then vibration automatically dislodges dust from the sensor
Up to 470 Shots of battery life

Take up to 470 shots on a single charge with Sony lithium-ion Stamina battery power. Sony's InfoLITHIUM battery system enables you to see the percent of power remaining, so you can keep shooting in confidence
Dual Format Media Card Slot

For cost-effective, convenient storage and sharing of your images, the camera accepts Memory Stick PRO Duo / Memory Stick PRO-HG Duo and SD / SDHC media. Class 4 or higher cards are recommended–memory card is required and sold separately
Index and Slide Show Display

Quickly review your photos using 6- or 12-frame index views, or as an automatic slide show with fade-in/fade-out effect
Technical Specs
Camera
Lens Compatibility: Sony E-mount lens, (Sony A-mount lenses when used with LA-EA1 or LA-EA2lens adaptor)Lens Mount: Sony E-mountCamera Type: Sony E-mount interchangeable lens digital camera with built-in flash
Lens
Lens Mount Type: Sony E-mount
Aperture (Max.): f/3.5-5.6
Aperture (Min.): f/22-34
Focal Length (35mm equivalent): 27mm-82.5mm (35mm equivalent)
Filter Diameter: 49mm
Lens Construction: Metal
Lens Groups-Elements: 9 groups, 11 elements (4 aspheric surfaces) Minimum Focus Distance: 9.8″ (0.25m)
Angle of View: 76o – 29o
Aperture Blade: 7 blades (Circular aperture)
Optics
Aspheric Elements: 4 aspheric surfaces
Dimensions (Max. Diameter x Length): 62 x 60mm
Direct Manual Focus: Yes
Exterior Finish: Metal
Focus Ring in AF Mode: No rotation
Internal Motor: Yes (Stepping motor)
Lens Weight: 2.5oz (70g)
Low Noise During Movie Capture: Excellent
Maximum Magnification: 0.25x (APS-C)
Mount Material: Metal
Non-rotating Focusing Ring: No rotation
Focus Control
Focus System : Contrast-detection AF
Focus Points: 25 points
AF Modes: Single-shot AF, Continuous AF, Direct Manual Focus, Manual Focus
Focus Area: Multi Point AF (25 points), Center Weighted AF, Flexible Spot AF
Focus Sensitivity: 0 EV to +20 EV (at ISO100 conversion with F2.8 lens) Manual Focus Assist: Magnified display for precise manual focus
Focus Features: Predictive Focus Control, Focus Lock, Tracking Focus
AF Illuminator: Built-in, LED type
Flash
Flash Bracketing: 3 frames, 1/3, 2/3EV steps selectable
Flash Compensation: +/-2EV,1/3EV steps
Flash Coverage: FOV coverage up to 16 mm (in the focal length)
Flash Metering System: Pre-flash TTL Flash Metering System : Pre-flash TTL
Flash Modes: Autoflash, Fill-flash, Rear sync., Slow sync., Red-eye reduction
Flash Type: Built-in flash
Guide Number: 6 (in meters at ISO 100 equivalent)
Recycling Time: Approx. 3 sec
Imaging Sensor
Imaging Sensor: Exmor APS HD CMOS
Processor: BIONZ image processor
Anti Dust: Charge protection coating on Low-Pass Filter and electromagnetic vibration mechanism
Pixel Gross: Approx. 16.7 megapixels
Effective Picture Resolution: Approx. 16.2 megapixels
Focal Length Conversion Factor: 1.5x
Color Filter System: RGB primary color filters
Exposure
Picture Effect(s): Posterization (Color, B/W), Pop Color, Retro Photo, Partial Color (R,G,B,Y), High Contrast Mono, Toy Camera, Soft High-key, Soft Focus, HDR Painting, Rich-tone Mono, MiniatureAuto Exposure Lock: Yes (AE Lock with focus lock)Color Temperature: 2500 – 9900 k with 19-step Magenta / Green compensationCreative Style: Standard, Vivid, Portrait, Landscape, Sunset, B/W, Saturation, Sharpness D-Range Optimizer: Yes: (Auto, Level 1-5, off)
Exposure 2
Exposure Bracketing: 3 continuous exposures in 0.3 or 0.7 EV stepsExposure Compensation: +/-3.0 EV (in 0.3 EV steps)Exposure Settings: iAUTO, Program Auto (P), Aperture priority (A), Shutter priority (S), Manual (M), Sweep Panorama (2D), Sweep Panorama (3D), Anti Motion Blur, Picture Effect, Scene SelectionISO: ISO200 to 16000, AUTO (ISO200 to 3200) Metering 1200-zone evaluative meteringMetering Modes: Multi-segment, Center-weighted, Spot
Exposure 3
Metering Sensitivity : 0EV-20EV, (at ISO 100 equivalent w/ f/2.8 lens)Noise Reduction : Long exp.NR: (On/Off, available at shutter speeds longer than 1 second) High ISO NR: (Normal/Low)Scene Mode(s): Portrait, Landscape, Macro, Sports action, Sunset, Night portrait, Night View, Handheld TwilightWhite Balance Mode: Auto,Daylight, Shade, Cloudy, Incandescent, Fluorescent, Flash, Setting the color temperature, Color Filter, Custom
Advanced Features
Face Detection: Off, Auto, Child Priority, Adult Priority
Smile Shutter technology: Yes – Off, Slight, Normal, Big
Advanced User Interface: Easy-to-understand Graphic Display and on-screen Help Guide User-friendly function menu
Anti Motion Blur: 6-image layering
Auto High Dynamic Range: Yes, (Auto Exposure Difference, Exposure difference Level (1-6 EV at 1.0 EV step), off)
Photo Creativity: Yes (via iAuto Mode)
Shooting Tips: Yes
Sweep Panorama: Horizontal/vertical/3D
Recording
Media Type: Memory Stick PRO Duo/Pro-HG Duo, media SD, SDHC and SDXC memory cardColor Space: sRGB, AdobeRGBStill Image Mode: JPEG (Standard, Fine), RAW, RAW+JPEGStill Image Size 16:9: L (14M): 4912 X 2760 M (7.1M): 3568 X 2000 S (3.4M): 2448 X 1376Still Image Size 3:2: L (16M): 4912 X 3264 M (8.4M): 3568 X 2368 S (4M): 2448 X 1624
Recording 2
Panorama Still Image Size: Sweep Panorama: horizontal 12416 x 1856 (23M), vertical 5536 x 2160 (12M), Standard: horizontal 8192 x 1856 (15M), vertical 3872 x 2160 (8.4M) 3D Sweep Panorama: 7152 x 1080 (7.7M), Standard: 4912 x 1080 (5.3M), 16:9: 1920 x 1080 (2.1M)Video Format: AVCHD / MP4 (MPEG-4 AVC (H.264))
Recording 3
Video Mode: AVCHD: 1920 x 1080/ 60i (60i/24Mbps/ FX, 60i/17Mbps/ FH, 24p/24Mbps/ FX, 24p/17Mbps/ FH) MP4 HD: 1440 x 1080/ 30p (29.97 Progressive) Approx. 12Mbps (Average bit-rate) MP4 VGA: 640 x 480/ 30p (29.97 Progressive) Approx. 3Mbps (Average bit-rate) Video Resolution: MP4 HD: 1280 x 720/ 30p MP4 VGA: 640 x 480/ 30pAudio Format: MPEG-4 AAC-LC
LCD Display
LCD Type: 3.0 TFT Xtra Fine LCD (921,600 pixels) w/TruBlack technology
Angle Adjustment: Up: Approx. 180 degrees, Down: Approx. 13 degrees
Brightness Control: Auto (-2 to +2 step sunny weather)
Coverage: 100%
Live View: Constant AF Live View
Real-time adjustment: On/off
Histogram: On/off
Peaking: MF only, Level setting: Hi/Mid/Lo/Off, (Color: White/Red/Yellow)
Grid Display: Yes (On/off)
Customization: Brightness: Auto, Manual, Sunny
Weather: blk/wht/blu/pink
Drive System
Burst Buffer: JPEG (Fine: 18 shots, Standard: 30 shots), RAW (7 shots), RAW+JPEG (6 shots)
Drive Mode: Single-shot, Continuous, Speed Priority, Self-timer, Continuous Self-timer, Bracketing
Flash Sync Speed: 1/160 seconds
Shutter Speeds: 1/4000 to 30 seconds, bulb
Shutter Type: Electronically-controlled, vertical-traverse, focal-plane shutter
Interface
BRAVIA Sync: Yes, via HDMI with compatible BRAVIA HDTV
DVDirect: Yes, via USB
HD Output: HDMI (TypeC mini)
Memory Card Slot: Dual slot: Memory Stick PRO Duo/Pro-HG Duo, media – SD, SDHC and SDXC memory card
PhotoTV HD: Yes, with BRAVIA Sync enabled HDTV and HDMI cable
USB Port(s): USB2.0 Hi-speed (mass-storage, PTP)
Software
Supplied Software: PlayMemories Home; Image Data Converter SR v4.0
Operating System Compatibility: Windows XP SP3 (32-bit), Windows Vista SP2, Windows 7 SP1; Mac OS X (v10.3-10.6)
Dimensions WxHxD
Approx. 4-5/8 x 2-5/8 x 1-11/16″ / 117.3 x 66.6 x 41.3mm
Weight
Approx. 9.0 oz / 255g excl battery & media
Approx. 11.1 oz / 314g w/battery & media
Sony ECM-SST1 Compact Stereo Microphone
Bring the audio in your videos to life with the ECM-SST1 compact stereo microphone. A perfect accessory for video recording with your a NEX-3 or NEX-5 camera, this microphone connects to the Smart Accessory Terminal and has a wind screen to help eliminate wind noise. Plus, this microphone offers selectable sound direction between 90 and 120 degrees.
Selectable directivity: Select the directivity of sound from 90° to 120° .
Compact: Compact and lightweight, making it easy to carry.
Wind screen: Included wind screen to help reduce wind noise
No batteries required: Microphones derives power from the camera body.
Technical Specs
| | |
| --- | --- |
| Compatibility | Alpha NEX-3 with 18-55mm Lens, Alpha NEX-3 with 16mm Lens, Alpha NEX-5 with 18-55mm Lens, Alpha NEX-5 with 16mm Lens |
| Operating Temperature | 32° to +104° F (+0° to +40° C) |
| Dimensions (Approx.) | 2-7/8 x 2 x 1-1/8 in (72.8 x 50.2 x 27mm) |
| Weight (Approx.) | 1.5 oz ( 40g) |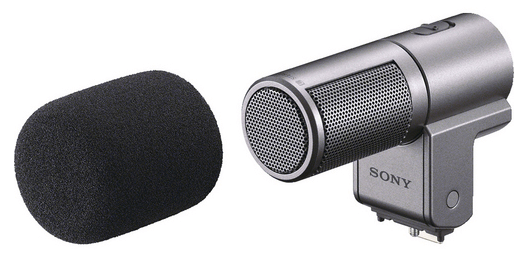 Sony OLED Electronic Viewfinder
The Sony adds an XGA OLED viewfinder with high resolution (2359K dots) and with high contrast ratio (3,500:1). Use the electronic viewfinder's eyepiece sensor for automatic display switching and for 100% field coverage with wide viewing angle. Read shooting related information for additional ease of use on the 0.5″ screen and accommodate different shooting positions by smoothly tilting the screen from 0 to 90 degrees away from the camera body.
XGA OLED Tru-Finder: There's never been anything quite like the XGA OLED Tru-Finder Electronic Viewfinder. For size, speed and brightness, this is a gem. This eye-level, through-the-lens, viewfinder begins with approx. 2,359K dots for amazing resolution and high contrast ratio for incredible depth
High Contrast Ratio: The high contrast ratio provides beautiful viewing in rich color with deep blacks
Information Display: The viewfinder can also display shooting related information for additional ease of use
Adjustable Angle: The EVF can also smoothly adjust from 0 to 90 degrees from the camera body to accommodate different shooting positions
Approx.100% field coverage: The 0.5″ screen displays approx. 100% of what the sensor is reading for sure framing and composition
Technical Specs
| | |
| --- | --- |
| Diopter Adjustment | -4 – +1 diopter |
| Field of View | 1 |
| LCD Type | OLED Tru-Finde |
| Angle Adjustment | 0 to 90 degrees (vertical) |
| Dimensions (W x H x D) | 1-1/16 x 1-3/8 x 1-5/8 inches ( 26.2 x 34.5 x 40.4mm) |
| Weight | 1.0oz (26g) |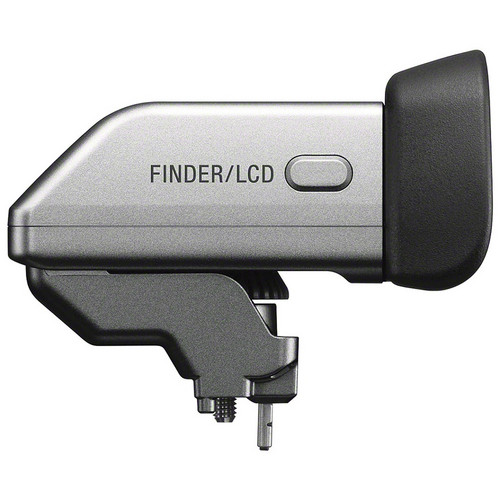 Yasuhara Nanoha Macro Lens 5:1
The Yasuhara Nanoha Macro Lens 5:1 for Sony E Mount (NEX) gives you a true macro lens for photographing at 4:1 or 5:1 magnification. A removable lighting module has 3 LEDs for lighting very small objects – this is usually necessary because the lens itself is so close as to block light from the subject. Also included are 4 plastic holders, which can be mounted to the front of the lens to maintain a steady distance between lens and subject. These plastic holders can be easily modified by cutting them to fit your subject. Ten coated spherical lenses in seven groups reduce reflection and the sturdy mount is made of steel. Focusing range is 0.43-0.78″ (11-19 mm).
Macro lens offers 4x to 5x magnification
Removable 3-LED lighting for successful macro lighting
Focusing range of 0.43-0.78″
Four plastic attaching frames for photographing very small objects without a tripod
| | |
| --- | --- |
| Compatibility | Sony E Mount (NEX) |
| Groups | 7 |
| Elements | 10 |
| Focus Range | 0.43-0.78″(10.92 -19.81 mm) |
| Magnification | 4x to 5x |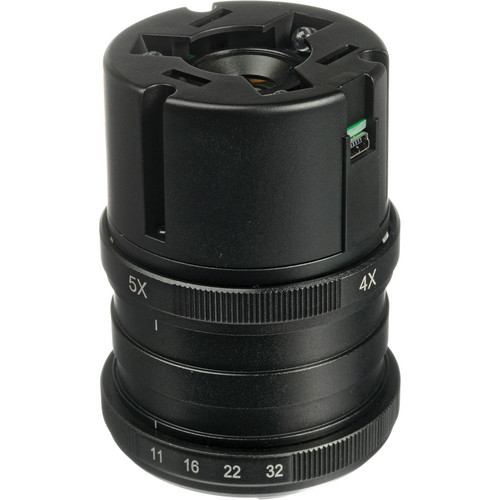 Closing Remarks
As you can see the gear looks pretty nice and I hope the turntable footage was cool to watch, otherwise I'll just do my normal product photography from now on 😉 Let me know please!
I'll be taking photos from no on, so stay tuned for some sample macro shots and sample photos using the kit lens.
Also the RX100 and the New Sony E-Mount 18-200mm are are the way and should arrive early next week 😉
Have a good day!!
Jay