90
Top Quality Bridge Style Camera
The Sony RX10 could be the best all in one camera ever made and in this review I will cover everything you need to know in detail! I have lots tons of sample photos, sample video, and hands-on experience to share. I also have a Sony RX10 video review if you don't feel like reading all the text, just scroll down a bit for that.
Best All In One Camera Ever Made?
I know that is a crazy bold statement, but the Sony RX10 really is that good in my opinion! After using it for about two weeks, not only do I want the camera for myself, but it is the best point and shoot style camera I ever used to date! The RX100 was the previous best point and shoot camera I ever used. The RX100 II fell a little short, and the full frame RX1 is just to limiting with the prime lens in my opinion. Don't get me wrong, they are great cameras also, but not in the same league as far as Best All in One Camera. It really needs to be able to do everything and do it well! How many people do you know that want the best camera possible, but have no idea what to get? Well the Sony RX10 is the best camera you can get if you don't want a DSLR, but want all the power and flexibility of one. I'll show you first hand what I mean in the video review and sample photos below. Traditional all in one cameras have to sacrifice something. Usually a smaller sensor for mega zoom, and a larger sensor will have a small zoom or prime lens. A compromise is always going to be happen, and the engineers have to decide what to slash and what to keep. This has basically lead to manufactures going for the super zoom bridge style point and shoot cameras, the ultra compact style, and the rangefinder style. 
The bridge camera traditionally has a small sensor, and the ultra compact usually has a small sensor and small body. The newer rangefinder style point and shoots tend to have lager sensors, but the lens is either a fixed prime, or a small range zoom. This left void in the market that was thought to be impossible to fill. Sony engineers are amazing and they saw something that nobody else did and jumped all over it with the RX10. This camera can do it all, and do it well! An engineering marvel of a camera and Sony should really be extra proud of this amazing all in one camera. If I could give it higher than 5 stars I would. I honestly have not been so excited using a camera since when I first got my Nex-6 and when I first got the RX100. The Nex-6 was exciting because it was mine mostly, but the RX100 was just an amazing camera on every level. The RX10 is the same way for me, but on another level. It's a much more versatile camera than the RX100 II, and the separation you can get from the backgrounds makes all the difference in the world for portrait type shots. I'm a huge fan of zooming in on stuff just to see the out of focus areas. It's like a drug… Bokeh addiction I guess it would be called 😉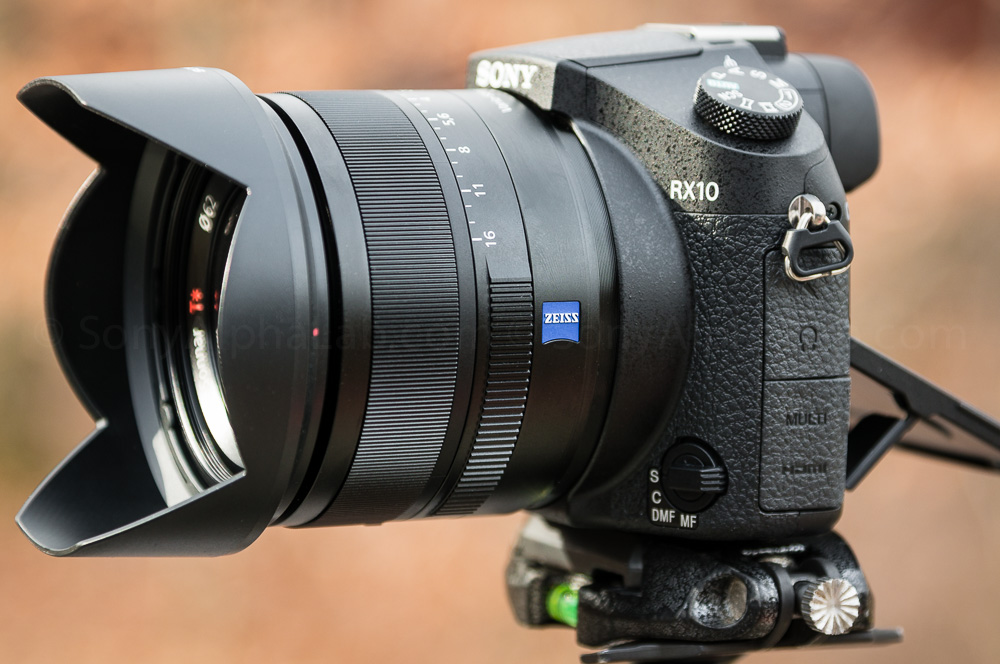 So What Exactly Does the Sony RX10 Offer and Why the Hype?
Key Features:
20.2MP 1″ Exmor R Sensor we know and love
BIONZ X Image Processor
A constant f/2.8 Carl Zeiss® Vario-Sonnar T* 24-200mm lens (8.3x)
Strong and rigid Magnesium alloy chassis
3″ 1228K-Dot Tilting Xtra Fine LCD
XGA OLED Electronic Viewfinder
Click-less aperture toggle switch
Built in ND Filter
Multi Interface Shoe and on camera flash
Zoom toggle or lens control ring zooming
Audio In/Out ports, HDMI and USB
Lots of manual buttons and a exposure comp dial
Super Sonicwave Motor for Fast Autofocus
Pro style menu system
Full HD 1080i/p Video at 60 and 24 fps
Active Steadyshot for video = extra smooth
ISO 125 – 12800
Uncompressed HDMI Out
Buttons are highly customizable
Fn Menu – Quick access to your 12 most important features
excellent ergonomics and design
Illuminated LCD panel on the top of camera
Built-In Wireless and NFC Connectivity
Incredible versatile and easy to use
All in One point and shoot convenience
Expand camera options w/ PlayMemories Apps
All this for ~$1300 US @ BHPhotoVideo (Click Here)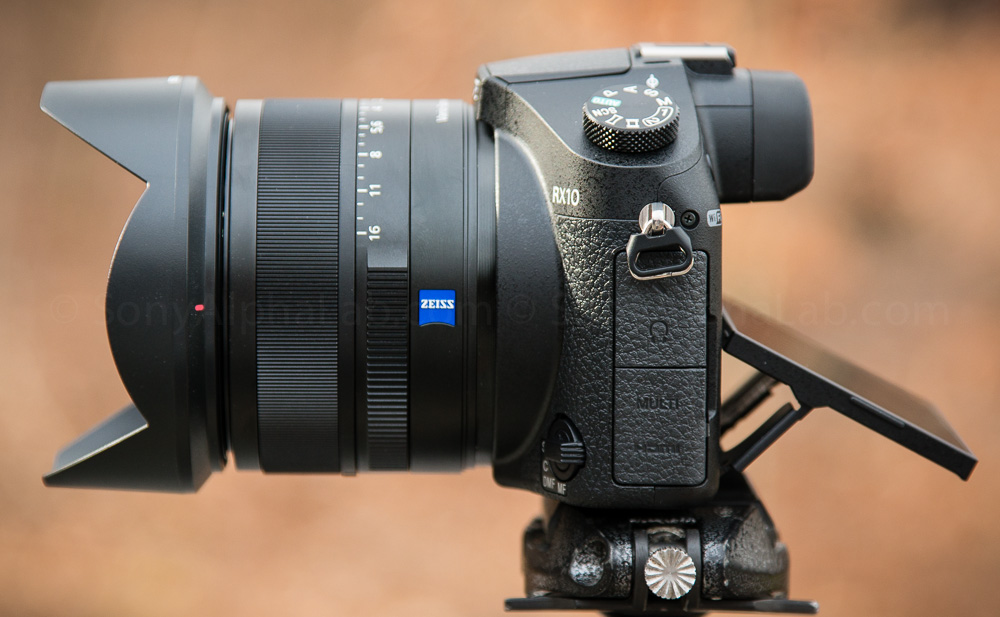 At $1300 US your money is not being wasted on gimmicks, but actual quality hardware, optics, and engineering design! Sony really created another masterpiece with the RX10 if you ask me and payed attention to all the details that we have complained about over the years. Did I mention uncompressed HDMI Output and a constant f/2.8 24-200mm OSS Powerzoom lens? I know I did, but you really need to consider what that would cost in the interchangeable lens camera world? Several thousand dollars basically!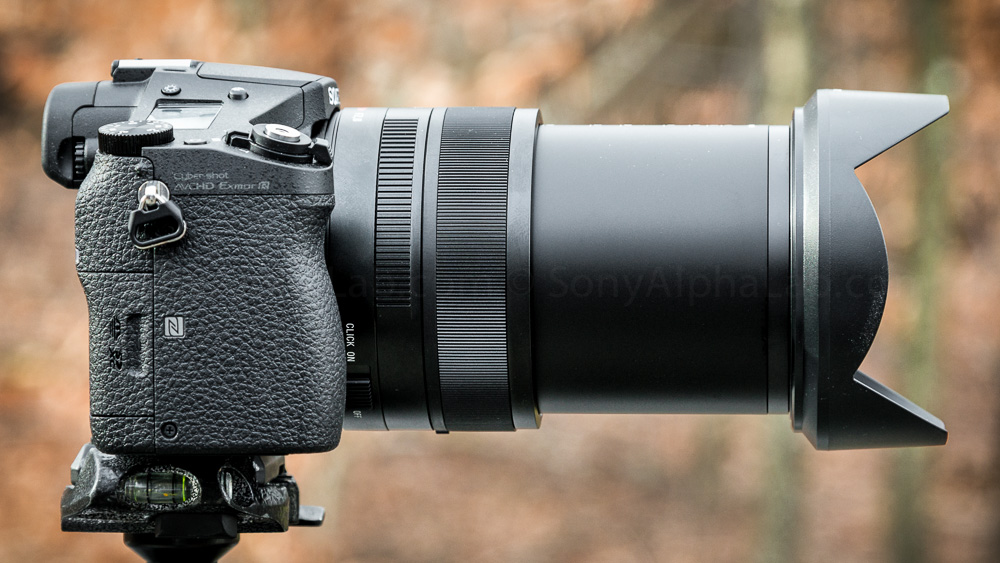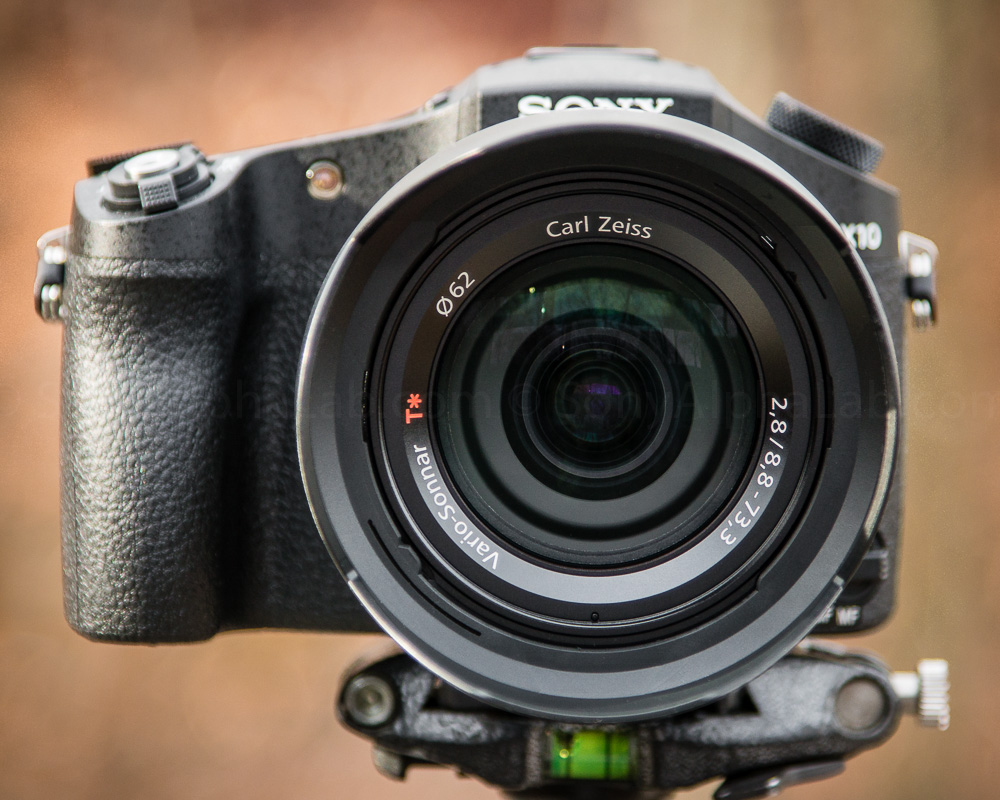 Build Quality and Ergonomics
The RX10 is very well made and offers weather sealing for those harsher environments that you might not otherwise want to use your camera in. Light rain for example and really damp fog. The RX10 is not waterproof, but the extra protection is welcomed by me for sure.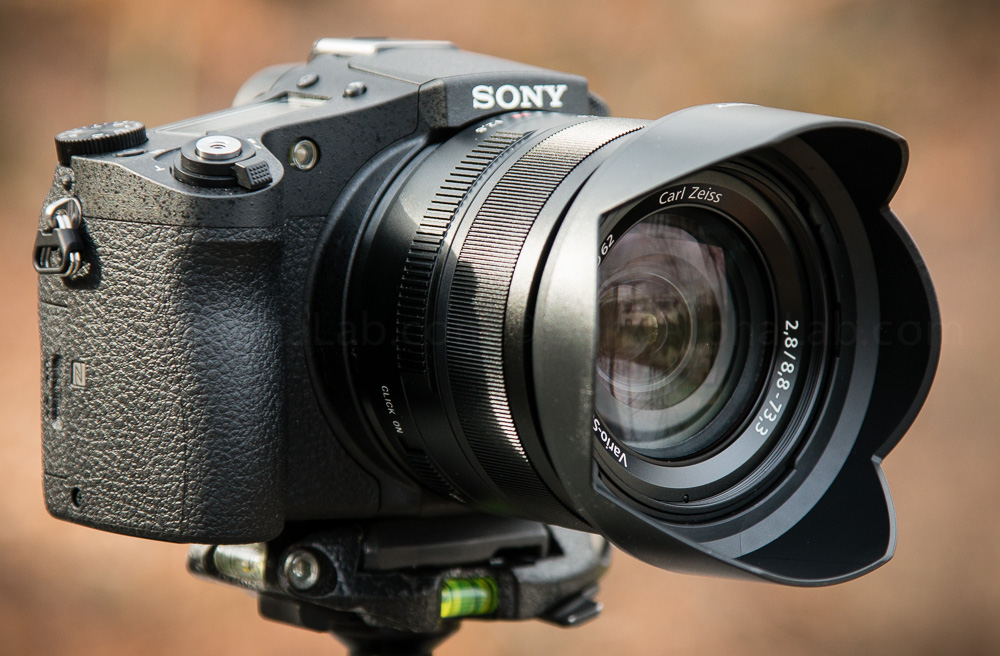 The grip is very large and fits well in my hands. The Shutter button is in the more comfortable forward position on top of the grip, unlike the Sony A7 which has the shutter button on the very op like the RX1. I just reviewed the Sony A7 (Click Here), so it was fresh in my mind and I do like the button more forward like on my Nex-6 and the Sony Rx10. Personal preference to some degree, but it also seems to feel more natural to the hand.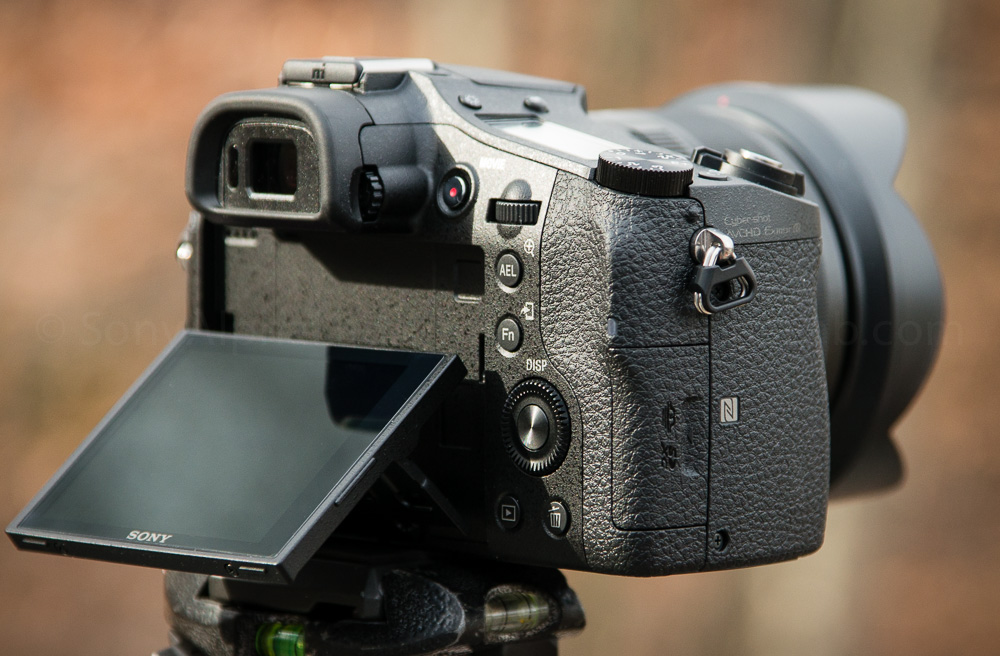 The bottoms are plentiful and highly customizable! The wheel on the back can be all set up, the Function Menu is totally customizable, and the RX10 has two memory slots on the mode dial. Great for having camera preset settings such as one for sports, and another for portraits. That is how I used it anyway 😉 Sports covers anything fast moving like the dogs, or kids playing, and I usually use shutter priority mode for that, continuous AF mode, multi-shot mode, center focus area, and usually average metering. For the portrait preset I use aperture priority mode, single shot AF, flexible spot focus area, and center weight metering.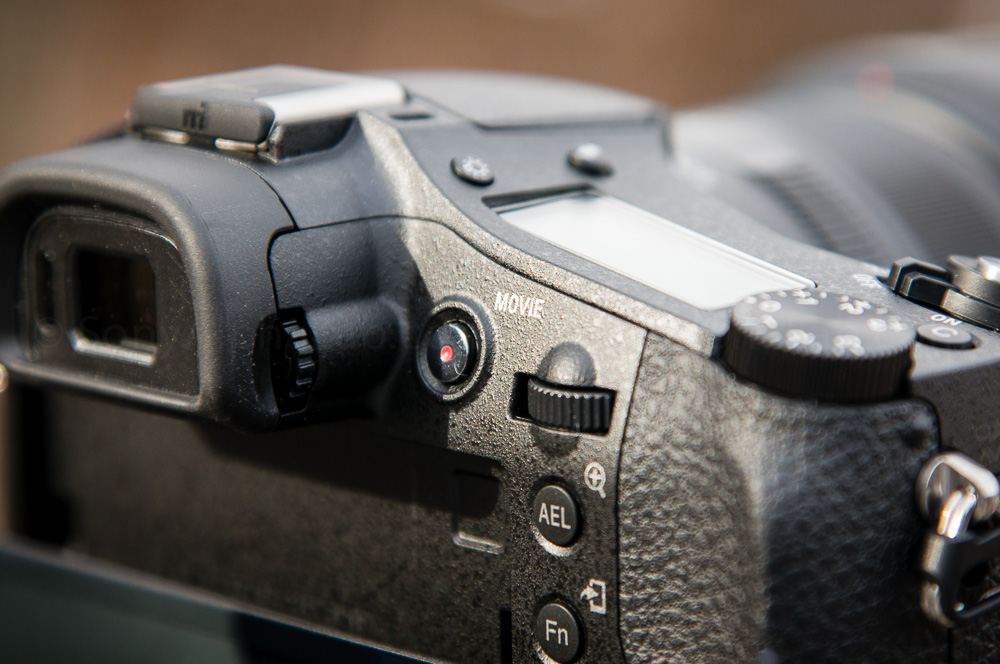 The RX10 also features a built a illuminated LCD display on the top which is nice for seeing camera settings quick, especially in the dark! It also helps save battery life and keeps you from standing out like a spot light when using the camera in the dark with the large rear screen. I used this feature a lot while reviewing the RX10, because my Canon 5D Mark II has a similar LCD panel and I love using it, although rarely these days.. The video record button is completely surrounded by a raised bevel, so no accidental presses reported while reviewing the camera. I wish I could say the same for the Sony A7 video record button, which I did hit that a few times by mistake. Check out the RX10 port side including a headphone out jack, Audio in jack, HDMI, and USB. I'm not sure what those
Sony RX10 User Manual
Sony RX10 Video Review
I really went all out for this Sony RX10 review. It took me days to produce, but was worth the effort I feel 😉  I tried to be as detailed as possible without going into snore fest category! I hope you like it, and your questions/ feedback is always welcomed…. The initial overview above covers most of the basics, so I dive into lightroom 5 to show off some sample photos. After that the review goes into  real world sample video under a variety of conditions!
Image Quality
The Sony RX10 image quality is very good, and scores a 69 according to the DXOMark sensor scores. That is excellent considering the significantly larger APS-C sized sensor packing Nex-5T scored a 78.
DXOMark Sensor Score:
DXOMark.com has some of the best equipment on the market for testing sensors and lenses. The numbers produced in their tests really can't be disputed and it's a great place to get an idea of how well your camera sensor performs compared to other cameras. RX1 vs RX10 VS Nex-5T
As you can see, the RX10 sensor does not perform at the same level of the larger APS-C and full frame sensor, as you would expect, but it still performs incredible well overall. The Sony RX10 is not in the same image quality league as the larger sensor Sony cameras, but the versatility and quality in one package is unmatched by any other camera to date despite the raw numbers. That is why I firmly believe the RX10 is the Best All In One Camera Ever Made to Date!
Sony RX10 Video Quality
The video on the Sony RX10 is excellent and offers much more than previous RX-Series cameras. In particular, the uncompressed HDMI output is killer and usually only a pro feature! The video is also sampled from the entire sensor as opposed to a cropped in portion normally used for video. This results in a much cleaner output with less visible flaws normally attributed to video from a camera like this. The included zebra stripes option is also powerful for checking your exposure levels with ease. The RX10 also has Active steadyshot for video and what this does is zoom in a bit more. Then the camera uses the extra crop room to stabilize the footage frame by frame on the fly. It's pretty amazing for hand holding purposes and helps a lot to smooth things out. In the real word it does cost a little in quality from being zoomed in that extra bit. I honestly can't really tell. The less shake made more of a difference than any quality loss I could see. If you have the active mode set to standard, the RX10 only uses the optical steadyshot and you will use the full sensor. I tried both and when hand holding I preferred have active on. When using a tri-pod I turned all the steadyshot features OFF and recommend you do the same.
Built in Microphone and Audio are very sensitive and much higher quality than the standard camera mic.  Perfect, because most people looking for the best all in one camera want better audio than the current horrible standard photography based cameras have. My Nex-6 mic totally sucks if your more than 3 feet away for example.
The RX10 also has a Audio input and monitor out jack which is fantastic for folks who want better audio quality than the camera mic is capable of. And for when monitoring the audio is critical! As good as the on camera audio is, it's really only good for reference when it comes to production type work, but the higher the quality the better. Usually the audio is sinked up in post with an alternate audio recording that was taking on scene. This is how I do my videos these days.
Getting Better Quality Video?
I'll be the first to tell you I'm not a video guy, but I have studied up a bit. What I learned recently called the "180 degree shutter rule" Basically you take whatever frame rate your recording at and double it. So, if your recording at 1080/24p, you're going to want a shutter speed of 1/50sec. This will make your video look more natural and have much less jitter. If you just allow the camera to set the shutter speed, it will usually be to fast, and that creates jitter. The camera is freezing the motion to much, and when the video plays, it looks a bit choppy. If your shooting 60p, the shutter speed should be 1/120sec. I also recommend using the lowest ISO possible! The aperture is up to you, but if you want maximum separation from the background your going to want to zoom in and stay close to your subject and use f/2.8. Sort of like the "Lab" scene above. The built in ND filter will help get the shutter speed exactly where you want it, so don't worry about that so much.
Rolling shutter is caused by panning to fast. What happens is the camera sensor reads from top to bottom. The time between reading the top and the bottom of the sensor are different. Therefore if your panning fast, elements of the scene may seem to bend in the opposite direction of the panning. To avoid this, pan slowly.
Moire' is caused by really tight textures or patterns. A striped shirt for example would be bad for video where as a solid shirt would be a much better option. Brick is often a spot where you can notice this easily. Try to avoid those types of textures and patterns as much as possible is a good rule of thumb. A lot to learn about video, but these few tips should help you out with the very basics 😉 Practice makes perfect, so get out and take some video!
Sony RX10 Sample Photos
I have a ton of sample photos for this Sony RX10 review, so strap in and be sure to click on them for the higher resolution version!
Sony RX10 Lab Testing
The Lab is great for comparing one camera to another, but also showing what it can do in the real world. I designed the Lab to exploit the sensor size and lens separation abilities of the camera and lens combo. I also use the lab to test corner sharpness, high ISO testing, and color to a degree. I prefer actual real world photos, but this set-up is really good for showing you what the camera can actually do. Here is the Lab Scene so you can see what it looks like from a different perspective:
ISO Testing

@ 50mm, f/2.8 – Raw VS Jpeg

Full Scene @ ISO 100, f/2.8, 50mm, Tri-pod, self timer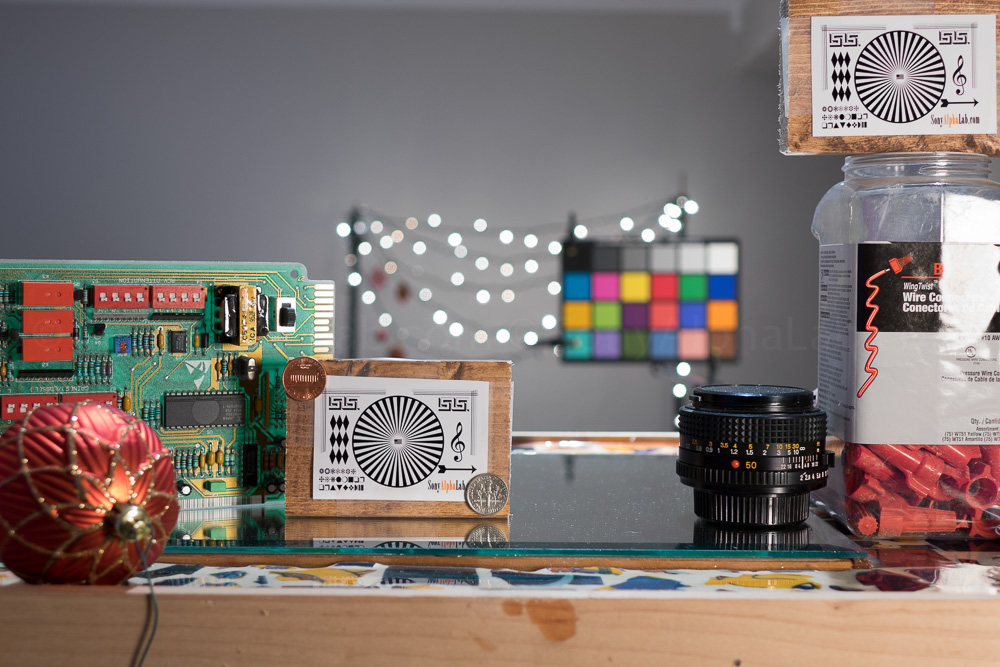 Raw
Jpeg
ISO 100

ISO 200

ISO 400

ISO 800

ISO 1600

ISO 3200

ISO 6400

ISO 12800
Sony RX10 @
200mm

– Raw Quality

At 200mm the background blur is awesome and looks much like a DSLR if you did not know any better. "DSLR like" separation from the background on a point and shoot camera is what you're seeing here and the Lab helped illustrate. Note the circular highlights until f/8 where it starts to polygon a bit. Amazing results from a point and shoot style camera to say the least. Judge for yourself:

f/2.8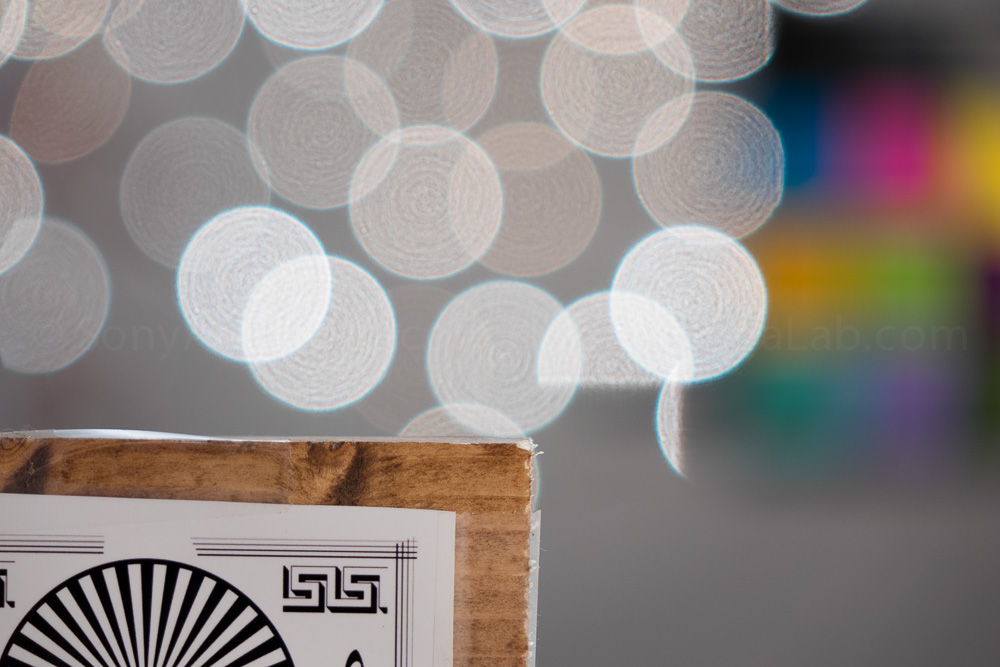 f/4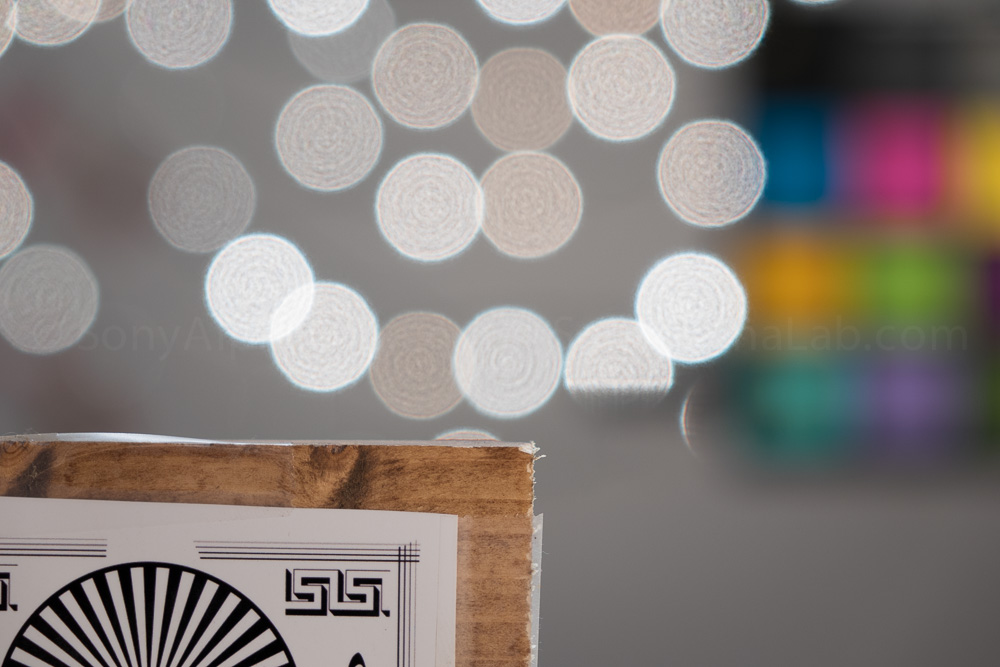 f/5.6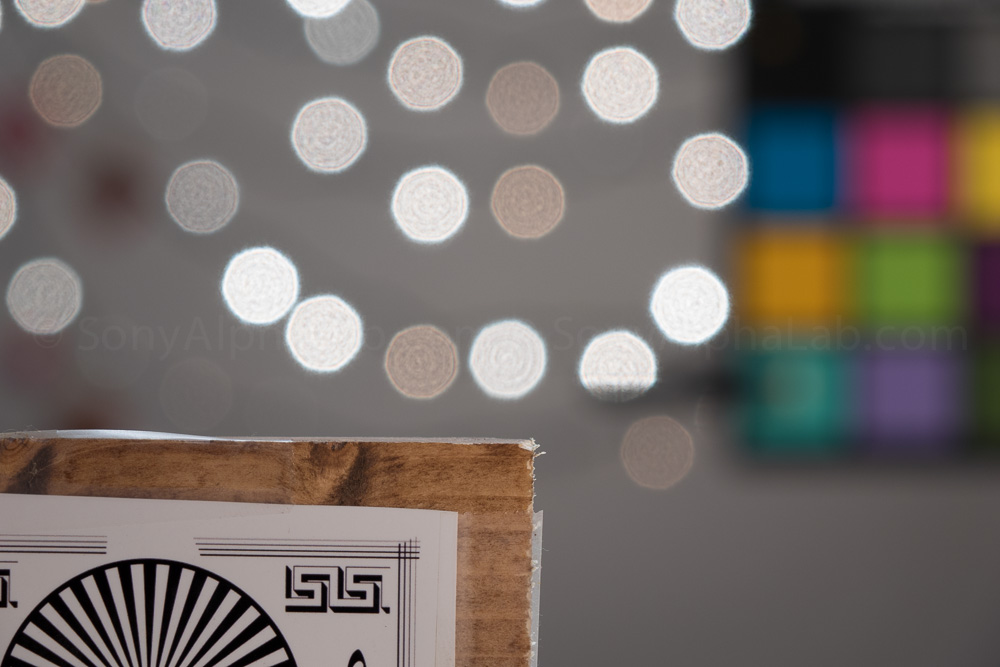 f/8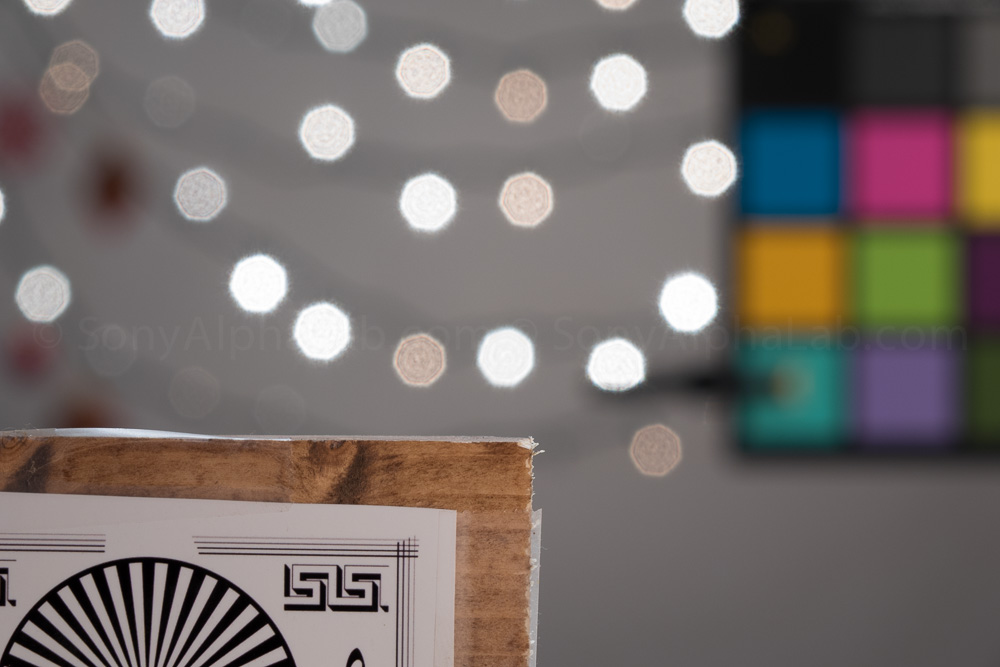 Sony RX10 @
100mm

– Raw Quality

f/2.8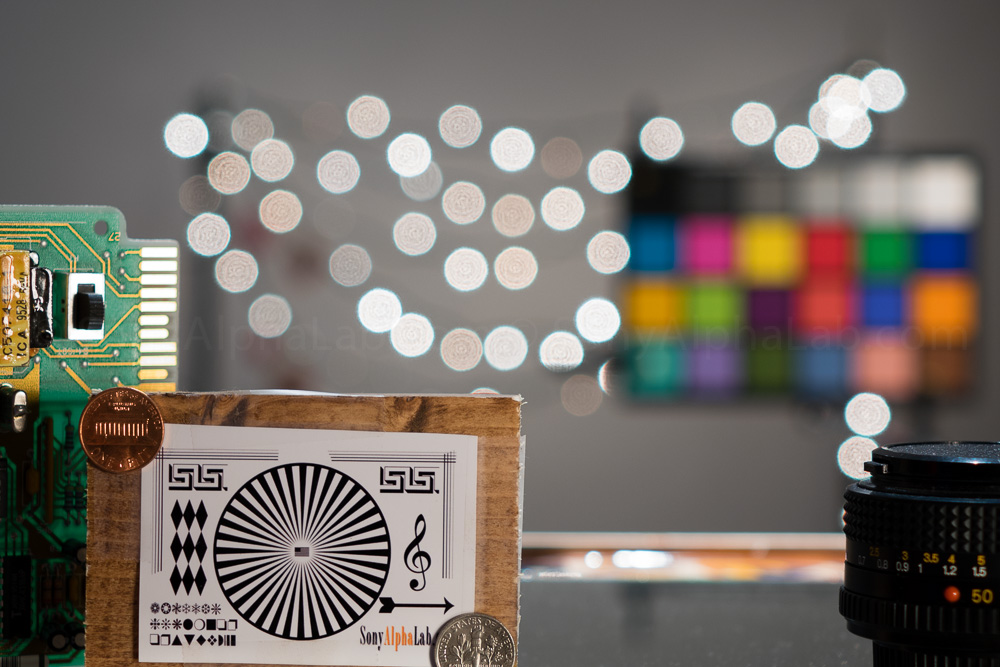 f/4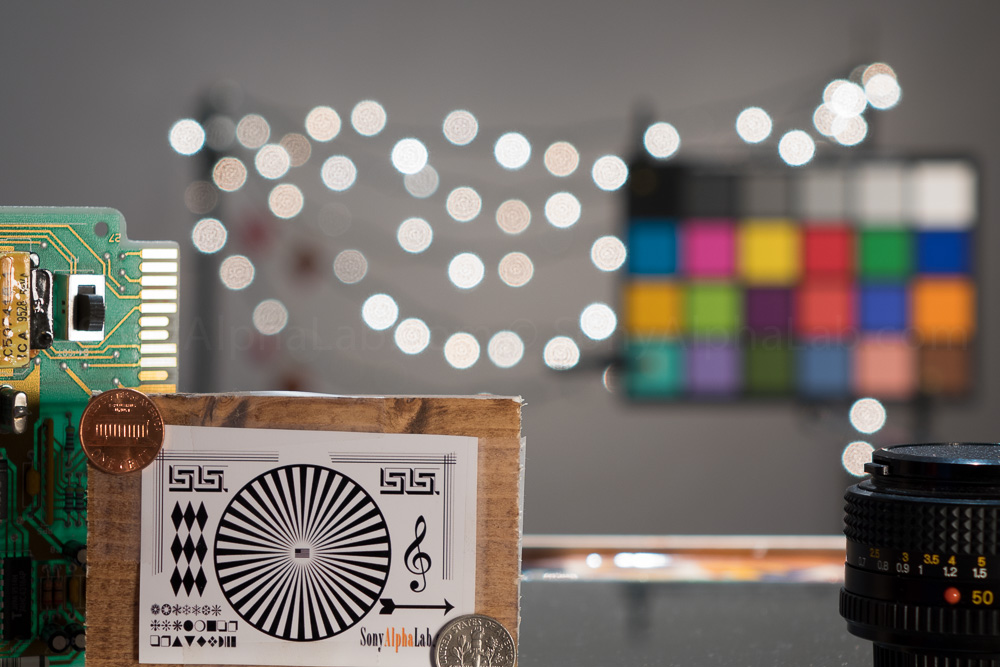 f/5.6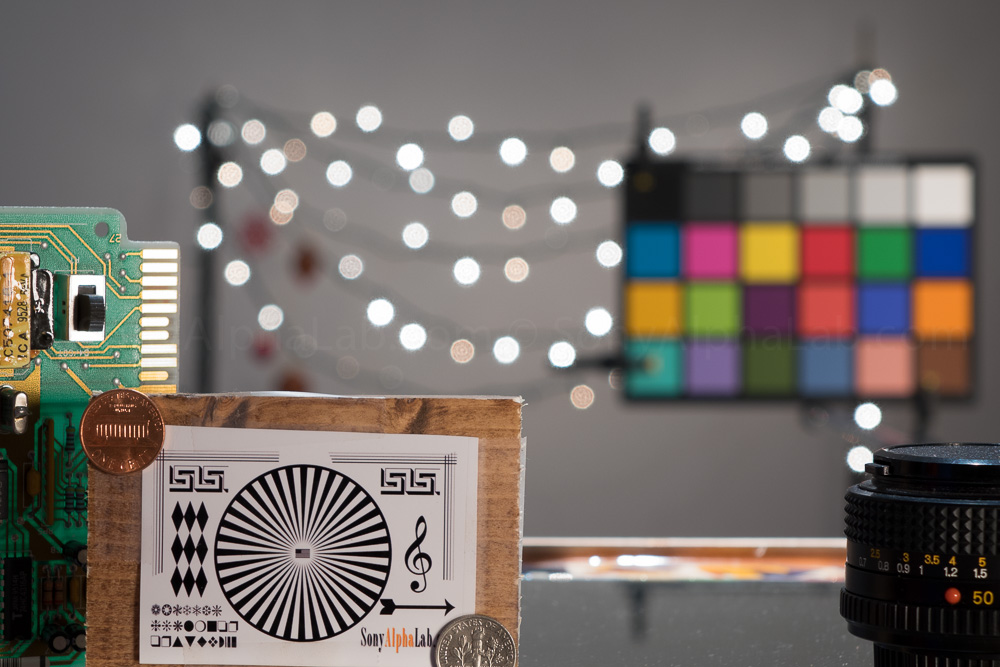 f/8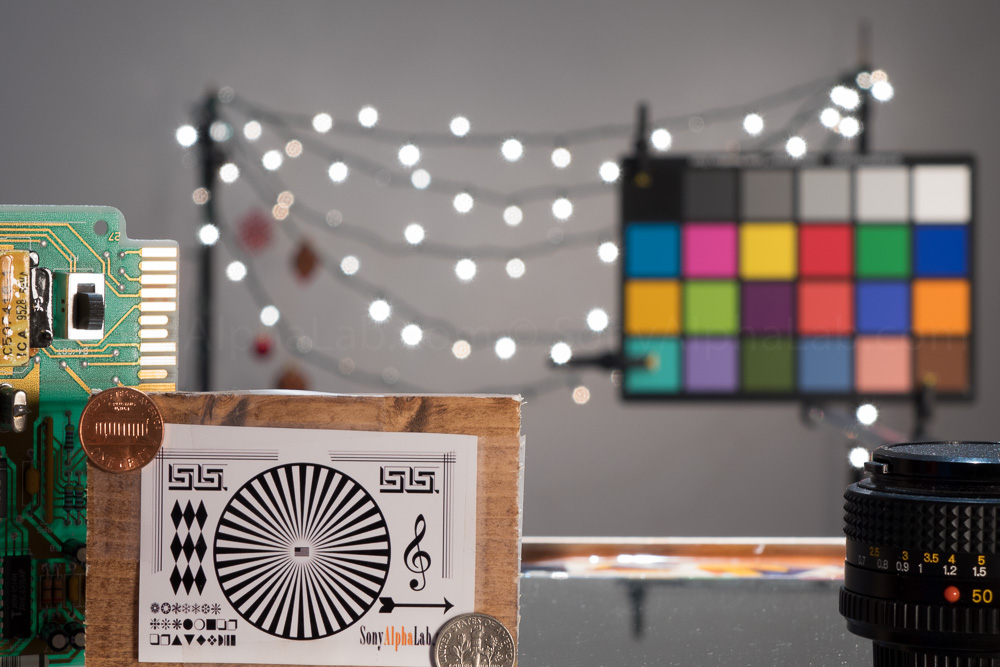 Sony RX10 @
50mm

– Raw Quality

f/2.8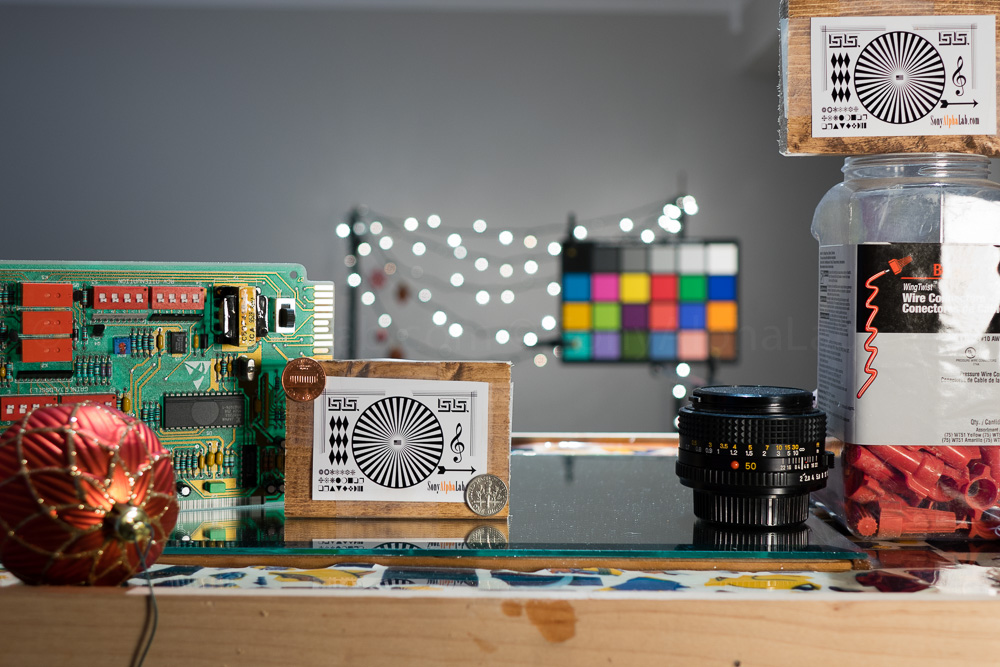 Center Area
Top Right
f/2.8

f/4

f/5.6

f/8
Sony RX10 @
24mm

– Raw Quality

f/2.8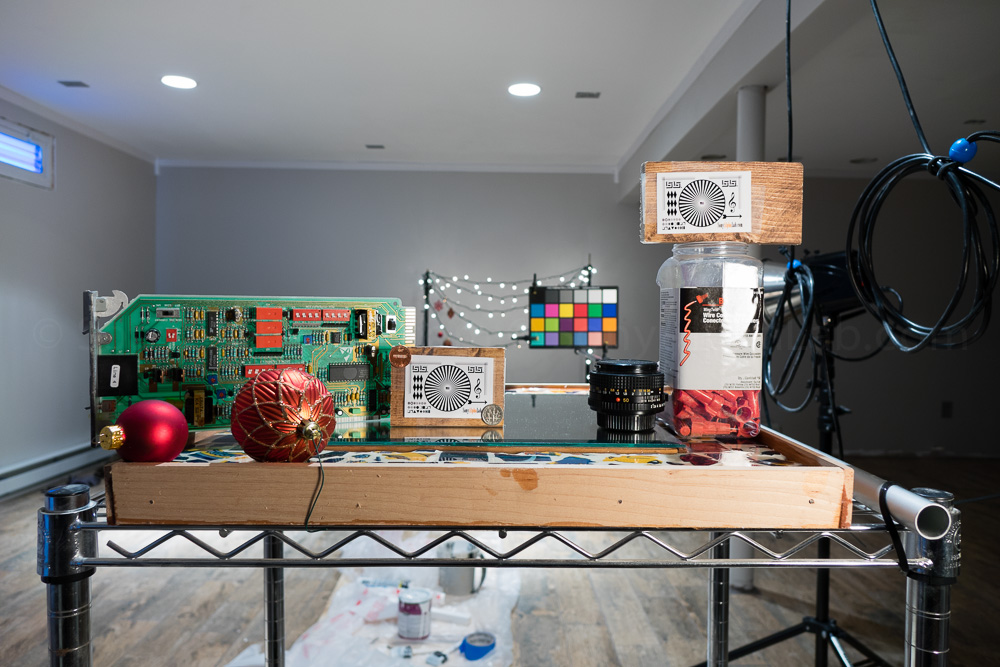 Top Left
Center Area
f/2.8

f/4

f/5.6

f/8
Sony RX10 – Real World Photography – Raw Quality
I also took a bunch of real world sample photos for my Sony RX10 review. Check out this photo I took of a heavy duty cable used for the ski lift.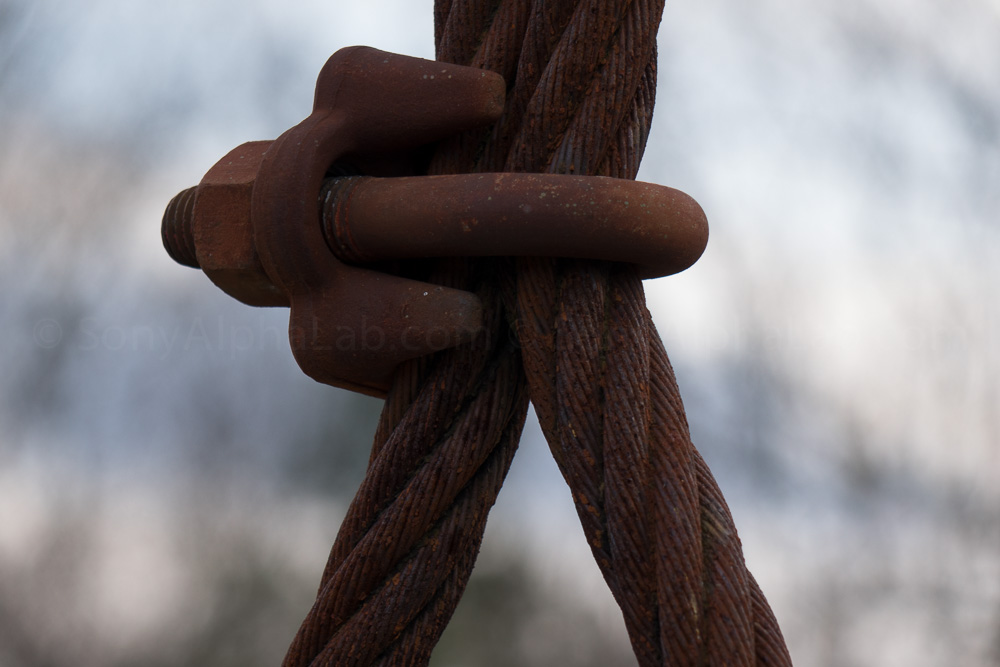 In Lightroom 5 I increased the shadows and lowered the highlights a touch to illustrate how much information is in the raw file. I would never be able to do an adjustment like this to a jpeg file. The information is compressed out when it's saved as a jpeg file. I recommend shooting raw if you have the means!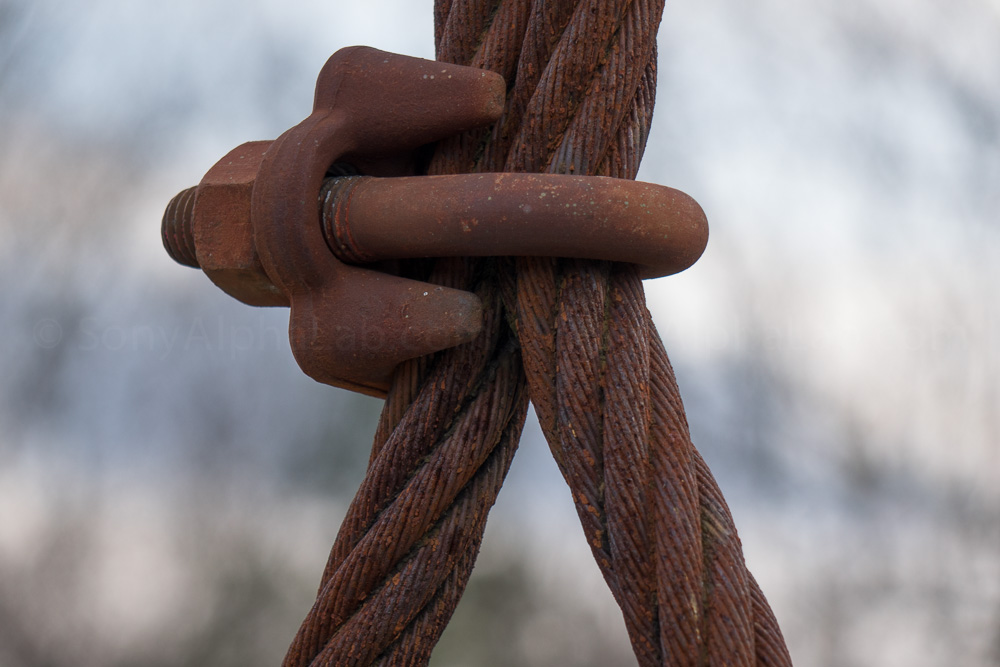 This is my favorite photo from the review and it looks like it was taken with a DSLR if you didn't know better 😉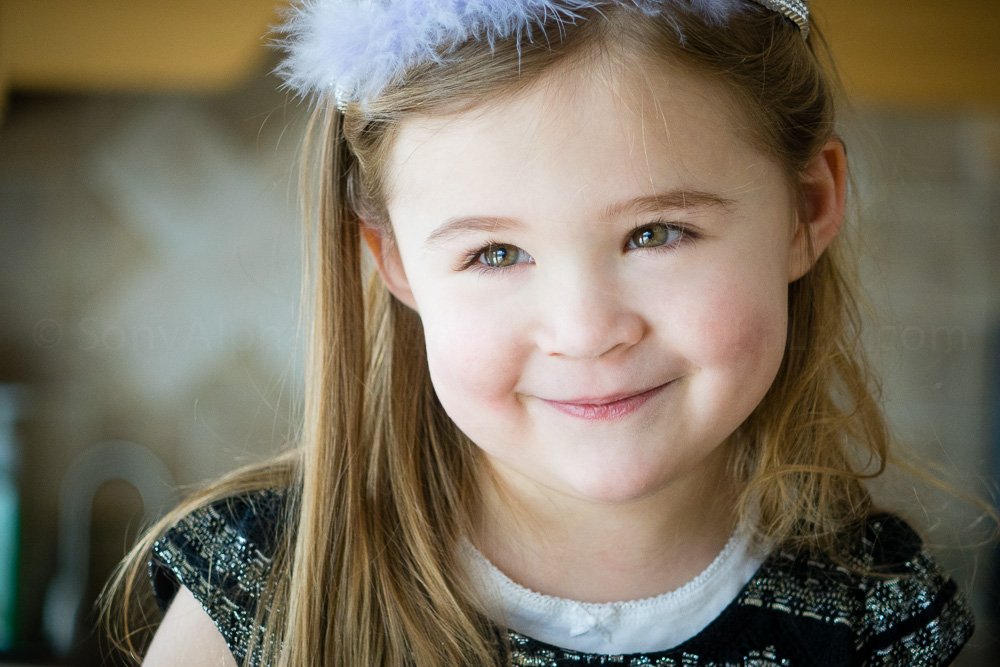 Color
Layla got a perfect test subject for Christmas. I added a medium contrast adjustment via the Tone Curve in Lightroom 5, because the raw files lack contrast straight off the camera. If you want to learn how to get the most of your Sony Raw files, check out this Lightroom 5 Video tutorial I posted the other day.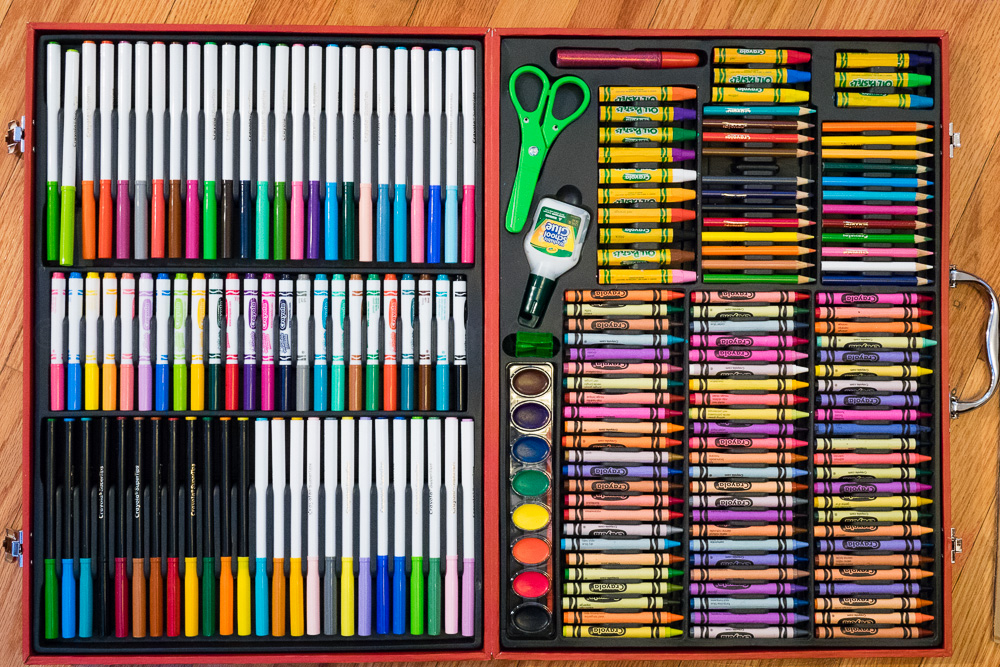 | | | |
| --- | --- | --- |
| Top Left | Mddle | Bottom Right |
| | | |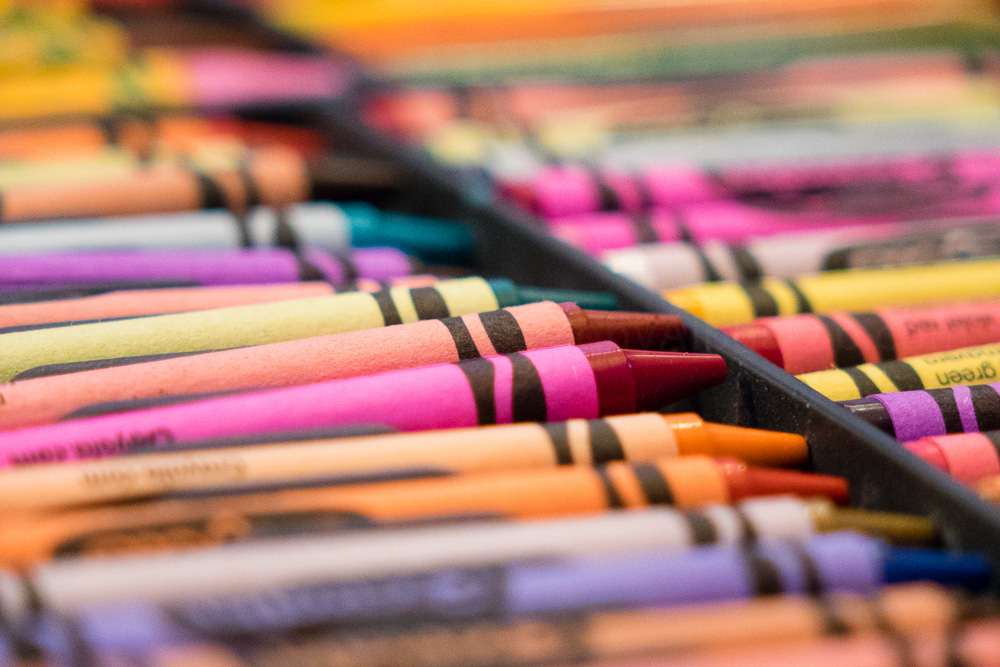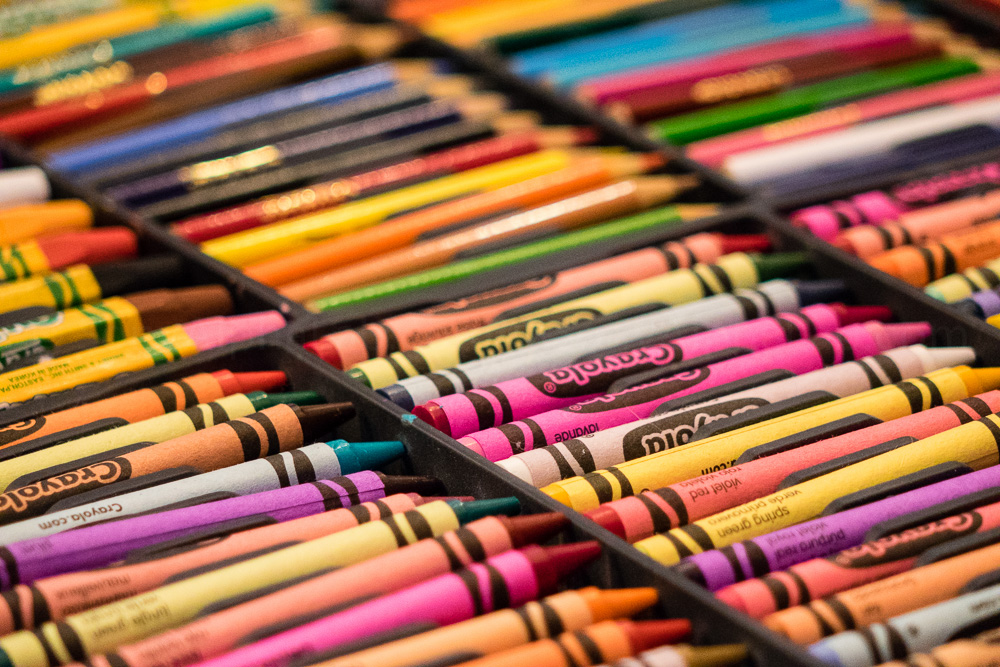 Versatility
Layla got a doll house for Christmas and from pretty much the same spot I was able to take both shots below. @ 24mm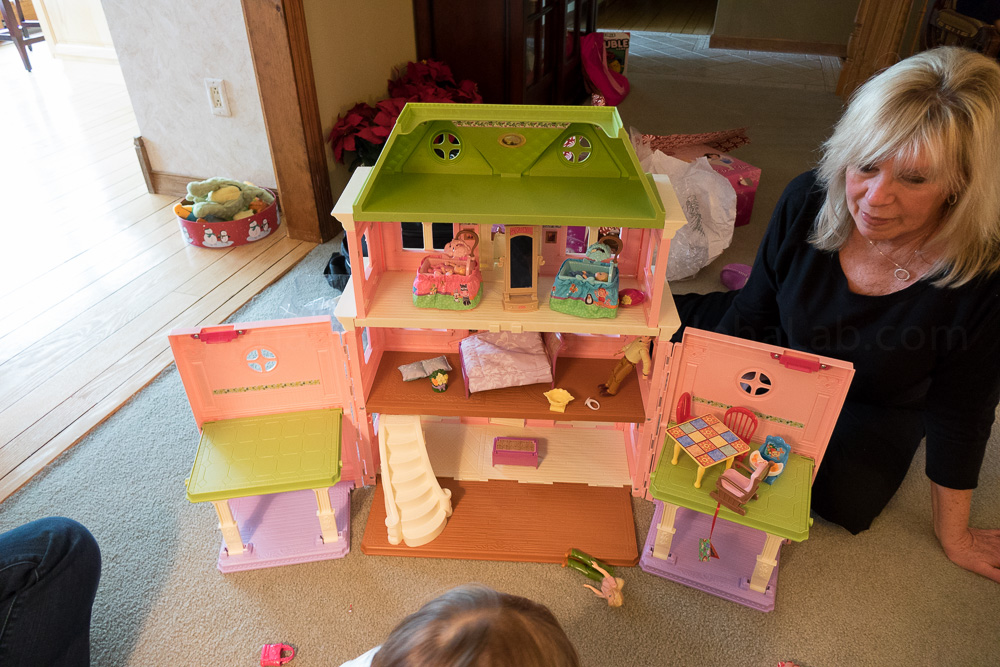 @ 124mm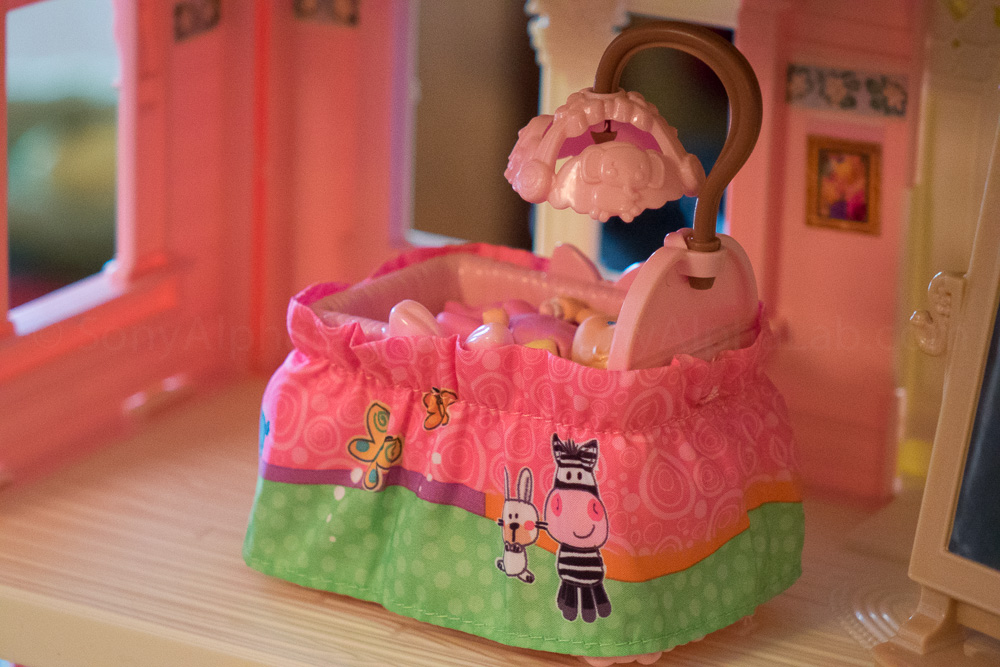 A familiar scene from earlier reviews: @24mm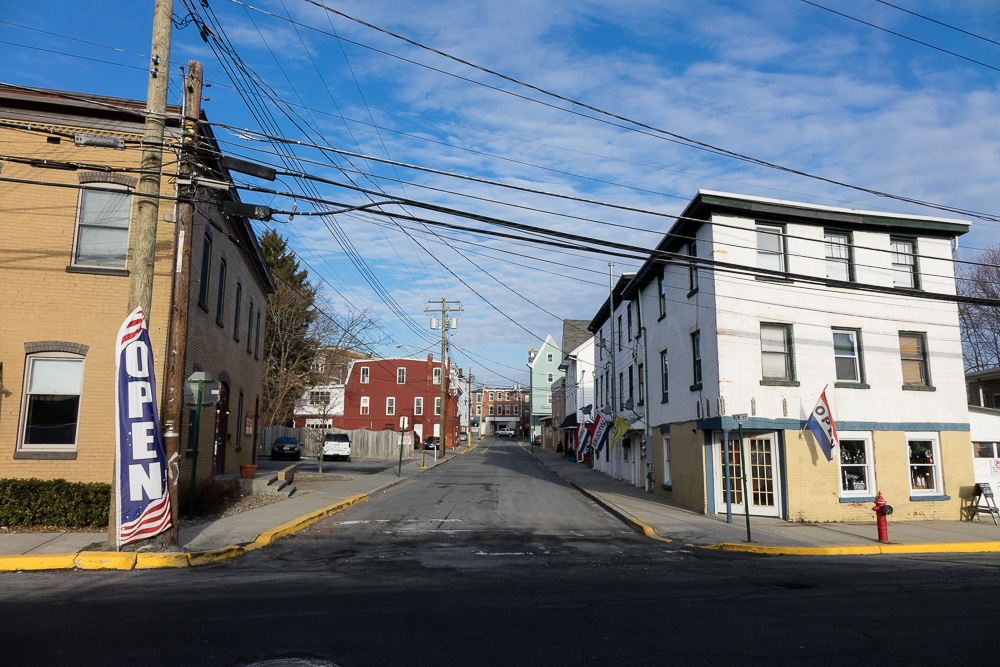 @ 200mm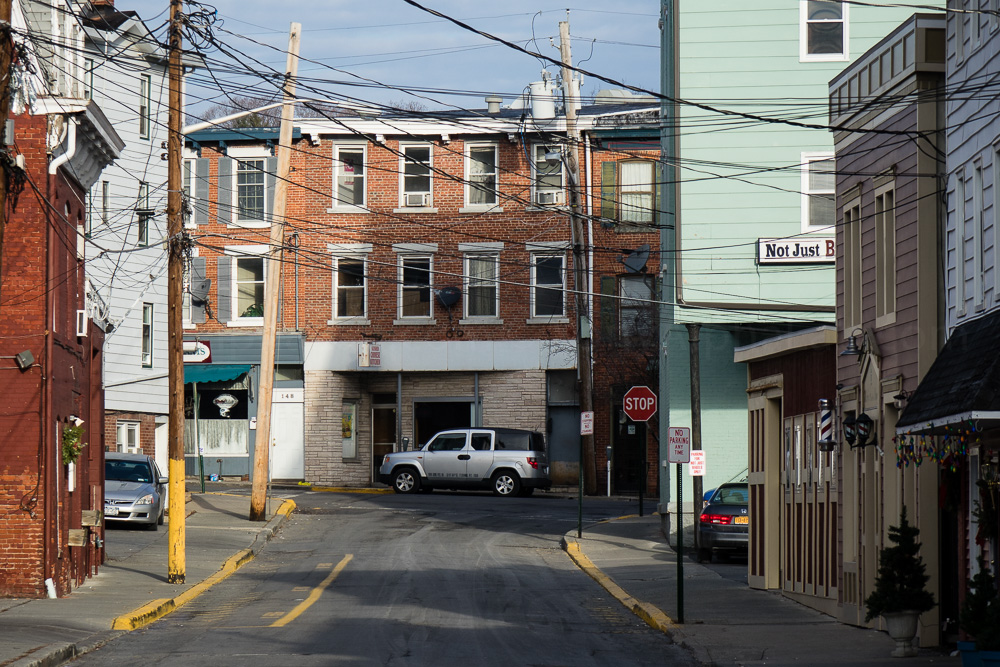 A fence really helps show off the ability to separate the background easily.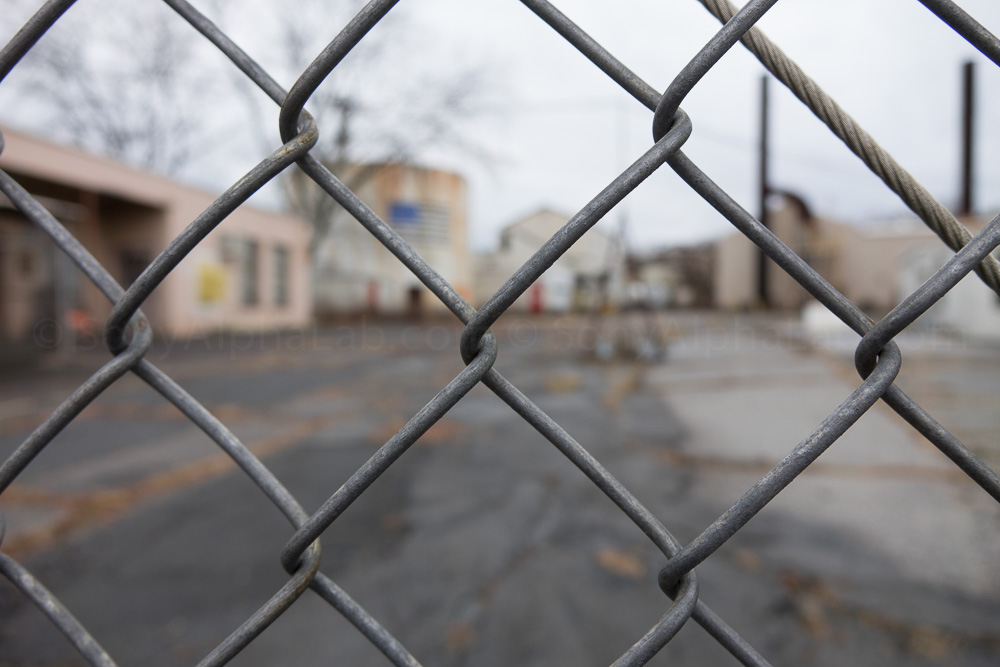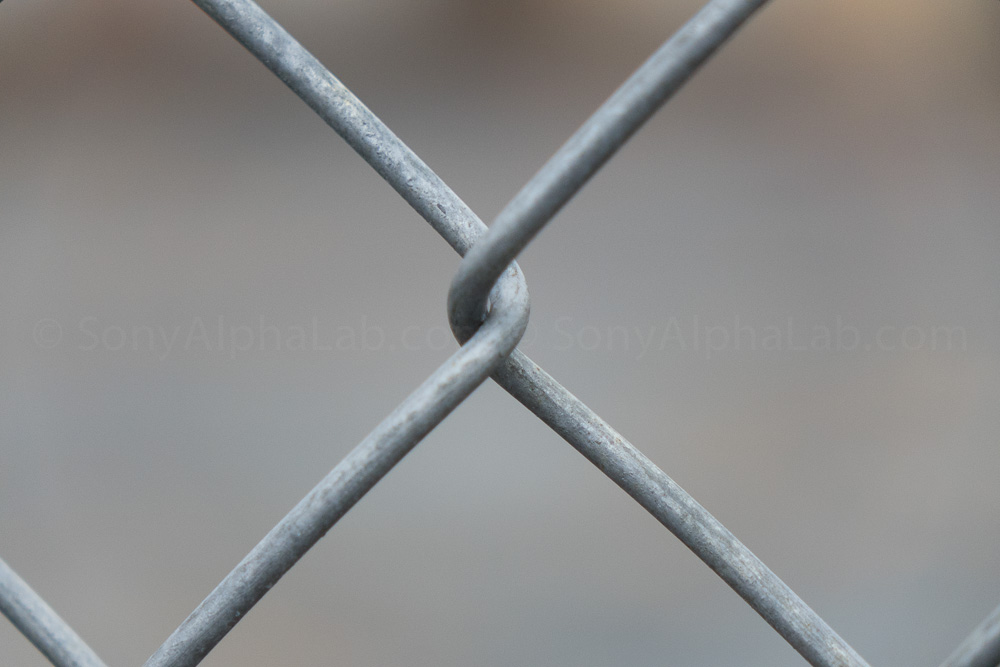 The old chemical plant is perfect for testing a zoom lens out!
@ 24mm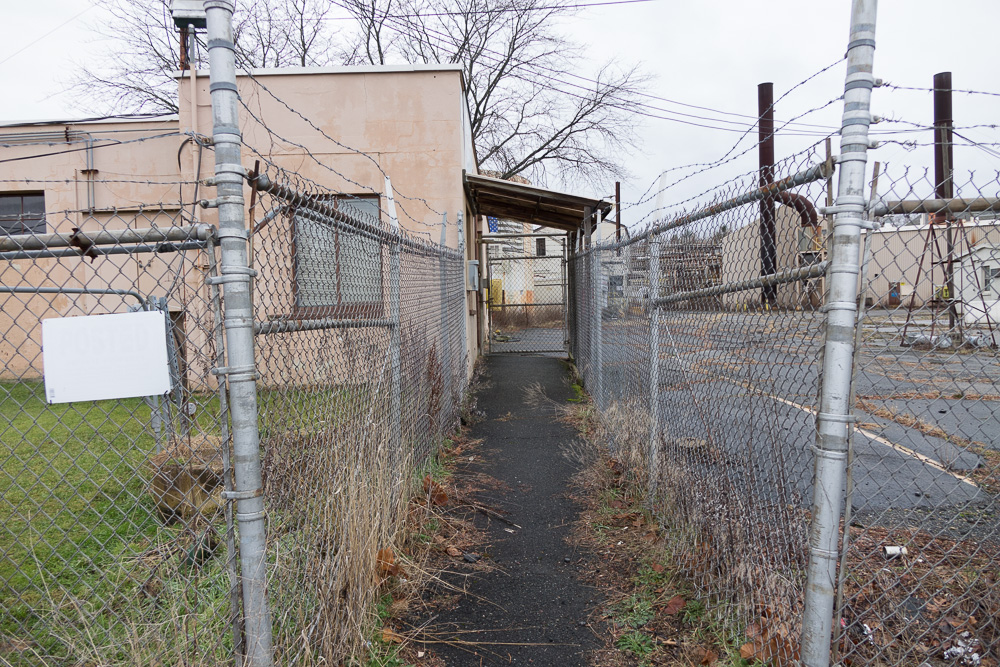 @ 100mm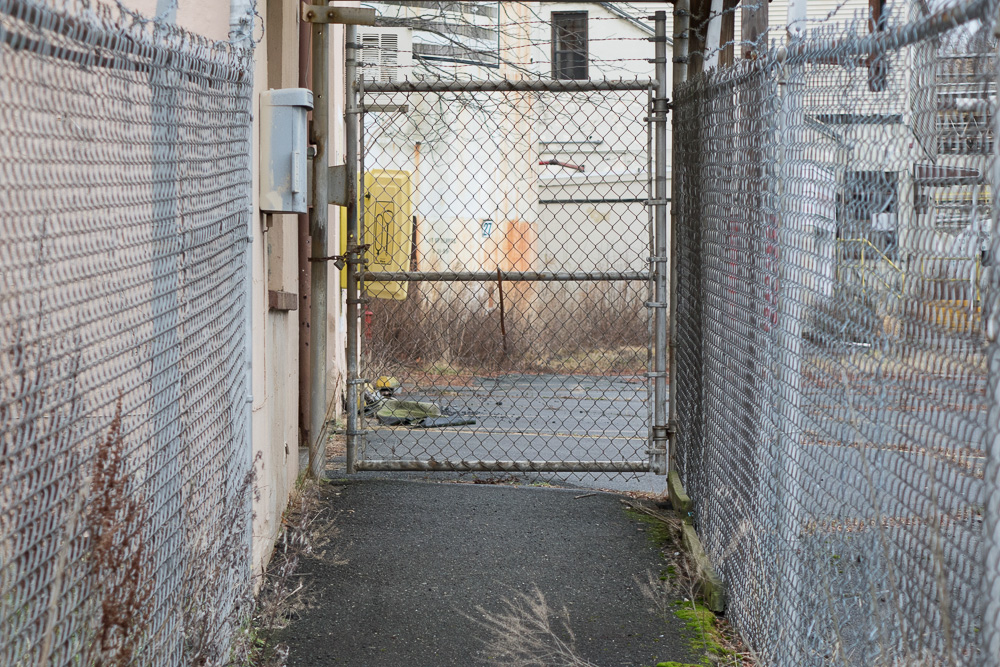 @ 200mm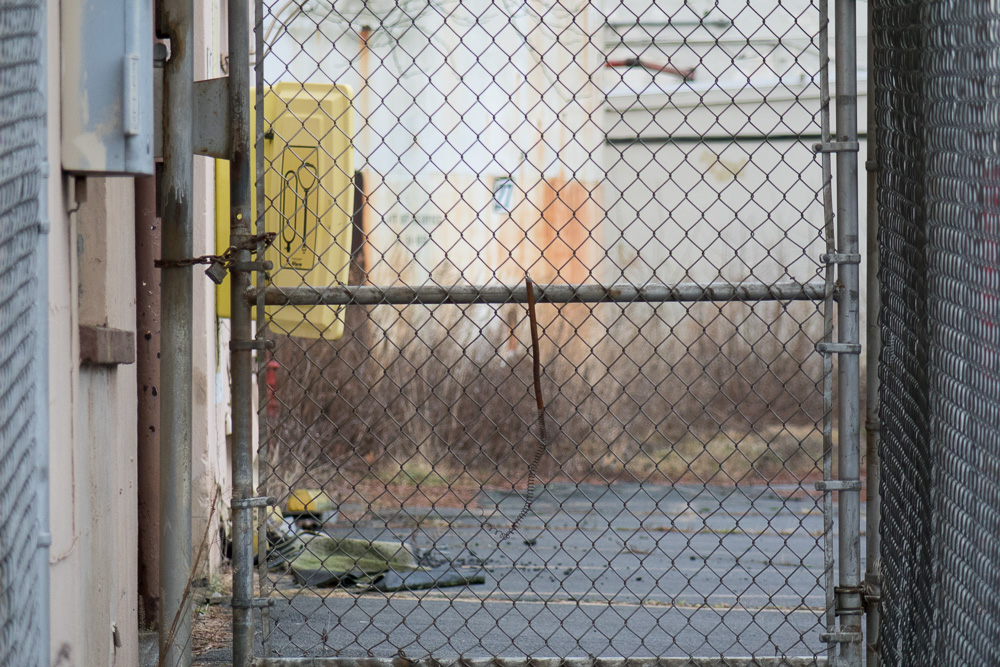 @ 48mm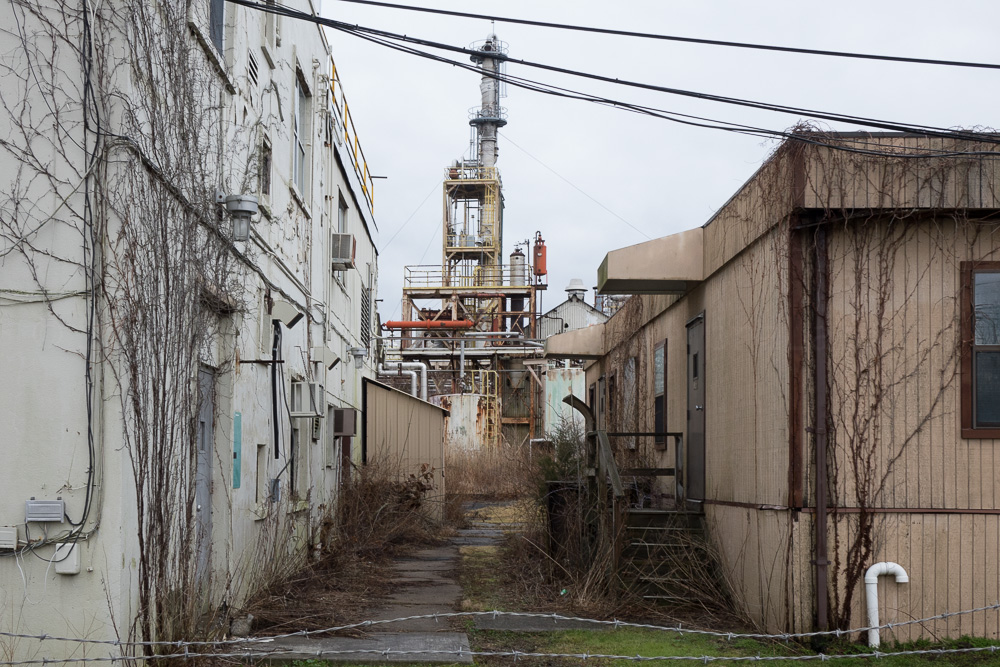 @ 200mm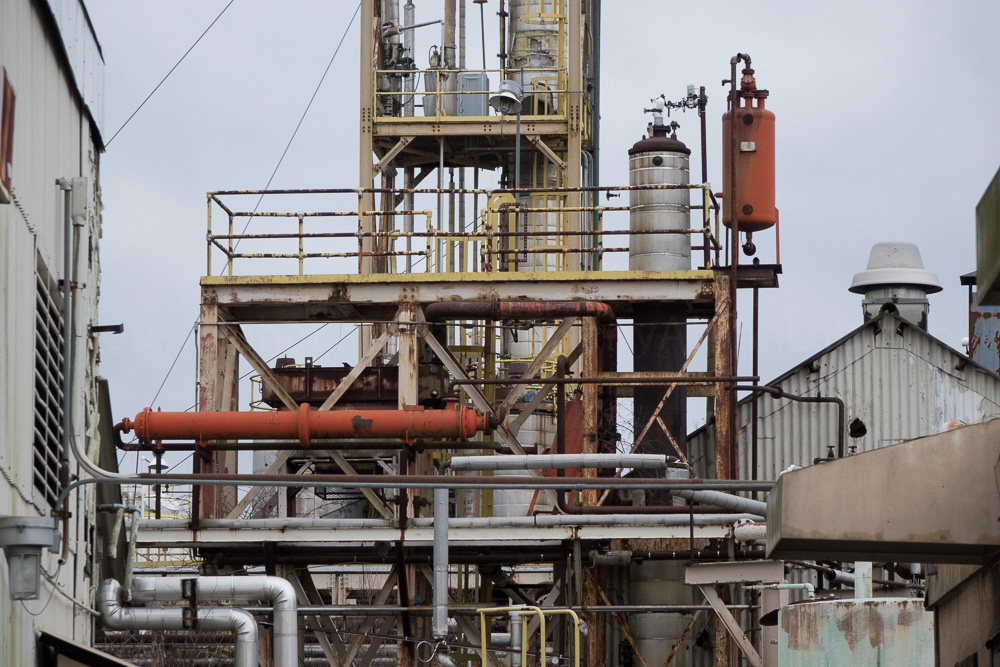 My buddy Chopper Sandy in the background.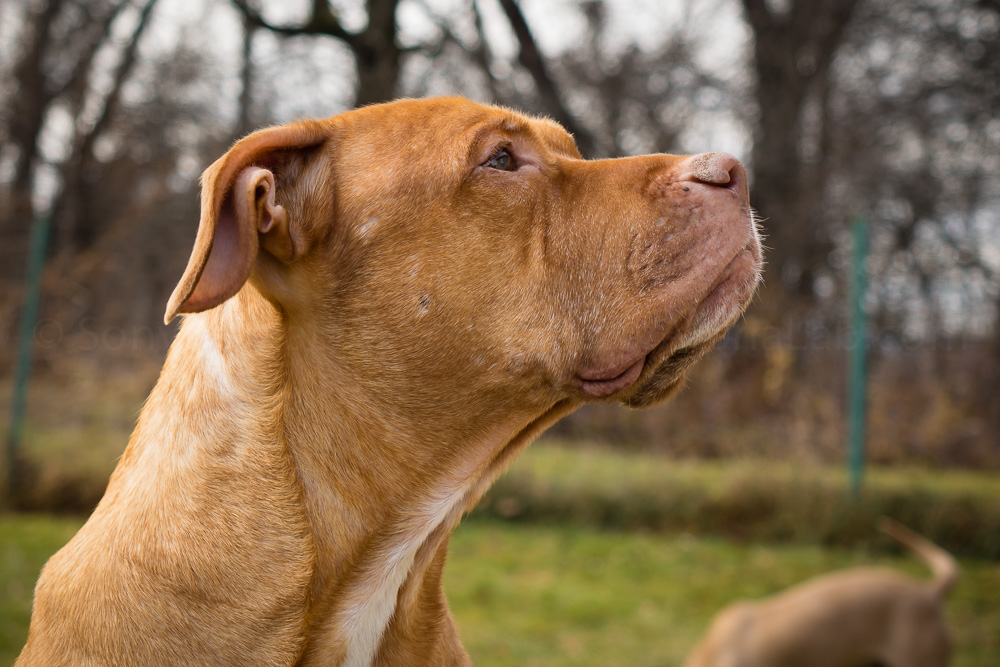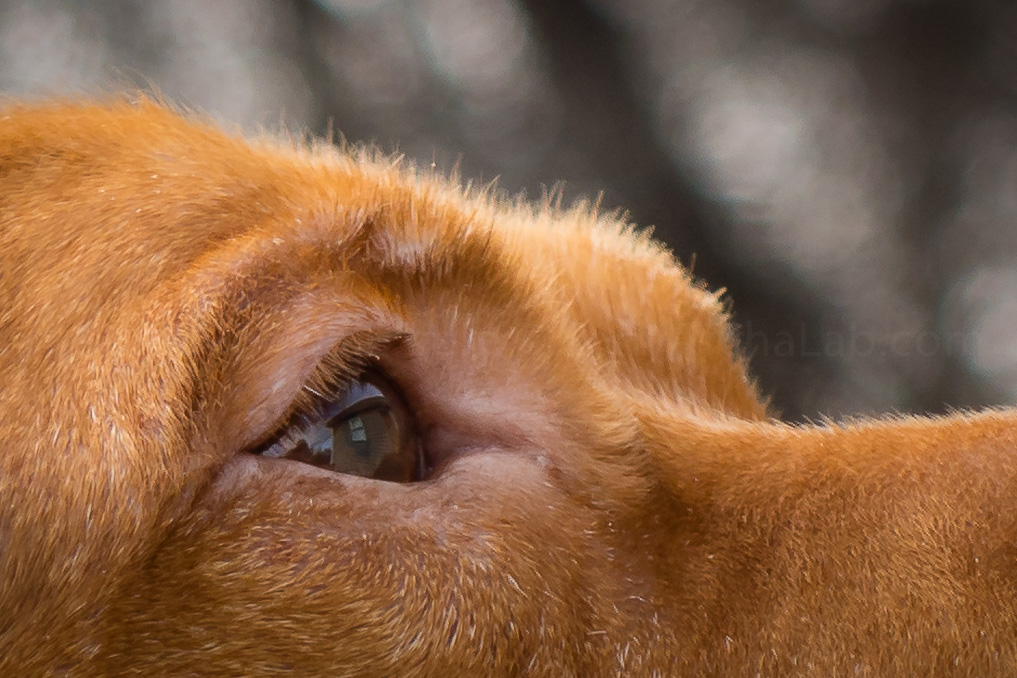 Panorama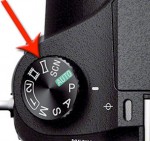 Panoramas are fun, lets face it. I took this panoramic photo in wide mode because I wanted to get the road in both directions. In the standard mode I was not able to get all the way. You can change the pano size and direction in the menu when you have the camera set to Pano on the mode dial as you can see to the right. The RX10, like all the other Sony cameras, requires you to use jpeg mode for this feature to work.

Note that stick in the middle of the pano, because in the next photo I simple walked across the street and got close to it. Again, the versatility of this camera is amazing!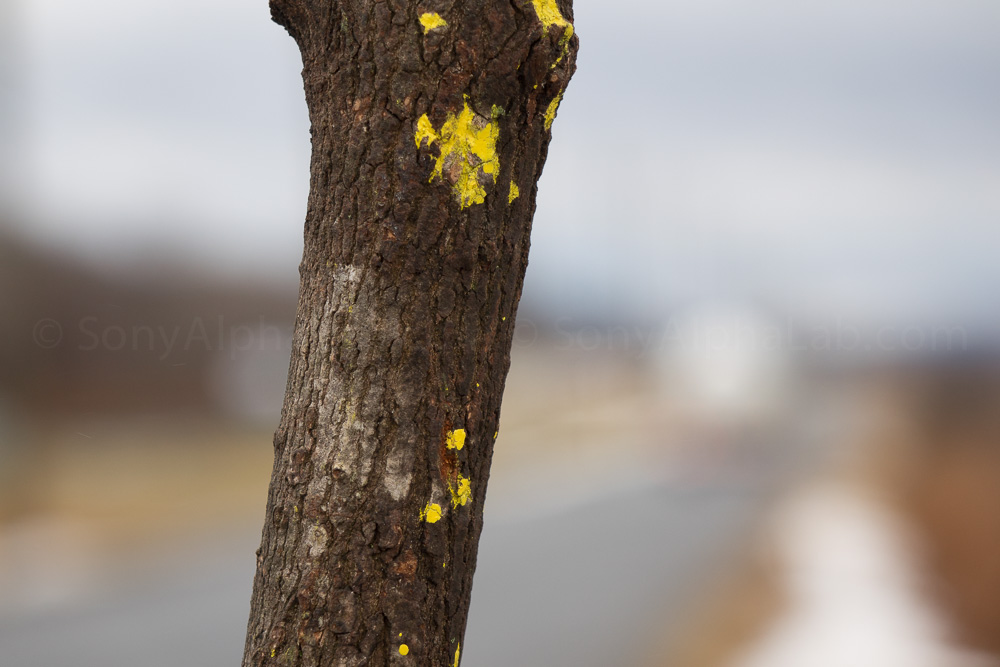 Here's a snapshot from the Pano scene: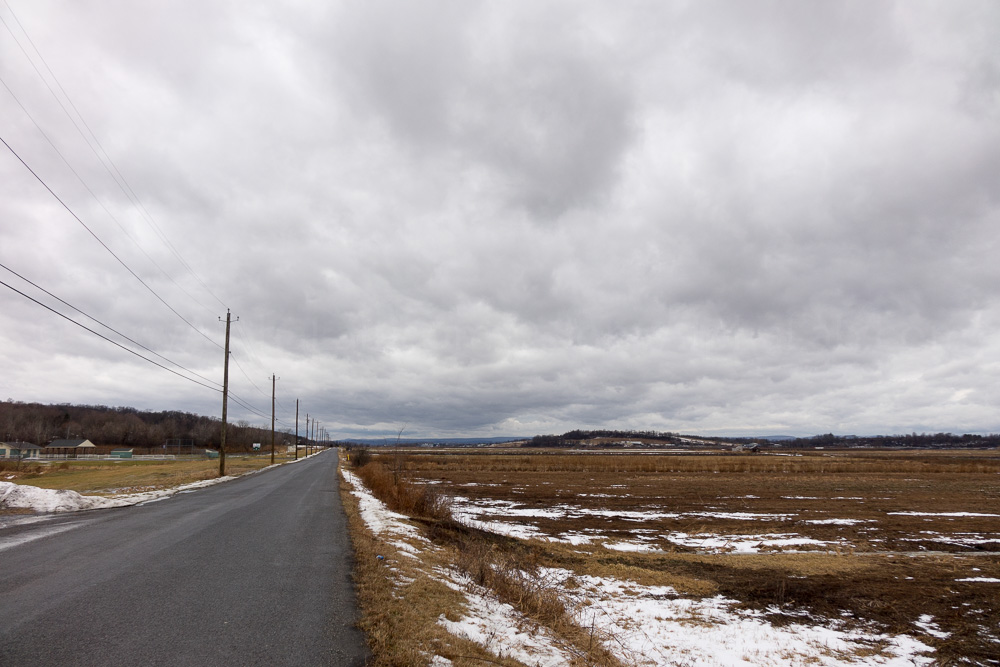 Full edited using Silver Efex Pro 2 for the BW conversion.
Studio Photography
I also took a few photos in the studio thanks to my Dad and Layla. These first two photos are in Jpeg Quality!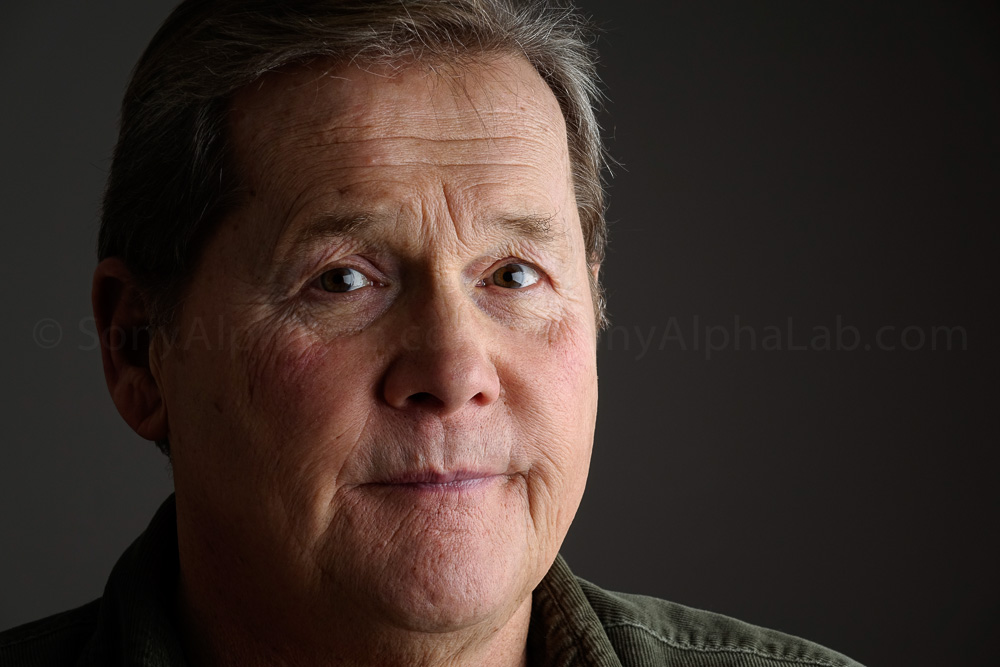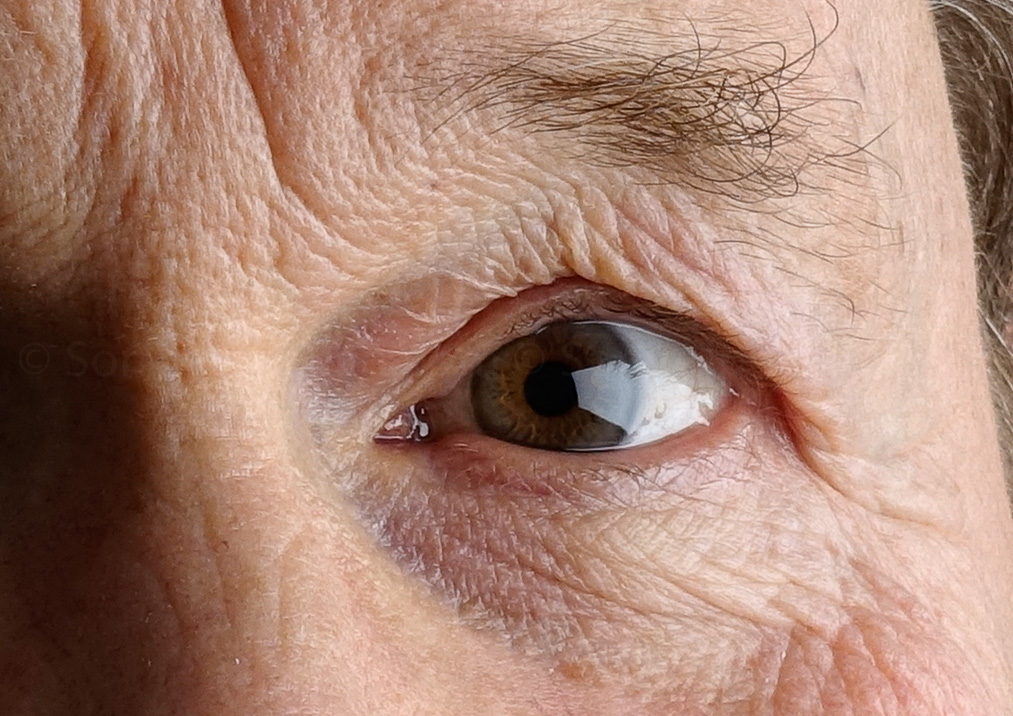 Here is another of My Dad and Layla in Jpeg quality.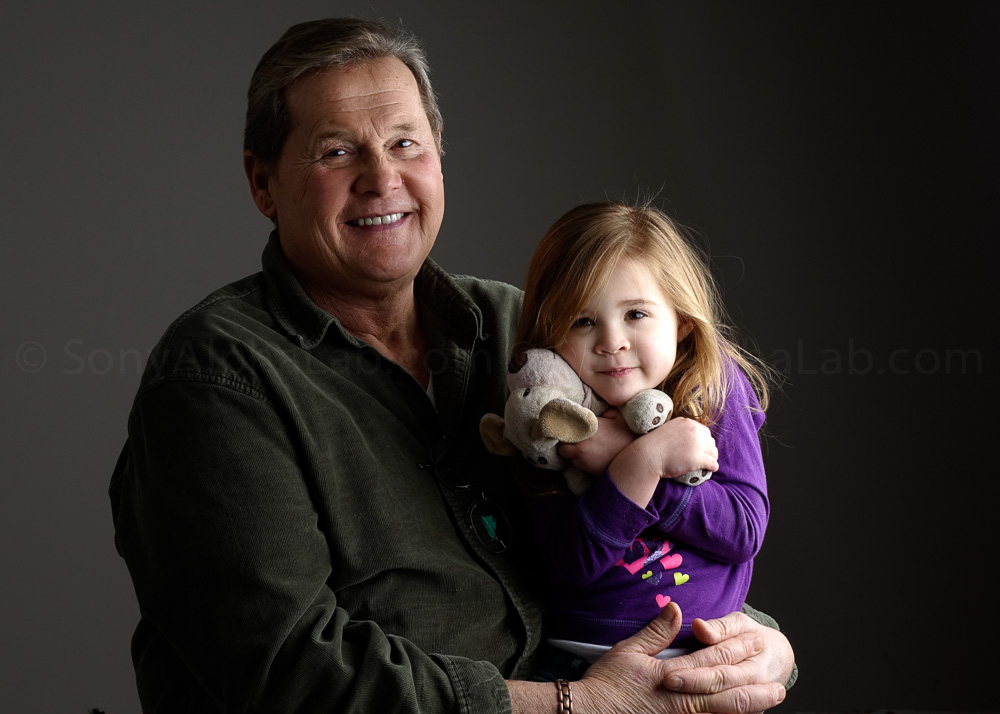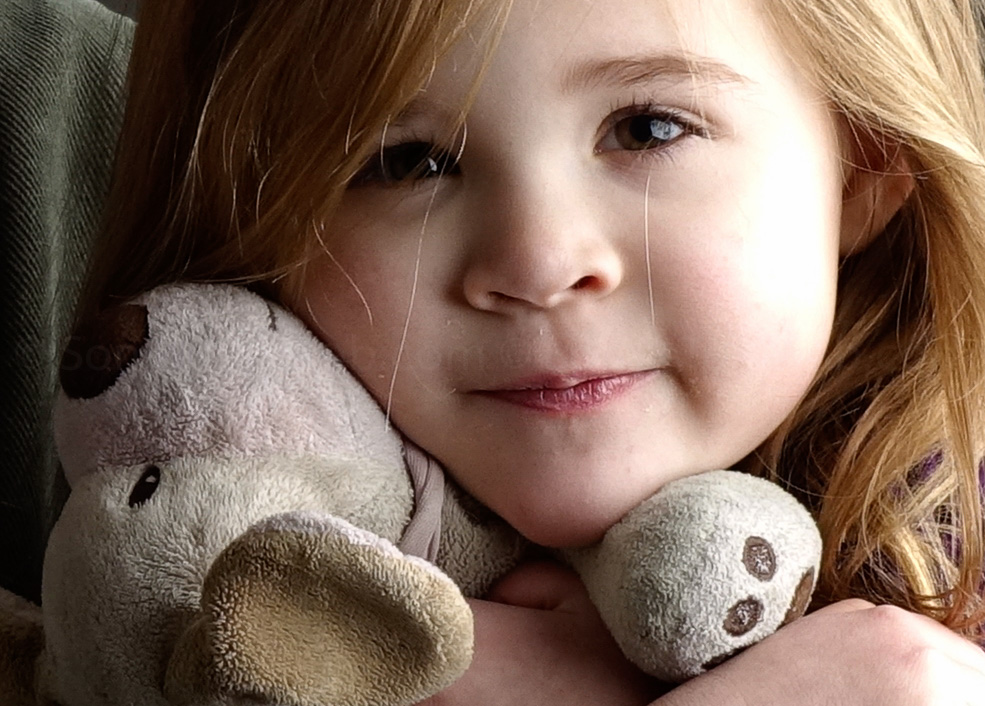 Here is one of Layla from a different day using raw quality.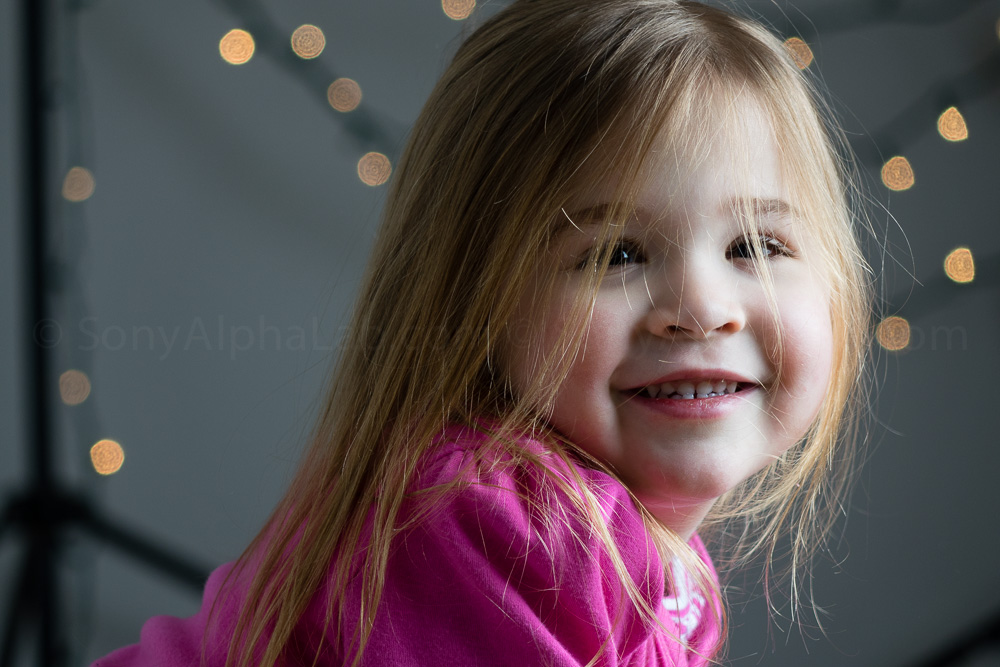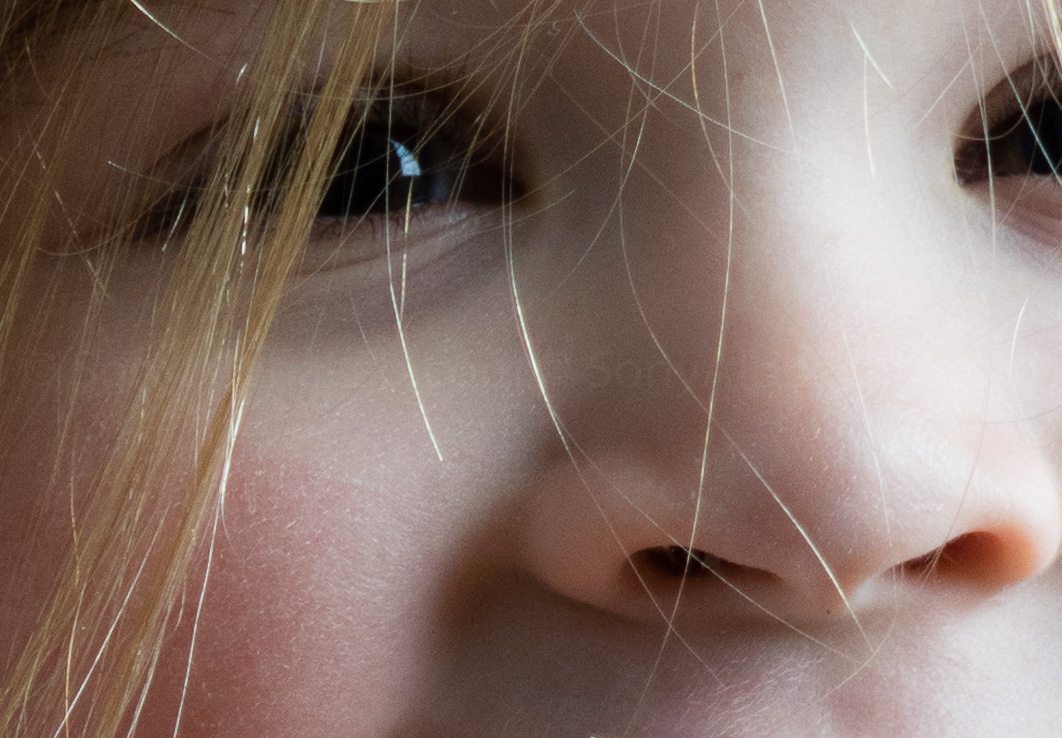 Chubs was feeling left out and lumbered into the frame at the end – raw Quality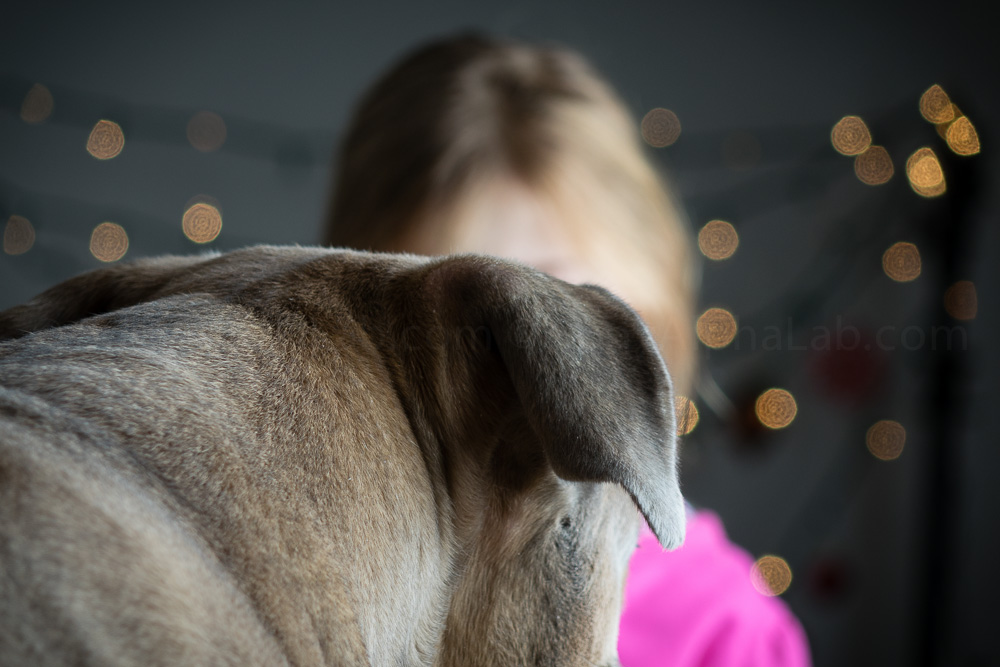 Sony RX10 Accessories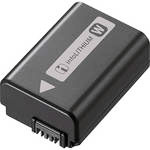 Batteries: The RX10 uses the NP-FW50 battery and it's a good idea to have at least one or two spares. You can expect to get about 350-400 shots on a single charge, so plan accordingly on your outings. No stand alone charger is included with the RX10 and the Sony BC-TRW charger is a bit expensive if you ask me. The after market charger made by Watson (Click Here) is a pretty good deal and gets the job done. The Watson battery also works pretty god, but doesn't last quite as long. Basically the camera charges the battery while it's inside. You just plug the usb cable in, and then plug the other side into the included wall plug unit. A little trick I found by accident with my Nex-6 was simple leaving the camera plugged in to my Mac after I was done importing the photos to Lightroom. Instead of unplugging the usb cable, I just turn the camera off instead. The computer than charges the battery while you play with your photos. A little orange lite illuminates by the usb port to let you know it's charging. If the camera is left on and plugged in to the computer, it will not charge, but drain instead.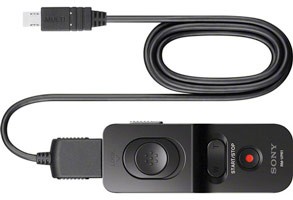 Remote: I also recommend considering the RM-VPR1 remote, so you can take photos and video without having to touch the camera. The remote also has a toggle for zooming the lens which is key for avoiding camera shake. Every time you touch the camera while filming it shakes a tiny bit. You can see all those little shakes once the video is loaded on your computer and your checking it out. It's really hard to tell when viewing on the small camera screen, so you really can't tell until in post. Lens Filters:
The RX10 has a 62mm lens filter thread. This is pretty large and lens filters can help you in a number of ways. ND filters help slow the shutter speed down, but the RX10 already has one built in. So, you will only need one for really long exposure. Basically, if you want those shots where the water looks like fog because the camera exposed for 2 minutes at sunrise? If so your going to want a really dark ND filter. Sony makes a pretty high quality ND filter that goes for $63 (Click Here), but it's not dark enough in my opinion. The Formatt filters (click Here) are pretty affordable, but they don't have the same quality multi-coatings as the better B+W filters (Click Here). In the end, like everything else optical, you get what you pay for. The thinner filters are better for ultra wide angle lenses and are much more expensive. You don't need a thin filter for a telephoto lens though, so save you money when applicable. I would recommend at least a .9 ND grade of tint for the RX10 considering the built-in ND filter can also be used. Polarizing filters can help you get sharper shots in hazy conditions. They can also cut glare big time if your shooting water and want to see down to the bottom for example, or if your shooting a car show and the glare on the chrome is causing issues. The work for jewelry and product photography as well for the same reason. The better filters are physically thinner and have the best multi-coating technology available. The price reflects these actors as you will see if you're in the market. 62mm Polarizing Filters (Click Here)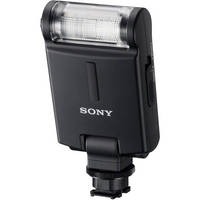 Need more flash power? Check out the HVL-F20M if you're looking for a really compact flash that packs much more punch than the built-in unit. The larger flash units are even more powerful if you need it, but the compactness and low cost of this particular unit makes it very appealing most common uses. HDMI Cable: If you want to hook your camera up to the TV or stand alone capture device, you will need a HDMI cable. The 6 foot HDMI to Micro HDMI Cable with Ethernet from Pearstone (Click Here) won't set you back a lot of money at $5.89 US, and it does the job fine for regular use. If you're a Pro, go for the pro quality cables as they do offer better build quality, copper purity, anti-interference layers, and more..
Soft case: Protecting your investment is a good idea, and a bag or case will help with that big time. Sony makes a LCJ-RXE Premium Jacket Case, that goes for $79 US (Click Here) The case is not cheap, but it fits perfect doesn't make the camera much bigger, plus the quality is very good. [
Closing Remarks:
If your still not sure how I feel about the Sony RX10, just look at the review rating 😉 This is also coming off the full frame Sony A7 I just got done reviewing, so I'm fresh with full frame envy and everything. The 1″ Exmor R sensor and Zeiss lens make a killer combo and when you build an awesome camera body around that base, how could you go wrong? The ease of use, versatility, and overall quality of the RX10 makes it an exceptional point and shoot style camera that leaves the competition in its wake.
Who is the RX10 for? If your somebody getting into photography and looking to upgrade from a standard point and shoot to the best all in one style camera, the Sony RX10 should be #1 on your list to check out in my opinion. The price may scare you at first, but take a breath and look at what the lens actually offers. Then look at how much that would cost if you went for an interchangeable lens camera? Well, the f/2.8 aperture will cost you huge money is the bottom line, and no lens covers that range. So you would need at least two f/2.8 lenses to cover the range the RX10 covers. To get the same quality optics, you're looking at Pro grade lenses and thousands of dollars. Plus, you still won't have the power zoom and killer video recording abilities in the end. If you're a Pro and don't feel like carrying a 30lb bag of gear, you can just take the RX10 and call it a day.  No, it's not as good as your full frame Pro gear, but who wants to lug around that on vacation or to family functions anyway? I know I don't these days 😉 This camera really is perfect for all that type of stuff in my opinion.  Plus the results are excellent and you won't wish you had your DSLR, like in the past. In fact, you will probably say, why did I ever take my DSLR on family outings? Film makers on a budget will love the RX10 and its uncompressed HDMI output, Audio in/out, click-less aperture, power zoom lens, Zebra overlay, and a constant f/2.8 aperture Zeiss lens!
That is about it for my Sony RX10 review. I really hope you got everything you were looking for in this review, and please feel free to comment and let me know if you have any questions! Jay
Sony DSC-RX10 = $1300 US @ BHPhotoVideo (Click Here)

My Sony RX10 Review – Best All In One Camera 2014?
Best All-IN-One Camera 2014
If your still not sure how I feel about the Sony RX10, just look at the review rating 😉 This is also coming off the full frame Sony A7 I just got done reviewing, so I'm fresh with full frame envy and everything. The 1" Exmor R sensor and Zeiss lens make a killer combo and when you build an awesome camera body around that base, how could you go wrong? The ease of use, versatility, and overall quality of the RX10 makes it an exceptional point and shoot style camera that leaves the competition in its wake.
Build Quality and Design
95
User Interface and Menu System
84
Lens Distortion Control
90
Overall Optical Quality
92
Pros
Incredible features and versatility
excellent build quality and desing
constant f/2.8 aperture throughout zoom range
fun factor is off the charts
excellent image and video quality
excellent value for the dollar in my opinion
Cons
poor battery life
only 200mm effective telephoto zoom
expensive at the time of this review
90
Top Quality Bridge Style Camera