If your like me, you've been waiting and drooling over the A99 and it's possible specs and performance!! Today is the day we get officially go over everything in detail, so lets take a look shall we??  SonyAlphaRumors has been all over this stuff as well and I check over often!! Today Andrea posted a few links to some sample pics that show off some killer image quality!! High ISO Samples at Fotopolis >> More High res sample photos at Lenstip.com >>.
I read through the Full Specs and features which I have below if you want to read them yourself 😉 Basically the A99 has some insane New Dual AF Focusing System which is made up of two separate PDAF type modules if you will. It has a standard 19 point with 11 cross-type PDAF sensor that uses the translucent mirror to focus. The A99 then has a New 102 multi-point focal-plane phase-detection AF sensor that overlays the actual image sensor?? It works in tandem with the standard PDAF module to have in theory, some incredible focus tracking abilities we haven't seen before in any camera!! Hence the Worlds first Dual AF you'll see in the specs.
The A99 also has a beefed up magnesium body that should really make it feel rock solid. Add the weather sealing and it should be even more dense feeling in your hands, you'll know it when you feel it trust me. The shutter speed is the fast 1/8000sec that us Pro's really need for that fast glass, and it has a 200,000 shutter life-cycle which is pretty good.
Another must have feature I read up on was tether support!! Oh yeah studio workflow dream folks 🙂 It also has the fun AutoHDR and AutoPano modes which is cool for some applications. Not really pro work mind you, but they are nice features to have when time is limited and for fun in my opinion.
The A99 also has some better bracketing features for us HDR Lovers, but it's limited to 2 and 5 exposure's depending on the EV you choose. It does appear to have 2 and 3 EV spread though which is much better than the normal 1/3rd and 2/3rd EV spread. With this in combination with exposure compensation, getting six frames fast with 2 EV's spread should be relatively easy and awesome for hard core HDR type scenes.
100-25600 for the ISO when in extended mode, and from the High ISO sample pics I saw (links above), it's really good!!
A99 Pics
The Sony SLT-A99 looks flat out awesome if you ask me!!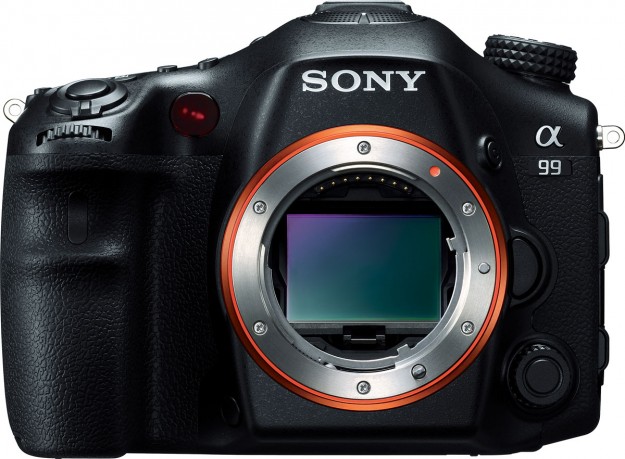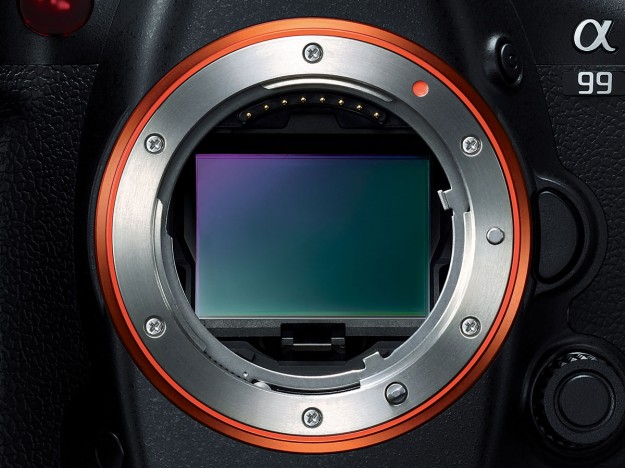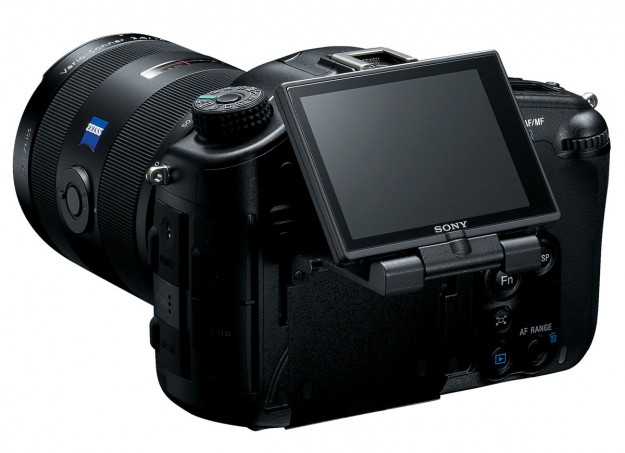 Regular Size photos: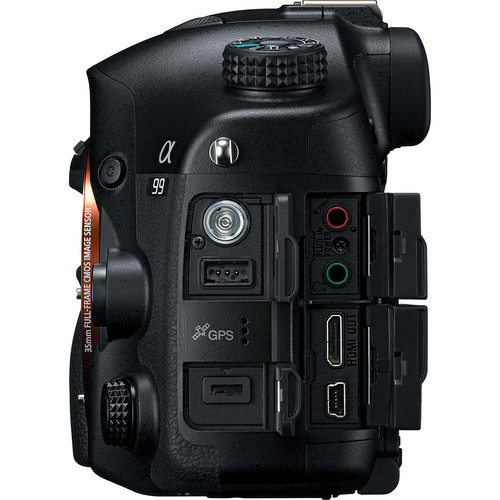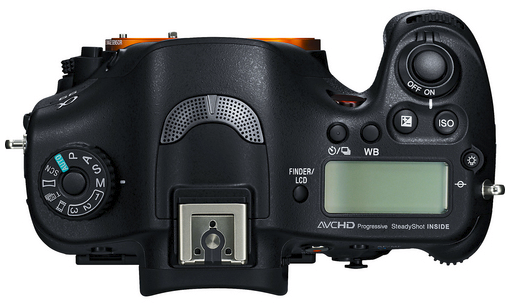 Lens Compatibility
Sony A-mount lenses, operation with Minolta/Konica Minolta lenses confirmed
Camera Type
Sony A-mount interchangeable-lens digital camera
Sensor
Imaging Sensor: "Exmor" CMOS sensor (35.8 x 23.9mm)
Anti Dust: Charge protection coating on low-pass filter and image sensor shift mechanism
Pixel Gross: Approx. 24.7 megapixels
Effective Picture Resolution: Approx. 24.3 megapixels
Focal Length Conversion Factor: 1.5x
Color Filter System: RGB primary color filters
Media Type
Memory Stick PRO Duo /Pro-HG Duo media; SD, SDHC and SDXC memory card
Color Space
sRGB, Adobe RGB
Still Image Mode
JPEG (Standard, Fine, Extra Fine), RAW, RAW+JPEG
Still Image Size 16:9
35mm full frame
L: 6000 x 3376 (20M)
M: 3936 x 2216 (8.7M)
S: 2640 x 1488 (3.9M)APS-C
L: 3936 x 2216 (8.7M)
M: 2640 x 1488 (3.9M)
S: 1728 x 976 (1.7M)
Still Image Size 3:2
35mm full frame
L: 6000 x 4000 (24M)
M: 3936 x 2624 (10M)
S: 2640 x 1760 (4.6M)APS-C
L: 3936 x 2624 (10M)
M: 2640 x 1760 (4.6M)
S: 1728 x 1152 (2.0M)
Panorama Still Image Size
Wide:
Horizontal 12,416 x 1,856 (23M)
Vertical 5,536 x 2,160 (12M)Standard:
Horizontal 8,192 x 1,856 (15M)
Vertical 3,872 x 2,160 (8.4M)
Video Format
AVCHD Ver. 2.0 (Progressive), AVCHD, MP4
Video Mode
AVCHD:
PS – 1920 x 1080/60p@28Mbps
FX – 1920 x 1080/60i@24Mbps
FH – 1920 x 1080/60i@17Mbps
FX – 1920 x 1080/24p@24Mbps
FH – 1920 x 1080/24p@17MbpsMP4:
HD – 1440 x 1080/ 30p@12Mbps
VGA – 640 x 480/ 30p@3Mbps
Dual Record
Simult. Rec (Still,Movie), Simult. Rec (Still/Movie), Sort (JPEG/RAW), Sort (Still/Movie), Copy
Audio Format
Dolby Digital (AC-3) / MPEG-4 AAC-LC, 2ch
Microphone/Speaker
Built-in stereo microphone or ECM-ALST1 (with supplied shoe adaptor) / ECM-CG50 / XLR-K1M (sold separately). Built-in, monaural, Volume settings in 8 steps between 0 and 7
Still Image File Format
JPEG (DCF Ver. 2.0, Exif Ver. 2.3, MPF baseline compliant), RAW (Sony ARW 2.3 format), RAW & JPEG
Digital Zoom
Still images: 4x Movie: 4x
Smart Zoom Technology
M: approx. 1.5x, S: approx. 2.3x
Viewfinder
Type: 1.3 cm (0.5 type) electronic viewfinder (color) (2,359k dots)
Diopter Adjustment: -4.0 to +3.0m-1
Magnification: Approx. 0.71 x (with 50mm lens at infinity, -1m-1)
LCD
LCD Type: 7.5 cm (3.0 type) TFT drive (1,228,800 dots)
Brightness Control: Auto, Manual (5 steps between -2 to +2), Sunny Weather
Real-time image adjustment display: Yes(On/Off)
Peaking: Yes (Level setting: High/Mid/Low/Off, Color: White/Red/Yellow)
Customization Graphic Display, Display All Info., No Disp. Info., Digital Level Gauge, Histogram, Shooting Info
Angle Adjustment: Tilt angle: 140° up and 180° down / Rotation angle: 180° clockwise and 90° counterclockwise
Focus
Focus System: TTL Phase-detection AF (CCD line sensors and Focal Plane Phase Detection sensors)
Focus Points: Detector 1: 19 points (11 points cross type), Detector 2: 102 assist points
AF Modes Single-shot AF (AF-S), Automatic AF (AF-A), Contin. AF(AF-C), Depth Map Assist Contin. AF (AF-D) selectable
Focus Area: Wide (auto, 19 points)/Zone/Spot/Local selectable
Focus Sensitivity: EV -1 to 18 EV (at ISO100 equiv, with F2.8 lens attached)
Focus Features
Predictive control (AF-A, AF-C), Focus Lock, Eye-start AF
Focus AF Illuminator
Built-in, LED type (range approx. 3.3 to 23 ft (1-7m))
Metering
1200-zone evaluative metering
Metering Modes
Multi-segment, Center-weighted, Spot
Metering Sensitivity
-2 to 17 EV (at ISO 100 equivalent with f/1.4 lens)
Exposure Compensation
+/-5.0 EV (1/3EV, 1/2EV steps selectable)
Exposure Settings
AUTO (iAUTO, Superior Auto), Programmed AE (P), Aperture priority (A), Shutterspeed priority (S), Manual (M), Scene Selection, Sweep Panorama, Tele-zoom Continuous Advance Priority AE, Movie (Programmed AE (P), Aperture priority (A) / Shutter-speed priority (S) / Manual (M) selectable in manual focus mode)
Scene Mode(s)
Portrait, Landscape, Macro, Sports action, Sunset, Night portrait, Night View, Handheld Twilight
Auto Exposure Lock
Yes with AE lock button (AE also locked when focus is locked in a multi-segment metering mode).
Color Temperature
Manual (5 steps)
Creative Style
Standard, Vivid, Neutral, Clear, Deep, Light, Portrait, Landscape, Sunset, Night Scene, Autumn leaves, Black & White, Sepia (Contrast (-3 to +3 steps), Saturation (-3 to +3 steps), Sharpness (-3 to +3 steps))
Exposure Bracketing
Bracket: Cont./Bracket: Single, 3/5 frames (2.0 EV, 3.0 EV : only 3 frames) selectable
ISO
Still images: Auto (ISO 100-6400, selectable lower limit and upper limit), ISO 100- 25600
Movies: ISO 100-6400 equivalent; Auto (ISO 100-3200 equivalent)
Noise Reduction
Long Exposure NR: (On/Off, available at shutter speeds longer than 1 second) High
ISO NR: (High/Normal/Low/Off)
White Balance Mode
Auto, Daylight, Shade, Cloudy, Incandescent, Fluorescent (Warm White, Cool White, Day White, Daylight), Flash, Color Temperature (2500 to 9900K) & color filter (G7 to M7, A7 to B7) / Custom (3)
Continuous Shooting Speed
Tele-zoom Continuous Advance Priority AE: approx. 10/8 fps selectable; Continuous (Hi:35mm full frame: approx. 6 fps APS-C: approx. 7 fps; Lo: 35mm full frame: approx. 2.5 fps APS-C: approx. 2.5 fps)
Drive Mode
Single-shot, Continuous shooting (Hi/Lo selectable), Self-timer (10/2 sec delay selectable), Bracket (Continuous/Single/WB/DRO), Remote commander (RMTDSLR2)
Flash Sync Speed
1/250 sec.
Self-timer
2-sec. or 10-sec. delay
Shutter Speeds
Still images: 1/8000 to 30 sec, Bulb
Movies: 1/8000 to 1/4 (1/3 step), up to 1/60 in AUTO mode (up to 1/30 in Auto Slow Shutter mode)
Shutter Type
Electronically controlled, vertical-traverse, focal-plane type
Flash
Flash Compensation: +/- 3.0 EV (switchable between 1/3 and 1/2 EV steps)
Flash Bracketing: 0.3/0.5/0.7/2.0/3.0 EV steps, 3/5 frames (2.0/3.0 EV : only 3 frames) selectable
Flash Modes: Auto, Fill-flash, Slow Sync., Rear Sync., Hi-speed sync., Red-eye reduction (on/off
Still Image Playback Options
Single, 4/9-frame index view, Enlarged display mode, Auto Review (10/5/2 sec, off), Image orientation (On/Off selectable), Slideshow, Panorama scrolling, Folder selection, Delete, Protect
Video Playback Options
Forward/Rewind (Movie)
Easy Handycam/Help Function
Yes
Embedded GPS
Yes
Face Detection
On/On (Regist. Faces)/Off (face registration, face selection). Max. 8 faces detectable
Features
Smile Shutter technology: Yes
Tracking Focus: Yes
Audio Level Display: Yes
Audio I/O
Headphone Jack: Yes (3.5 mm Stereo minijack)
Microphone Input: Yes (3.5 mm Stereo minijack)
Accessory Shoe
Yes (with supplied shoe adaptor)
DC In
Yes
HD Output
HDMI mini connector (Type-C)
BRAVIA Sync (link menu)
PhotoTV HD
Battery
Battery Type: InfoLITHIUM NP-FM500H (7.2V)
Number of Still Images: Approx. 410 shots with viewfinder, 500 shots with LCD monitor (CIPA measurement)
Power Consumption (in View Finder Operation): approx. 4.2W (still images, with SAL2470Z lens)
Dimensions WxHxD
5.8 x 4.4 x 3.1″ (147 x 111.2 x 78.4mm)
Weight
1.6 lb (733 g) body only
1 lb 12.7 oz (812 g) with battery and memory stick
Full Frame 24 Megapixel resolution with 14-bit RAW output
Uncompressed Full 1080 HDMI output in 24p/60p/60i
Up to 25600 ISO Range sensitivity while maintaining quality
World's first Dual AF system for capturing the decisive moment
World's 1st full-frame camera with continuous AF in all modes
Up to 10 FPS in Tele-zoom & 5 FPS at Full 24 MP resolution
Sharp 3.0″ multi-angle LCD and bright XGA OLED viewfinder
Lightweight professional magnesium-alloy construction
New Quick Navi Pro enhances DSLR direct controls
Dual slot and advanced media control functions
24.3 MP 35 mm Full Frame Sensor: A whole new world of high-quality images are realized through the 24.3 MP effective 35mm full-frame sensor, a normal sensor range of ISO 100 – 32000, and a sophisticated balance of high resolving power, gradation and low noise.
Uncompressed HDMI Output: Easily record Full 1080 HD uncompressed clean-screen video files to external recording devices via an HDMI connection in 24p, 60p and 60i frame-rates.
Multi-frame NR: Experience incredible low-light shooting without a flash. The camera captures six images in a fraction of a second. Combining the data from all six, it creates a single image with a reduction in noise equivalent to two additional steps of ISO sensitivity. Sensitivity selectable up to ISO 25600.
World's first Dual AF system: The 19-point AF system with 11 cross sensors is complemented by a multi-point focal plane phase-detection AF sensor with 102 AF points that overlays the image sensor.
New AF-D Mode: This highly advanced Continuous AF mode uses 19 AF points with reliable depth-direction focusing performance to steadfastly capture subjects and is strongly assisted by the 102-point multi-point focal-plane phase-detection AF sensor. It continues to focus on the subject whether it's moving in depth or plane direction.
AF Range Control: Users can set the range of distance from the camera in which subjects can be focused on the AF system. By limiting the AF range, users can prevent unwanted focusing on foreground and background objects. This intelligent function enables reliable performance when photographing sports through wire mesh fences, for example.
Fast continuous shooting speeds: Highly responsive continuous shooting at approximately 6 frames per second (fps) is made possible by Translucent Mirror Technology and an enhanced Tracking Focus function offering more advanced acquisition and tracking performance. The Tele Zoom High Speed shooting mode shoots up to 8 fps at 10 MP.
Three-way tiltable LCD: The SLT-A99V is the first in the Alpha series to feature WhiteMagic technology, which nearly doubles the visibility of the 921k-dot Xtra Fine LCD monitor in sunny outdoor conditions. The three-way tilt-able mechanism, highly acclaimed on on the A77, is further enhanced for even greater operational ease.
XGA OLED Viewfinder: There's never been anything quite like the Tru-Finder OLED electronic viewfinder. For size, speed and brightness even after sunset, this is a gem. It begins with 2359K dots for amazing resolution and high contrast ratio for incredible depth. OLED reduces motion blur to a bare minimum.
World's lightest Full-frame Sensor Camera: The SLT-A99V is the world's lightest 35mm full-frame interchangeable-lens digital camera. It weighs only 733 grams (body only), thanks to features like Translucent Mirror Technology and high-rigidity magnesium alloy panels.
Newly developed Quick Navi Pro: For heightened comfort and more intuitive operation, the SLT-A99V features an enhanced version of Quick Navi, which was highly acclaimed in the A900 and A700. Called Quick Navi Pro, this new feature allows users to immediately access all camera parameter settings.
Dual Slot Function: The SLT-A99V has 2 media slots – one for SD cards, one for both SD cards and Memory Stick media. This allows for simultaneous recording for backup purposes (with recordings sorted RAW/JPEG file type or still/movie data) as well as copying between media. Moreover it allows movie recording to 2 media cards simultaneously.
Translucent Mirror Technology: Sony's proprietary Translucent Mirror Technology simultaneously directs light to the image sensor and AF sensor at all times to realize Full-time Continuous AF that keeps the subject in sharp focus and even during continuous shooting and movie shooting.
Accurate Viewfinder Info: It also allows the high-precision electronic viewfinder to accurately display the results of camera setting adjustments in real time so the photographer can make sure the results matches their creative intentions.
Highly rigid body with magnesium alloy outer panels: Both the main outer body panels and interior chassis are constructed of lightweight yet rigid magnesium alloy. Moreover, the grip and front cover are structurally unified to achieve extremely high body rigidity.
Dust and moisture protection: Outer body and moisture countermeasures include the sealing and treatment of major operational buttons/dials and a convex/concave mating structure that tightly interlocks components. Controls also feature a durable structure that withstands the touch usage of advanced amateurs.
Approximate 200,000 shutter release durability: The newly developed, highly durable and reliable shutter unit has been proven to endure approximately 200,000 shutter releases. This durability ensures long-lasting shooting performance that takes into consideration the large number of photos shot by advanced amateurs.
Meticulous, intuitive design: While inheriting the popular design concept of the A77, the SLT-A99V enables comfortable photo shooting through meticulously designed features including improved grip thickness that enhances grasping ease, switch and button shapes that are differentiated for easier operation.
Vertical Grip Capable: The optional VG-C99AM vertical grip designed exclusively for the SLT-A99V can house two batteries, bringing the total number of batteries (including the one in the camera) to three for significantly more hours of shooting (batteries sold separately).
PC Remote Camera Control: Enables users to remotely change various camera settings, switch still/ movie shooting on or off, and automatically transfer still images to enhance the efficiency of the studio photo shooting workflow.
New Multi-Interface Shoe: Unlike conventional cameras, the SLT-A99V also features a newly developed Multi-Interface Shoe that dramatically expands compatibility with Handycam accessories, thus raising the potential for photo/movie shooting (The included ADP-MAA shoe adapter maintains compatibility with conventional Alpha accessories as well).
New Flash/Video Light: The new optional accessory HVL-F60M flash with video light offers high output, Sony's original Quick Shift Bounce mechanism, a new video light for movie shooting and improved operational interface.
New Wireless Commander Control: The new optional accessory RMT-DSLR2 Remote Commander for movie shooting that includes a dedicated movie record button.
Auto HDR built into camera: Captures more scene dynamic range than a single exposure can handle-and more range than photo film. Combines the best highlight detail from one shot, the best mid-tones from a second and the best shadow detail from a third for one incredible shot. (Recommended for still subjects.)
Sweep Panorama Mode: Capture expansive landscapes automatically. Press the shutter and sweep vertically or horizontally. The camera does the rest, continuously shooting images and stitching them together.
D-Range Optimizer: Improves results with backlit subjects and recovers details hidden in shadows. Settings include Auto, Level with a choice of five operating levels and Off.
Creative Styles: Control how the camera processes your images with 13 finishing styles: Standard, Vivid, Neutral, Clear, Deep, Light, Portrait, Landscape, Sunset, Night Scene, Autumn leaves, Black & White, Sepia. You can even fine-tune contrast, saturation, and sharpness to your personal taste.
1200-zone Evaluative Metering: Reads exposure directly from the main image sensor. Choice of Multi, Center and Spot metering accommodates a full range of shooting situations.
Built-in GPS: An integrated GPS receiver records the location and time of every shot you take and lets you view your images on a map with compatible computer and Internet applications, so you can remember where you took your favorite shots.
Auto Portrait Framing: Simply photograph a person and Auto Portrait Framing will save an additional, optimally framed image in portrait or landscape orientation. Combining Face Detection and By Pixel Super Resolution technologies with rule of thirds, Auto Portrait Framing provides appealingly balanced full resolution portraits.
Clear Image Zoom: Utilizing Sony's exclusive By Pixel Super Resolution Technology, Clear Image Zoom increases the effective focal length of your lens up to 2x by digitally magnifying the center of your image with nearly imperceptible degradation that provides greater shooting flexibility.
Superior Auto: Get cleaner, more dynamic pictures and fewer missed shots. Unifies and simplifies Sony intelligent technologies, the camera automatically recognizes the correct scene mode, then quickly shoots and combines up to six shots to produce images with greater dynamic range using Auto HDR technology and lower image noise.
Closing Remarks
Well, I'm excited and I think I'll be buying the A99 from the looks of it. I need to replace my Pro Canon Gear and the SLT-A99 looks like it's up for the task to me. Anybody need a hardly used Canon 5D Mark II?? Best offer?? Perhaps a Bundle with some Canon L glass?? I write a Canon Gear for Sale article shortly 😉
Sony Also announced the Nex-6, which I will create another article for, and a few lenses!! Stay tuned for that as I have to read up on all the specs and full feature sets before I can comment on them with confidence!!
BHPhotovideo is also Now excepting Pre-Orders for both the A99 (Body Only –  $2798) and Nex-6 (body Only – $898) or as the kit with the 16-50mm power zoom lens – $998!!
Jay
Sony Pre-Orders
Sony Nex-6 and Nex-5r Pre-orders now available!!
Sony RX1 Pre-orders Now Available!!
Sony SLT-A99 Pre-orders Now Available!!
I really hope you got something out of this article!! If so, we would greatly appreciate you considering clicking our links to products if you do decide to go shopping. We will receive a very small commission for the product referral. This is how we pay for the server juice and get the gear to review. We have lots of Camera Guides, Lens Guides, and Accessories Guides with direct links to our preferred vender to make shopping really easy!!
Going Shopping?? BHPhotoVideo >>, Amazon >>, Adorama >>