Sony just announced a New RX10 IV digital Camera and it packs more power than ever before! If the 600mm equivalent lens of the RX10 III wasn't enough, Sony just added a new sensor with 315 embedded phase detection auto focus points which will allow the camera to take sports photos from the stands.
The RX10 IV can also shoot up to 24fps which is insane, and a huge increase from the 14pfs that the RX10 III was capable of. Both of the those frame rates are incredible though for sure, even by todays standards… 24fps is an actual movie frame rate though, which is just jaw dropping speed.
The now older model RX10 III is clearly awesome, but one limitation was the AF speed. It was really good in the real world, but not quite able to do high speed action very effectively. The RX10 IV should certainly be able to a much better job with action now thanks to the new Hybrid AF capable sensor.
I was hoping for a larger battery, but no luck there… Sony did add the touchscreen though which is awesome for "touch to focus" during video in particular I think, but also for those that just love that feature for photography as well.
The RX10 IV is designed for people looking for the absolute best all-in-one solution to video and photography in my opinion. Somebody that never wants to change lenses and just wants a complete solution for their needs.
Pro's would most likely use the RX10 IV for a second camera and/or for additional angles needed when doing interviews for example and so fourth.
The 1 inch sensor is not going to provide that killer depth of field that the full frame sensors or even the APS-C sensors offer, so this unit is not necessarily for everybody. In a lot of ways the RX10 Series cameras replace the camcorder market I would say. Other than battery life and some other various features, the camcorder market doesn't really have much over the RX10 III or IV if you ask me. No built in ND Filter unfortunately, but it does have a 72mm filter thread.
Basically, at the end of the day, this is just an updated version of the Sony RX10 III, and goes for $1698 US which is ~$300 more than the RX10 III. So, new sensor, 24pfs, touch screen, Slog 3, Improved Stabilization, and longer slow-motion record time….
[divider]
My RX10 Series Camera Reviews
If you want to see what the RX10 series cameras are capable of, be sure to check out my highly detailed reviews linked below. I put these awesome all-in-one camera solutions thru the SonyAlphaLab style review paces, and I really think you will be amazed at what they can do in the lab and real world…
RX10 IV – Key Features Breakdown
20.1MP 1″ Exmor

RS

BSI CMOS Sensor
BIONZ X Image Processor & Front-End LSI
Zeiss

Vario-Sonnar T* f/2.4-4 Zoom Lens
24-600mm (35mm Equivalent) = 8.8mm – 220mm

Improved

Optical Steadyshot
2.36m-Dot OLED Tru-Finder EVF
3.0″ 1.44m-Dot Tilting

Touchscreen

LCD
UHD

4K30

Video, Full HD 1080p at 960 fps

~Double

Slow-Mo Record Time
Fast

Hybrid AF

System with

315 Points
ISO 12800

and

24 fps Continuous Shooting

1/32000sec max shutter
72mm filter thread
Built-In Wi-Fi and Bluetooth
Weight =

2.41 lb / 1095 g

with battery and memory card
Price =

$1698 US 
Sony RX10 IV Promo Videos
First Look | SONY RX10 Mark IV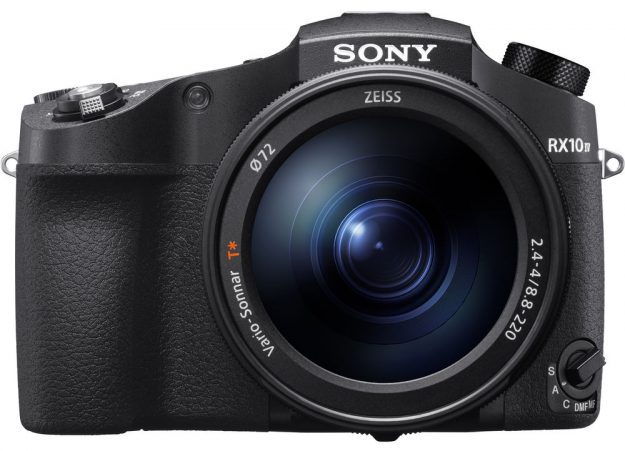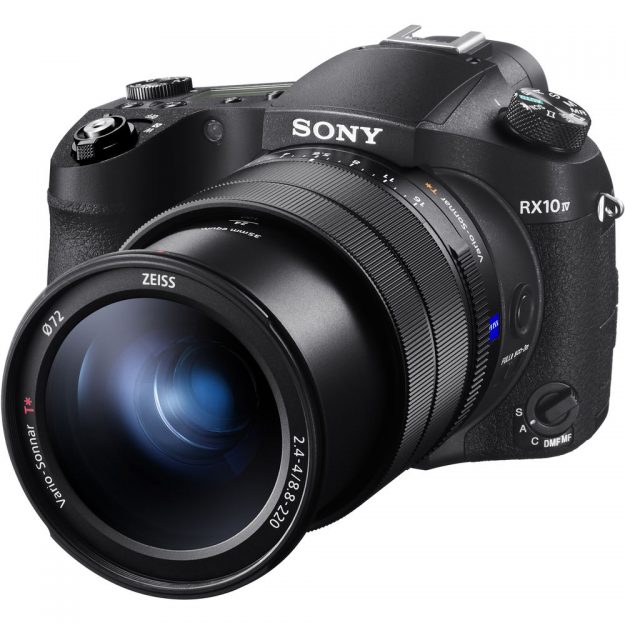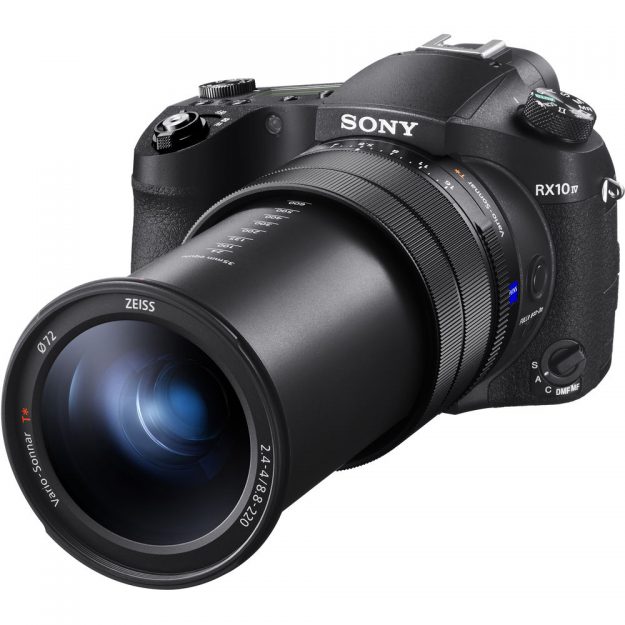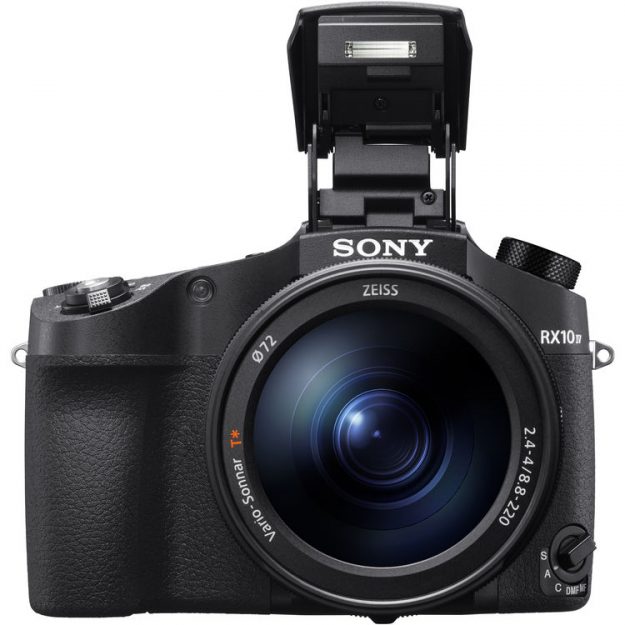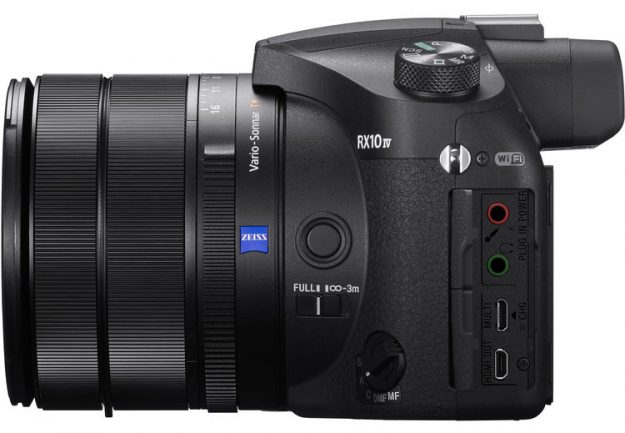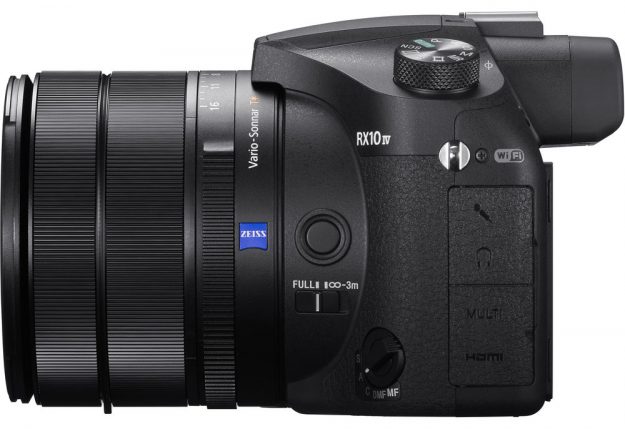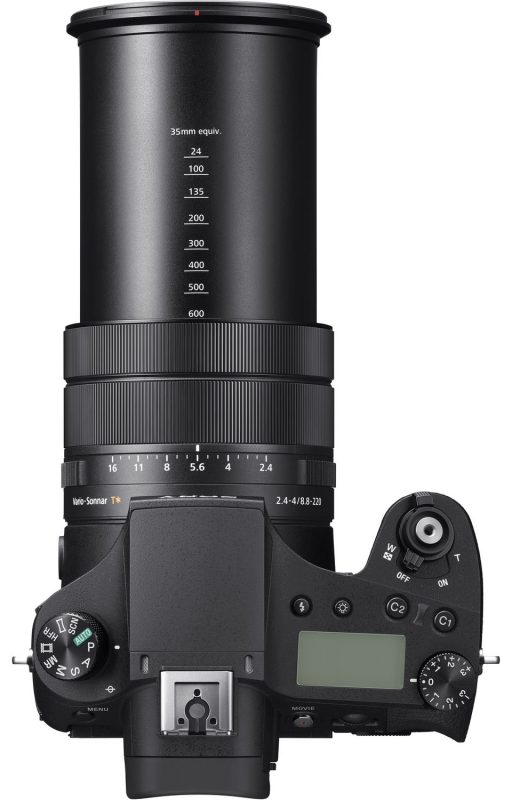 Courtesy of BHPhoto:
Providing speed, reach, and versatile recording features, the Cyber-shot DSC-RX10 IV from Sony is a compact solution for the multimedia image-makers. Featuring an updated 20.1MP 1″ Exmor RS BSI CMOS sensor and BIONZ X image processor, the RX10 IV is capable of up to 24 fps shooting at ISO 12800, as well as recording UHD 4K/30p or Full HD 1080/120p video. The sensor's back-illuminated and stacked technologies afford a high degree of image quality with notable clarity and reduced noise to suit working in challenging lighting conditions. Complementing the shooting speed of the sensor and processor combination, this camera also offers a quickened 315-point focal plane phase-detection autofocus system for focus speeds as fast as 0.03 seconds.
Balancing the imaging capabilities, the RX10 IV is also characterized by its 25x Zeiss Vario-Sonnar T* zoom lens, which spans an impressive 24-600mm equivalent focal length range and uses Optical SteadyShot image stabilization to minimize the effects of camera shake by up to 4.5 stops. Its optical design incorporates eight extra-low dispersion elements and six aspherical elements to control a variety of aberrations throughout the zoom range, and its f/2.4-4 maximum aperture range benefits working in low-light conditions.
Rounding out the RX10 IV is its characteristic robust form factor, which includes both a 2.36m-dot OLED electronic viewfinder along with a tilting 3.0″ 1.44m-dot touchscreen LCD. The intuitive design also features three dedicated control rings on the lens-a zoom ring, a manual focus ring, and an aperture ring-and the aperture ring can be de-clicked for smooth, silent aperture adjustments. The magnesium-alloy body is also weather-sealed to permit working in trying environments. Additionally, for sharing and control flexibility, built-in Wi-Fi and Bluetooth are also available for wireless image sharing and remote camera control from a linked smartphone or tablet.
20.1MP 1″ Exmor RS CMOS Sensor & BIONZ X Image Processor
Utilizing an advanced stacked structure with an integrated DRAM chip, the 20.1MP 1″ Exmor RS CMOS sensor of the RX10 IV is able to deliver outstanding image quality at up to ISO 12800 with incredibly fast performance. This sensor stacks the pixel area, a high-speed signal processing circuit, and memory in order to increase data throughput by over five times and deliver features such as 40x super slow motion, an Anti-Distortion shutter, UHD 4K video, and has focal-plane phase-detection AF points for faster, more precise focusing.
This sensor is paired with the BIONZ X image processor and a newly developed front-end LSI that dramatically improves the speed and throughput of the entire imaging system, enabling continuous shooting with AF/AE at up to 24 fps. An expanded buffer makes continuous shooting possible for longer bursts, up to 249 JPEGs, and for convenience, bursts can be seen in groups during playback, rather than single images, for faster review. The front-end LSI is also able to improve overall quality of the images, especially at higher sensitivities. Additionally, another advantage of this setup is raw output, which provides outstanding color fidelity and image quality.
Fast Hybrid AF System with 315 Phase-Detection Points
The RX10 IV is equipped with an on-sensor phase-detection AF system that will dramatically improve autofocus speed for both stills and video. The camera uses a hybrid system with 315 phase-detection points that provide about 65% frame coverage along with a 25-area contrast-detection system to provide fast, accurate focusing in a range of situations. The RX10 IV is able to lock onto subjects quickly, in just 0.03 seconds, and it can use AF tracking when shooting at 24 fps.
In order to make operation seamless, the RX10 IV benefits from reduced blackout for easier tracking when using the EVF or LCD. Furthermore, an AF-A mode is now available, which will allow the camera to automatically switch from AF-S and AF-C mode as the situation needs. Users can also display the phase-detection area to help users focus on their subject.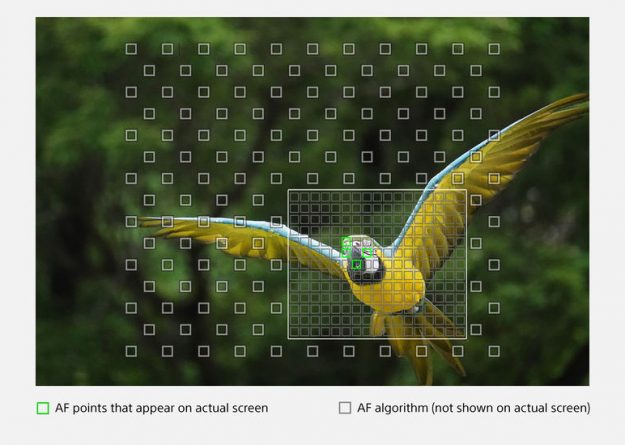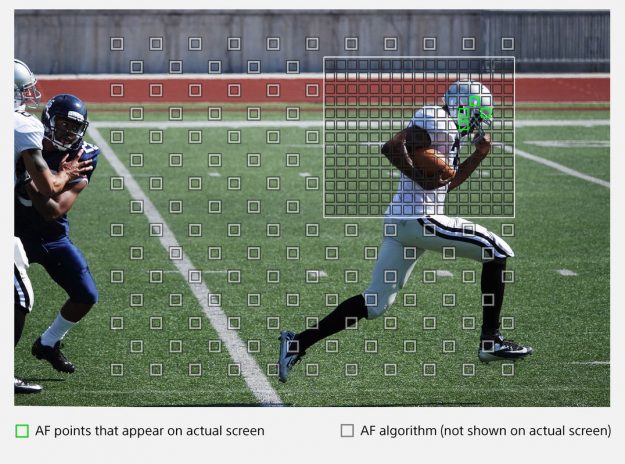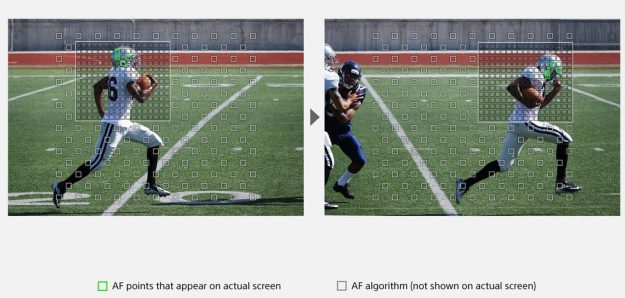 Zeiss Vario-Sonnar T* 25x Zoom Lens
Pairing with the imaging assets, the RX10 IV is distinctly characterized by its expansive 25x zoom lens. This Zeiss Vario-Sonnar T* lens spans a 24-600mm equivalent focal length range, and has a variable maximum aperture of f/2.4-4 for adept performance from wide-angle to super telephoto. The optical design incorporates eight extra-low dispersion elements to control a color fringing and chromatic aberrations throughout the zoom range for increased clarity and color accuracy. Five aspherical elements and an advanced aspherical (AA) element are also featured to reduce spherical aberrations for improved sharpness and resolution. Additionally, the esteemed Zeiss T* anti-reflective coating has been applied to individual elements to reduce flare and ghosting for increased contrast when working in strong lighting conditions.
Complementing the lens' reach, Optical SteadyShot image stabilization also helps to minimize the appearance of camera shake by up to 4.5 stops for sharper handheld shooting. The lens also sports a rounded nine-blade diaphragm to produce smooth bokeh, and, despite its long reach, can also focus as closely as 1.2″ with a 0.42x maximum magnification for working with close-up subjects.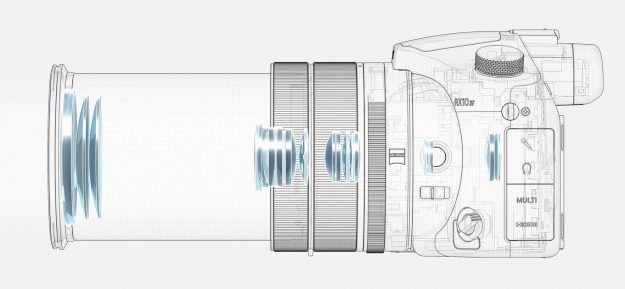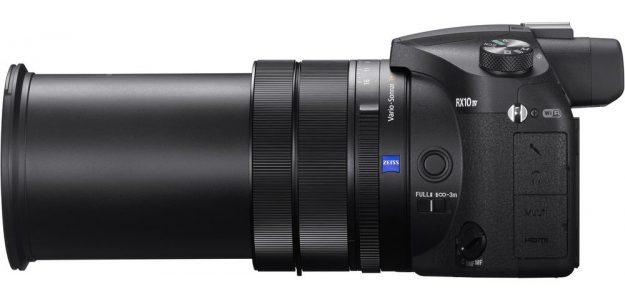 UHD 4K Video Recording
Able to record UHD 4K video at 30/24 fps, the RX10 IV, is capable of producing movies with exceptional clarity. By using a full pixel readout without binning, the camera collects about 1.7x the information needed for 4K output. This oversampling helps to increase clarity while reducing the impact of moiré and jaggies. Fast Hybrid AF is available during movie shooting for ensuring accurate, fast tracking using phase-detection AF points. The camera also offers Sony's advanced XAVC S format for recording a high bit rates up to 100 Mbps.
For advanced users, picture profiles and image controls are available, including the S-Log2 and S-Log3 gammas, which are able to help expand the dynamic range by recording a flat image. Gamma Display Assist helps users view a more natural image when shooting with S-Log2/3. Other options such as timecode, zebras, peaking, and more are present for making shooting and editing easier. When recording internally, users will record video with a 4:2:0 sampling at 8-bit, however, to even further improve image quality the RX10 IV has clean HDMI output for use with an external recorder. This allows users to capture 4:2:2 uncompressed video and save in an edit-ready format.
A Photo Capture function is built directly into the camera, allowing shooters to quickly save an 8.29MP still from their UHD 4K movies. Full HD can also benefit from this feature, where users will be able to pull a 2MP still. Additionally, the camera is NTSC/PAL switchable, making it usable around the world.
High Frame Rate and Slow Motion Shooting
Speed is a huge advantage of the RX10 IV, and in video users will benefit from advanced High Frame Rate shooting and super slow motion. In Full HD, shooters will have access to a standard 120 fps setting that will enable outstanding slow motion when placed in editing software. In addition to this, the camera also offers a dedicated HFR mode, which will boost the cameras frame rate to up to 960 fps. Videographers will have the option of recording in Quality Priority and Shoot Time Priority modes for approximately twice as long with the RX10 IV compared to its predecessor. This results in about 7 seconds of recording in Shoot Time Priority at the 240 fps setting. The camera will output a Full HD file from slightly lower resolutions in order to produce high quality images at all frame rates. Additionally, an end trigger mode enables users to record 4 or 6 seconds before the record button is pressed.
Body Design and Wireless Connectivity
A bright, high-resolution XGA OLED Tru-Finder sports a 2.36m-dot resolution for clear eye-level monitoring of the scene, as well as the ability to preview exposure adjustments prior to shooting.
Alternatively, a rear 3.0″ 1.44m-dot Xtra Fine TFT LCD is available for monitoring and review, and features a 109° upward, 41° downward tilting design to benefit working from high and low angles. The screen is also a touch-panel, which affords more intuitive control over focus point selection, playback, and menu navigation.
A robust magnesium-alloy body design is both dust- and moisture-resistant to support use in harsh environments.
The manually-operated aperture ring permits intuitive tactile control over exposure settings, and the ring can be de-clicked for smooth, silent performance to suit video applications. Manual focus and zoom rings are also incorporated in the lens' design.
Even More Features
A top LCD panel can be used to quickly check key exposure and other settings.
A range of customizable function buttons can be assigned to any one of 58 different custom functions.
The included NP-FW50 rechargeable lithium-ion battery offers approximately 400 shots per charge when working with the LCD monitor, or 370 shots per charge when working with the EVF.
Both an external microphone jack and a headphone jack are available for using optional external mics and monitoring your audio in real time.
Built-in Wi-Fi and Bluetooth permit wirelessly sharing imagery to a linked mobile device for instant sharing online, and also allows a smartphone or tablet to remotely control the camera or display a live view image. Mobile devices can be paired via NFC or via a QR code displayed on the camera for non NFC-enabled phones or tablets.
PlayMemories Camera Apps are also supported via the built-in Wi-Fi connection, and allow you to personalize the camera's features depending on specific shooting styles. Apps are available to suit creating portraits, detailed close-ups, sports, time lapse, motion shot, and other specific types of imagery.
Other Camera Features
Zoom Assist can be assigned to a custom function button and used to automatically zoom out from the scene in order to re-locate a subject, and then released to quickly return to the zoomed-in position.
Step Zoom lets you configure the zoom ring to only cycle through fixed popular focal lengths as the ring is rotated, including 24, 28, 35, 50, 70, 85, 100, 135, 200, 300, 400, 500, and 600mm. Quick Zoom, on the other hand, can be assigned to a custom function button and lets you move throughout the zoom range in a fluid, seamless manner by rotating the zoom ring.
A Silent Shooting mode makes use of an electronic shutter function for completely silent performance that is ideal for photographing in noise-sensitive areas. This electronic shutter also permits working with shutter speeds up to 1/32,000 sec for photographing in bright conditions.
Clear Image Zoom can be used to magnify the center of scenes by 2x to effectively extend the reach of the lens. This digital zoom technology uses an intelligent interpolation process to minimize the amount of image degradation in order to produce realistic, high-quality images.
Eye AF is a dedicated autofocus mode that bases focus on recognized subjects' eye for portraits, and can be configured to prioritize either the subject's right or left eye.
White balance adjustment can be finely controlled using detailed sliders that span the amber-blue and magenta-green axes for more precise control over how color tones appear in various lighting conditions.
Benefitting manual focus operation, Manual Focus Assist can be used to magnify a portion of the scene for making more precise, detailed adjustments. Peaking is also available to highlight strong edges of contrast for more objective determining over sharp focus.
A Dual Rec mode allows you to record 17MP stills, without pixel binning, while simultaneously recording video. Auto Dual Rec takes this process further by automatically recording stills at a chosen frequency or when a new composition or subject is recognized.
When recording in UHD 4K, 8MP still frame grabs can be saved during playback for use as a still image. If working in Full HD, 2MP stills can be taken from video files.
Scene Selection: Portrait, Sports Action, Macro, Landscape, Sunset, Night Scene, Handheld Twilight, Night Portrait, and Anti Motion Blur.
Picture Effect: Toy Camera, Pop Color, Posterization, Retro Photo, Soft High-Key, Partial Color, High Contrast Mono, Soft Focus, HDR Painting, Richtone Monochrome, Miniature, Watercolor, and Illustration.
Creative Style: Standard, Vivid, Neutral, Clear, Deep, Light, Portrait, Landscape, Sunset, Night Scene, Autumn Leaves, Black & White, Sepia, and Style Box.
Closing Remarks
The Sony RX10 IV is the next evolution in the the All-In-One camera solution for those looking for top quality. I know the larger sensor cameras offer better potential output, but for a 1″ sensor, it really doesn't get much better than the RX10 series cameras.
I hope you guys got what you were looking for in this article and please have a great day,
Jay
Sony RX10 IV for $1698 @ BH | AMZ