A lot of people have been asking me why the Sony A7R III costs $1200 more than the new A7 III, considering it does not offer the same amazing Sony A9 like auto focus system? In this article I break it all down…
The new Sony A7 III has the same Sony A9 693 AF point AF System covering 93% of the sensor VS the 399 point AF system with 68% sensor coverage found on the A7r III.
This is a pretty significant feature difference and has people scratching heads all around as the AF advantage goes to the cheaper camera. The AF system on the A7r III is still really good though and is a significant upgrade from the A7r II, which has pretty darn good AF performance I think. Are we getting the shot or not? Sony A7 III Reviews Here >>
So, other than resolution, what exactly does the Sony A7r III offer to justify the extra $1200?
Well, when you break down the camera features one at a time, you start to see bubbling up why the A7r III cost ~$1200 more than the A7 III. Resolution is the key word…
At the end of the day, do these Sony A7r III specific pricey features matter to you in the real world enough to justify the extra $1200 cold hard cash? This is the question you must ask yourself…
Read on to find out the specific feature differences that may matter to you….
[divider]
Sony A7
R

III Vs A7 III

First lets do a compare style chart and see what features are different and then we will discuss the why….
Sony A7

r

III
Sony A7 III
Sensor Resolution

42mp

24mp
AF Points
399
693
AF Coverage Area on Sensor
68%

93%

5-Axis Stabilization
5.5 Stops
5 Stops
Dynamic Range
15-stops
15-stops
Low Pass Filter
No
No
FPS
10 FPS
10 FPS
Buffer Max Up To
76 Shots
177 Shots
Max ISO
102400
204800
Pixel- Shift Technology
Yes
No
Flash Sync Terminal

Yes

No
Silent Shooting
Yes
Yes
OLED EVF Resolution
3,686,400
2,359,000
TouchScreen Resolution
1,440,000
921,600
Camera Chassis

Better

Good
Weather Sealing
Good
Good
Battery Life
610 shots

750 shots

Weight
1.445 lb / 657 g
1.43 lb / 650 g
Price
$3198 US

$1998 US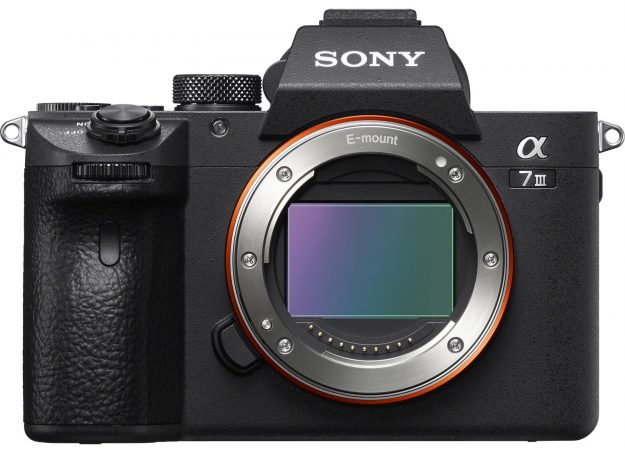 Basically What Matters to You?
Well at the end of the day you get notable higher resolution and significantly more detail captured with the A7r III thanks to the 42mp sensor and pixel-shift technology features.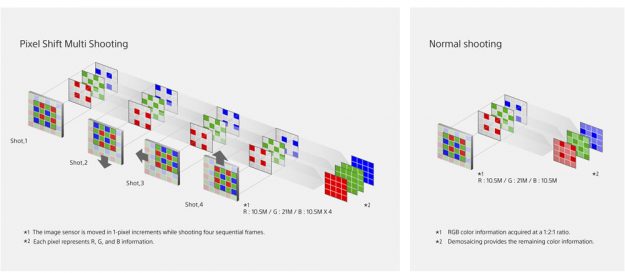 Also with the A7r III you get a noticeable higher resolution OLED EVF which absolutely makes a difference when looking thru! I currently have the A7r III in hand and the 3.69-million-dot, high-luminance Quad-VGA OLED Tr-Finder is gorgeous! Just like the one found on the killer Sony RX1R II I Reviewed Here >>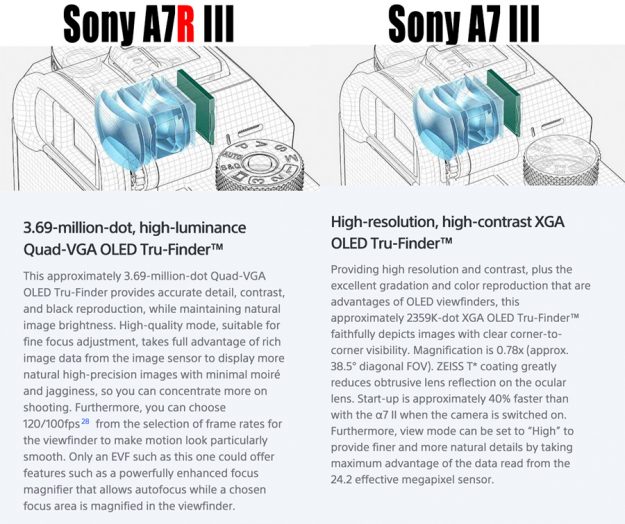 I immediately could see the advantage in quality when looking thru this higher resolution viewfinder. It almost looks slightly surreal or something I first thought… This option is a luxury though, and not really needed as the lower res viewfinder also looks really good. Just not as stunning is all. I highly suggest checking this out for yourself so you can see the difference if this feature matters to you. You can sort of picture what I mean if you look at t eh TV's in a Best buy for example. You know how the really good one's just have that wow factor..
A lot of people might blow this better EVF feature off, but I really think it is significant to the overall quality of the camera user experience, and really does help justify the cost.
Continuing with the resolution advantages, the A7r III has a notable higher resolution rear lcd touchscreen which clearly looks better and has more detail: 1,440,000 vs 921,600. This is better for viewing your photos and checking sharpness/ pixel peeping. Also better for using in general, as the extra resolution makes it easier to see in detail and check focus accuracy in photos etc… This is also a luxury type feature I would say, because the lower resolution units do look good enough. But, better is better and if I had to pick… and yes, the extra resolution will suck more battery life, but not that much effectively.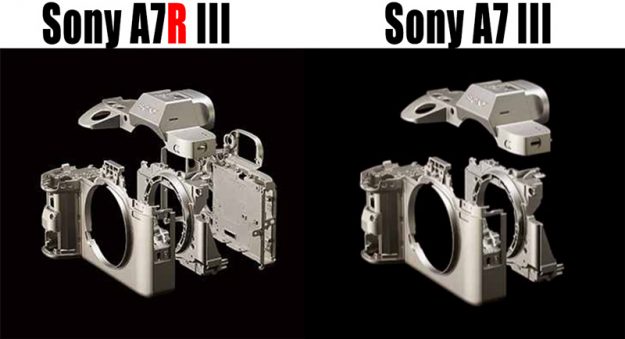 In addition to that you get better build quality with more metal on the backside of the camera chassis and a flash sync port that some pro's might like to use. The A7r III 5-axis stabilization system also has a .5 stop advantage over the A7 III which is notable.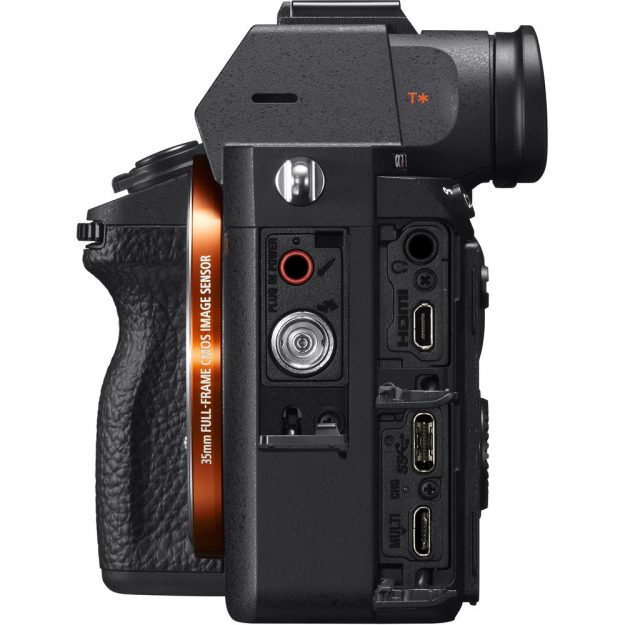 The A7 III on the other hand, costs $1200 less, offers significantly better auto focus performance, and has better AF sensor coverage which is very helpful when focusing on subjects near the edge of the frame. 68% Sensor Coverage area vs 93% coverage.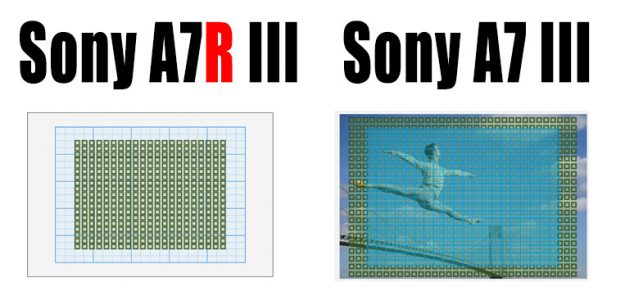 In addition to the AF speed and sensor coverage area advantage, the High ISO or Low light abilities of the A7 III are also better than the A7r III. Max ISO 102,400 vs 204,800.
This also carries over to video, so if better AF and low light video performance matters to you, then the A7 III would be a better option.
The buffer on the A7 III is also able to capture more than double that of the A7r III which makes sense due to the file sizes, and this can be very helpful for heavy buffer users. ~76 consecutive shots vs 177 shots before the buffer is full…
Battery life wise the A7 III also has an advantage, which makes perfect sense when you factor in the extra processing required, and extra pixels that need to be powered in all the various higher resolution components. ~ extra 100 shots Sony claims, but I heard of people getting 2000+ shots on one battery. Reviewing the photos and video for extended periods of time is what really kills the battery fast basically. So, when just taking photos with minimal reviewing time you can get way more shots on a battery than what Sony is saying…
[divider]
Conclusions
Ok guys, here it is: The New A7 III is a better value for almost everybody in my opinion.
Only those wanting the best possible detail and camera build quality should opt for the A7r III. If you don't need the higher resolution sensor and pixel-shift technology then I highly recommend the Sony A7 III.
If you really want or need the absolute best detail for your Landscape, Street, Portrait or Wedding Photography work, etc… then the Sony A7r III is totally for you and a great solution. Killer resolving power, very fast and accurate AF, plus a nice bonus with the beefed up chassis, higher resolution OLED EVF and LCD TouchScreen.
Sports Photography?
The Sony A7 III is a better option for high speed sport with the more advanced AF system and lower resolution sensor which allows for a much larger buffer. If you need more than 10fps, then the Sony A9 would be worth looking into: My Sony A9 Review >>
Being realistic about things, how much resolution do you really need? Is 24mp enough?
I say yes for almost everything, but no if you want the most detail possible. Clearly the A7r III 42mp sensor and the Pixel Shift technology are going to yield stunning detail that the A7 III will not be capable of. How much will this effect print quality? At the end of the day, not that much at regular sizes, but really large prints would certainly benefit. 16×20 and smaller the 24mp is more than enough though in my opinion. Even 24×36″ prints look incredible from a 24mp camera!
If you like to crop in on photos heavy handed, then 42mp would be awesome to have for that. The more resolution, the more you can crop with killer detail. If you plan on editing hardcore detail, then the 42mp would be a better option as well. Having the extra pixels in photoshop makes life so much easier I can tell you from experience. However, an older computer does struggle with all the resolution and ram needed to manipulate the large files.
The extra 42mp detail does make a difference, and it is not for nothing. It is not a waste of money if you want or need the resolution. If you don't need the 42mp sensor, then you are only looking at the higher Resolution EVF and LCD Screen on the back, plus a little in the build quality department. Is the extra $1200 worth it to you? It would not be for me, but I can totally see why some of you would still want the A7r III for the better quality visual aids.
That is about it for this article and I really hope you got what you were looking for.
Have Questions?? Please let me know your thoughts in the comments area below, and have a great day!