In this unboxing video I set-up the Sony Nex-F3 and the Sony ECM-SST1 Compact Stereo Microphone in the accessory port on top of the camera. I then swiveled the screen as far up as I could so I could see it from the lens side. The ECM-SST1 microphone sticks out a bit on the back side of the camera so the screen could not go into the full vertical position, but I was still able to see the screen with no problem from where I was.

Check out the HD video below and I will comment further on the performance of the Nex-F3 and ECM-SST1 Mic in the closing remarks 😉

Nex-F3 @ 1080i/24p HD Video
Be sure to select the  HD option in the player settings so you can go full screen with nice sharp detail!!

In the Box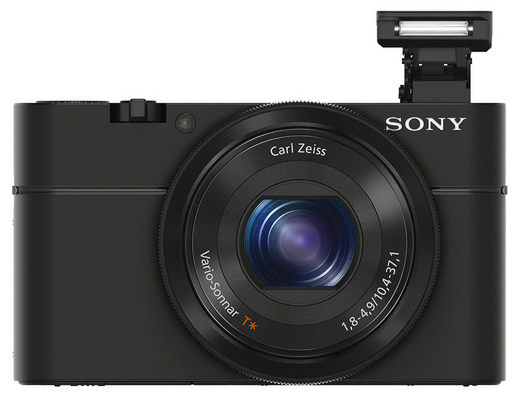 The Sony RX100 and the Rokinon 8mm f/2.8 Fisheye lens!
Closing remarks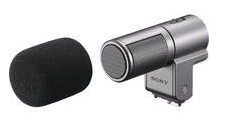 As you can see and hear from the video, the Sony Nex-F3 performed really well recording the open box video. The focus did a good job except for the close-up of the Rokinon 8mm which I had a feeling would struggle due to it's size in relation to the scene.
Recording the Open Box video was really easy to do compared to using my Canon 5D Mark II which is full manual focus with video. I usually have to pre-focus on something and then hit record, jump into the scene and start going. Usually it comes out ok, but often the focus is a tad soft of the framing of the scene is awkward and I need to crop it in etc.. Being able to see the screen really is awesome for this type of recording work in particular. That is, talking to the camera for podcasts, reviews, interviews etc..
The audio in this video test is leaps and bounds better than the standard in camera mic thanks to the Sony ECM-SST1 Compact Stereo Microphone!!  It really does work well, and towards the very end of the video I did a left, center, and right sound check test. Looking at the stereo channels of the audio I can clearly see how the left side picked up in volume and same with the left and center. It really works quite well for audio and I'm pleased with the results considering the cost of the Mic.
Overall I'm happy with the performance of the Nex-F3 and Sony ECM-SST1 Compact Stereo Microphone for this type of recording application. The focus worked great in conjunction with the facial recognition technology and myself moving the boxes in front of the camera for close-ups. You need to really block the face when trying to get the focus to change though as a side note, but this is easy to do once you get the hang of it.
Stay tuned for more on the Nex-F3, RX100, and the Rokinon 8mm fisheye lens!!
Jay