Always curious how the LA-EA2 lens adapter with an A-Mount lens would perform in low light, low contrast situations Vs the standard E-Mount lenses, I put together this really quick test together with results that may surprise you!!
Basically what I did here is compare the Phase detection AF that is built into the LA-EA2 Lens Adapter VS the Contrast Detection AF found natively in the Nex-5n. In theory anyway 😉  I did this test on Sunday in my computer room with the blinds closed and one tungsten light on. I finally got a few minutes to post it up for you guys, so I apologize for the delay!! If you want to get a sneak peak on future videos, you can subscribe to my YouTube Channel, and it will email you when something new is uploaded!! I often put these videos up days before I write the article, as it takes hours for the videos to upload.

HD Video – Low Contrast Low Light Testing
Be sure to click on the little gear icon in the player window once the movie starts playing. You can then select the 720P option for maximum quality!!

All The Gear Used in the Test
Sony Nex-5n
I reviewed the Sony Nex-5N already, and I own the Nex-7, but it's totally disassembled in the Lab! So, I needed a Nex camera body for testing purposes and opted for the Nex-5N again as I love the 16mp sensor!! I would went for the New Nex-F3, but it's not out yet unfortunatly.
Price: ~$598 @ BHPhoto (Click Here)

Sony A-Mount Lens to NEX Camera Mount Adapter – LA-EA2
The La-Ea2 lens adapter is an amazing piece of camera hardware that pretty much turns your Nex camera into a Phase Detection Autofocus Monster that will except all A-Mount Lenses. That is correct, you can use all A-Mount lenses on your Nex Camera with this adapter, and have killer fast Autofocus!! So needless to say I'm excited about getting it!!
Price: ~$319.95 @ BHPhoto (Click Here)

Sony 50mm F1.8mm lens – SEL50F18
The Sony 50mm f/1.8 is probably the most anticipated and wanted E-mount lens currently. I've been trying to get one for months now and I'm sure many of you are in the same boat. Basically what this lens offers is a fast aperture and excellent focal length for Portraits in particular. The F/1.8 aperture will allow for some killer separation from the backgrounds and also allow for extreme low light shooting. With the combination of the f/1.8 aperture and Optical Steadyshot built in, this could be one of the best low light lens on the market in my opinion. For the Money of course, mind you 😉
Key Features:
Large f/1.8 Aperture
Direct Manual Focus (DMF)
Compact and lightweight
Image Stabilization
Smooth and quiet high-speed focusing
Weight (Approx.) : 7.25oz (202g)
Price: ~$299.99 @ BHPhoto (Click Here)

Sigma 30mm f/2.8 EX DN Lens
The Sigma E-Mount 30mm f/2.8 EX DN Lens is a prime lens designed specifically for mirrorless interchangeable lens cameras. This 30mm lens is equivalent to a 45mm lens in 35mm format and provides a 50.7° angle of view. A very nice fixed focal length to work with on a crop factor sensor like the Sony Nex-5n I might add.
Key Features:
30mm f/2.8 Lens
Equivalent to 45mm in 35mm
For Sony E Mount Camera
Aspherical Design Prevents Distortion
Focuses to 11.81″ (30cm)
Multi-Coating Reduces Ghosting and Flare
Linear AF Motor for Quiet Operation
Price: ~$199 @ BHPhoto (Click Here)

Sigma 19mm f/2.8 EX DN Lens for Sony E Mount Camera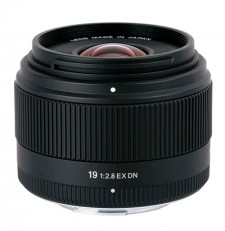 The 19mm f/2.8 EX DN Lens for Sony E Mount Camera from Sigma is a Digital Neo (DN) lens specifically designed for mirrorless interchangeable lens cameras. On a Sony E mount camera (NEX), its focal length is equivalent to 28.5mm. It has a newly developed linear AF motor for swift and accurate autofocus, making it ideal for video as well as still photography. Three glass mold aspherical lenses offer excellent correction for distortion, color aberration and field curvature. The inner focusing system corrects the fluctuation of aberration to maintain image quality regardless of the focal distance. Multi-layer coating reduces flare and ghosting, and provides sharp and contrasty images even at the maximum aperture. The seven blades of the diaphragm produce a pleasing quality in the out-of-focus areas of an image (bokeh).
Features:
Digital Neo (DN) high performance lens designed exclusively for mirrorless interchangeable lens cameras
Ultra compact construction weighing only 4.9 oz and measuring 1.8 inches in length
Newly developed linear AF motor ensures accurate and quiet autofocusing, making the lens ideal for video recording as well as still photos
Price: ~$199 @ BHPhoto (Click Here)

Sony DT 35mm f/1.8 SAM Lens
The Sony DT 35mm f/1.8 SAM Lens is designed for D-SLR cameras with DX-format sensors, so the lens has a 52.5mm equivalent focal length. This is perfect for snapshots and portraits under a wide range of shooting conditions. The ultra fast f/1.8 wide-open aperture along with the 7-blade circular diaphragm allows you to work in low light, and with a minimum focus distance of 9.05″ (0.23m) the lens allows you to get in close to your subject.
Price: ~$319.95 @ BHPhoto (Click Here)

The Complete Guide to Sony's NEX-7 Mirrorless Camera – by Gary Friedman!
I've also been reading, in my limited spare time, my courtesy copy of the Nex-7 book that just came out by Gary Friedman!! It's excellent, and I can honestly say I learned several things already about the Nex-7 and more. Quite impressed with Gary's writing style, as it's like mine in a lot of ways. Except with proper grammar and spelling of course 😉 Seriously though, he comes across like a friend in conversation throwing killer insight, theory, and tips left and right.  I plan on Doing a full review of the book, but in the meantime, you can check it out over on Gary's website if your curious 😉 Oh yeah, he used one of my images in the book!! http://friedmanarchives.com/NEX-7/

Closing Remarks
Well, in this particular test the Phase detection LA-EA2 lens adapter with the Sony DT 35mm f/1.8 Lens clearly did not do as well as the standard E-Mount lenses tested performed. Mind you, as said in the video the LA-EA2 lens adapter forces the aperture to f/3.5 so that may effect things, and I honestly don't know for 100% certainty if it does or not. I know the light going in is obviously less, but often this has no effect on the AF performance surprisingly. Depending on a number of factors though it may or may not. I've read a few articles on this, but it is so freaking confusing for some reason I can't yet simplify how it all works. I just need to find a really good article on how it all works with illustrations and stuff. Therefore specific details about how the actual AF sensors work at different apertures, iso, and lenses, is beyond my knowledge base at the moment, but not for long!!
That is about it for now, have a great weekend everybody!!
Jay